What are the Different Boiler Fuel Types?
Most boiler types are available in models which allow you to use alternative fuels. For example, if you wanted to avoid the use of natural gas and seek out a lower carbon option, there are electric boilers available, which don't produce any emissions. The big consideration with these, however, is that most electricity produced by major suppliers is still made by burning fossil fuels.
Issues like this can be overcome with the ability to connect some boiler brands to renewable energy sources, like solar panels. However, there are still a lot of considerations to make when thinking about boiler fuels. Not just in terms of environmental impact, but also the costs and whether it's accessible to your area and suitable for your home.
Your power source also needs to match the power requirements of the boiler and the needs of your home. To determine that, you'll need to consider the type of fuel input and determine what size boiler you need.
Gas boilers
Natural gas is the most popular and widely used boiler fuel in the UK. This is for two reasons, firstly most homes are already connected to the national gas grid, making it the simplest option logistically. Secondly, when compared to most other fuels, gas has historically been the cheapest option.
As things change globally, prices between fuels fluctuate, but as gas has always been the most convenient, it's what you will find most homes use. Nevertheless, you may want to consider alternatives to gas boilers.
Thinking about the future, and greener options, you might be surprised to know that your gas boiler may be ready for radical changes. Most modern boilers are now built to be hydrogen ready. Whilst the use of a hydrogen and gas fuel blend is still being developed, it is hoped that this could be the answer to converting most homes in the UK to a more sustainable fuel option.
There would be no need to upgrade your boiler either, as existing boilers connected to the gas grid could receive the blended gas in the same way it usually would. It would mean no additional spend and there would be no disruption to your service.
If you're interested in this option, be sure to look out for a boiler that is '20% Hydrogen Ready'.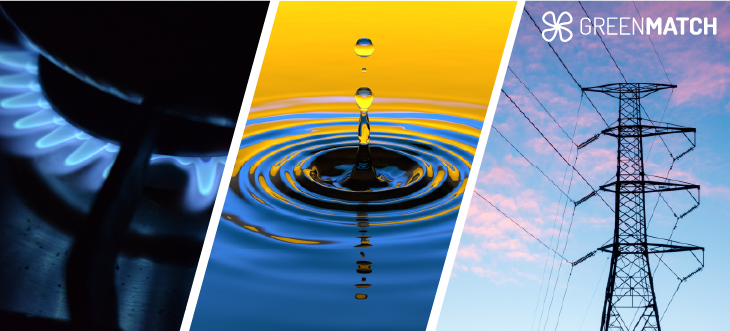 Another option for homes using system or regular boilers, which require an additional hot water storage tank, is to consider connecting the cylinder to a renewable energy source, such as solar power, to run the hot water tank. Whilst this doesn't mean your whole system will be renewable, it is an option to reduce your impact on the environment.
Oil boilers
For those whose homes are in more rural areas, or are not connected to the gas grid, there is the option to use oil. This is seen as the best choice if you cannot access gas.
There are some considerations however, as oil needs to be stored in a separate tank somewhere on the property and does need to be manually refuelled.
Depending on the type of boiler you need, you may be able to combine an oil boiler with a renewable fuel source, if you have a solar or wind compatible hot water storage tank.
Electric boilers
Electric boilers are often seen as the best fuel source for a boiler, because they do not emit any harmful gases. However, because they run solely on electricity they are technically running on fossil fuels, and this actually makes them less favourable as a renewable option.
Many energy suppliers in the UK are currently working to produce completely renewable electricity. Whilst that will make electric boilers a great option in the future, it's fair to say that they aren't particularly good for the environment, at this time. For more information on this topic, you can check our article Electric Boiler vs Gas Boiler.
When you're considering your boiler options, if environmental impact is important to you, it is worth looking closely at the following: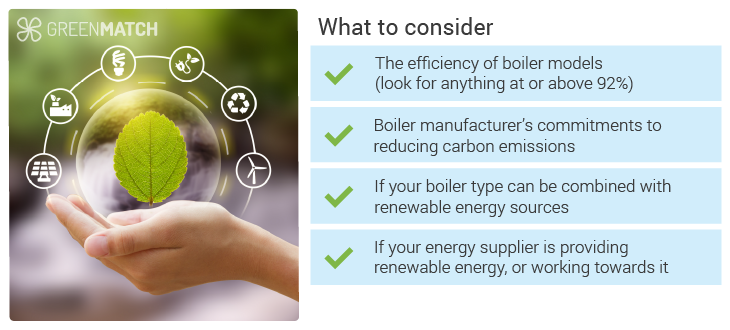 If you're struggling to decide which boiler will tick your boxes, we highly recommend speaking to a qualified engineer. To save you time trawling the internet, trying to find someone you can trust, we can do that for you!
By filling in our quick and easy form, we can connect you with up to 3 Gas Safe registered engineers who can give you the very best advice and quote for your new boiler. By receiving multiple quotes, you can compare rates and be sure you're not over paying. All quotes are free and there's no-obligation to accept any of them.
Click the link below to get started!
Quotes from local engineers
Payment by finance available
Save up to £1040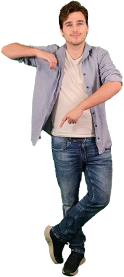 Optimise your home and save the planet