What solar battery price can you expect?
Currently, solar battery prices in the UK cost anywhere between £230 and £10,000 depending on the capacity, chemical composite of the battery, and its life cycle. Naturally, the bigger your house and energy usage is, the higher capacity your solar battery will need.
Solar battery prices

| Battery capacity (kWh) | Solar battery price |
| --- | --- |
| >1 | £230 – £300 |
| 3 | £2,500 – £4,000 |
| 5 | £3,500 – £5,000 |
| 10 | £5,000 – £7,500 |
| 15 | £7,500 – £10,000 |
| 20 | £10,000 – £12,500 |
Solar battery costs are in a similar situation to when the technology for photovoltaic systems was new. As the adoption of solar battery storage systems becomes more widespread, their price will naturally follow the same declining trend as solar panel costs.
Consider consulting a solar expert for an accurate and tailored solar battery storage price for your situation. A solar expert can give you tailored prices per system size, such as the 6kW solar system with battery in the UK price.
Lithium-ion and lead-acid are two common chemical materials used for solar panel systems. Despite the higher estimated price, lithium-ion batteries still enjoy a bigger market share thanks to their longer lifespan and higher usable capacity.
This is why lithium-ion solar batteries are the most mainstream and cost-effective batteries of all kinds.
Lithium-ion solar battery costs

| Usable capacity (kWh) | Estimated solar battery price (Lithium-ion) |
| --- | --- |
| 3 – 4 kWh | From £3,410 |
| 4 – 7 kWh | From £4,288 |
| 7 – 9 kWh | From £5,185 |
| 9 – 13.5 kWh | From £5,920 |
Generally, lead-acid batteries are comparatively cheaper in the short term, but lithium-ion is a better fit if you take future replacement fees into consideration.
4kW lead-acid batteries vs lithium-ion batteries overview

| Characteristics | Lead-Acid Battery | Lithium-ion battery |
| --- | --- | --- |
| Preliminary solar battery price | £2,000 | £4,000 |
| Storage capacity (kWh) | 4 kWh | 4 kWh |
| Depth of Discharge (DoD) | 50% | 90% |
| Life cycle | 1,800 | 4,000 |
| Cost/kWh/ Cycle* | £0.556 | £0.278 |
* Cost/kWh/cycle = preliminary cost/(storage capacity×DoD×life cycle)
However, if your situation requires any other capacity, say a 5kW solar battery system, it's highly recommended to consult a professional installer to find out the 5kW solar battery price tailored to your situation.
Together with that, it's worth considering some other factors that can influence the solar battery price.
Battery material
Different materials have different impacts on the discharge rate and the product's lifespan. For example, lithium-ion batteries can discharge 70%-90% of the total amount of storage while lead-acid can only discharge around 50%. 
And lithium-ion batteries have at least double the lifespan of lead-acid batteries. Higher discharge rates and longer lifespans will typically result in a higher solar battery cost in the UK.
Capacity
Storage capacity refers to the total amount of energy your solar panel battery can store, and usable capacity means the amount one can use, which is usually calculated by the depth of discharge (more on this later).
The amount of storage capacity and usable capacity, measured in kilowatt-hours (kWh), directly influences your solar battery storage system cost. A larger capacity means it can store more energy and support a larger area, thus, it will result in a higher price. 
Therefore, the larger your household is, the bigger capacity your solar panel battery should have. For example, a 5kW solar panel battery should be sufficient for families of 4 but not enough for bigger families. It is highly advisable to consult a professional installer to find out the 5kW solar battery price and if it fits your housing situation.
Lifespan
The life cycle is an essential indicator of a solar battery storage system's lifespan. The more cycles a solar battery can provide, the longer time it can perform typically. Considering the lifespan of solar panels is around 25 years, replacing a new solar panel battery may add up to the total cost of installing a complete solar panel system.
Installation
The installation cost of solar battery storage systems varies slightly based on the size and may be covered by some brands. Generally speaking, it is more economical to set up your solar battery system while installing solar panels.
How much will I save with a solar battery?
Your total savings with a solar battery in the UK depends on several factors, such as the size of the battery, the cost of electricity, and the electricity consumption habits of your household.
If you have an optimal solar panel and solar battery, then you can save a year-worth of electricity your house consumes. For the highest total savings, your solar system and a solar battery should have the same capacity. Therefore, if your solar panel size is 10kW, choose from 10kW solar battery sizes. The same goes for other system sizes like the 12kW solar systems in the UK.
Reaching out to certified solar installers could relieve your painful searches. For example, they can consult you on the current 10kW solar battery prices in the UK as well as calculate the probable savings with a solar battery for your home.
Are there grants available for solar batteries?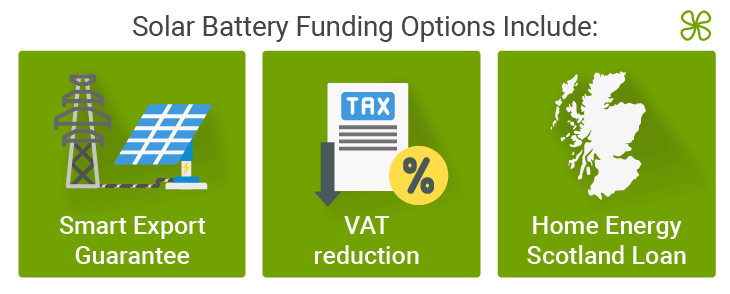 Even though the solar panels with battery storage cost in the UK may not be moderate, you can still find some ways to save money. There are currently solar panel funding opportunities which can significantly decrease the solar panel battery cost in the UK.
Through the Smart Export Guarantee (SEG) you can earn money for exporting stored electricity back to the grid. Export tariffs vary with each energy supplier, but a good tariff is between 4-6p/kWh.
Be sure to check with your energy supplier if they allow stored energy to be exported.
Another way to reduce the cost of the investment is to make use of the VAT reduction. Homeowners from England, Wales and Scotland looking to benefit from paying 0% VAT on solar panels (including solar batteries when installed alongside a solar panel system) can now do so until 2027. You can find more about this in our 'solar panel grants in Wales' and 'are solar panels worth it in Scotland' guide.
As announced by the Government, on 1 April 2027 the zero rate will revert to the 5% reduced rate of VAT on energy-saving materials.
If you live in Scotland, you can make use of the Home Energy Scotland Loan. This interest-free loan is designed to help finance various energy-efficient improvements and renewable systems, including solar panels and batteries.
You can get a loan of up to £6,000 for a solar PV system, and £5,000 for a solar battery storage system. The repayment period is between 5-10 years, depending on the installation.
For specific eligibility criteria, you can visit the Home Energy Scotland website.
If you're not sure which scheme fits your situation, it's best if you consult a professional. However, searching for certified experts on your own is a daunting task that requires hours or days of dedicated searches. We bet that's not something you're up for at the weekend instead of time out with friends.
Thankfully, GreenMatch is here to guarantee stress-free searches for you. Fill in our quick 30-second form, and we'll provide you with up to 4 free, non-binding quotes from certified solar installers. By comparing these quotes, you'll be able to find the perfect solar solution for your home. Click below to begin.
Quotes from local engineers
Payment by finance available
Save up to £729 per year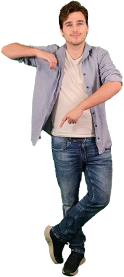 Optimise your home and save the planet
What is the lifespan of a solar battery?
The average lifespan of a solar battery storage system is around 5 to 7.5 years for lead-acid and 11-15 years for lithium-ion batteries. However, all batteries are vulnerable if they are over-discharged or exposed to extreme weather.
Solar batteries' lifespan based on type

| Solar battery type | Lifespan |
| --- | --- |
| Lithium-ion | Up to 15 years |
| Lead-acid | 3–5 years |
| Flow | 10-20 years |
It's worth noting that the longevity of a solar battery largely depends on its patterns of usage. Typically, solar batteries are designed as deep-cycle batteries, enabling them to discharge approximately 80% of their stored energy before requiring recharging.
Depth of Discharge (DoD)
Depth of Discharge (DoD) means how much you can use the battery before recharging it. Just as it may be harmful for your phone's battery to have only 2% remaining, the same goes for a solar battery storage system.
If you use up 100% of its charge or exceed its DoD limit before recharging it, the lifespan will be shortened significantly. For example, if you buy a solar battery storage system that has a capacity of 5 kW energy storage and 80% DoD, remember to charge it before using up the entire 4 kW in order to extend the life of the battery.
Compared with lead-acid batteries, lithium-ion batteries can handle a larger range of temperature changes and feature a higher tolerance level if discharged improperly. These advantages lead to lithium-ion batteries gaining a larger market share.
What is the best solar battery?
A decent solar battery storage system can make your life better and save you from further unnecessary costs. In the table below you can find a list of popular brands with the best solar batteries,  like the Tesla Powerwall in the UK.