Find a Green Energy Tariff vol. 2
In the previous article about green tariffs – Find a green energy tariff vol. 1 – we have been writing about Green Deal, Energy Company Obligation (ECO) and Feed-in Tariffs (FIT). In this volume, we will further cover the schemes for renewable energy, such as Renewable Heat Incentive for the domestic and non-domestic sector, as well as provide information on Renewable Heat Premium Payment and CERT.
Renewable Heat Incentive (RHI)
This scheme is designed to provide financial rewards for people who generate their own heat by using renewable energy. Renewable Heat Incentive is the first of its kind in the world. This scheme is divided into two incentive sectors: for non-domestic (industrial, public sector, commercial and community organizations) and for residential homes. The Renewable Heat Incentive scheme aims to help the UK Government to achieve its objective to produce 12% of the country's heat from renewable sources alone by 2020. The domestic scheme is open to private landlords, owner-occupiers and self-builders, who has installed an eligible renewable heat technology after 15th July 2009, provided they meet the scheme criteria. This article will also briefly introduce the criteria for eligibility later on. Note that the scheme covers England, Wales and Scotland only.
Renewable Heat Incentive is designed for homeowners with renewable heat installation to receive payments from the Government in order to help with an offset of the cost of installing, running and maintaining renewable heating systems, in contrast to for example the Feed-in-Tariff, which is designed to provide income for households.
RHI Domestic sector (Phase 2, DRHI)
The Renewable Heat Incentive scheme for the domestic sector was launched on April 9, 2014, and supports the following technologies:
solar thermal panels (but only the kind of solar panels for homes that enable to heat the water rather than to generate electricity);
ground source heat pumps;
biomass-only boilers and biomass pellet stoves with back boilers.
The domestic part of this incentive scheme offers regular payments to those, who use a certain type of heating technology in their household. The money is paid quarterly for seven years and the amount of money each household can get, depends on the technology used and the amount of energy produces. Therefore, the amount of money that the renewable heat system owners can receive is calculated by each kilowatt-hour (kWh) of renewable heat they produce, with the eligible installation, for seven years. If the household has more than one technology, it is possible to receive payments for each of the system used. Applications and payments for the Renewable Heat Incentive are regulated by Ofgem.
If you already receive other public grants and want to apply for RHI, other grants (including the RHPP) will be deducted in order to avoid getting a double subsidy. Tariffs change annually with the Retail Price Index (RPI).
Below you will find a table with levels of tariffs for the Renewable Heat Incentive: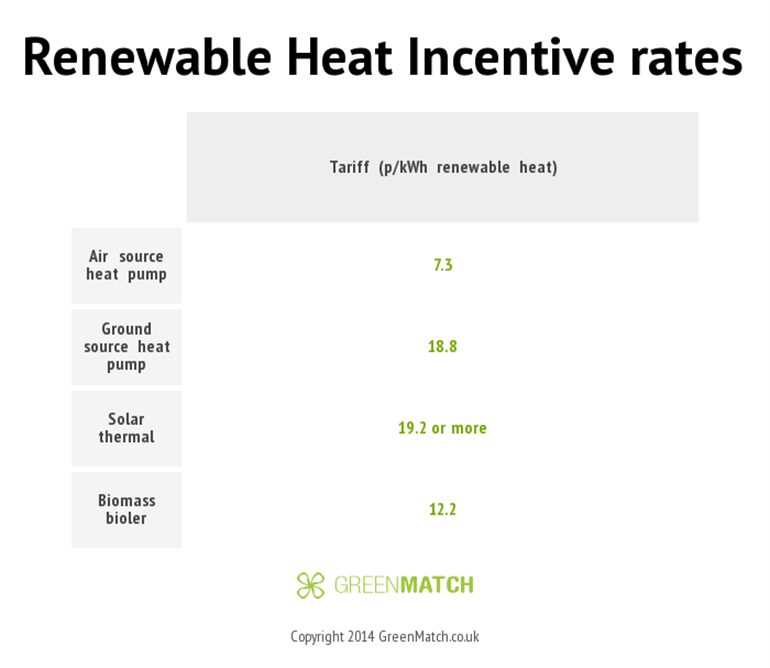 You can get more information about the Renewable Heat Incentive for the domestic sector on the official website of Ofgem.
RHI Non-domestic sector (Phase 1)
The Renewable Heat Incentive for the non-domestic sector was launched in November 2011 and it is eligible for organizations, who purchased an MCS certified product and fitted it by an MCS certified installer. The scheme offers similar conditions to those from a domestic sector, but the rates are payable for 20 years and to be eligible, the organization has to generate heat from renewable energy sources. In addition to increasing the proportion of renewable heat generated in the UK, the non-domestic sector seeks to wider the potential of developing "green jobs".
The unit responsible for implementing and administering the scheme on behalf of the Department of Energy and Climate Change is Ofgem.
This scheme is open to every non-domestic sector including commercial, public sector, industrial and for Non-Profit organizations with eligible renewable heat installations, and to producers of biomethane. In the context of the non-domestic RHI scheme, a non-domestic installation can be defined as a renewable heat unit, which is able to supply large-scale industrial heating to small community heating projects.
Payments are calculated with a simple formula, by multiplying the appropriate tariff by the amount of eligible heat generated in the relevant quarterly period. The formula:
Payment = Tariff level x Heat generated by RHI installation
The rules for the non-domestic sector are quite similar to the domestic sector. You can read more about the Renewable Heat Incentive for the non-domestic sector on the official website of Ofgem.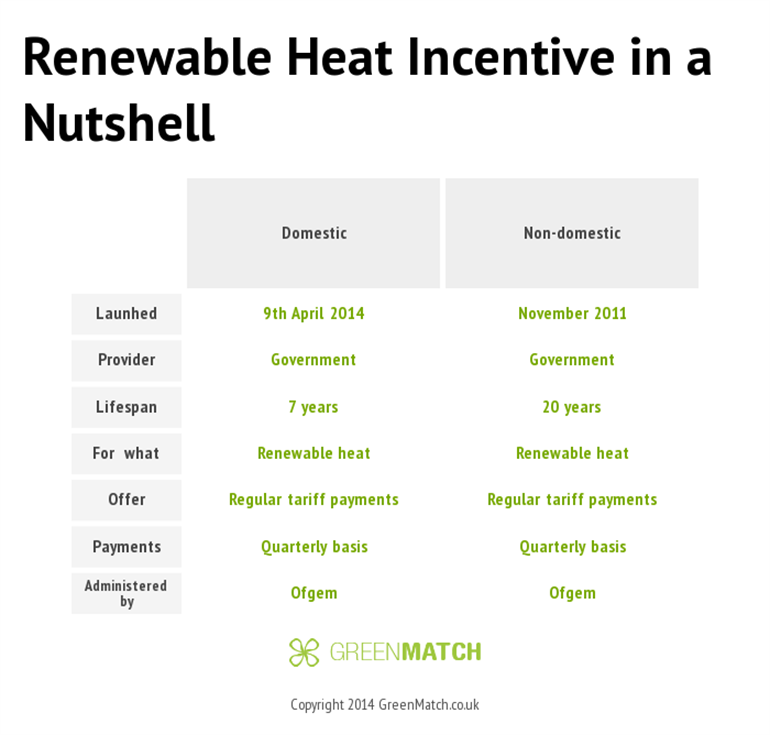 Renewable Heat Premium Payment
The Renewable Heat Premium Payment was a one-off grant designed to help meet the costs of installing renewable technologies in the household. The scheme is no longer available. RHPP has had two phases – Phase 1 ran from 1 August 2011 to 31 March 2013; Phase 2 opened on 1 May 2013 and closed on 31 March 2014. During those phases, homeowners could apply for receiving a deal on free insulation. Currently, there possibility for applying for a free insulation deal through RHPP incentive is closed.
This incentive scheme has been replaced by the Domestic Renewable Heat Incentive (DRHI), so if you are interested in getting deals on the renewable heat, read more above about what can the RHI scheme offer you.
CERT
The CERT scheme is the Carbon Emissions Reduction Target. This scheme has ended in December 2012. However, although most of the offers have been already withdrawn, some companies still provide some offers on cheap insulation or even a free boiler.
Carbon Emissions Reduction Target was a free insulation deal. This scheme is still listed as a renewable energy scheme to direct people, who are interested in receiving such grants to proper sources. Therefore it is important to note that CERT has been officially replaced by the Green Deal and the Energy Company Obligation. You can read more about these schemes here.
Get offers
Remember to visit other posts about the renewable energy sources featured on the blog! There is much more to read about other kinds of green energy tariffs, free solar panel deal or about surprising facts on solar panels.
If you are interested in investing in renewable energy sources in your home, you can visit our pages devoted to each technology and receive quotes. We can match you with up to four suppliers. Simply fill out the relevant form, where you write you needs/requirements and suitable suppliers will send you attractive quotes on the renewable energy installations. And remember – our service is free and without obligations!