Smart Export Guarantee (SEG)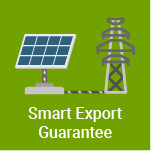 The Smart Export Guarantee (SEG) came into effect on 1 January 2020 and is currently active. It enables small-scale low-carbon electricity generators to receive payments for any surplus energy they export back to the grid.
Although this is not a direct government grant, all licensed suppliers must now offer an export tariff to their customers. Those suppliers with over 150,000 customers are obligated to offer a tariff, while those with fewer can partake voluntarily.
This incentive makes solar panels a great type of green home improvement project.
Benefits of Smart Export Guarantee
As an SEG Generator, you can shop around for different SEG Licensees to see who offers the best price per kWh that is exported. You can determine the contract length and rate for which they offer. Generally, the rate will range between 1p and 7.5p per kWh. Because you can choose any SEG Licensee, even one that's different from your electricity supplier, shopping around for the best rate will get you the best deal.
Based on a 7.5p per kWh rate, the average owner of a three-bedroom home with a 3.5 kWp solar panel installation will currently earn £112 per year under SEG.
Eligibility
All homeowners with regular solar panel systems (up to 5MW capacity) are eligible under the SEG. In addition, the house must be fitted with a smart metre, in order to measure the exports. Some energy suppliers also offer only special rates for energy exported from specific solar batteries. This will determine whether the overall solar battery storage price together with the solar system will go down.
How to Apply for Smart Export Guarantee
To be an SEG Generator, you will need to shop around for an SEG Licensee (an electricity supplier authorised to offer an SEG tariff) and apply directly to them. All SEG Licensees are obliged to offer an SEG tariff to all eligible generators. However, each one will have its own specific application process that you will need to follow up on.
Before you can start applying for SEG tariffs, you need to first lock in an energy-efficient and tailormade panel that's suited to your home's needs. This will ensure you are saving at the start itself since you don't want to apply grants to panels that are sub-par or not a fit for your home.
GreenMatch can save you the time and effort it takes to find the best deals for the best solar panels tailored to your household and home. Instead of calling multiple installers to explain your heating system situation, you can spend the time preparing to apply solar panel grants and benefits to your newly installed solar system.
Quotes from local engineers
Payment by finance available
Save up to £729 per year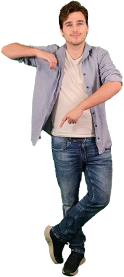 Optimise your home and save the planet
Reduced VAT for Energy-Saving Products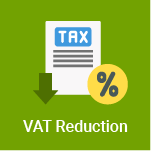 Starting April 2022, homes in the UK can now benefit from zero VAT on the materials and installation of energy-efficient measures.
After five years, the VAT-free period will end, and the rate will return to 5%. So, the combination of solar panel grants plus the scrapping of the VAT brings homeowners closer now more than ever to achieving renewable energy sources.
Benefits of 0% VAT
The VAT on renewables was 5%, which was already low, but scrapping it will see the typical family with rooftop solar panels saving more than £1,000 on installation and £300 annually on their energy bills.
The 0% VAT also applies to other energy-saving materials, besides solar panels, such as heat pumps, biomass boilers, insulation, and more.
Eligibility
The new zero VAT rules also welcome the permanent removal of specific eligibility criteria that previously applied to the 5% reduced rate. You can read about this on the government's website for the full details.
To be eligible, your home and new installation need to meet some specific requirements to benefit from a 0% VAT rate:
must include both the installation and product that need to be done together
you can also install other goods/services (e.g. insulation) at the same time, but the primary bulk of the work must be for the energy-saving materials
How to Apply for 0% VAT
If the installation and energy-saving material qualifies, then the 0% VAT will be automatically applied by your installer. Hence, there's no need to complete any application process.
Recently Expired: Domestic RHI
The Domestic Renewable Heat Incentive (RHI) expired on 31 March 2022 to new applications. Through the RHI, homes could save up to £2,981 on solar thermal panels. It has since been replaced by the Boiler Upgrade Scheme (BUS). However, BUS is intended for upgrading to heat pumps and biomass boilers, not solar panels.
Through the Domestic RHI, you can save up to £2,981 on solar thermal panels. Unlike solar PV, solar thermal doesn't generate electricity but has two main advantages. They use sunlight to heat your water which can be used as a wet central heating system and can also be supplied to your taps and showers.
You will receive domestic RHI payments over 7 years that can ideally recoup the majority of the costs of the installation since solar thermal panels cost around £4,000 on average.
The property must first obtain an Energy Performance Certificate (EPC) assessing its energy efficiency and how it could improve, which is required for the RHI application.
Recently Expired: Feed-In Tariff (FIT)
The Feed-in Tariff was implemented in 2010 and ran successfully for many years. The FIT scheme closed for new applications in 2019, however, those that are currently registered will continue to benefit from it.
Under this scheme, those who generate electricity via solar panels or wind turbines receive a certain amount of money for each unit (kilowatt per hour) they produce, and for the extra electricity they sell back to the grid.
The specific amount received varies based on the size of the system, the type of technology and when it was installed. The amount differs from for instance 3kW to 6kW solar systems in the UK. The payments last for a total of 20 years from the date of registration, significantly reducing the payback time of the initial investment.
You had to choose a certified installer, and you were then able to choose between receiving the payments from your energy supplier or a list of registered suppliers. The payments are divided into two types:
The Generation Tariff is a set amount of all the energy produced and used that depends on the factors mentioned before. The tariff ranges between 6.38p – 13.88p per kWh/h depending on the size of the system;
The Export Tariff relates to the electricity in excess that you sell, for which you will get 4.77p per unit. You will be able to sell half of the total energy you produce.
Recently Expired: Free Solar Panel Scheme
Previously, if you could not afford to buy solar panels, you had the option of acquiring them for free from companies that would rent your roof space for up to 25 years. With this scheme, a company would offer to provide the free solar panels, take care of solar panel installation and maintenance for free, and in return receive the Feed-in Tariff (FIT) payments.
Instead, a scheme called 'solar buyback' has become another possibility, where companies offer homeowners a lump sum upfront, and in return collect the FIT payments the homeowner would have received. However, it is important to evaluate an offer like this in relation to the total FIT payments you would receive to determine whether or not this buyback scheme would be worth it.
Is UK Solar Panel Funding Legitimate?
The answer is yes. Through ECO4, it's possible to recoup the majority of the installation costs of solar panels. As a bonus, you can also recoup the costs of other energy-saving measures like insulation as well ⁠— if you as a homeowner meet the criteria. And through the Smart Export Guarantee, you can earn money by generating extra electricity from your solar panels.
To maximise your savings, it's important to stay up to speed with grants ⁠— GreenMatch reviews solar panel funding regularly and our articles are updated in line with recent government announcements.
Additionally, it's important you ensure you apply grants to the right panels. There's no point in getting a grant for a panel that's sub-par or not suited to your home. The right panel is tailor-made to the requirements of your home and we make it easy for you to make an objective decision by comparing up to 4 tailor-made solutions available near you.
You can find further information regarding the different energy grants on the Government's website, where you will find all the information you need about the aids related to solar panels, as well as grants for other renewables, such as heat pumps and boilers.
After collecting the information, if you decide to invest in solar power or other sources of clean energy, GreenMatch can help you receive up to 4 free, non-binding quotes for solar panels, heat pumps and boilers.
Instead of calling multiple installers to look for the prices, we can help you by using our network of trustworthy solar panel installers to help save you time and effort. All you need to do to get started is click the button below and answer some questions about your heating demands. We'll take it from there for you.
Quotes from local engineers
Payment by finance available
Save up to £729 per year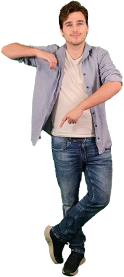 Optimise your home and save the planet
Frequently Asked Questions