Choosing the Best Home Improvement Ideas
Upgrading your home can be an exciting project for homeowners, but knowing which home improvements add value can make these projects more worthwhile. There are endless possibilities when it comes to home improvements, so it's important to make a plan and find the best home improvement ideas for your specific dwelling.
In this article, we will cover various renovations that add value, from affordable home improvements to more extensive options. We'll cover the following projects:
Renovate the flooring in your kitchen and/or bathroom
Replace the bath in your bathroom
Swap your showerheads and toilets with low-flow systems
Add underfloor heating to your bathroom
Upgrade your HVAC system with an air source heat pump (ASHP) or a ground source heat pump
Replace your old boiler with a more efficient one, like an electric combi boiler
Use solar thermal panels for domestic water heating
Upgrade to LED bulbs
Replace old appliances with energy-efficient ones
Install solar panels for your electricity needs
Insulate your walls and loft to make your home more energy-efficient
Draught-proof with uPVC windows and double glazed windows
We will also run you through the different preparations you need to make before starting to carry out these renovations, such as finding the right installer, getting relevant permits in place, and the types of home improvement funding opportunities out there for you.
Check out our video below for even more green home improvement ideas:
What Are the Best Home Improvements to Make?
Choosing your next home improvement depends on various factors. For instance, what is your budget? How long do you hope to live in your house? Are you looking to boost the resale value? Would you like to make your home more energy efficient? These are just a few questions you should ask yourself before choosing a project.
To help you on that journey, here are some affordable home improvements to start with:
1. Kitchen and Bathroom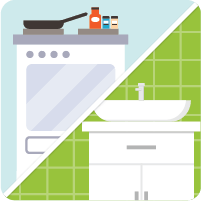 If you are looking to renovate a particular space, start with your kitchen and bathrooms. These two areas are most likely to have the highest return on investment. When making bathroom updates, consider changing out the flooring or replacing the bath. Simple changes can substantially impact your home's value.
If you are looking to save money by making small improvements, consider replacing your showerhead and toilets. The average home toilet is responsible for 30% of water consumption, making it one of the most costly systems in your house. By switching to a low-flow system, you could reduce water waste and save money.
You might also add underfloor heating in your bathroom during renovations. The process will involve installing an ultra-thin heating wire under the floor, and it will certainly add value to your home. This is a great way to upgrade your bathroom, but also get the most out of your heating system.
2. Heating and Cooling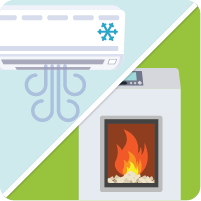 Underfloor heating is just one of the ways you can improve your HVAC system. You can also carry out larger-scale renovations for heating and cooling purposes.
If your HVAC system is a bit outdated, consider upgrading it. There are numerous low carbon heating systems out there that are affordable and efficient.
For example, ground and air source heat pumps are environmentally-friendly, and you may also qualify for an incentive through the Green Homes Grant to cover a portion of the cost. Homeowners seeking to install a ground source heat pump can cause their utility bill to drop by 65% annually.
Investing in alternative energy sources may also be a worthwhile investment. Solar thermal and biomass boilers are two options that help save homeowners money. Plus, they're an excellent low carbon heating option for those in the UK who are looking to replace their gas boilers, which will be banned in new builds from 2025 onward.
Biomass boilers are similar to conventional gas boilers but produce heat using sustainably produced wood rather than fossil fuels.
If you have a small home or limited space, consider an electric combi boiler. These boilers are more compact than regular models and do not release any CO2 emissions. They are also cheaper to install than gas boilers, making them a worthwhile investment if you are working on a tight budget.
3. Energy-Efficient Home Improvements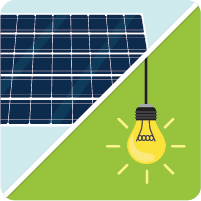 If you are looking to reduce your electricity bills while increasing your home value, there are a few small-scale improvements you can make, as well as some large scale ones.
These projects can vary in scope and price. For instance, updating your lighting from incandescent light bulbs to light-emitting diode (LED) bulbs is a cheap project that will only require a few minutes of your time.
On the other hand, replacing old appliances with energy-efficient ones may be a bit more expensive, but doing so will be well worth it. For example, dishwashers that are more than 20 years old waste litres of water during each cycle. By purchasing a newer model, you can conserve water and save money on your water bills. You'll reap similar benefits by purchasing other Energy Star appliances like washing machines and fridges, too.
More substantial updates may cost a bit more upfront but definitely add the most value. Solar panels are one such update. Many cannot afford solar arrays because these improvements can cost thousands of pounds upfront. However, green energy funding is available for domestic renewable energy technologies. For example, the Smart Export Guarantee offers export tariffs for the renewable energy you export to the National Grid.
4. Insulation and Draught-Proofing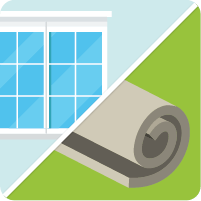 Increase your home's value and further conserve energy by insulating your walls and loft. Choose loose-fill or batt insulation to insulate your loft on your own. This project should take a single weekend to complete.
To insulate your walls, hire a professional to install spray foam insulation or use rigid foam panels to do the work yourself.
Draught-proofing your windows and doors is another excellent way to insulate your home and add to its resale value. Re-caulk old spots around these openings to strengthen the building envelope.
Double glazed windows are very effective—and even adding shutters to them for the winter months will help lock in heat. You might also replace the wood or aluminium window frames with uPVC, which provides the highest level of thermal comfort.
What Is the Best Way to Finance Home Improvements?
Renovating your home is an expensive move. However, you don't have to pay for every project out of pocket. There are numerous ways to finance home improvement projects.
From Green Home Grants to post-installation tax incentives, there are a handful of funding options that will make home improvement worthwhile—and put more money back into your wallet.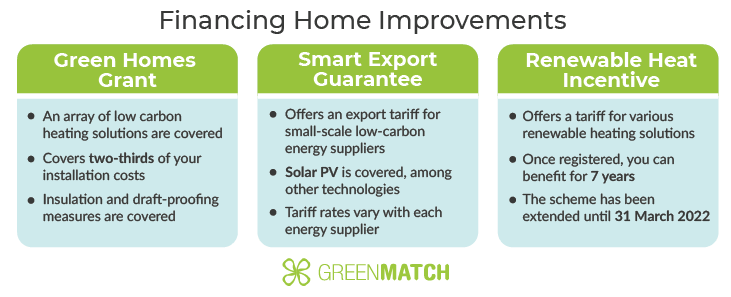 Green Homes Grant
The Green Homes Grant will close to new applications on 31st March at 5 pm 2021. The scheme was previously extended to the end of March 2022. But in a new press release from the government, they announced that the applications will end a year early on the 31st of March 2021.
Now is a better time than ever to invest in home improvements in the UK. Thanks to the new Green Homes Grant scheme, homeowners in England are eligible for financial vouchers that can help pay for two-thirds of your environmentally-friendly home improvements—up to £5,000.
These improvements include insulation, heat pumps, solar thermal and window insulation updates.
If you live in England and complete a home improvement project through the Green Homes Grant initiative, the company will need to be approved through the government-endorsed quality schemes, Trustmark and MCS.
If you live outside of England in the UK, you will need to check with an alternative source for energy-efficient home improvements. For Wales, the Nest scheme will help you determine if you are eligible for free improvements.
Local advice centres are available all across Scotland through Home Energy Scotland, reducing homeowner bills while also tackling climate change. If you live in Northern Ireland, NI Energy Advice supports homeowners seeking energy grants.
Check out the video below for the full details of the grant scheme:
Smart Export Guarantee
The UK is currently attempting to achieve net-zero carbon emissions by 2050. To reach this goal, however, the government needs residential areas on board.
Enter the Smart Export Guarantee (SEG). This scheme offers export tariffs for low-carbon emission technologies like solar, wind power, hydropower, micro combined heat and power, and anaerobic digestion.
Under the SEG, companies will pay you for the energy you export to the National Grid. Currently, you can receive between 2-5.6 p/kWh.
The SEG could allow you to save a few hundred pounds on energy bills each year. Thus, over time, your home improvement would pay for itself, thereby making it a worthwhile investment.
Renewable Heat Incentive
The UK's Renewable Heat Incentive (RHI) also offers financial support to encourage renewable heating technology installations. The goal with this incentive is to minimise the effects of climate change and help the UK reach its goal of relying on renewables for 12% of its heat.
RHI can make large-scale investments like air source and ground source heat pumps, solar thermal, and biomass boilers more worthwhile in the long run. After installing your system, you can receive tariffs for seven years.
Currently, the RHI rate is about 21.12 p/kWh. If your renewable content comes to 20,000 kilowatt-hours per year, you may save upward of £4,234 annually.
How Do I Plan a Home Improvement?
If you are looking to plan a home improvement, you will want to establish your budget, timeline and goals before starting. Consider researching various home improvement companies in your area and obtaining quotes to compare.

1. What Is Your Budget?
Take a hard look at your finances to determine your budget for the home renovation. Then, overestimate how much you think the project will cost and save or borrow more than you think you'll need.
Giving yourself some cushion can protect you from unexpected costs. Often, the project's materials and complexity can tack on extra expenses you didn't foresee. Your home's age and location may also affect the project's total cost. By giving yourself some wiggle room, you can stay on budget and complete renovations on schedule.
2. How Long Do You Plan to Live in Your House?
Before tackling a home improvement, you should also consider how long you plan to live in your house. Certain renovations can significantly increase the value of your home, and others can give you long-term return on investment, so it's important to consider what to renovate and when.
For example, installing low carbon heating solutions means you can receive RHI tariffs for seven years. You likely won't want to install a ground source heat pump and then sell your property a year later, as you wouldn't reap those benefits.
Alternatively, upgrading your windows to brand new ones can up your home's value quite easily, resulting in a higher valuation when selling.
3. What Permits Do You Need?
If you're planning a small renovation, you likely don't need to apply for a permit. However, the government may need to approve larger home improvement projects before you begin working on them.
For example, if you want to build something new, add a building extension, or change the use of your building, you may need permission first.
Contact your local planning authority to determine if you need permits and which kinds you should apply for.
FAQs about Home Improvements