How Much Does Underfloor Heating Cost?
Underfloor heating costs can start as low as £30 for small projects, and go upwards of £10,000 for bigger projects. The cost will depend on a variety of factors, such as:
The underfloor heating system you choose.
The size of your room.
The age of your building.
With good consideration and decision-making, underfloor heating systems are a great choice for homeowners because they provide evenly distributed warmth and comfort.
Underfloor heating falls into two categories: electric and water systems. In an electric underfloor heating system, commonly known as a dry system, a set of wires are installed beneath or within the flooring, where the heat output is controlled by a thermostat.
Water underfloor heating, also known as a wet system, circulates hot water to the pipework throughout the floor, connected to a boiler or a heat pump. A price breakdown can be found in the table below:
Underfloor Heating Cost — Retrofit vs New Build House

| Type of Underfloor Heating | New or Renovated | Material Cost | Labour Cost | Completion Time | Total Underfloor Heating Cost |
| --- | --- | --- | --- | --- | --- |
| Electric | Renovated | £3,600+ | £480-£720 | 2-3 days | £4,000-4,500 |
| Electric | New Build | £2,100+ | £240-£480 | 1-2 days | £2,300-£2,600 |
| Water | Renovated | £9,000+ | £1,200-£1,680 | 5-7 days | £10,000-£11,000 |
| Water | New Build | £4,800+ | £960-1440 | 4-6 days | £5,500-£6,500 |
Sample price chart for a 60m² home with £30 contractor hourly rate
Underfloor heating costs for electric foil film start from £50 per square metre, excluding a thermostat. For a warm water system, you can expect to pay £40 per square metre, excluding fitting charge and additional equipment purchases.
The market offers kits from £165 for an aluminium structure 140w/m², including a thermostat for controlled heat output and a floor temperature sensor.
If you are interested in getting more information on underfloor heating costs, GreenMatch is here to help you. You can receive up to 4 quotes by filling in quick form at the top and hear from us shortly. The form is free of charge and there's no further obligation with the service.
How Much Does Underfloor Heating Cost to Install?
When it comes to installation, underfloor heating cost can be affected by a number of different factors:
the type of floor cover
the state of the property
the type of underfloor heating.
Materials will cost the most, followed by tradesman charge. Contractor costs could range from £200-£300 per day, and this depends on the length of the installation process.
High quality insulation and a thermostat are important factors that will affect underfloor heating cost.
They vary according to model and property size, but you can expect to spend between £100-£200.The insulation will help the system distribute higher heat yield. The thermostat will regulate the timing of heat output.
Laying pipes for wet underfloor systems will be easier in a new building where removing the old floor cover is not needed. If renovating a home with an electric type, underfloor heating cost will be cheaper for materials. Let's have a look at the installation costs below.
Renovated House Installation
When considering home improvements, underfloor heating is a great renovation project. Single rooms or bathrooms are great for electric underfloor heating, especially in a small renovation project.
If you cannot find the exact size for your project, It's always recommended to purchase the smaller size and add an additional mat that protects against cracks in unheated areas if desired. This will avoid unnecessary overheating in the room.
A loose cable kit for a 4.5m² room can start from £290.
Wet underfloor heating in a renovated building costs about £150 per m², excluding the labour work, which could take up to 6-7 days.
New Building Installation
Underfloor heating costs can be overwhelming considering all associated costs, but some electric systems are a great affordable solution for a new build.
The average price per m² could start from £35 and the installation could take up to two days. However, using electric underfloor heating fitted throughout the whole building will result in high electricity bills.
Warm water underfloor systems are much more suitable for new homes. A wet system could cost upwards of £80 per m², more than double the amount in comparison with electric underfloor system.
How Much Does Underfloor Heating Cost to Run?
The running costs of water underfloor heating depend on many factors, such as the main system generator — boiler or heat pump types.
The big advantage of installing a water underfloor heating is the cheaper running cost. Using a good floor leveling can reduce the needed flow temperature by 20%. Having a system running with lower temperature can save you around £10 a year for each degree.
Both water and electric underfloor heating can be regulated in order to prevent unnecessary heat usage. Leaving the underfloor heating on continuously is not recommended, and is particularly unnecessary with good insulation.
Let's take, for example, an average room size of a 4m² bathroom that is heated for 4 hours a day. The average price of electricity is 14.37p/kW in the UK. That can come to £10-£11 pounds a month.
Calculations depend on the location — for example, in Northern Scotland the electricity prices could be more expensive than in London.
Types of Underfloor Heating and Equipment
Electric systems provide ease and flexibility in terms of installation with wide range of mats, loose cable fitting, and heating film systems to choose from.
Water underfloor systems are more complex in terms of materials and installation, but when connected to a good quality condensing boiler or a heat pump, they offer very efficient energy output.
Which Underfloor Is Best For My Home?
Avg. Room Size
Suitable Electric System
Suitable Water System
4m

²

Electric Mat

Pre-spaced, suitable for small DIY projects

Condensing Boiler

Gas is cheaper than electricity

14m

²

Loose Fit Cable

Cheaper to install in large rooms and around odd angles and corners

Air Source Pump

Cheaper running costs over time
Fill in the form in just 1 minute
Electric Underfloor Heating System
Materials for electric underfloor systems are cheaper, but considering the higher electricity prices, expect electric underfloor heating costs to be higher in the long run than wet systems. That's why electric underfloor is a great solution for small spaces or a retrofit building project.
Underfloor Heating Mats
Underfloor heating mats work great if installed under stone, tile, marble, because they retain heat well, making the system very efficient.
If you are planning on using an electric mat as your primary source of heat, for sufficient warmth a 150W/m²-200W/m² type of mat is recommended.
The mats or rollers are pre-spaced and you can select the size you need for regularly-shaped rooms.
By placing a thin layer of insulation on top of the concrete floor, you will guarantee fast warm up time as the heat makes it way upwards, minimising heat loss.
Investing in a higher wattage mat will optimise heat usage so you can enjoy the benefits of an even heat dispersion without adding up to the electricity cost. For reaching optimal warmth in less time and maximising energy savings, lay the mat on top of a well-insulated concrete subfloor or slab floor.
Loose Cable Fittings
Loose fit wires provide more flexibility when spacing the parameter in the desired room. This type of electric underfloor heating is perfect for a bathroom with a tub or any larger or irregular-shaped rooms.
The underfloor heating cost of this type vary according to manufacturer, but if you are working on a 14m² room, expect a cable system to be up to 20% less expensive than buying an electric mat for the same size room.
Loose cables could be easily fitted around odd corners and heavy furniture or appliances mounted to the floor without needing extra work to remove it.
Underfloor Foil Film Heating
Foil film underfloor heating is easy to install in dry rooms and perfect for wooden floors, parquet and laminate floors. It is best to install this type on top of concrete or chipboard.
It can be placed under a layer of insulation or used on timber floors and soft floors by placing an overlay that will help with the heat transfer.
Depending on the subfloor, additional insulation and underlay could be needed.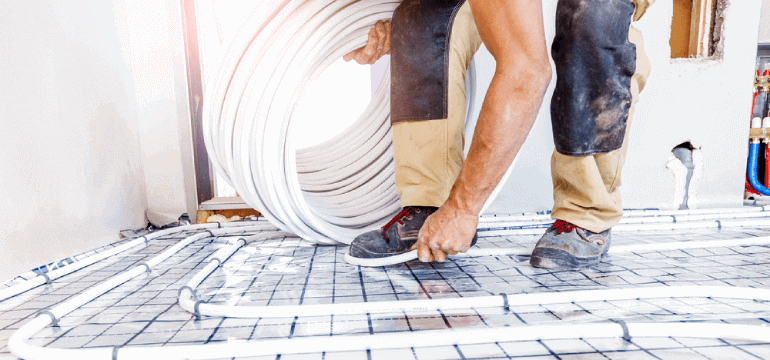 Warm Water Heating System
The underfloor heating pipes can be connected to either a boiler or a heat pump. A key characteristic of this system is that it works with lower temperature water. Considering their efficiency, heat pumps are regarded as a good match for underfloor heating. However, in the case of much higher heating demand, a boiler could be more suitable.
If the household already has a boiler, investing in an energy-saving one will cut down on your energy bills. Current regulations specify that the boilers used for underfloor heating must be of the condensing type. 
By using a condensing boiler, expect energy efficiency to increase by around 25% in comparison to radiators, whereas a heat pump will make an even bigger difference: up to 40% more efficient.
The water flow temperature from a boiler can be up to 65°C depending on the top floor cover whilst some heat pumps, such as air source types, work with 35°C. This will require tighter spacing between pipes and increase in material costs.
Investing in a water underfloor heating system will pay off in the long run with cheaper running costs and better efficiency.
This type of heating requires a professional installation and can result in higher underfloor heating costs for an old building project. Considering the preparation of the floor required, wet systems will be cheaper to install on new joist floors or newly built residential buildings.
The new boiler cost could be up to £2000 for an A-rated model.
On the other hand, the cost of a heat pump could be even higher, but they are considered inexpensive to operate in the long run.
If unsure whether to choose a boiler or a heat pump, it's good to keep in mind that:
Heat Pumps are up to three times more efficient and will be suitable for underfloor heating with timber floors that require lower temperature. Air source heat pump running costs can be lower with an underfloor efficient heating system.
Boilers, on the other hand, might be more suitable for smaller projects and more efficient in colder areas by generating more energy.
Underfloor Heating Manifolds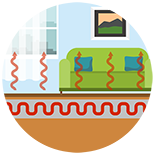 Underfloor heating manifolds control the water flow to provide consistent warmth throughout the whole floor.
Open manifolds for low temperatures up to 60°C distribute an even flow and constant temperature without a mixing valve. The water is circulated within the underfloor heating system with the help of heat pump systems.
Manifolds with a mixing pump are required where water temperature reaches above 60°C in order to provide and maintain the correct temperature.
The running cost of underfloor heating is dependent on energy consumption and cost of electricity in the property area.
Does Underfloor Heating Cost Less than Radiators?
Electricity is more expensive than gas, thus electric underfloor heating will not cost less than using a gas radiator.
However, after the initial price for material and installation, water underfloor heating will pay off with very cheap bills over time. The heat is more efficiently distributed through the room and it offers better temperature control. 
In addition, UK homeowners that use a renewable source of energy to generate heat can qualify for a financial incentive scheme.
Renewable Heat Incentive
Renewable Heat Incentive (RHI) is a UK Government scheme that encourages homeowners to use renewable energy. It offers support for biomass boilers, ground to water and air to water heat pumps. 
Ofgem, the regulating body for the RHI has more information on how to apply, how calculations are made and recent scheme changes.
Should I Leave Underfloor Heating On All the Time?
Yes, it is advisable to leave it on constantly during the cold winter months. Underfloor heating needs more time to warm up and turning it off will lead to unnecessary waste of energy. Installing thermostats for different rooms will provide the most heat efficient control and optimal heat distribution where it is most needed. Modern thermostats offer setback temperature that automatically lowers the temperature at night and saves on your bills. 
Find the Right Underfloor Heating Supplier in the UK
Finding the right supplier for underfloor heating requires careful planning and decision-making. It is important to compare companies in order to find the right solution for your home. Below you can find UK suppliers with expertise in underfloor heating systems.