What Is a Condensing Boiler?
Condensing boilers are water heaters fueled by gas or oil. They attain high efficiency by using waste heat in flue gases to preheat cold water entering the boiler. Water steam that is produced during combustion is condensed into liquid form, which leaves the system through a drain.
In many countries, the use of condensing boilers is compulsory or encouraged with financial incentives due to their efficiency and green credentials. In fact, since 2005, all new gas central heating boilers that are fitted in the UK need to be high efficiency condensing boilers unless there are exceptional circumstances.
Choosing the best condensing boiler can be challenging, that's why GreenMatch provides you with a free of charge and no obligation service. You can request up to 4 quotes and compare different systems so that you can find the best condensing boilers for you. Just fill in the form to get yours today.
Quotes from local engineers
Payment by finance available
Save up to £1040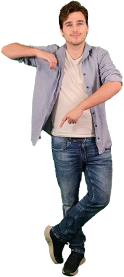 Optimise your home and save the planet
Types of Condensing Boilers
There are two different types of condensing boilers available. Firstly, system or regular boilers will work with the existing hot water cylinder.
The second type is the combi boiler – the original tanks can be removed and the combi boiler will produce hot water on demand.
How Does a Condensing Boiler Work?
In condensing boilers, a special heat exchanger also acts as a condenser. Condensing boilers can achieve greater efficiency because they capture more heat from the exhaust gases – they have a larger heat exchange surface to enable them to transfer as much heat as possible from the boiler's burner into usable heat, thereby allowing less heat to escape.
The advanced combustion technology of condensing boilers emits less nitrogen oxide and carbon monoxide.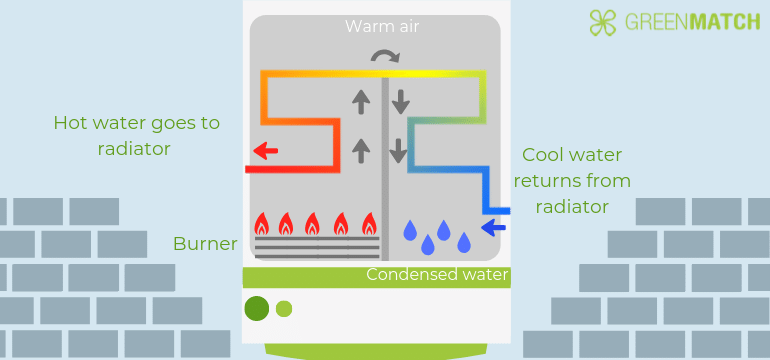 Condensing Boiler Prices
Condensing boilers prices range from approximately  £1,500-2,500 (plus installation costs) and will help to save 10%-12% off of the annual heating bills. A new condensing boiler can cost a fair amount, but over its lifespan it will regain the money and continue saving money on your annual bills, making it worth the investment. This investment will usually pay back over 10 years.
Advantages of a Condensing Boiler
Condensing boilers help the environment with an increased efficiency to up to 12% .
It recycles waste gases and saves on your future energy bills.
Space savings: a condensing combi boiler does not need a hot water tank and is available in a wide range of compact sizes, making it much suitable and convenient to fit in a kitchen cupboard than conventional boiler models.

FAQs
Why should I get a condensing boiler?
Building regulations in the UK now state that all new boilers installed in a domestic home should be high-efficiency condensing boilers, although exceptions do apply in some cases. Additionally, condensing boilers are a safe choice, because there is a low risk of anything being sucked into the boiler since it is fully sealed and takes air in directly from the outside. Condensing boiler prices are not so high, also they are at least 25% more efficient than conventional boiler models.
Is a condensing boiler only more efficient when in condensing mode?
In fact, a condensing boiler will always be more efficient than a conventional boiler, as even when it is not in condensing modem it will still provide about 85% efficiency—increasing up to 90% when condensing. In comparison, a brand new non-condensing boiler will be at best 78% efficient, and old boilers will be between 55 and 65% efficient. This is the reason why only condensing boilers meet the criteria for grade A or B efficiency that are now required by the building regulations.
Are condensing boilers difficult to install?
The installing process is not particularly complex. The only difference compared with non-condensing boilers is the requirement for a condensate drain. A skilled installer will not have a problem in deciding on a suitable location for the drain and fitting a normal, plastic overflow pipe. 
Can condensing boilers be fitted to existing systems?
Condensing boilers can be fitted to most new and old systems. However, expert practices must be applied, which will include power flushing of the system and the addition of an inhibitor. As with any replacement boiler, the evaluation of the effectiveness of the control system and the type of hot water cylinder should also be carried out.
Could the acidic condensate be a problem and is it toxic?
A condensing boiler can produce up to 6 litres of condensate per hour if it is properly installed. Although the condensate pH levels are lower than the ones recorded for rainwater, for example, ranging from 3 to 5, it is still recommended that the boiler's sections which come in close contact with the condensate liquid be made of materials that can easily withstand acidity levels of up to 5 units. The condensed liquid is disposed of via a pipe connected to the drainage system.
If you have decided to purchase a boiler, but you are not sure which type you would like, we are ready to help you. Fill in the form on this page with your personal preferences and information, and we will provide you with up to 4 different suppliers of boilers. The service is free, without obligation, and takes only a minute!
Quotes from local engineers
Payment by finance available
Save up to £1040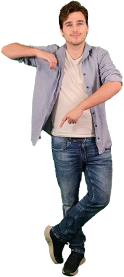 Optimise your home and save the planet