Lean-to Conservatory: A Complete Guide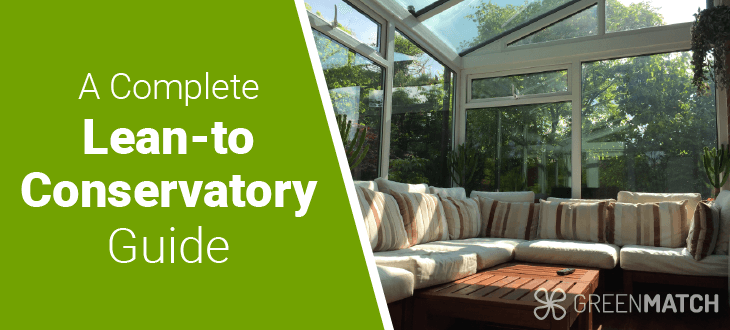 Welcome to our complete guide for all things lean-to conservatory! A modern lean-to conservatory can do a lot for your home. If you're concerned that a new conservatory might infringe too much on your outdoor space then a lean-to conservatory might be a perfect choice.  
They are simple in design but can be easily adjusted to meet your exact requirements and they can take up far less space than a traditional conservatory. In this guide, we'll discuss all these benefits and more, as well as some of the downsides, so that you're better acquainted with all that this popular conservatory has to offer. 
To learn exactly what a lean-to conservatory can do for your home, it's best to consult a professional installer from a local conservatory company. That way, you can get tailored advice and take advantage of the best local rates. 
We always recommend that you compare multiple quotes to get a sense of what the fairest and most accurate conservatory installation costs are. To help you with this, our dedicated GreenMatch team can connect you with up to 3 professional installers, all of them vetted by us and based in your local area.
Click the button below to be taken to our quick and easy form, and we'll do the rest! All our quotes are 100% free and come with no obligation.
What are Lean-to Conservatories?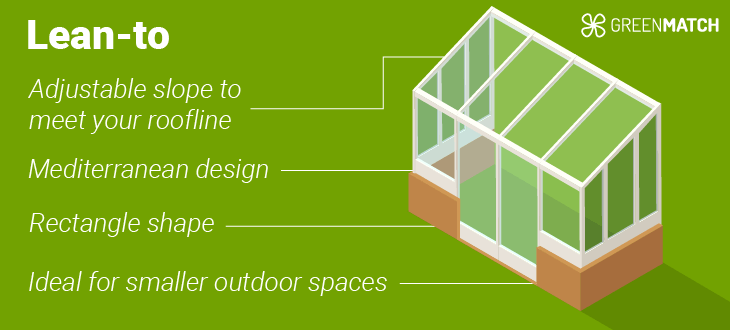 So, what is a lean-to conservatory? Lean-to conservatories, otherwise known as lean-to sunrooms, are square or rectangular conservatories that attach to the side of your house. Where they differ from traditional conservatories is in the roof. A lean-to features a low-pitched, sloping roof that appears to lean against the side of your home.
Lean-to conservatories in the UK are quite simple in design. Compared to other styles, they are fairly minimal and won't take up a lot of space which makes for a sleek and modern appearance, especially when accompanied by slim aluminium frames. 
While most classic conservatories in the UK have evolved from the Victorian or Georgian era, a lean-to sunroom has a more Mediterranean aesthetic. Because of this simplicity, a lean-to conservatory is less imposing and is versatile enough to suit any style of home. 
Lean-to conservatories will typically take up less outdoor space, making it a nice addition in smaller homes with less outdoor space to play with. This is also favourable if you'd like to keep as much space as possible in your garden. The low-pitched roof also works well with bungalows with low roof lines. 
Lean-to conservatory prices are also among the lowest prices you can expect for a modern conservatory installation. Prices for a uPVC lean-to conservatory with a dwarf wall typically cost around £7,500 – £11,250, depending on various factors such as size. Wooden lean-to conservatories will cost up to £15,000. This is around 25% lower than an Edwardian conservatory, and much less than half of what you would expect to pay for a modern orangery. 
Lean-to roof options
Lean-to conservatories are most recognisable by their unique roof shape. Unlike larger, "hipped-back" roofs, where the roof slopes to meet in the centre, or roofs with a central ridge, the lean-to conservatory roof is a flat single slope that sits under the eaves of your roof and slants away from your home. 
What makes lean-tos so versatile is that the pitch of the roof can be adjusted to meet the height of your roofline, so they won't look too intrusive next to your home, even for smaller homes and bungalows. 
Like any conservatory, it's pretty much up to you what materials you use to build the walls and panes. They can be fully glazed or include a dwarf wall. In terms of roofing, there are a few key options to consider. 
To give you some lean-to conservatory ideas, we've outlined the most popular materials you can use for your new conservatory roof. 
Glass roof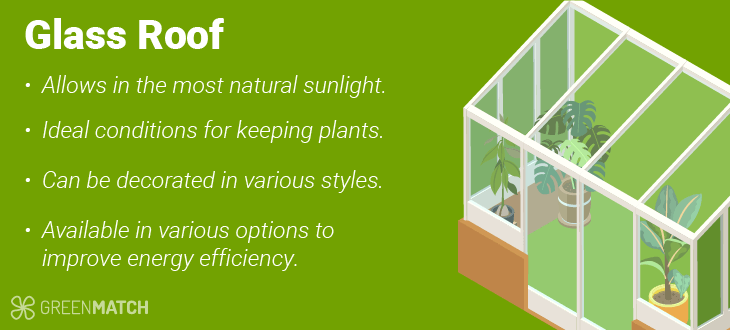 Glass roofs are a classic and highly popular conservatory roof option. Conservatory glass roofs are made up of large glass panels that can be customised or decorated to meet your preferences. Some common glass roof options include:
Self-cleaning glass | Easy maintenance
Toughened | Durable and secure
Low-e | Energy efficient 
A lean-to glass conservatory, complete with a glass roof will give your lean-to conservatory that sunroom effect that it's famous for, allowing natural light to fill the space and giving you overhead views to enjoy. Modern lean-to glass conservatory roofs, such as those with Low-E glass, or those that are double glazed, are better insulators, keeping you warm in winter and cool in the summer. Although, a solid tiled roof will be even more effective. 
Polycarbonate roof
Polycarbonate sheets are lightweight, cheap to buy and install, and easily shaped to meet your exact measurements. That's why they've remained a popular choice for conservatory roof materials. They are also clear so they will let in some natural sunlight. 
There are however some drawbacks that you should also be aware of: polycarbonate roofing will only last about half as long as a glass roof and even less compared to tiles. It's also not an effective insulator, so it will allow heat to pass through which will make your conservatory especially cold in winter and will contribute to your heating bills running up. 
This material is also susceptible to weather damage, especially toward the end of its life. You'll also hear any heavy wind and rain as it is not effective at dampening outdoor sounds. Therefore, polycarbonate is not recommended for colder climates. 
Solid tiled roof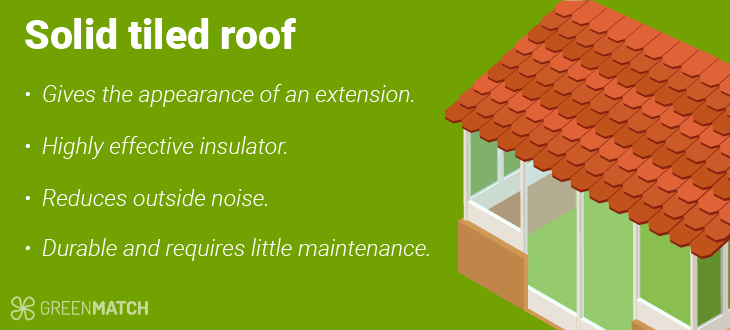 A lean-to conservatory with a solid roof is by far the most energy-efficient material to lay your conservatory roof with. Solid roof tiles let you make the most of your conservatory all year round, without having to worry about having to overly regulate the temperature or wasting money on heating bills. 
Traditional tiled roofs come in various colour options. Therefore, you can match your conservatory to the roof of your house which helps blend your conservatory with your house and makes it appear more like an extension. If you're concerned that you'll be missing the natural sunlight, then you should consider fixing skylights into your tiled roof. 
For bespoke advice as to the best materials for your conservatory roof, use GreenMatch's free quotes service. It's simple: fill in the form and our dedicated team will match you with up to 3 professional conservatory fitters who can assess your conservatory needs and offer a fixed, tailor-made quote for their installation services. 
This is a great way to get free, professional advice, and you're under no obligation to accept any of their quotes. What's more, we only match you with installers based in and around your local area, so you can take advantage of the best local rates. 
To get started, click the button below!
Benefits of a modern lean-to conservatory
With its affordability, adjustable roof pitch, and simple design, it's easy to see why a lean-to conservatory is a popular choice for homeowners looking to add extra living space to their homes.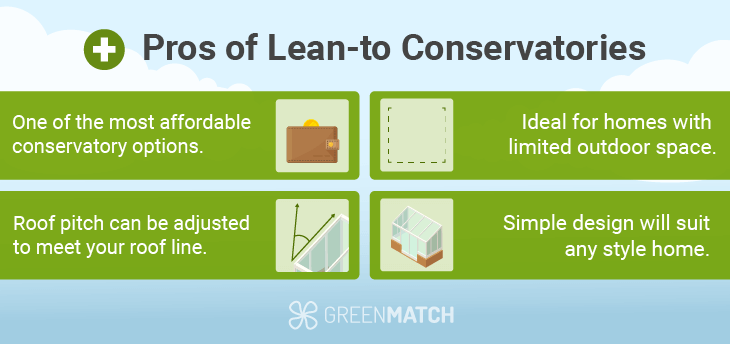 Disadvantages of a lean-to conservatory
While there is a lot to love about a lean-to conservatory, there are also some potential drawbacks that you should be aware of before committing to having one installed.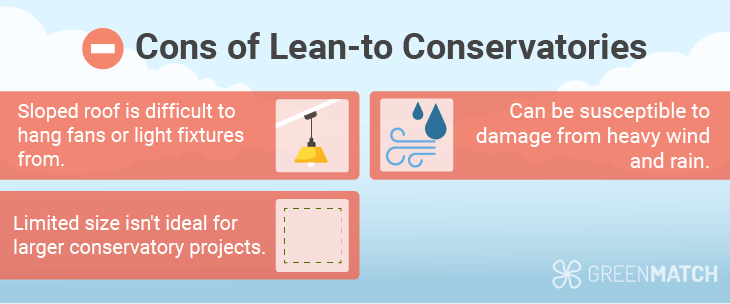 Weighing up these pros and cons, it's clear that lean-to conservatories have a lot to offer. If you're concerned about whether it is the best conservatory to go for, then it's best to consult a professional installer for peace of mind. 
With GreenMatch, we can match you with the best professional installers in your area who can offer their bespoke advice as well as a tailor-made quote for installation. With up to 3 quotes, you're in a great position to find the best installation deals.
Get the best lean-to conservatory prices
To get the best sense of the fairest and most accurate conservatory prices, we always recommend collecting multiple conservatory installation quotes. However, it can be a difficult and time-consuming process. 
Going it alone means you have to do a thorough search for multiple conservatory companies, then whittle them down by checking their qualifications, and any customer reviews or testimonials. Only when you're sure of their credentials should you request quotes from them. 
Rather than go through this alone, why not leave it to the team at GreenMatch? With your details, we'll connect you with up to 3 professional installers from our vetted network. 
Get your online conservatory quotes from GreenMatch: 
Receive up to 3 tailored quotes to compare.
We'll only match you with the installers closest to you for the best local rates.
All of our quotes are 100% free with no obligation. 
Save yourself the extra time and effort by filling in our form today. Click the button below to get started.
Frequently Asked Questions