A Guide to Investing in Renewable Energy
Although investing in green energy may seem like a costly idea, when we will decide on going green, we won't be left alone with the expenses. This is due to the fact that there are a number of schemes for renewable energy sources available, which will help you with the costs of investing in green energy-saving improvements to be fitted in your home. Read about most of the green energy tariffs available in the United Kingdom for 2014 below.
Green Deal
This government-backed scheme enables to make cost-effective energy-saving improvements. Green Deal works in a way that it eliminates the need for paying the total cost of green improvements upfront, and lets you pay the bills over time simply through a charge that is added to the electricity bill. There is a possibility of paying some or all of the cost through savings on the energy bills.
Green Deal was launched in January 2013 and both domestic and non-domestic sector is eligible for applying for this incentive scheme. Green Deal packages include renewable heat, energy generation and energy efficiency products together.
Although the Green Deal Process has only four stages and may seem simple, it is quite complicated:
Assessment – upfront survey and advice (Green Deal Advisor)
Finance – upfront cost (Green Deal Provider)
Installation – Accreditation standards (Green Deal Installer)
Repayment – through energy bill savings (Electricity supplier)
There are about 45 measures of areas of home improvement, where you can receive funding under the scheme. Green Deal will cover improvements on such elements, as:
insulation
heating and hot water
generating your own energy
lighting (non-domestic)
mechanical ventilation (non-domestic)
heat recovery measures (non-domestic)
How do you save money on the Green Deal? You pay for the energy-efficient measures through your electricity bill. In theory, savings you make on your current energy bill (thanks to the energy-efficient improvements) will go towards repaying your Green Deal loan. Overall, your bill shouldn't increase. This is the so-called Golden Rule, however, it is a guideline and not a guarantee. The Golden Rule doesn't take into account how much energy you use or ensure you will save money.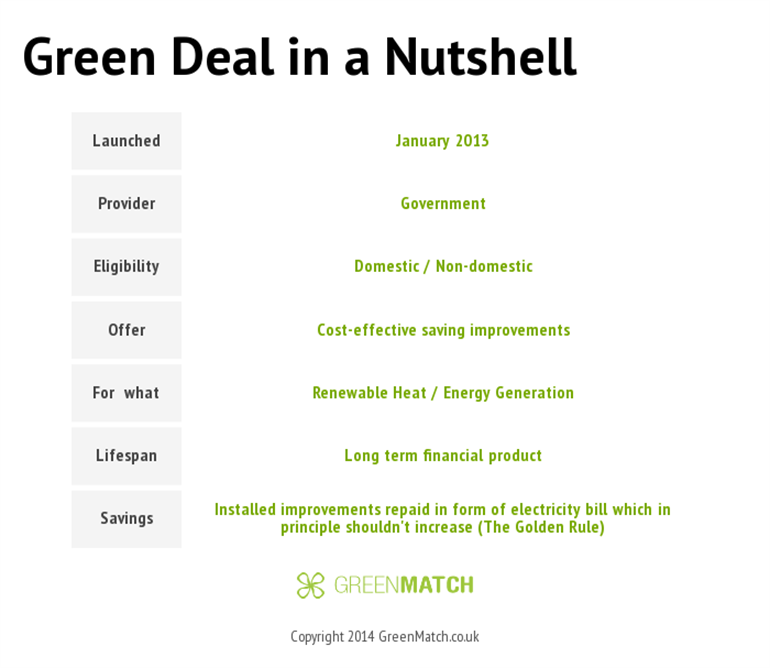 ECO (Energy Company Obligation)
This scheme is available for funding from the big six energy suppliers in order to support energy improvements. ECO works similarly to the Green Deal scheme but this program is eligible for people with certain benefits, for households in the poorest parts of the country and for those in solid wall properties.
Energy Company Obligation provides heating and insulation improvements for households that are vulnerable and with low income. There are quite complex eligibility criteria for this scheme programme.
Feed-in Tariffs (FIT)
This scheme was constructed for people, who generate their own electricity from renewable sources such as solar PV and small wind turbines. The FIT scheme offered people, who produced their own electricity at home with the use of renewable energy technologies, guaranteed cash payments. The renewable technologies that were eligible included photovoltaic solar panels and wind turbines.
Feed-in Tariff scheme launched in April 2010 and works in England, Scotland and Wales (however not Northern Ireland).
Below, you will find a list of which renewable energy solutions were eligible to receive FIT:
hydroelectricity
anaerobic digestion
micro combined heat and power (micro CHP)
solar PV
small-scale wind turbines
Feed-in Tariff can be divided into three separate stages, and each stage generates you some amount of savings:
Generation tariff – total electricity generated by PV system. This is a fixed rate that is payable to households for the total rate of electricity generated by the solar energy system. This is calculated per unit and the rate received is determined by the date of your registration in the system and the size of your installation.
Export tariff – electricity from the PV system not used in the house being exported to the grid. This is payable on the electricity units that you are exporting back to the national grid, due to the fact that you haven't used them in your household. On average, the level of electricity being sent for a regular household is 50% of the electricity you generate. 
Savings on the electricity bills – electricity from the PV system is being used in the home and therefore generating saving on the utilities.
The payments made within Feed-in Tariff are tax-free and lasted for about 20 years for solar PV installed after 1 August 2012. The rates will differ greatly depending on the size of the installation, the renewable energy source and the size of the household, among others, that is why it is very difficult to assess the rates you can receive from your installation.
The Feed-in Tariff scheme ended on the 31st of March, 2019.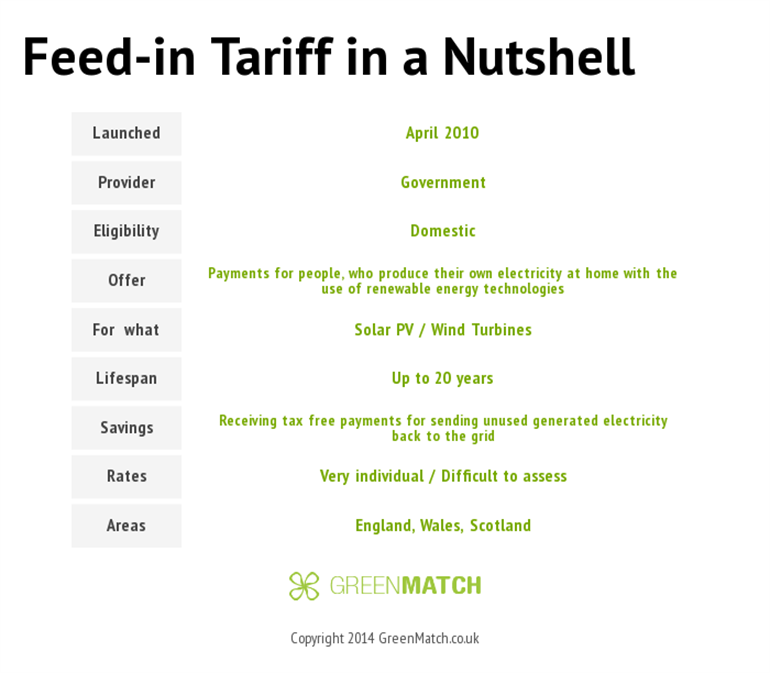 Local Authorities
Remember that you don't have to rely on the government schemes to get back the money you've spent on the renewable energy installation. Some local authorities may be offering energy-saving grants or some other offers for local residents. It could turn out to be beneficial to call your local authorities and ask whether they offer anything for households in the area that have taken certain energy-efficient measures.
Want to read more about renewable energy sources? Just choose!
In the second volume: "Find a Green Energy Tariff vol. 2" you will get to know about schemes as Renewable Heat Premium Payment, Renewable Heat Incentive, and CERT.
Fill in the form in just 1 minute