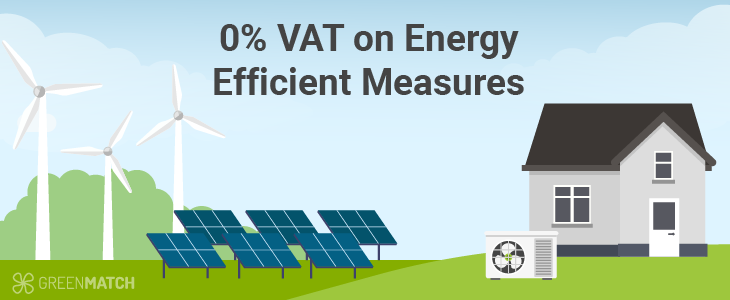 No VAT on Energy Efficient Measures for the Next Five Years!
Amidst unfavourable events such as the energy price crisis, Russian waged war on Ukraine, and the subsequent insecurities of the global energy market, the UK government has released the Spring Statement 2022, which places huge focus, among other initiatives, on helping households with rising energy bills.
Chancellor Rishi Sunak announced cutting VAT from five percent to zero upon installing energy efficient systems such as solar panels, heat pumps and insulation. According to him, "A family having a solar panel installed will see tax savings worth over £1,000 and savings on their energy bill of over £300 per year."
Homes will benefit from zero VAT on energy efficient measures for a period of five years as the scheme began on April 2022 and will last until 2027. An average UK home can expect to pay between £5,000 to £10,000 for installing solar panels, and between £8,000 – £18,000 for an air source heat pump system. If you want to know more about ASHP systems, read our guide here: What is an air source heat pump?
Renewable expert Joshua Pearce tells Greenmatch:
Heat pumps, which are incredibly energy efficient because they use electrical energy to move heat rather than generate it, have historically struggled to compete with cheap natural gas financially. Recently, the cost drops in solar photovoltaics have been so massive that our research has shown solar powered air-source heat pumps finally make economic sense for the average home even in colder climates. With the price increases and instability of natural gas prices, coupled to the recent announcement of the UK government to scrap the 5% VAT for homeowners for both solar panels and heat pumps, now is excellent time to invest in greening both your home's electricity and heating supply.An investment in solar powered heat pumps is not only an economic investment that will pay financial dividends for decades, but you are also helping to protect the planet for your children and cut down on Russian military funding fueled by natural gas exports.

Joshua M. Pearce is the John M. Thompson Chair in Information Technology and Innovation. He holds appointments at Ivey Business Schooland the Department of Electrical & Computer Engineering at Western University. He runs the Free Appropriate Sustainability Technology research group.
With regards to domestic solar panels, the scrapping of VAT along with other solar panel grants such as the Smart Export Guarantee is expected to help bear the installation cost of solar panels, which many UK households find to be very expensive.
Is It the Right Time to Invest in Renewables?
In light of the current global situation around energy prices, it is without a doubt the best time to invest in clean renewable energy that will, in the future, protect homes from the volatility of the fluctuating market and increasing gas prices in the UK. The VAT on renewables was 5%, which was already low, but scrapping that off will potentially see people from paying excessively on their energy bills.
The UK's initiatives to push green energy into private households is just the beginning of a green and clean future, and we can only hope that this incentivises people to make energy efficient choices for their homes. The new ECO+ scheme will be launched in Spring 2023.
It is all the more important to get offers from various certified installers in order to make a cost effective purchase as this is a long term investment. Greenmatch is here to help you receive such offers from certified installers with expertise in providing tailor made solutions to suit your home.