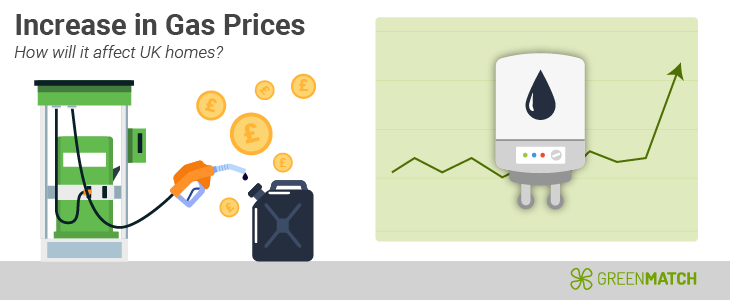 Wholesale Gas Prices Continue to Rise in the UK
Rising gas prices have caused great concern in the UK and many other European countries. In the UK particularly, the wholesale prices of gas have reached record all-time highs with various sectors such as transport, food and home energy coming under threat of soaring high bills or lack of fuel suppliers.
So far 16 gas suppliers in the UK have shut their business as they have been unable to cope with the meteoric prices. This situation caused energy regulator, Ofgem, to transfer around 2 million customers to existing suppliers. Consumers have also been warned about expecting higher energy bills this winter when heat demand is usually higher.
Due to surging global demand during 2020 and 2021, gas prices have quadrupled in the past year. The situation is more acute in the UK due to maintenance issues and lower output from renewable sources such as wind and solar. Since many food suppliers rely on CO2 heavily in their manufacturing process, they have been threatened as gas price hikes have led to CO2 shortage as well.
How Does The Gas Price Crisis Affect UK Homes?
Since the beginning of October, around 15 million UK households have seen their energy bills rise by 12%. With the energy cap rising since the beginning of this month, it's given a cause of concern for many UK homes. It is expected that energy regulator Ofgem will adjust the energy price cap in April which is expected to rise further. But the UK government is taking measures but cutting down VAT to 0% on renewables, starting April 2022.
Households are looking at improving energy efficiency measures in order to reduce consumption and the burden of gas prices. According to new research by Cornwall Insight, energy bills are expected to rise up to 30% in 2022 if the situation continues.
Because of multiple suppliers going bust, this has affected more than 2 million homes. The UK government, at the same time is providing grants and incentives to households encouraging them to make the shift to low carbon and renewable systems. These grants and plans have been laid out in the Heat and Buildings Strategy that was released last week. Grants of up to £5000 will be given to homes installing low carbon systems such as heat pumps, starting from April 2022, after the current RHI comes to an end.
The UK government has announced its plan to decarbonise the nation through the Heat and Buildings Strategy. £5000 government grants will be given to households as part of the Boiler Upgrade Scheme to promote clean heat from low carbon technologies such as heat pumps.
The scheme will run for 3 years starting April 2022, and the government has set aside a budget of £450 million under this scheme.
UK Electricity to Go Green by 2035
The UK Prime Minister stated that all of the UK's electricity will be produced from clean energy sources by 2035. This ambitious target will encourage homes and the public sector in the UK to make this transition and help cut carbon emissions by 78% by 2035. This news has come out just in time before COP 26 which is to begin at the end of October, the summit will discuss tackling climate change globally.
The Climate Change Committee's advice to reduce emissions is well taken by the UK, although it still seems an ambitious target to reach by 2035. As of now, around 37% of the UK's electricity comes from renewable sources, according to the Energy Trends report released in September 2021.
How Can You Save on Your Energy Bills?
As a result of the Energy Price Cap rising in October, and is expected to rise further in April, it's given that more UK homes will have to look into minimising the burden of rising energy bills.
People are encouraged to make their homes more energy efficient to reduce energy bills and also cut carbon emissions. Low carbon heating alternatives are gaining popularity as they not only help lower emissions but also save significantly on energy bills in the long term.
Given the current situation, people can expect increasing energy bills for the next 18 months according to Scottish Power. Only a handful of gas suppliers will be able to withstand the rising wholesale prices, by 2023.
Long term home improvements such as investing in heat pumps and solar panels in the UK will not only make your home less susceptible to the volatility of gas prices but will also give you benefit of the incentives coming up in the UK to promote renewable energy.
The new ECO+ scheme will be launched in Spring 2023.