What is Clean Energy?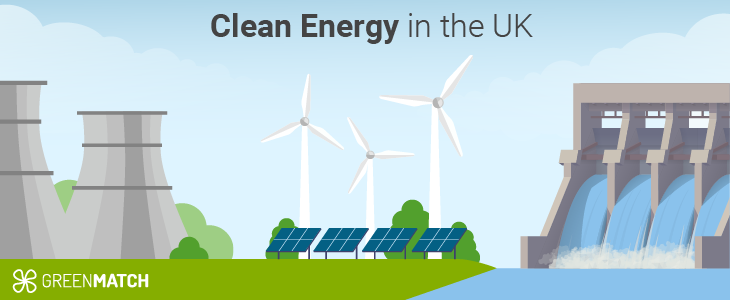 Clean energy is defined as energy produced without the emission of greenhouse gases or other pollutants. Solar, wind, and nuclear power are some examples of clean energy sources. Clean renewable energy produces more than 20% of the UK's electricity and offshore and onshore wind is the biggest of such sources at present. As part of the clean energy transition, the government plans to power all homes in the UK using clean wind energy by 2035.
At present, clean energy investment is a lucrative opportunity for UK residents who can benefit from government funds and grants towards the costs of fixing energy-efficient measures — primarily solar pv panels and heat pumps — in their homes. Homeowners can also receive payments for renewable power generation at the prosumer level.
What are the Differences Between Clean Energy and Renewable Energy?
Clean energy encompasses not just renewables such as solar energy, wind and green hydrogen that are replenishable, but also zero-carbon sources that are limited in supply. A few examples of carbon-free sources include non-renewables such as nuclear-generated electricity, as well as blue hydrogen. Blue hydrogen produces emissions, but the CO2 is redirected to the ground for long periods or towards industrial processes through carbon capture technology.
Why is Clean Energy Important?
The UK's ambitious plan to swap out all carbon fuels by 2035 is part of the clean energy revolution that's sweeping the planet in a bid to avoid dangerous climate change. The UK, along with 192 other countries, is party to the Paris Agreement that aims to limit global warming this century to well below 2 degrees Celsius as compared to pre-industrial levels.
How Can Clean Energy Reduce Global Warming?
The timely transition to clean energy will minimise threats to people, nature, and infrastructure. The UK's climate has already experienced dramatic shifts due to fossil fuel emissions — average land temperatures have risen by roughly 1.2 degrees Celsius since pre-industrial levels and sea levels have risen by 16 cm since 1900. Over 570,000 new dwellings that are not resistant to future high temperatures have been built since the Climate Change Committee's (CCC) last evaluation 5 years ago, and upwards of 4,000 deaths related to extreme heat episodes have been logged in England since.
If the UK fails to meet its net-zero emissions target by 2035, then overheating and pollution will impact people's health and the growth of crops, bolster fuel poverty and cause the economy to crumble. A study by UCL suggests that left unchecked, global warming this century could cost up to 51% of the global GDP.
What Are the Benefits of Clean Energy?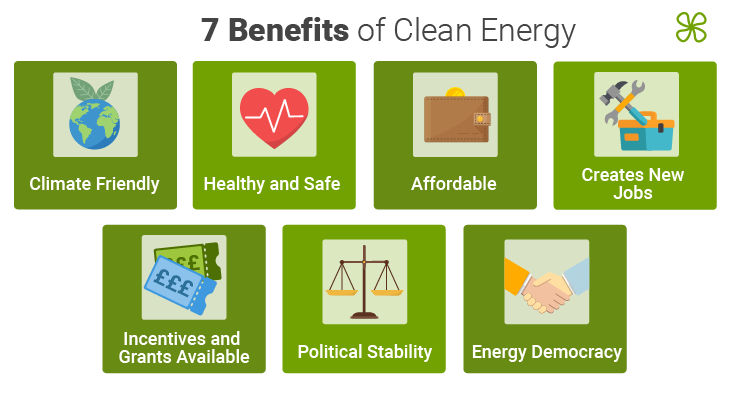 1. Climate Friendly: clean energy emits zero/low quantities of greenhouse gases and will help lower your carbon footprint.
2. Healthier: clean energy doesn't produce pollutants and so it's a safer energy source.
3. Affordable: renewable energy helps fight rising fuel poverty associated with limited carbon sources.
4. Job Creation: the clean energy transition will bolster the economy and create new job opportunities.
5. Take Advantage of Incentives: UK homeowners can receive money through government schemes for the purpose of implementing clean energy solutions.
6. Political Stability: clean energy is powered by limitless sources and the end of oil dependence will help avoid geopolitical volatility.
7. Energy Democracy: the clean energy revolution has inspired a trend of "energy democracy" that's aimed at the decentralization of energy systems — a move from profit-oriented energy systems towards local energy ownership that involves prosumers and community-owned power systems.
Interested in installing clean energy technologies such as solar panels and heat pumps in your home while benefitting from available government funds and grants? Just fill in the form at the top of the page and you'll receive custom quotes from suppliers in your area based on your requirements. You'll then be able to compare these different providers and make an informed decision for your home.
How Does Clean Energy Technology Work?
According to the International Energy Agency (IEA), nearly half of the emission reductions required by 2050 will be possible thanks to technologies that are already in the demonstration or prototype stage. It's heartening to know that low carbon energy (LCE) inventions comfortably exceeded fossil fuel technologies between 2000 and 2019, as per a report commissioned by the European Patent Office (EPO).
At present, solar is the cheapest form of electricity in history since the cost of installing solar panels has dropped considerably in the last decade according to IEA's conclusion in its World Energy Outlook 2020. In newly constructed homes, air source heat pumps have the highest market share of all heating methods. These devices consume little electricity but achieve a 200-600% efficiency rate as compared to gas boilers. While comparing heat pumps vs boilers, heat pumps could meet 90% of global heating needs while emitting less CO2 than gas-fired condensing boilers.
Heat pumps supply heating and hot water by extracting natural warmth from outside of your home and increasing its temperature. Depending on what type you use, a heat pump uses the existing heat present in air, water, or the ground to generate electricity.
Looking into the future, clean hydrogen is expected to play a major role in reducing emissions in the future since it can be made from renewables, unlike LCE hydrogen that is formed using natural gas. Its only by-product is water. For now, however, greater innovation is needed on this front to make it a useable energy source.
Clean Energy Technology in the UK
In terms of broader policy framework, the UK government plans to harness the strength of its seas and power every home with low-cost green energy using offshore wind by 2030. The target is to deliver 1 GW of energy by erecting cutting-edge wind farms further out to sea in deeper waters. This is over 15 times the current volumes worldwide. Doing so will raise capacity even further where winds are strongest and ensure that the UK remains at the forefront of the next generation of sustainable energy.
On the domestic level, the government is also making solar panel grants and heat pump schemes available to encourage UK homes to transition to clean renewable energy. The UK ranks sixth in the world for its share of power produced by solar energy, according to climate and energy think tank Ember.
UK-based Oxford PV is all set to roll out the worlds most efficient panel by 2022 that has proven to convert 29.52% of solar energy into electricity.
In contrast, the average panel that powers millions of homes globally has an average conversion rate of just 15-20%
The reason why the government has introduced schemes specifically targeted at installing air source heat pumps is that gas boilers, which heat around 85% of UK households, make up one of the most polluting sectors of the economy. Since fossil fuels used in our homes for heating and cooking account for more than a fifth of the country's carbon emissions, alternatives energy sources are essential if the UK is to reach its climate goals.
Is Clean Energy a Good Investment?
Solar panels and heat pumps are leading the UK's clean energy transition on the domestic level. The National Grid ESO reported that on 5th April 2021 the electricity grid was the greenest it's ever been and low carbon sources made up nearly 80% of Britain's total power.
Solar P.V. is now a viable clean power solution for UK homeowners. IRENA reported that the cost of generating electricity through solar at the domestic level dropped by 85% in the last decade. Additionally, heat pumps are leading the UK's clean home-heating revolution and installations could reach 600,000 per year in the 2030s with gas boilers being phased out.
Pundits have already hailed the clean energy transition as the new "green industrial revolution" and in the race to zero emissions by 2050, the government has introduced grants and cashback schemes to incentivise Britons to install energy-efficient measures in their homes.
What Clean Energy Government Funds and Grants Can I Benefit From?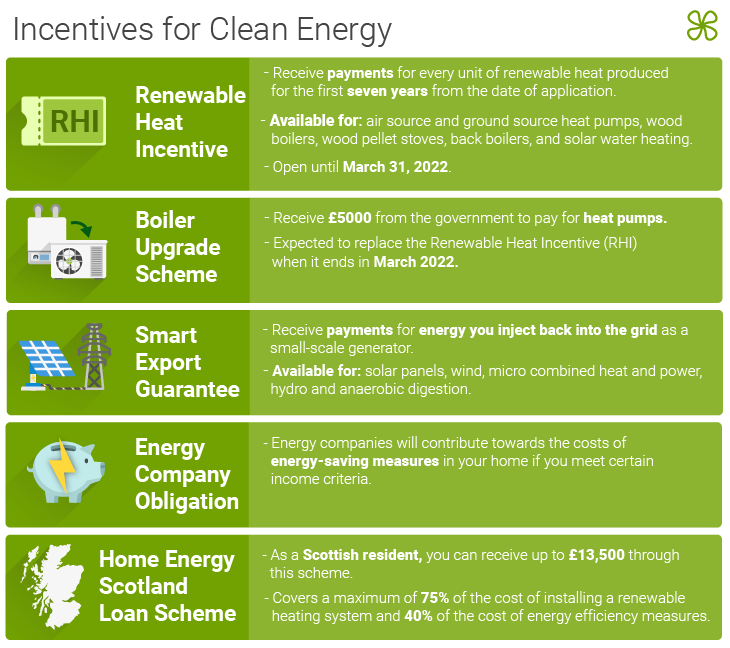 1. Renewable Heat Incentive (RHI)
With RHI, you can receive payments for every unit of renewable heat produced for the first seven years from the date of application.
The following 5 technologies are supported: air source, both air to air and air to water heat pumps, ground source heat pumps, wood boilers, wood pellet stoves, back boilers, and solar water heating.
Applicants who failed to meet the 12-month submission deadline can now reapply until the scheme expires on March 31, 2022.
2. Boiler Upgrade Scheme
With the Boiler Upgrade Scheme, you can receive £5000 from the government to pay for heat pumps.
Expected to replace the Renewable Heat Incentive (RHI) when it ends in March 2022.
3. Smart Export Guarantee (SEG)
With the Smart Export Guarantee you can receive payments for energy you inject back into the grid as a small-scale generator.
The following five technologies are available for the SEG scheme: solar PV, wind, micro combined heat and power, hydro and anaerobic digestion.
4. Energy Company Obligation (ECO)
Through ECO, energy companies will contribute towards the costs of energy-saving measures in your home if you meet certain income criteria.
5. Home Energy Scotland Loan Scheme
As a Scottish resident, you can receive up to £13,500 through this scheme.
Covers a maximum of 75% of the cost of installing a renewable heating system and 40% of the cost of installing energy efficiency measures.
In addition to cheapening clean energy solutions such as solar panels and heat pumps, the government is also tackling fuel poverty in the time before the green revolution is fully realized by 2035 through the following incentives that you can also take advantage of:
1. Winter Fuel Payment: payment between £100 to £300 towards winter bills.
2. Cold Weather Payments: If you receive benefits, you may qualify for payments towards bills when the weather is especially cold.
3. Warm Home Discount: a £140 discount on your electricity bill in the winter.
By taking advantage of these government grants, you'll not only recover the initial costs of installing clean energy solutions quickly, but you'll also start profiting through lower energy bills. Another way in which you can lower costs is by comparing deals offered by clean energy suppliers near you.
Can Clean Energy Replace Fossil Fuels?
The UK has already made significant strides towards realizing its net-zero emissions goal. Case in point is research commissioned by independent climate think tank Ember reporting that renewable energy beat out fossil fuel production in the UK for the first time ever last year. Besides, the government has no choice but to incentivise clean energy technology if it is to offset rising gas prices and quell fuel poverty.
The political impetus for the clean energy transition has been prompted by the record-high gas price increase — the energy bills of millions of UK households are set to rise by £400 as of late 2021. Additionally, the UK's electric bills have also tripled since August 2020. This means that on average, families would pay a whopping £1,660 per annum on their gas and power bill. The good news is that clean energy technology is now an affordable solution for UK homeowners.
Is Clean Energy Cheaper?
Renewables are seen as expensive by many customers even though this is not the case. According to think thank Ember, generating electricity from current UK fossil gas power plants is nearly twice as expensive as generating electricity from new solar. Furthermore, government figures from 2020 reveal that solar power in the UK is up to 50% cheaper than previously thought. In addition to favourable prices, you can bring down costs further by taking advantage of the numerous grants introduced by the government to encourage clean energy production on the domestic level.
There's no denying that clean energy is the future – with the gas boiler ban that's slated to be effective from 2035, and with the Future Homes Standard (new homes will only be able to install energy-efficient heating solutions) that will be imposed from 2025, it's a good idea to stay one step ahead of the evolving scenario.
Can I Save Money by Switching to Clean Energy?
Solar panels and heat pumps are economically viable clean energy solutions in the UK that'll help you not only save on bills, but also make a profit. According to a study conducted by Smart Energy GB, 41% of Britons would pay more for an energy-efficient home, with 15% indicating they would pay more than 10% more for an equivalent property in the same region.
Why Solar Panels are a Good Clean Energy Investment
The national average for electricity usage is around 3,731 kWh per year and a 4kW solar panel can produce around 2,850 kWh of power. Safe to say that solar panels can bring down your bills considerably since you won't have to rely on expensive power from the national grid. Additionally, you can earn money through the SEG scheme by injecting excess power back into the grid.
Why Heat Pumps are a Good Clean Energy Investment
Homeowners will be able to receive up to £6,000 for heat pumps through the Boiler Upgrade Scheme that's slated to run from April 2022 until April 2025. This will help you quickly recover the costs of installing and running a heat pump which costs between £14,000-19,000 on average.
You'll also start to profit from it in just a few years since you'll also save on bills by switching from a gas boiler to a heat pump – a device that consumes far less energy and has a 200-600% efficiency rate as compared to a boiler. For instance, a ground source heat pump can reduce energy bills by at least 26% as compared to a new gas boiler.
Additionally, an advantage of heat pumps is that they double up as air conditioners during hot summers and so you'll save on the costs of buying and running an additional device in your home.
Switching to green energy shouldn't be a hassle. If you were to scour the web and call different providers, you'd waste countless precious hours. We strive to save you both time and money by providing you with obligation-free customized estimates from our leading suppliers. You'll be able to compare these different providers and make an informed decision for your home.
Fill in the form in just 1 minute