What Is Solar Water Heating?
Solar water heating uses the sun's energy for domestic water heating purposes. Since this technology relies on a clean source of energy, switching to it will lead to a reduction of your domestic carbon footprint.
Usually, people associate solar energy with solar panels, which convert the energy of the sun into electricity. However, solar thermal panels make it possible to use the energy of the sun for water heating purposes.
For a family of four, a solar water heating system would meet approximately a third of the hot water demand. More specifically, if you invest in this type of renewable heating solution for a three-bedroom semi-detached house, you would save £55 to £80 on your annual water-heating bills.
Owners of a solar water heating system are also eligible for the Renewable Heat Incentive (RHI) scheme, which is designed to financially reward households using renewable energy to heat their buildings.
If you are interested in purchasing a solar water thermal heating system, then look no further! Simply fill in our contact form by clicking the button below and you will get up to three, free-of-charge and non-binding quotes from some of the best professional installers in the UK.
Quotes from local engineers
Payment by finance available
Save up to £729 per year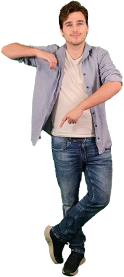 Optimise your home and save the planet
How Does Solar Water Heating Work?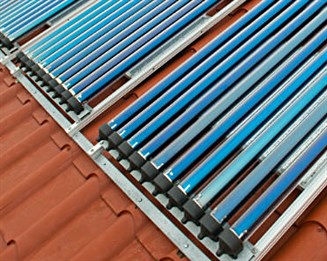 A solar water heating system uses solar energy to heat water for domestic or commercial purposes. Solar panels and water heating panels are often mistakenly assumed to have the same function, though this is incorrect.
Solar water heating systems collect the heat from the sun with the use of solar collectors. Collectors are generally fitted to the roof (pitched or flat), where they receive the most sunlight. They can also be mounted at ground level or even on a south-facing wall, but the best option will always be the location where the collectors are most exposed to the sun.
An immersion heater or a boiler can be used as an additional option to increase the temperature of the water when necessary.
There are two types of solar thermal collectors, which mainly differ on their aesthetics but have a very similar performance:
Flat plate collectors
Evacuated tubes
Flat plate collectors consist of hot water solar panels with a flat glazing that is mounted on a roof, while the evacuated tubes consist of several "vacuum tubes" fixed into a manifold mounted onto a roof.
Apart from the collector, you need to route highly insulated pipes from the collectors to a hot water cylinder (either existent or a new one). Cold water from the bottom of this cylinder is then pumped through the collector, which heats the water and then sends it to the top of the hot water store.
The video below explains how the solar water heating system works:
How Much Does Solar Water Heating Cost?
A domestic system will generally cost around £3,000 and £5,000, depending on the size of the property and whether you need a new hot water cylinder or you use the existing one. Bear in mind, however, that it is difficult to estimate exact solar water heating panel prices, therefore it is always recommended to consult with an installer.
If you decide to buy solar hot water panels you could save a great deal on your monthly energy bill.
Typical savings on a solar water heating system with a properly insulated building, proper installation, and proper usage can reach up to £60 per year when switching from a gas heating system, and £70 per year when switching from an electric immersion heating.
However, savings can vary depending on the household's energy usage.
Financial Support
Getting your hot water through solar heating technology is cost-effective, particularly if you make use of the Renewable Heat Incentive. This is a government scheme to reward homeowners using low carbon heating systems.
Currently, the tariff for solar thermal panels is 21.36 p/kWh.
The table below shows average annual earnings that a solar water heating owner can expect. However, this amount may vary between different solar water heating installations.
RHI Payments with Solar Thermal Panels

| Home size | RHI Earnings per Year | RHI Earnings after 7 Years |
| --- | --- | --- |
| 1 bedroom | £186 | £1,302 |
| 2-3 bedrooms | £310 | £2,169 |
| 4+ bedrooms | £475 | £3,326 |
Though the initial installation costs of solar water heating panels may seem high, it is a cost-effective domestic heating solution — even more so if you make use of the RHI.
As you can see, by investing in solar water heating you can save money on your energy bills and reduce your carbon footprint at the same time. Plus, with the potential for government incentives and tax credits, the cost of solar thermal panels has never been more affordable. 
Requesting quotes from qualified installers is the first step towards taking advantage of the economical benefits of solar thermal panels. Luckily, GreenMatch can help you get up to 3 different solar thermal quotes giving you the opportunity to compare and choose the best quote.
Quotes from local engineers
Payment by finance available
Save up to £729 per year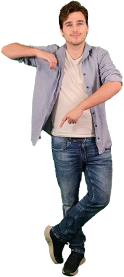 Optimise your home and save the planet
Benefits of Solar Water Heaters
Using solar powered hot water in your home has many benefits. We listed a few of those below.
Solar hot water heaters provide hot water all throughout the year.
It reduces the utility bills as it can provide a third of your hot water needs.
It reduces your carbon footprint by saving between 30 kg and 510 kg of carbon dioxide (CO2) every year.
Contrary to other renewable energy solutions, solar water heating has low maintenance costs and high durability, proven by their average warranty of five to ten years.
Solar water heating uses the sun's heat, so once you have covered the initial costs of investing in an installation, there are very little additional costs, besides the amount of electricity needed to run the pump powering the system.
It works together with your existing heating or hot water boiler, or even with heat pumps and biomass. 
Solar water heating is eligible for regular Renewable Heat Incentive earnings for producing energy from renewable resources.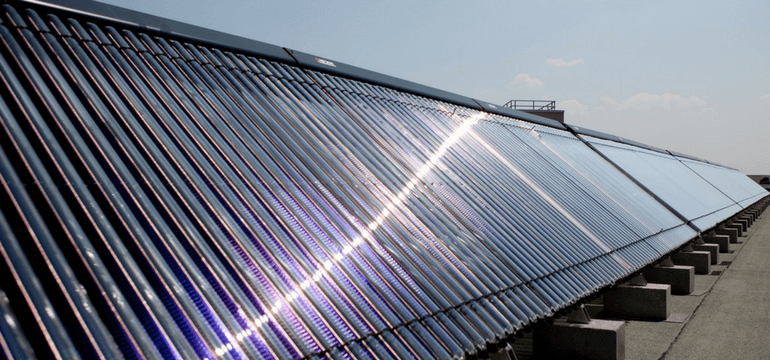 Tips for Choosing a Solar Water Heater
When choosing your solar water heating system, you should consider these cleaning and maintenance tips in order to optimise your purchase:
That your roof faces the south. Or be sure that you select the best location in your house to fit the solar collectors, which will guarantee their maximum efficiency. If this is not possible, consider buying a thermodynamic panel which can be placed on any side of the house.
That you have the necessary area of south-facing roof available. In the case of flat plate collectors, you will need approximately one square meter of collector area per person living in the building. This is enough to heat up between 30 and 60 litres of water.
It is a good idea to have an Energy Performance survey carried out to check if you are maximising the energy use. If you don't, you should make the necessary changes before installing the solar water heating system.
Solar Water Heater Maintenance
Unlike the initial solar water heating systems cost, the maintenance costs are usually low. As already mentioned, typically solar heating systems with a five to ten-year warranty. Once you have installed solar heating panels on your roof, you will not deal with any additional costs.
However, it is important to note that you need to have periodical maintenance checks to make sure that your solar hot water system is working properly. You should have it checked by a professional installer every three to seven years, which is a sufficient time span for the anti-freeze to be checked, topped up, or maybe even replaced to avoid any possible leaks.
The average cost of replacing the anti-freeze fluid in a solar water heating panel is around £100.
Find the Best Solar Water Heating Suppliers
Finding the right solar water heater for you and your household's specific needs can be expensive and time-consuming, but it doesn't have to be. At GreenMatch we have all you need, as we already have partnered with some of the best suppliers in the UK.
By requesting quotes from qualified installers, you can get the help you need to make the transition to solar water heating. Installers can provide helpful advice and guidance on the best type of solar thermal panels for your home, as well as take care of the installation process for you. With their expertise, you can rest assured that you're making the best decision for your home and the environment.
By simply completing our quick and easy contact form, you can avoid spending needless time researching and vetting suppliers. Fill in the form and you will receive up to three quotes from qualified installers that are free of charge and with no obligation.
Quotes from local engineers
Payment by finance available
Save up to £729 per year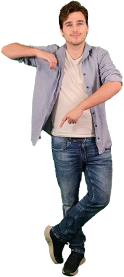 Optimise your home and save the planet