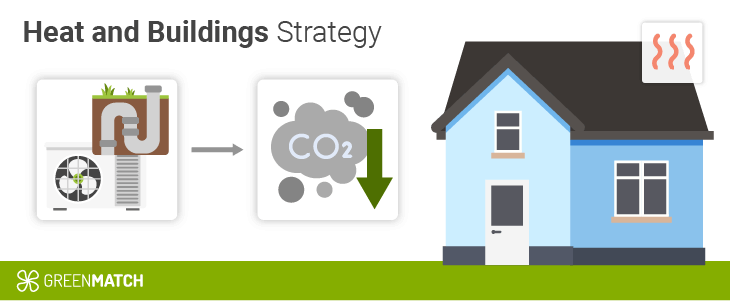 The UK government has announced its plan to decarbonise the nation through the Heat and Buildings Strategy. £5000 government grants will be given to households as part of the Boiler Upgrade Scheme to promote clean heat from low carbon technologies such as heat pumps.
The scheme will run for 3 years starting April 2022, and the government has set aside a budget of £450 million under this scheme.
What is the Heat and Buildings Strategy?
The Heat and Buildings Strategy is one of the decarbonisation strategies that the UK is planning in order to achieve Net Zero by 2050. This significant strategy is expected to be released soon and aims to change the way homes use heating.
It aims to help homeowners make the transition to low carbon heating solutions to heat up their homes and contribute to reduced emissions.
Approximately 14% of carbon emissions in the UK are contributed by the usage of fossil fuels for home heating, and this new strategy can have big implications on reducing the carbon footprint for many homeowners.
The UK government has announced grants of £5,000 for people who will install heat pumps. This will be under the £450million Boiler Upgrade Scheme and will be available to homes from April 2022, and will run for three years. The government also announced that there will be 0% VAT on renewables in the UK.
The new ECO+ scheme will be launched in Spring 2023.
What Does This Strategy Entail?
The heat and buildings strategy aims to create a roadmap to execute the 10 point plan for a Green Industrial Revolution. It could provide plans and strategies to incentivise homeowners for their emission-free homes.
But what could the heat and buildings strategy entail?
The main aim of this strategy is to enable not only homes but also businesses to make the transition to low carbon alternatives. Although we are still expecting official publications on this strategy, speculations are that it could primarily include the following:
Increasing heat pump installations
As part of the 10 point plan, the UK government set a target of fitting low carbon heating systems and said that 600,000 heat pumps are to be installed by the year 2028. As part of the heat and buildings strategy, we can expect realistic action plans on how the UK can achieve this target.
The current heat pump industry installs close to 30,000 heat pumps every year, and with such a massive target by 2028, it is required to have a clear action plan on how we can reach this goal.
Banning gas boilers and phasing them out
In order to reach net zero, the International Energy Agency (IEA) says that no new fossil fuel boilers are to be installed after 2025. The IEA released a report on the road to Net Zero, and banning gas boilers was part of the plan to achieve this.
The UK government announced that gas and oil boilers will be banned in new homes by 2025.
The strategy will likely put an end date for this to happen and also phase out fossil fuels for home heating.
Bringing in new incentives and schemes
Transitioning to low carbon and renewable technologies could be more expensive, and it is essential to provide incentives and schemes that enable people to follow this path.
The heat and buildings strategy is said to include plans to come up with such schemes that make clean energy technologies more affordable for UK homeowners.
What Can Homeowners Expect?
Homeowners can make a significant impact in achieving net-zero from a grassroots level. Through the heat and buildings strategy, it is expected that they will have a clear idea about their contribution and impact in relation to achieving Net-Zero.
They can expect to make the shift to low carbon and renewable energy solutions such as heat pumps, solar panels, and biomass boilers to meet their energy and heating needs.
Heat and Buildings Strategy to Achieve Net Zero in the UK
This strategy is set to be one of its kind to create a roadmap for the UK's decarbonisation. The publication was expected in May 2021 but has been delayed, and we are expecting it to be released soon with specific details.
With an ambitious timeline to achieve Net Zero by mid-century, we can expect the coming years to focus on making big changes and schemes to greener living.
Are Heat Pumps the Future of Home Heating?
Switching from fossil fuels to renewables is what we need to achieve an emission-free world. With heating contributing significantly to carbon emissions, it is the need of the hour to switch to low carbon solutions such as heat pumps.
Both air source heat pumps and ground source heat pumps are favorable alternatives for home heating to both newly built homes but also for retrofits. Whether you choose an air source or ground source heating system, you will significantly lower emissions and pave the way to a sustainable future.
The IEA believes that it is a realistic solution to increase heat pump installations significantly by 2028, in order to achieve net-zero, and this means that homeowners can expect to make this transition in the coming years.