About Baxi
Baxi is a british company founded by Richard Baxendale in 1825. Through the years, Baxi developed its customer relations, made employees involvement to the organization a priority and invested heavily in innovation.
Nowadays, Baxi is part of the BDR Thermae group, one of the largest boiler manufacturers in Europe. Its boilers portfolio includes a lot of award winning products such as the Baxi Duo-Tec Combi HE, that won the 2008 CORGI boiler of the year. Baxi's values include respect, safety, trust, reliability, passion and innovation.
Baxi takes also into account environmental issues by minimizing carbon emissions, waste and noise pollution and even the packaging of its products.
What Types of Baxi Boilers Are Available in the UK?
Biomass Boiler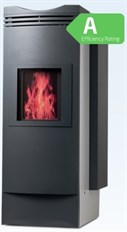 Baxi's biomass boiler 'Bioflo' suits small properties, is easy to operate and requires low maintenance.
Bioflo provides you with a clean and carbon neutral heating system but also with hot water. It can be installed on an existing central heating system or on a new one and is eligible for the Renewable Heat Incentive (RHI), a government grant helping you to cover your installation costs. This product can also be used in addition to a Baxi Solarflo or a Megaflo Eco Solar Cylinder.
Its main features are the following:
Adapts heat to meet household needs via an automatic modulator
1 year parts and labour warranty
Electronic panel display seen as user-friendly
High efficiency (94%) and low energy consumption (no oil/gas fuels)
Micro Combined Heat and Power (M-CPH)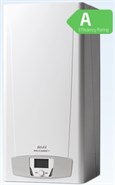 This new technology realised through the Baxi Ecogen, is an alternative to a regular boiler system. It generates electricity and heats the property at the same time, provides and water to meet your daily needs.
Here are some important features to consider about this product:
it generates electricity at peak demands in the home
it is eligible to the Feed-In Tariffs
Weather conditions or building orientation are not needed when generating electricity.
Combination Boilers
Baxi offers several combi boilers systems. This kind of product differs from the previous ones as it only heats the water when in use (e.g., while taking a shower). No cylinder or storage tank is needed, making the combi boiler a space-efficient product and easy to use.
MainEco Combi
This product is easy to install thanks to its lightweight and compact design. It benefits from a 3 years warranty and a hot water flow rate of 14.3 litres per minute. Its quiet operation and simple control make it a convenient choice for you home. (technical info on the website)
Eco Blue + Combi
This new generation of eco-friendly boilers has a 7 years warranty, proving the high reliability of Baxi's products. Its design is similar as the MainEco Combi, made to be space efficient and easy to install and operate.
Eco Blue Advance Combi
This boiler, compared to the Eco Blue + Combi has a 10 years warranty if purchased in 2015. Its hot water flow rate is 16.4 litres per minute the kit to install it directly on the wall. Its front access to the major components makes it easy to install and handle.
Platinium HE A
As the Eco Blue Advance Combi, the Platinium HE A comes with a 10 years warranty, proving that Baxi is confident with the products and components used. It has a frost thermostat and can, therefore, be placed in a garage.
Duo-tec HE A
This product benefits from a 7 years warranty. It also contains a frost thermostat, to be able to place it wherever you want in the house, in particular in cold places such as a garage. The online warranty registration is free of charge as is the Gas Safe Registration.
Neta-tec Combi GA
This product has a 2 years warranty. However, if you decide on taking the 'Plus' version, the warranty will then be extended to 5 years. It benefits from an automatic set-up recognising the type of gas and adapts to it.
Duo-tec Combi GA
This product has a comparative low warranty, only 2 years. However, it benefits from the gas adaptative control that modulates the operation flow. The result is, therefore, an increase in reliability and efficiency.
Heat Only Boilers or Regular Boilers
Baxi offers 4 main types of regular boilers. This system is more space consuming as you need two water tank cylinders, one pump and a hot water cylinder in the airing cupboard.
MainEco Heat
This product has a 3 years warranty and is the standard for replacing an old boiler system. It is light and does not take a lot of space.
EcoBlue Heat
This product has the same characteristics as the MainEco Heat but has a two years warranty.
EcoBlue Advance Heat
This product has a warranty of 5 years compared to the non-advance product. It benefits from a rear flue option to reduce boiler footprint and improve its look. A pump overrun is not required, therefore a boiler can be installed with minimum disruption.
Solo HE A
This product comes with the basic characteristics that a boiler should include for its daily activities. It has, however, only 2 years warranty so if you want to invest on a long-term basis, you should think about another model. Nevertheless, this type of boiler remains attractive as it holds boiler's primary characteristics being cheaper than other regular boilers.
System Boilers
This type of boiler is the most suitable if you have more than one bathroom on your property or if your water needs are superior to what a combi boiler could offer you. This system pumps hot water to radiators from a hot water cylinder to provide you with both a heating system for your house and for your water.
MainEco System
This product benefits from a 3 years warranty and is very quiet so you can easily place it close to your main living areas if needed. However, you can also install it in some cold places such as your garage as it o contains an anti-frost option.
EcoBlue System
This system has a 5 years warranty, making it a secure choice if you want to replace your old boiler system. It has high-quality components and the pump system used is completely sealed.
Megaflo Compact GA
This product benefits from a 2 years warranty system. Its main characteristic is the fact that it includes a gas and oxygen control panel to adapt according to the household needs and the optimum combustion efficiency level. If needed, you can add the Megaflo water storage cylinder.
Megaflo HE A
This product is the most reliable out of the system boilers produced by Baxi, with a warranty of up to 7 years making it a high-quality choice to equip your home. You can combine its use with the Baxi Solarflo solar thermal, to allow you to save even more money on your energy bill and be even more eco-friendly and responsible for your energy consumption.
Fill in the form in just 1 minute