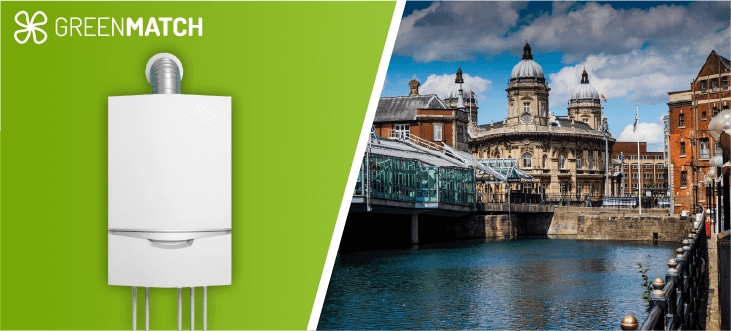 If you've found yourself in need of a sudden boiler replacement in Hull, or you're perhaps shopping around for new energy-efficient heating upgrades, then look no further. With GreenMatch, we can find you the best boiler replacement options local to your area, based on details you provide us. 
A new boiler can drastically reduce the emissions coming from your home heating, especially those that use low-carbon fuel sources. But not only that, replacing your outdated, inefficient boiler with an energy-efficient new boiler can bring you annual savings of up to £580 on your energy bills. 
GreenMatch helps avoid overpaying for various new boiler costs by connecting you with up to 4 local installers. Need a boiler in Hull quickly? Once filling in our quick and easy form, you'll begin hearing from installers within 48 hours. With multiple quotes, you can take advantage of the best local rates. You also don't have to pay a thing until you've chosen an installer and you're sure you've found the best deal.
You get a competitive price.
You get up to 4 quotes – just by filling out our form.
Saves you time looking for suppliers yourself.
Completely free and without obligation, so you can find the best deal.
Our quick and easy form takes less than a minute to complete. Simply click the button below to begin.
Find the Best Installers Near You
Our service is completely free with no obligation
Find Boilers in Hull
We estimate that the average boiler replacement in Hull, and the larger Yorkshire & the Humber area will cost £1,921. This is based on over 5,000 gas combi boiler installation quotes taken across the country. 
We found that the average boiler replacement in the UK will cost £1,865 – £2,389, meaning boiler replacement costs in Hull tend to run around 8% lower than the national average of £2,104. Therefore, you can be sure that your money is best placed with a local installer. 
What's more, with an installer based in Hull, you can expect a faster response overall to your enquiry, as well as faster delivery of parts and labour, compared to nationwide companies. 
Within Hull, there are various boiler options available for you to consider. Keep reading to learn more about these boiler types.
Biomass boilers in Hull
Biomass boilers use wooden logs, chips, or pellets, known as biomass, for fuel. This fuel, when grown and managed properly, can offer a sustainable heating method that emits far less CO2 compared to fossil fuel burners.
These boilers can provide heat and hot water for small or large homes, but bear in mind you will need a dry, sheltered space to store the fuel, and will need to have it replenished periodically. 
A biomass boiler might cost up to £21,000 to install. The UK government does however offer £5,000 off of these upfront costs, to those who are eligible, through the Boiler Upgrade Scheme.
The entire City of Hull area falls under a Smoke Control Zone, which forbids the burning of certain fuels, including wood. You can first check DEFRAs exempt appliances list which permits certain biomass boilers. Otherwise, you will need a permit to install a biomass boiler.
Electric boilers in Hull
With an electric boiler, you will get the most out of your energy compared to any other type of boiler. This is thanks to their 99-100% energy-efficiency rates. Due to the absence of internal combustion, electric boilers will not waste any energy when generating heat. 
These boilers are best suited to smaller homes, with up to 10 radiators and only 1 bathroom, since they usually come with power outputs up to 24 kilowatts (kW). Larger homes, especially those with more than one bathroom, will require a boiler with a power output of at least 30kW, so a standard electric boiler will likely struggle to meet these demands. 
Since fossil fuels are still widely used to generate electricity in the UK, the running costs of electric heating can be very high. In most cases, electric boilers will have running costs four to five times higher than their gas-fired counterparts.
Switching to a green energy provider can at least increase the supply of renewable energy in the National Grid. You can also consider installing solar panels to take advantage of your own free, renewable energy which allows you to become less dependent on the grid.
Gas boilers in Hull
For homes connected to the mains gas grid, gas boilers offer one of the cheapest forms of heating to homes in the UK. Homes of any size will also find a suitable boiler that adequately meets their demands, whether it's a combi, system or conventional boiler. 
With condensing technology, a gas boiler is also able to convert at least 92% of its fuel into usable energy. In the place of an inefficient boiler with 70% efficiency, you will save 22% more on energy bills. What's more, this improved efficiency will also go some way to reducing your home's carbon footprint. 
Getting a New Boiler in Hull
Whichever boiler type you go for, finding a new boiler in Hull is easy with GreenMatch. Before offering you quotes, the heating engineers in our network will offer their professional advice as to the best type of boiler for your home's unique specifications. 
There are 2 ways you can find quotes for a boiler installation in Hull. Either by going it alone, which can be a painstaking task or, you can save yourself the extra time and effort by letting us get quotes for you. Then you can objectively compare to find the best deal:
The 2 Ways to Get the Best Boiler Deal in Hull