Best Boiler for a Small House
As we have just mentioned, combi boilers are the most common and effective heating solution for small houses and flats. They are compact, powerful and also very efficient, which can help you save on your energy bills.
Combi boilers can run on natural gas, LPG (Liquefied Petroleum Gas), oil or electricity. The first one is the most common heating fuel across the UK, while the last three are more frequent in homes disconnected from the national gas grid.
In this regard, oil and LPG combi boilers require some space dedicated to storing the fuel they burn, which becomes a disadvantage if your home has a limited usable area. In other words, oil and LPG combi boilers may not be optimal for the type of property that concerns us in this article. 
An electric combi boiler, on the other hand, is a great boiler for a small flat with no gas connection. Additionally, these compact boilers are easier to install than gas boilers and, therefore, can reduce the total boiler costs. 
They can also help you reduce running costs and your home's carbon footprint if you combine them with solar power or other renewable energy sources. For additional insights, check our article on gas boilers vs electric boilers.
How many kW boiler do I need for a small house?
How powerful a boiler should be for a small flat depends on factors such as the number of radiators, the size of the rooms, the height of the ceiling and how well-insulated the rooms are. However, there are some ways to estimate the appropriate boiler size (measured in kilowatts, kW) for a small house.
For gas combi boilers, you can approximate 2kW for each radiator in your home. For instance, a small house with 6 radiators will require a boiler with a central heating (CH) output of around 12kW. 
While 18kW is the lowest maximum CH output rating you can find in the UK for a combi boiler, it does not mean that gas combi boilers are oversized for small flats. Actually, boilers work within an output range —e.g. 3.2kW (minimum) – 19kW (maximum).
Electric combi boilers, on the other hand, tend to be less powerful than their gas-fueled counterparts. The rule of thumb for electric boiler sizing suggests that you need 1.5 kW for each radiator in your home.
You can check the table below to get an idea of how many kW a boiler should be for a small house.
Approximate Combi Boiler Sizes

House Size

Gas Combi Boilers (CH Output)

Electric Combi Boilers (Output Rating)

Studio (2-3 radiators)

18kW (lowest CH output available)

3kW – 4.5kW

1-bedroom home (up to 4 radiators)

18kW (lowest CH output available)

6kW

2–bedroom home (up to 6 radiators)

18kW (lowest CH output available)

9kW
Is my boiler too small for my house?
A boiler is too small for a house if it struggles to run your radiators, achieve the ideal temperature in the room or if it does not supply enough hot water to your taps and shower. Fortunately, combi series by most manufacturers operating in the UK start at output sizes that can cope with the demand of small flats.
For homeowners with small homes, the problem would be getting a boiler with an excessively high output rating. In this case, you will pay a higher upfront price, as more powerful boilers are usually more expensive. 
Furthermore, if you install an electric combi boiler that is too big, you may use more energy than you need. Therefore you'll unnecessarily pay a lot of money on energy bills, especially considering the high prices of electricity across the UK.  
If you have a larger home with more than one bathroom, then we recommend you also consider a system or regular boiler.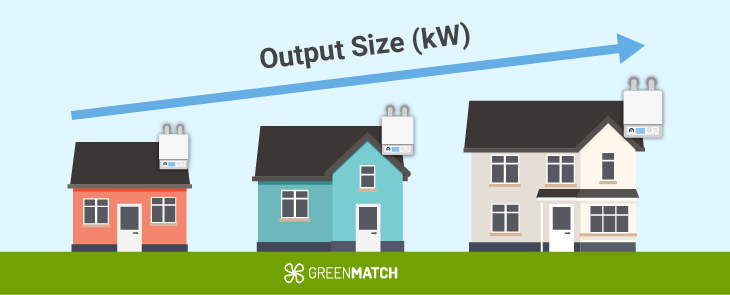 However, the best way to determine what type of boiler and what boiler size best suits your home is to get expert advice from a professional installer. Nevertheless, you must be prepared to spend a lot of time researching if you want to find the right heating engineer yourself. Fortunately, we can help you with this. Find an overview below: