Information about Wood Pellet Boilers
Heating with pellets is not any more related only to a stove. Within a very short time, heating with wood pellets has become a widespread and popular way of supplying heat. More than one million installed systems all over the Europe are sufficient evidence that this is a well-proven way to heat a home. Wood pellet boilers are often fully automated and environmentally friendly solution that will satisfy all the demands of a modern lifestyle.
Wood pellet boilers are cost efficient, carbon neutral and based on a renewable fuel source. They can be installed in every home, either as a separate unit or as a primary heat source connected to a secondary boiler that can serve as a backup source of heat.
If you're considering the installation of a boiler, GreenMatch provides you with a free of charge and with no obligation service that allows you to request quotes and compare different systems, so that you can find the most suitable for you. Just fill in the form on the right to request offers.
What Are Wood Pellets?
Wood pellets are cylinders made of compressed sawdust and used mainly as a heating fuel. The sawdust is compressed into pellets straight after the drying process and shaped without adding any extra compounds.
Worldwide pellet market is rapidly growing due to the increasing popularity of pellet boilers and furnaces as a heating system. As long as they are made by harvested trees, wood pellets are treated as a Carbon Neutral. The carbon released into the atmosphere during the burning process is absorbed by trees growing to replace them. In addition, while it can take million years for the formation of fossil fuel, wood fuel has a short creation process.
Advantages of a Wood Pellet Boiler
Wood pellets are environment-friendly. They are non-toxic and cannot result in any environmental damage. This means that you are not adding to the greenhouse effect when using wood pellet boiler.
Wood pellets are cost effective. Their costs are usually lower than oil or gas per unit of heat produced.
Most of the modern boilers are fully automated, which means that it has complete electronic control over the entire heating system.
Disadvantages of a Wood Pellet Boiler
Pellet boiler requires frequent maintenance such as ash removal in order to perform efficiently. Filling of the pellet boiler should be performed more frequently compared to the oil furnace.
Cleaning should be done at least once a week, which is more often than with other types of furnace.

How to Decide on a Heating System?
Once you are familiar with all the benefits of wood pellets and you have made the decision to invest in a new boiler, you should start thinking about the type of the system that will fit your needs. For instance, if you are looking for a decorative heating system, you should pick a stove. Make sure you choose the right size and bear in mind that bigger is not necessarily better. However, if you are looking for a replacement of the main heating system, you should check out domestic wood pellet boilers.
A wood pellet boiler will heat your household while providing you with hot water. Plus, heating with wood pellets can save you a significant amount of money in heating costs as compared to oil, gas or electric heating systems. The amount of saved money will depend on your current heating source and the amount of used wood fuel.
Regarding location, stoves are often placed inside of living spaces while boilers are installed in the utility room. Most of the times you will be able to decide on the exact location, although there are some restrictions related to a venting system. Some boiler systems will provide you not only with space heating but also with hot water.
How Much Does a Wood Pellet Boiler Cost?
When calculating the costs of the boiler one must consider the initial investment as well as the ongoing prices of wood fuel. Wood pellet boiler prices range between £5,000 to £11,000 including the cost of installations and commissioning. However, as there are significant differences in prices between diverse suppliers, it might be difficult to determine one fixed price. Therefore, if you have decided to invest in a wood pellet boiler, make sure to request offers from various suppliers. This way, you can save time and money while choosing the right product for your home.
Greenmatch.co.uk provides a unique service for requesting up to four quotes from different suppliers. Our suppliers are aware of competition on the market and for this reason, they will provide you with their best offer. The service is free and without obligation. Another important thing to be taken into account when investing in pellet boilers is the cost of wood fuel. The annual cost of wood pellet typically reaches £1,175.
Even if this might look as an expensive investment, it is still less costly than using oil or gas. Besides that, wood pellet boilers can generate more heat with less consumption as compared to the oil furnace. Moreover, the payback time of wood pellet boiler is very short. In fact, it takes two to four years until the pellet boiler pays off and money is directed towards your pocket.
Grants for Pellet Boilers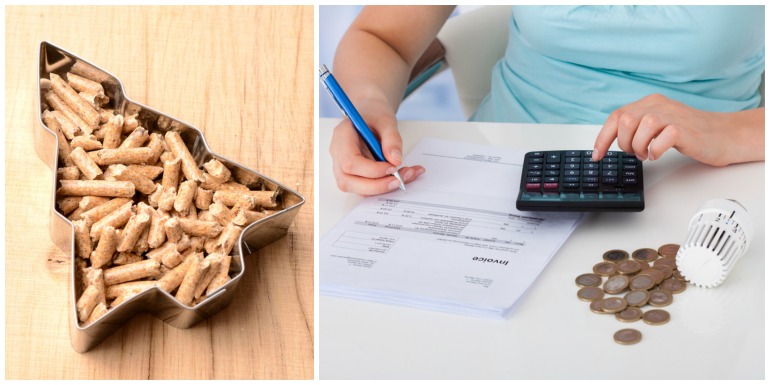 You might be eligible for financial support provided by the UK government's Renewable Heat Incentive (RHI).(link to our website) The program is aimed to motivate people to invest in energy-efficient improvements while saving on their energy bills. Wood fuelled heating systems are eligible for financial help under the Home Energy Scotland Renewable Loan Scheme(link to their website) for Scottish residents. The graphic below shows how much you could save on a yearly basis by installing a wood pellet heating system in your home.
FAQs
How are wood pellets made?
The production of biomass wood pellets relies on trees and wasted industrial materials. The first step of the process is to break down the wood into particles that will be shaped and composed of smaller cylinders. Drying is an essential part of the production process because it keeps the shape of the pellet and assures high heat output. The ideal content of moisture of a high-quality wood pellet should be less than 10%. Once these major steps are done, wood pellets are packed into loads or bulks and ready for final delivery.
Is my wood fuel up to standard?
Superior quality pellets are made of pure wood with a burning amount of ash of 0,5 percent. Most of the times it is worth investing in more expensive wood pellets because they will increase the efficiency of your boiler. Purchasing larger quantities of pellets will decrease the unit price and will mean greater savings in your budget.
How long can I store my pellets for?
In dry and suitable conditions, wood pellets can be stored indefinitely. It is essential that pellets are kept in dry conditions as they will be unusable and destroyed if they are in contact with water.
Can I use my current radiator for a new pellet boiler?
If your radiators are in proper conditions and if they were designed specifically for your building, the answer is yes. However, if your radiators are in poor condition, they will prove inefficient if used in combination with a new heating system.
How long can I expect my pellet boiler to last?
Most of the boilers are intended to last at least 30 years. However, they are expected to last even longer.
What type of maintenance does a pellet boiler require?
A Wood Pellet Boiler requires annual cleaning and maintenance from licensed technicians. You have to empty your ash bin on a weekly basis to assure the highest working efficiency of your pellet boiler. This is considered as an easy task and the ash can be a useful fertiliser for your garden.
Fill in the form in just 1 minute