Cost of Moving A Boiler in 2023: Prices & Options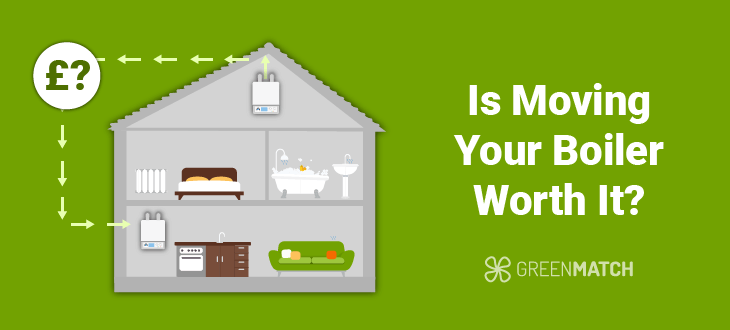 Are you planning to shake things up at your home? Moving a boiler seems like a plan. Whether it's for a trendy loft transformation or bidding farewell to that boiler eyesore in your bedroom, knowing the cost of moving a boiler is crucial. 
In this guide, we unravel the pros and cons of moving a boiler to various spots, the cost of relocating a boiler, as well as tips on boiler installation. 
But can you move an existing boiler yourself? No, you need to find a certified installer for that. Yet, scouring for the finest engineer and boiler quotes could drag on over hours, days, or even weeks. 
That can be perfectly fine if you've got time at your fingertips, but what if you don't? Do you really wish to dedicate your entire weekend to hunting down installers instead of cherishing valuable moments with your loved ones?
Fortunately, GreenMatch can help you avoid all the hassle. Complete our 30-second form and we'll take care of the rest. We'll provide you with up to 3 free quotes from boiler installers near you. Compare these quotes with no pressure to accept any of them. 
Our service is completely free and takes less than a minute to begin. Click below to get started.
Quotes from local engineers
Payment by finance available
Save up to £1040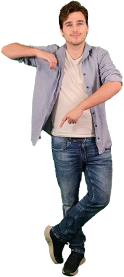 Optimise your home and save the planet
How much does it cost to move a boiler?
Typically, the cost of moving a boiler from upstairs to downstairs will cost you anywhere between £800 and £2,800 (excluding new boiler cost). Moving a boiler to another room on the same floor is cheaper – from £400 to £700. Moving a boiler to a loft can jump to £1,200 – £1,400 excluding additional work.
However, you shouldn't take these numbers for granted as there are many factors that influence the cost of a new boiler (more on those later).
Here are specific materials or services the heating engineer may include in their final check.
Average cost of moving a boiler

| Materials/services | Average cost |
| --- | --- |
| Moving an existing boiler | £800 |
| Boiler flue | £70–£120 |
| Extension flue pipe/flue blends | £40 per metre |
| Controls | £70–£650 |
| Pipework and fittings | £300–£600 |
These are just rough estimates and, for an accurate price, you need a professional to have their say on your particular boiler situation. 
Ensuring you secure the finest deal for relocating a boiler involves comparing multiple local quotes. Local installers typically offer more competitive rates for supply and delivery, resulting in a reduced overall cost of moving a boiler. 
However, finding trusted local boiler installers is a long and stressful process if done alone. Hours or days may pass before you find at least one professional near you. 
GreenMatch is here to help you! Fill in our quick form and we'll provide you with up to 3 quotes to compare. And it's easy, free of charge and non-binding! Don't hesitate – kickstart the process by clicking the button below.
Quotes from local engineers
Payment by finance available
Save up to £1040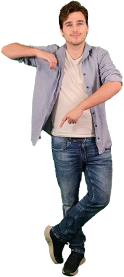 Optimise your home and save the planet
What influences the cost to relocate a boiler in the UK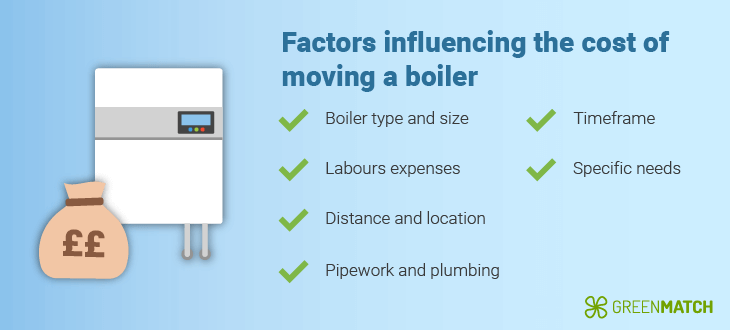 The distance of the relocation, the complexity of the installation, or your specific requirements can influence the total cost to move a boiler. Here are some key considerations that can impact the cost of a boiler relocation:
Distance and location. The distance over which the boiler must be moved can significantly impact the relocation cost. Longer distances or intricate plumbing adjustments often translate to higher expenses.
Pipework and plumbing. If the new placement necessitates supplementary pipework or electrical adjustments, the overall expense can rise accordingly.
Boiler type and size. Smaller boiler types, such as combi boilers, might incur lower relocation costs compared to their less space-efficient counterparts.
Labour expenses. The fees charged by the chosen heating engineer or professional can vary. Seek estimates from multiple experts to find the most suitable deal.
Specific needs. Increased ventilation demands or structural modifications for the new location can contribute to an augmented project cost.
Timeframe. While most boiler relocations are finalised within a span of 1-4 days, the complexity of the job can lead to variations in this timeframe and thus, longer labour hours.
It's important to bear in mind that there might be additional factors, influencing the cost of relocating a boiler. Consulting a heating engineer is a recommended course of action to secure precise quotes tailored to your distinct circumstances.
Boiler placement: Where do you want to move the boiler to?
Can you move a boiler really anywhere around your house? Sure, moving a boiler to another room on the same floor is just as possible as moving it upstairs or downstairs. But keep in mind that the cost to move a boiler will shift based on the type of boiler, materials needed, and the new destination spot.
So, boilers can be moved to various locations around your property: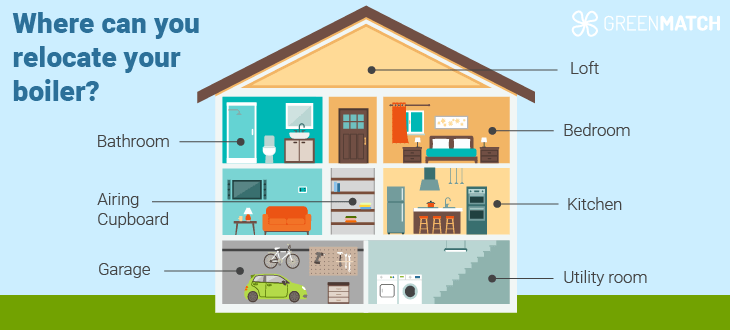 Keep in mind that boilers produce carbon monoxide during the combustion process. Since it's a poisonous gas, make sure the new destination has access to proper ventilation.
Now let's explore the advantages and disadvantages of installing a boiler in each of the above-mentioned positions.
Airing cupboard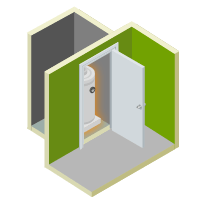 Typically, the airing cupboard serves as the installation site for the hot water cylinder in a central heating system with a conventional or system boiler. This arrangement is favoured due to the heat emitted by the cylinder, which helps in drying laundry. 
Nevertheless, more homeowners are opting to relocate their hot water cylinders to basements or lofts. If such a move is feasible in your home, it might also be possible to shift the boiler to the airing cupboard. However, it's crucial to ensure proper support for the heavy, full hot water cylinder.
Loft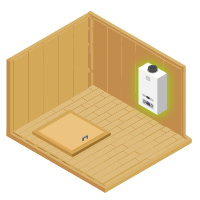 Efforts to completely conceal the boiler often lead homeowners to consider moving a boiler to a loft. Yet, this may not be as easy as you imagine. A conventional boiler's reliance on gravity for water flow from loft tanks to the boiler poses challenges at the same elevation. 
Furthermore, the boiler must remain easily accessible for servicing and maintenance, potentially necessitating loft modifications for proper accessibility, lighting, and secure flooring. A loft-based boiler requires a vertical flue, possibly involving the engagement of a roofer and scaffolding, depending on roof height. Also, any leakage could impact the lower floors of the house.
Bathroom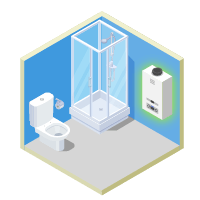 Moving a boiler in a bathroom introduces concerns about mixing electrical appliances with moisture. Anyway, it's very much possible if you meet specific regulations that guarantee the boiler's protection against moisture, accessibility for maintenance, and adequate ventilation. 
Typically, bathroom boiler installations involve positioning within a cupboard at a safe distance from taps, showers, and baths. Moreover, room sealing is required for bathroom boilers.
Bedroom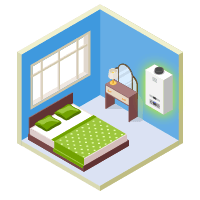 Installation of a gas boiler in a bedroom is permissible if the unit is 'room sealed,' drawing air from and expelling fumes to the exterior. Safety concerns often discourage bedroom installations, but properly installed modern room-sealed boilers pose minimal risks. 
However, the potential for carbon monoxide leaks mandates regular servicing and carbon monoxide detectors. Noise generated by operating boilers might contribute to unwanted noise pollution during the night hours.
Garage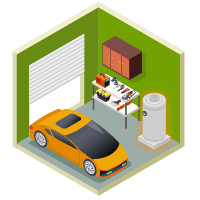 Moving a boiler to your garage can free up some space in the house and eliminate the noise levels in your property. 
However, make sure your garage is brick-built and provides proper ventilation to avoid the accumulation of carbon monoxide.
Installing a boiler in a garage raises freezing concerns during winter. To counteract freezing, it's advised to choose a boiler with frost protection heating and adequately insulate pipes.
Kitchen
The kitchen is a commonly chosen site for relocating a boiler. While it can be discreetly concealed within a cupboard or beneath a unit, this decision may result in a sacrifice of kitchen storage space.
Adequate ventilation space is crucial, and a minimum gap of 50mm should be maintained between the boiler and any surrounding cupboard. Moreover, the area surrounding the boiler should be free of flammable materials, coming from the stove or kitchen appliances.
Utility room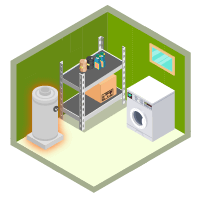 For residences equipped with a utility room, moving a boiler there is an ideal solution to conserve space throughout the property. Before proceeding with the relocation to the utility room, ensure that sufficient room is available and that appropriate support for hot water services is in place.
It is advisable to seek the guidance of a professional heating expert to ascertain a secure place for your boiler. An experienced installer will assess your unique circumstances and provide estimates for both the time and cost associated with the relocation.
However, a trusted professional is never an easy find when searching alone. Looking for installers yourself can cost you precious free time and nerve cells before you find a specialist in your location. 
Let GreenMatch do all the heavy lifting for you. Fill in our 30-second form and we'll take it from there. We'll provide you with up to 3 free quotes from vetted heating professionals near you. Compare their offers without committing to any orders. It's all quick and easy as pie. Click the button below to begin.
Quotes from local engineers
Payment by finance available
Save up to £1040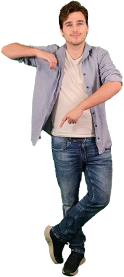 Optimise your home and save the planet
Boiler type: Which type of boiler do you want moved?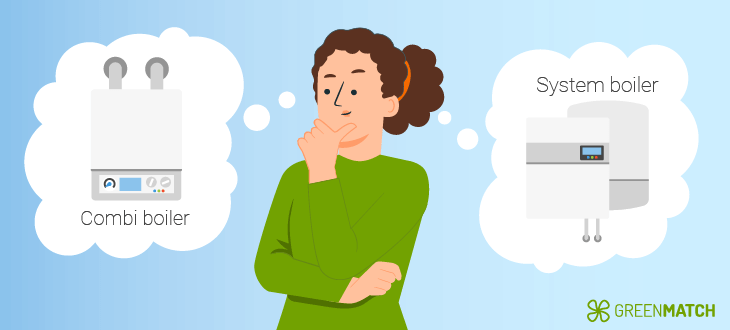 Technically speaking, any type of boiler can be relocated. You need to consider the cost of relocating a boiler and how easy the relocation is. 
A combi boiler is smaller than a system one since it doesn't require a cylinder or a water tank. So moving it wouldn't be too much of a hassle and can be performed within a day. 
How much does it cost to move a combi boiler then? Well, combi boiler moving costs can stretch between £300 and £750, including the materials and labour costs.
Relocating system boilers requires careful planning. Keep in mind that a system boiler comes with a water tank and a cylinder, therefore moving it means extending the necessary plumbing and wiring. Moreover, a system boiler relocation should comply with local building regulations and safety standards. 
Moving an electric boiler is less complicated. The complexity and cost to move a boiler like this one depends on whether a new electrical circuit or rewiring is needed. 
To determine the expense involved in relocating your boiler, the most effective approach is to consult a professional installer. However, engaging in this search can consume valuable time you could otherwise be spending with your family. Furthermore, despite investing hours or even days in scouring for and contacting installers, you might still find yourself without actionable insights.
Fortunately, GreenMatch offers a stress-free way to get quotes. With a quick 30-second form, we can link you with up to three boiler installers in your location. You can then compare their quotes without any obligation to accept any of them. Our service comes at absolutely no cost to you. Click the button below to begin.
Quotes from local engineers
Payment by finance available
Save up to £1040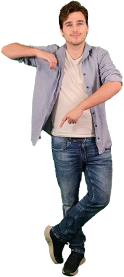 Optimise your home and save the planet
How long does moving a boiler take?
A simple boiler replacement, identical to the existing setup, can typically be completed within a single day. Relocating a boiler to another spot might extend the process by another day. 
If the new location is situated on a different side or floor of the house, the duration could stretch to up to 2 days. In such cases, the heating engineer might have to extend and potentially reconfigure the pipework, contributing to the overall timeline.
Is it worth moving a boiler?
Your decision depends on the condition of your present boiler. If your boiler is 5 years old or more, lacks warranty coverage, or fails to meet current regulations, a replacement is a better (and cheaper) way to go. 
The UK government offers several boiler grants that can help you out with the initial investment. These schemes can provide up to £5,000 of financial assistance to homeowners seeking boiler installation.
Yet if your boiler remains within its warranty period and shows all signs of boiler efficiency – feel free to relocate it. No specific permissions are required for that, but you might want to double-check with local authorities or a Gas Safe engineer to be on the safe side.
To discover the most suitable professional for the task, we strongly advise comparing quotes. This process will give you peace of mind that you are securing the most competitive deal. 
Yet finding a trusted and certified professional on your own can take up days of your valuable time which you could be spending with your family instead.
Thankfully, GreenMatch can help you save your time. By completing our 30-second form, you can expect up to 3 installers to promptly reach out with their prices. You can then compare these quotes without any obligation to proceed with orders. Begin the process by clicking the button below.
Quotes from local engineers
Payment by finance available
Save up to £1040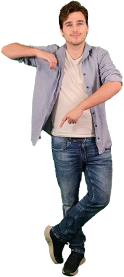 Optimise your home and save the planet
FAQ