About Ferroli
It has to be recognized that Italians are really good in manufacturing boilers. Ferroli does not make an exception to the rule and is one of market leader nowadays.
It was in 1955 that Dante Ferroli created the company in Verona and in the 80's the company decided to expand to the British market. First, Ferroli did so by working closely with Brassware Sales to enter the UK sector. It is only in 1997 that the two companies separated their activities and Ferroli launched its UK subsidiary as Ferroli UK Ltd. Throughout its path, Ferroli kept the will to manufacture its products itself, from the design to the marketing phase, allowing the company to get a tighter control over its daily activities and manage its production.

Ferroli Boilers in the UK
Ferroli offers 5 different kinds of boilers. It differs from its competitors as Ferroli offers biomass boilers, that is not that common among the leaders on the UK market.
Combi boilers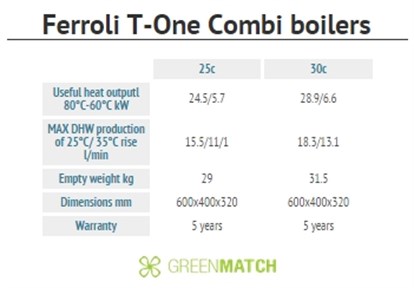 Modena HE
This kind of boiler comes in three models of 27 kWh, 32 kWh and 38 kWh and comes with a warranty, according to the price of the model you decide to purchase, from 2 to 7 years. This kind of boiler is light, quiet and small so you can basically install it wherever you want on your property.
Some of the main features of Ferroli's combi boiler are listed below:
It operates on natural gas or LPG
It benefits from a unique stainless steel pipe-in-pipe bi-thermal heat exchanger
The boiler can condensate if it is in hot water mode
It has a very long flue reach, up to 80 m
Ferroli's combi boiler also offers to its owners a microprocessor control and adjustment system with advanced self-diagnosis
It operates with a maximum temperature of 80°C.
T-One
This type of boiler benefits from the SEDBUK A rate and is highly efficient. Indeed, hot water delivery exceeds 13.1L/min for a temperature of 35°C. Both Combi and system boilers have a 5 years warranty. You can use either natural gas or LPG for your daily fuel combustion.
System Boilers
Ferroli's system boilers share the same characteristics of the Combi boilers. However, they are only available for 18 kWh, 25 kWh and 32 kWh. Therefore, its power is inferior compared to the one of a combi boiler. Nevertheless, as its use is quite different from a combi boiler, this kind of power supply is enough to satisfy the basic needs of the household.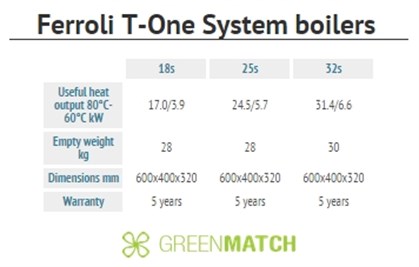 Fer HE 25c
This type of boiler offers different features such as:
It benefits from a 2 years warranty
It has a Domestic Hot Water (DHW) flow rate of up to 10l per min with a temperature of 35°C
It offers a user-friendly LCD control
The Fer HE is provided with a combustion monitoring system
Large domestic/light commercial boilers
Econcept 51A
This boiler model suits a power scale from 11 kWh to 53 kWh and is guaranteed during 2 years. It is characterised by the following features:
A premix ceramic reverse micro flame burner: enables the household to lower its emissions and eliminates the effects of thermal expansion on the boilers
It can produce cascade operations without the need of a control panel to plan it
Domestic Hot Water Services (DHWS) are provided through an onboard controller
Energy Top W80 & W125
This boiler also benefits from a 2 years warranty. However, it is available for a larger power extent, from 17 kWh to 123 kWh and therefore is more suited for commercial purposes than domestic ones.
Its main characteristics are:
It is made with a premix or air and gas metal fibre burner 
A maximum temperature difference of 40°C is allowed by the heat exchanger
It is also possible to benefit from cascade operations without the need of a control panel.
Biomass Pellets Boilers
Biomass pellets boilers represent a sustainable way to heat your home and your water. As its name says, this type of boiler uses wood as the main combustion fuel. ( include link main biomass page)
Biomatic +20 (kW) and +40 (kW)
This type of boiler is manufactured in Sweden, the home of biomass boiler and is now a top-selling product in Scandinavia, which proves the reliability Nordic people have on Ferroli's products.
The advantages of those kinds of boilers are that they are MCS (link) certified and are parts of the RHI.
Its key features are the following ones:
You can control easily the boiler operations on the top of it with the buttons board
It contains a hot storage water of up to 173L with a maximum temperature of 90°C.
It has two heating circuits that can be controlled and connected directly from the boiler
BioComPX
This biomass boiler has a capacity of 60 kWh and is really cost-effective if you have high and continuous output requirements. However, this type of biomass boiler is not eligible for the RHI as its power output is more than 45 kWh.   
Its main features are:
It has a large ashes space easily accessible from the front of the boiler
It can benefit from different options that can be added according to your needs: an automatic ash removal option, a combi DHW generator option and an immersion heater option.
Fill in the form in just 1 minute