About Alpha Heating Innovation
Alpha Heating Innovation is a 50 years old UK firm, spread through the whole country. It is one of the UK's leaders in its sector, combining values from a traditional business with a high-quality innovative approach to its operational aspects. The company is recognised by the certification ISO 90001:2000 as extremely reliable concerning its processes. Indeed, Alpha Heating Innovation runs daily checks on random samples of finished goods. For instance, the company uses a specific laboratory where specialists run trials and tests on boilers, from the technical aspects to the packaging of the products.
Models Available in the UK
Combination Boilers
Combi boilers represent the most energy efficient boiler. As its name says, this product combines central heating and hot water. It provides households with hot water on demand, without maintaining a permanent reserve of hot water in a different water cylinder.
Eco² Model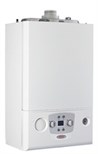 This product is able to control and adjust the gas flow thanks to an advanced combustion management.Its main features are:
Small size and layout
Gas adaptive valve
Combined condensate and pressure relief valve connection
Frost protection and daily pump kick
InTec C

The features of this product are:
Designed-on filling hop
Frost thermostat
Seasonality valve
Stainless steel heat exchanger
InTeC2 X

The main characteristics of this range of products are:
Compact size and layout
LCD control panel: Provides information on heating and hot water
Easy access for servicing
Gas adaptative valve
InTeC2 CE

Here are the main features of this product:
Advanced combustion management
Quick warm up and circulation
One piece casting heat exchanger
PCB memory
InTec 50CS

The four main characteristics of this product range are:
18 litres.min as a flow rate
Option to run a secondary circulation
Built-in 53.6 litre storage cylinder
Built-in weather compensation
Regular or Traditional Boilers
Often referred to as traditional boilers, they are often present in older heating systems in the UK. They use a cold water tank as a storage and an expansion tank in the loft. An airing cupboard storage cylinder is used in order to provide central heating and hot water to the household.
Only one range of regular boiler is manufactured by Alpha Heating Innovation. Its main features are the following:
Anticycling device
Daily pump kick
Frost thermostat
Stainless steel heat exchanger
System Boilers
System boilers can deal with high hot water demands by using a storage cylinder in an airing cupboard, providing households with central heating and hot water. They need a storage cylinder to keep the water topped up, however, when it is empty, the storage cylinder will need to be replenished.
High output system boilers: INTEC S

2 metre flying mains lead
Open or concentric push-fit flue systems
Suitable for a single unit or a cascade installation
Stainless steel heat exchanger
InTec S
Daily pump kick
Frost thermostat
Valves and tails factory fitted
Stainless steel heat exchanger
Fill in the form in just 1 minute