About Vaillant
In 1874, Johann Vaillant established Vaillant as a copper beater and pump maker. In 1999, after 125 years of operation and 40 million boilers sold, Vaillant received the German Quality Award. In 2012, the Vaillant Group Gmbh is founded to encompass all the companies located throughout the world. The main goal of this creation is to develop the existing markets and expand into new markets, especially in Asia. The main production sites are located in Germany, The United Kingdom, France, Spain, Slovakia, Italy, Turkey, and China. To catch up with the concept of sustainable development Vaillant group implemented the S.E.E.D.S strategy standing for Sustainability in Environment, Employees, Developments and products and Society.
Vaillant Boiler Models in the UK
Combi Boilers
EcoTec Exclusive
The ecoTec Exclusive offers two power outputs of respectively 32 kWh and 38 kWh for a warranty of 5 years as standard or 7 years if installed by a Vaillant Advance partner. This type of boiler suits a small to medium property with 1 or 2 bathrooms where a larger central heating and hot water display are already existing. Moreover, this product includes a low energy pump electronically controlled which will allows the homeowner to reduce their energy consumption.
EcoTec Plus Combination boiler
The power range is either 24 kWh, 31 kWh and 37 kWh. It will provide you with hot water within 5 seconds. You can modulate your consumption in low heat demand periods to save energy and money on your bills. The installation of these range of models can take between one or two days according to the type of system you used before, the connection already available in your house and the work that needs to be done during the installation process.
EcoTec Plus Combination 937
Even if this product is only available from 37 kWh, its has great properties. First of all, it suits all the big households of 3 to 4 bedrooms and of more than 2 bathrooms. This product has a 5 years warranty but can be extended to up to 7 years if installed by a Vaillant Advance partner. The ecoTec Plus combination boiler 937 features an innovative hot water storage at the back of the boiler which can deliver up to 20L of hot water per minute. Therefore with this product, you do not need to install a water tank or cylinder in the loft.
EcoTec Pro Combination boiler
You can use this product for either a 24 kWh or 28 kWh power range. This product is recommended when you have no more than 2 bathrooms in your property. You can benefit from a 2 years warranty that can be extended to 5 years if your boiler is installed by a Vaillant Advance partner. This product, as the other Vaillant Combi boilers, has a frost protection and an high efficiency pump that allows you to benefit from a better performance and decrease your energy bills.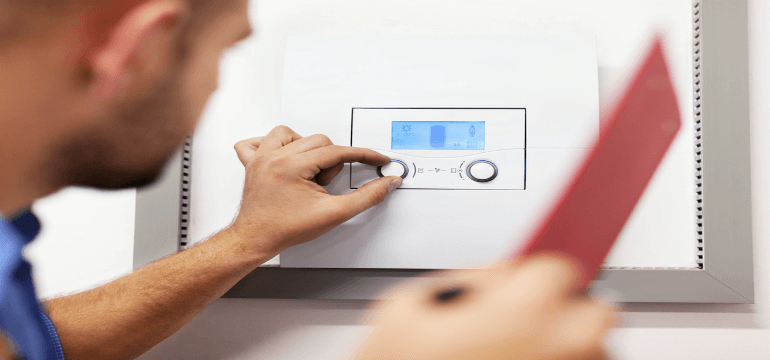 System Boilers
Vaillant offers at the moment only one product concerning the system boiler part. This product is named ecoTec Plus System Boiler and is declined in a variety of power ranges: 12 kWh, 15 kWh, 18 kWh, 24 kWh, 30 kWh, and 37 kWh. The warranty on this product is 5 years but is extended to 7 years if your product is installed by a Vaillant Advance partner. A new high efficiency two speed pumps allow a reduction in your household energy consumption. You can also modulate your consumption when you have low heat period demands.
Open Vent or Heat Only Boiler
As for the system boiler, Vaillant offers only one type of heat only boiler, namely the ecoTec Plus Open Vent Range, available for outputs of 15 kWh, 18 kWh, 28 kWh, and 38 kWh. This product comes with a 5 years warranty that can become a 7 years one if your boiler is installed by a certified Vaillant Advance partner. The control panel is user-friendly designed which makes the product easy to use. You can install it easily thanks to its small size design.
Fill in the form in just 1 minute