About Viessmann
Viessmann was founded in 1917 in Allendorf, Germany, by Martin Viessmann. Throughout the years, the company expanded its market and activities and count more than 11.000 employees worldwide and generates approximatively 2.2 billion euros per year as an annual group turnover. With a presence in 11 counties and 120 sales offices around the world, Viessmann is internationally oriented and focused on expanding its market without neglecting quality and reliability.
What Types of Viessmann Boilers Can I Buy in the UK?
By clicking on their website, you will be able to choose the boiler that best fits your needs according to the type of property you live in: detached house, semi-detached house, flat, industry/commerce and communal network.
Gas Boiler
Combi Boiler
Vitodens 100-W
This product concerns power outputs of 19 kWh, 26 kWh, 30 kWh, and 35 kWh and comes with a 5 years warranty for the components but 10 years for the Inox-Radial stainless steel radiant heat exchanger. You can use either LPG or natural gas by implementing a conversion kit on this boiler.The product has the same size, no matter the power output.
Vitodens 100-W Open vent
The open vent model has a compact size that makes it easy to install wherever you want inside your property. Its range counts the following power outputs: 13 kWh, 16 kWh, 19 kWh, 26 kWh, and 35 kWh. Its main components benefit from a 5-year warranty whereas its stainless steel heat exchanger has a 10 years warranty. You can, if you wish, add a weather compensation option and can also convert your boiler to use LPG instead of natural gas.
Vitodens 050-W
This boiler offers a Domestic Hot Water (DHW) range between 5.9 and 29.3 and power output between 8 to 35 kWh. Indeed, it benefits from an integral and immediate water heater enabling you to have access to hot water instantly. You can find integrated to this product a frost protection, an electronic control unit for thermostatic mode and weather compensated mode. By its small size, one of the smallest in its class, you are able to install this product everywhere you want inside your property. Moreover, its makes almost no noise while operating, which means that you can place it close to bedrooms without being annoyed by the noise it could produce. Finally, it benefits from a 10 years warranty on its stainless steel heat exchanger and 5 years on its other parts.
Vitodens 200-W
Its particularity consists in the fact that its burner firing duration is adjusted regarding the season in order to get an optimal consumption. It benefits from a 10 years warranty on its stainless-steel heat exchanger and has a low noise during the combustion phase. You can adapt easily this model to LPG combustion fuel and several options can be added to the its core components.
Vitodens 111-W
This product can store to up to 46L and its Cylinder Load System ensures a constant supply of hot water. Its Hot Water Capability is of 18l per minute and it can provide power outputs from 6.5 kWh to 35 kWh. This boiler is easy to handle with, as it has a compact size and all its control buttons are available on the front of the appliance. Finally, it is built in filling loop.
Vitodens 222-F
This model is available with a separated water cylinder to provide you with the maximum water needed without the need to wait for it to be heated up as it is already available. Several outputs can be available: 19 kWh, 26 kWh, and 35 kWh. It has a hot water capability of up to 20l per minute and is designed as a user-friendly device with graphics and clear buttons and explanation to get a smooth operation.
Vitodens 242-F
The Vitodens 242-F is built in a certain manner to allow you to connect it to a solar panel without having to install other components. You can use thanks to this model a weather compensation control which is linked to a 7 days programmer. Moreover, you can adjust the fire burning duration according to the season in which you are in to enable you to save on your energy bills. This boiler is available from 19 kWh or 26 kWh and its components are guaranteed during two years. You can benefit with this model from a 170L DHW cylinder.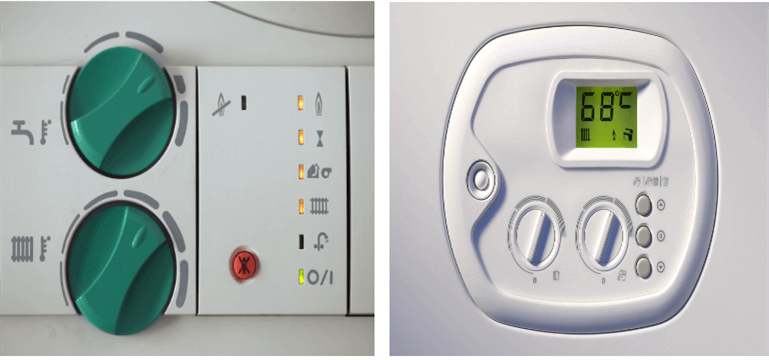 Condensing Boiler for Larger Properties
Vitrocrossal 300 Type CM3
This condensing boiler is made for larger properties or commercial/industrial purposes. Hence, its output range is quite high compared to boiler designed for smaller homes starting from 80 kWh until 142 kWh. It is also suitable for multiple boilers usage and benefits from an Inox-Crossal heat exchange surface.
Vitrocrossal 300 Type CT3B
The output range for this condensing boiler is even higher than the previous one, going from 187 kWh to 635 kWh. Therefore, you can conclude that it is only made for industrial purpose, due to its high power range. This product is suitable for a multi-boiler system. The combustion emitted is quite clean, thanks to a low combustion chamber loading.
Vitrocrossal 200 Type CM2
This boiler has a good price/performance ratio and allows its owner to benefit from a power range going from 87 kWh to 620 kWh. Its design allows the product to get a self-cleaning effect due to its smooth stainless-steel surface. You can also add an option to get a balanced flue or a open flue operation.
Condensing Boiler
Vitoradial 300-T
This convertible oil or gas boiler has an output range going from 101 kWh to 545 kWh. Its large water content enables it to protect the environment with long burner runtimes and fewer switching intervals. It has a compact design compared to other models and can be placed more easily in your home. You also benefit from a smart control panel called Vitotronic with which you can actually communicate with the Viessmann customer service and check all the operations undertaken by the heating system.
Vitoplex 300
As an oil condensing boiler, this product can range from 80 kWh to 2000 kWh, which represents a considerable power output. It also benefits from the Vitotronic control system and has an optimum and clean combustion by matching oil and gas pressure. Its standard efficiency was improved thanks to several options that you can add to the existing Vitoplex model.
Vitoplex 200
This product has a lower output range compared to the 300 model. Indeed, it ranges from 90 kWh to 1950 kWh. This boiler was designed in such way that you can actually carry it through standard doorways of 80 cm, which highly improves your installation process. Other than that, its characteristics remain the same as for the Vitoplex 300.
Vitoplex 100
Vitoplex 100 ranges from 110 kWh until 2000 kWh and has a oil/gas reverse option which allows you to benefit from both fuels when you want. The flow temperature can be up to 95°C and its operation process is quite efficient and safe so it is a good and reliable product to invest in.
Vitorond 200
Vitorond 200 goes from 40 kWh until 1080 kWh and has a low temperature iron cast oil/gas fired boiler. Its standard efficiency is up to 94°C and improved by 12% compared to the previous model. This product is easier to install as it was designed in sections that can be mounted and therefore does not take that much space when transporting it. Thanks to a pivoting door, it is easier to clean the combustion boiler and the gas flues that are accessible.
Vitorond 100
This product has a much lower power range compared to the Vitorond 200, going from 40 kWh to only 100 kWh. Thanks to a lowered boiler temperature when the temperature outside is rising, this boiler is economic and ecological-friendly. Its maintenance is also easy to perform, as the main pieces are reachable to be easily cleaned.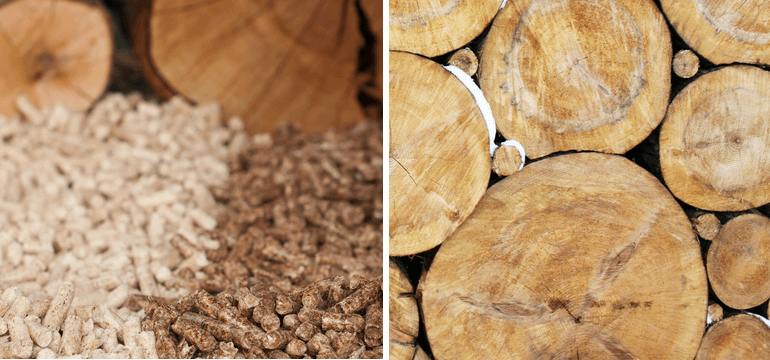 Biomass Boiler
Vitoligno 300-P
This fully automated wood-pellets boiler has an output range from 4 kWh to 48 kWh. This product is designed with an automatic cleaning of the heating surface and ash removal tool to enable you to get the best efficiency possible on your boiler combustion operations. You can also access a digital control panel for an easier use of your boiler. This method is one of the best if you want to help protecting the planet by lowering your CO2 emissions and decreasing your consumption of fossil fuels.
Vitoligno 300-C
This boiler has a small output range from 2.4 kWh to 12 kWh. It will be possible to purchase it by late 2015 as it is a brand new model. It has an automatic fuel feed so you basically only need to understand the different actions available on the control panel. It also possesses an automatic cleaning and ash removal process. It benefits from an efficiency of 95.3% and is easily installable, even in a corner due to its small size. Compared to the other biomass boiler, it has a low energy consumption thanks to an automatic ignition with ceramic insulation.
Combined Heating and Power Stations
Vitobloc 200 EM
This range of combined heating and power stations range from models with a power output of 50 kWh until 549 kWh. Those products can be operated with several energies, namely natural gas, biogas, sewer and landfill gas. It has a high productivity thanks to the use of electricity which makes it one of the most efficient system on the market. It is delivered fully wired and was tested by the company beforehand. Therefore, the installation is fast and smoother compared to other products actually on the market.
Fill in the form in just 1 minute