At the moment, most of the energy supplies come from the burning fossil fuels such as coal, oil and gas and as we are all aware it is linked to the greenhouse effect and responsible for global warming. More and more businesses in the UK are targeted to reduce their carbon output by 2% in the next decade, and many industries are turning to renewable sources of fuel such as biomass.
These forward-looking industries are opting for biomass boilers and other green-based sources as it is far less harmful to the environment and more cost-effective. In contrast to fossil fuels, we are unlikely ever to run out of biomass fuels. Since biomass fuel can be produced locally, it helps in reduction of the carbon footprint and lowers the UK dependence on the other countries.
We provide you with a free, simple and without obligation service that allows you to request quotes from up to four different suppliers. You just have to fill in the form on the right.
Industrial Biomass Boilers
As compared to conventional industrial boilers, an equivalent biomass boiler needs more space in the boiler house. The reason for larger space requirement is connected to the extra fuel handling equipment and sophisticated filter system that are compulsory. A larger hopper is required to store the wood fuel, be it wood pellets or chip.
Wood pellets are preferred fuel option in the UK market as they are completely dry and processed. On the other side, the wood chip contains a higher amount of moisture which can cause problems. When comparing prices of wood fuel, pellets are far more expensive. While a tonne of pellets cost around £130, wood chips are worth £30 per tonne.
Installation of Industrial Biomass Boilers
The most important requirement to think about when installing an industrial boiler is the space for the fuel storage, water tank and the boiler itself. Unlike smaller domestic boilers, industrial boilers can drastically vary in the size depending on the heating system, building heating requirements and storage space. Oversized boilers lead not just to higher costs but also to waste of energy over its lifespan.
The process of installation depends on the current heating system and in some cases may involve integration with your current heating system instead of complete system replacement.
How Does an Industrial Biomass Boiler Works?
The heart of an industrial boiler system is a hot water or steam boiler that operates with a particular type of fuel. In the case of biomass boilers, this fuel includes different types of wood, such as pellets, chip or logs. The boiler heats up the water inside it, which is then transmitted to the consumers via pipe systems. The cooled water or the condensed steam returns to the boiler where it is heated again. Loss of water must be compensated by treated fresh water to avoid corrosion.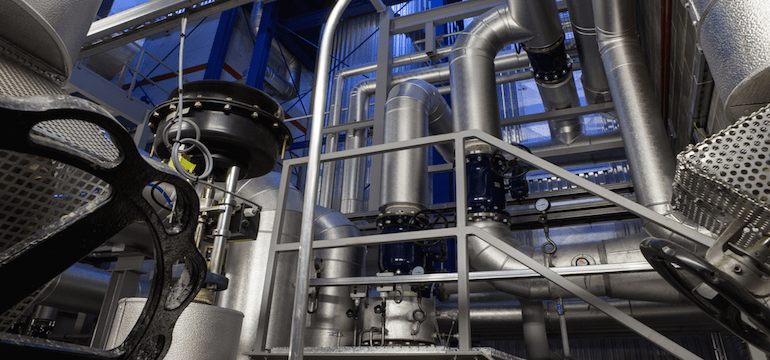 Governmental Incentives
The UK Government provides financial support through RHI scheme for the installation of industrial biomass boilers. The Renewable Heat Incentive program offers between 1.6 and 2.5 pence per kWh for biomass boilers over 500 kWh. The governmental scheme plays the crucial role in reducing the negative effects of climate change. It provides businesses with enhanced tax relief for investment in capital equipment that meets energy-saving criteria. Switching to biomass will qualify for financial support only if it reduces CO2 emissions.
Back in the days before we started using coal, oil and gas, wood was the only fuel source, Perhaps, we are now going back to nature. Certainly, if we are to avoid serious environmental consequences we need to be considering different alternatives and biomass is one of those options.
If you are planning to invest in industrial biomass boiler, we can save you both money and time on extensive market research. Fill in the form on the right and get up to four quotes from different suppliers. Our service is free of charge and without obligation.
Fill in the form in just 1 minute