About Potterton
Potterton was created in 1850 by Thomas Potterton in Ballam, London as general contractor enterprise. In 1992, Potterton produced its 4th million boiler and from 2006 to 2010, the Potterton Gold Combi 24 HE was awarded the Best Buy by the "Which?" Magazine. Nowadays, the company applies 6 fundamental values in its everyday operations: reliability, trust, mainstream, user-friendly, relaxed and customer focused. Potterton, is part of the Baxi group, which is part of a biggest trust known as the BDR Thermea. This group employs more than 6,400 people and is present in more than 70 countries worldwide.
Potterton Boilers in the UK
Combi Boilers
Potterton Promax Combi HE Plus A
This product can fully modulate power from 6.8 kWh to 33 kWh for a wide range of installations. The product is delivered with a wall-mounting jib, allowing for an easier installation. It benefits from a frost protection and has a wide range of fueling options. It also possesses a pump that runs every 24 hours to keep itself in good working condition and has an optional room thermostat. Finally, this product comes with a 1-year warranty.
Potterton Heatmax Combi HE
This combi boiler is available in 24 kWh 28 kWh and 33 kWh and has a 2 years warranty. It possesses as well a built-in frost protection and is delivered with a wall-mounting jib to get a smoother installation. Furthermore, it can be situated in an unventilated kitchen cupboard.
Potterton Performa Combi HE
Potterton Performa Combi HE is available for outputs of 24kW and 30kW. It can be suited for a wide range of domestic appliances, from 11 kWh to 30 kWh. It has an independent control of DHW and heating temperature. You can add to this combi boiler several options such as a wireless programmable room thermostat or integral timers. However, this product only comes with a 1-year warranty on its parts and labour.
Potterton Titanium Combi
The titanium range constitutes the latest version added to Potterton boilers. Indeed, due to its high efficiency and reliability, this product comes with a 5 years warranty. This product provides instant hot water and according to a study, could help you save up to £300 per month. It is packed with security features, which makes it easier and safer to install. The product comes with a 24 hours clock enabling you to plan when the boiler is used. Thus this option can help you save on your energy bills by increasing your boiler efficiency. Here is the link to access the brochure concerning this product.
Potterton Gold Combi HE A
Finally, this type of boiler is available to fit output needs of 24 kWh, 28 kWh, and 33 kWh. It can modulate outputs from 9.4 kWh to 33 kWh. This product comes with a 2 years part and labour warranty and has a filling loop included and benefits from a compact dimension. Its added value consists in the existence of an intelligent control system that automatically adjust the output of the heat to match the household demand. You can click on the brochure link to benefit from further information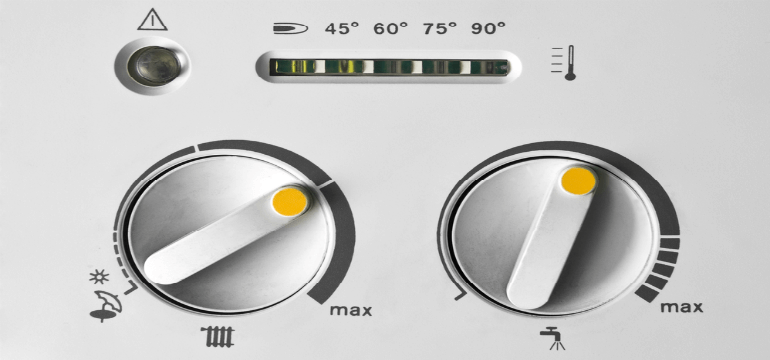 Heat Only Boilers
Potterton Promax HE plus heat only boiler
This product is really small and can adapt easily to any kind of house due to its wall-mounting system. You can choose between three different types of power: 15 kWh, 24 kWh, or 30 kWh. This product benefits from a 1 year warranty and the hot water could be provided by a separate source such as an indirect cylinder.
Find more by checking the product brochure.
Potterton promax SL heat only boiler
Thanks to this product, you can access different kinds of power: 12 kWh, 15 kWh, 18 kWh, 24 kWh, and 30kW. This product also comes with a 1 year warranty and is easy to mount on a wall due to its light weight and its small size.
System Boilers
Potterton Promax System HE Plus A boiler
This product range is specially designed for systems with a separate water storage cylinder. Its particularity lies in the fact that it has a pump that runs every 24 hours to keep the system performant. It is built in two stage frost protection to prolong the lifespan of the appliance and save money on your energy bills. This system boiler comes with a 1 year warranty and can be situated to an unventilated cupboard due to its small size and its wall-mounting option.
Potterton Performa System HE boiler
You can purchase different kinds of power output with this model: 12 kWh, 18 kWh, 24 kWh, and 28 kWh. No matter the type of power output chosen, this product comes with a one year warranty. You can find on the control panel a multifunction LED indication showing you the operative actions and fault modes when it occurs.
Floor standing boilers
Nowadays, Potterton is only commercializing its Promax HE Store floor standing boiler. This boiler includes a lot of innovative characteristics such as:
Capacity of 95L, 115L or 150L
10 years warranty on the cylinder, 1 year warranty on the other components
Fully pumped sealing system, which allows you not to have a water tank and therefore saves you space and installation time
7 days digital programmer
24 kWh power output available
Fill in the form in just 1 minute