uPVC has been used in the UK for over 30 years for fabricating double glazed windows and door frames, but what makes uPVC windows even more attractive today is the possibility for you to buy coloured uPVC windows. Have you decided to renovate your house and change your windows? Learn here what to consider before making your choice:
One of the most used materials produced by window manufacturers is uPVC
Coloured uPVC frames represent a growing trend in the market
What does uPVC mean? uPVC stands for Unplasticised Polyvinyl Chloride, a low-maintenance material commonly used in the building industry. The absence of plasticisers makes it more rigid, durable, resistant and recyclable.
By replacing your old windows with coloured uPVC windows, you not only outfit your home with a unique appearance by personalising various uPVC window styles, but you also experience significant improvement within the following areas: insulation, condensation prevention, reduced noise, better aesthetics, and price.
uPVC windows can come in many different colours, which can enhance a certain style. Grey uPVC windows can add a minimalist feel to a home, while brown uPVC windows can add warmth.
Standard vs Coloured uPVC Window Prices
Colour
Price (£)
Standard white
£160 – £990
Exterior colour, interior colour
£190 – £1,200
For a complete breakdown, see the Coloured uPVC Windows Prices.
These prices are only a guideline. The best way to know how much work will go into installation and supply for your home is to ask an installer.
For an accurate price, though, you will need to find one you can trust, which can take days of researching companies and comparing their prices. Luckily, our service can slash that time to practically nothing!
Fill in the 30-second contact form to request up to 4 free windows quotes for coloured uPVC models! A good installer can also provide you with a broader range of uPVC windows colours in the UK. We make your choice and purchase easier by providing obligation-free quotes from quality suppliers that match your needs!
Quotes from local engineers
Payment by finance available
Save up to £170 per year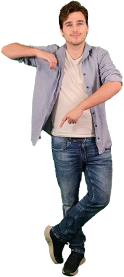 Optimise your home and save the planet
How are coloured uPVC windows made?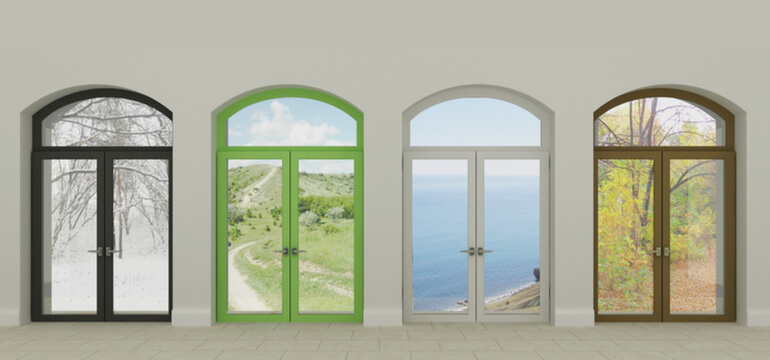 One commonly used technique is to coat the profiles of the windows, and after these have been extruded, standard procedures for manufacturing uPVC windows are followed. Another technique is to apply a paint finish before or after the uPVC windows are made.
Modern uPVC window colours often come from the manufacturing process as they are made with coloured plastic. However, uPVC is a versatile material and it can be coated after the fact, which is the older method of producing coloured windows.
So, are coloured uPVC windows white on the inside? This depends on whether they are manufactured solid with modern techniques or painted later. The latter technique can leave the interior white while the former permeates through the material.
Nowadays, most companies also offer the chance to choose different uPVC window colours but also to combine two different shades for the inside and outside parts of the same window frame.
Coloured uPVC windows prices
uPVC windows prices are effectively cheaper than the ones made from other materials, due to a less complex manufacturing process and lower costs of raw materials. Adding or manufacturing them in colour adds 10% to 20% to their price tag. Besides, the maintenance of uPVC windows and doors over the long term is significantly reduced when compared to other substitute materials.
The best uPVC windows prices will then vary in relation to the size, shape, and profiles of your windows. Important elements to also take into consideration are the window glazing, the colours chosen, and the specific techniques used for coating or laminating your uPVC windows.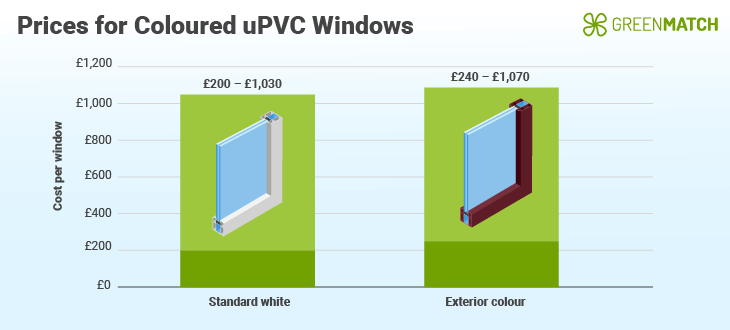 Standard vs Coloured uPVC Window Prices
Colour
Measurements (mm)
Price range
Standard white
600 x 900 mm
£160 – £990
Standard white
900 x 1,200mm
£200 – £1,065
Standard white
1,400 x 1,400 mm
£230 – £1,240
Exterior colour, interior colour
600 x 900 mm
£180 – £1,200
Exterior colour, interior colour
900 x 1,200mm
£220 – £1,300
Exterior colour, interior colour
1,400 x 1,400 mm
£250 – £1,500
Other important factors to take into consideration are:
Larger uPVC windows are more expensive than smaller windows
Standard shapes are cheaper than non-standard shapes (i.e., oval, arched, etc.)
Handles and various types of hardware
Air vents, window sills, and grids
Colours are going to influence the price as well. The uPVC windows manufacturers apply different techniques by introducing coloured frames and that is the reason the prices can be different.
The best way to navigate prices is to talk to multiple installers. Finding one reliable installer can be tough enough, but multiple ones can take days of research and price comparisons if done on your own. However, you don't have to do this yourself because we can help.
By filling out a simple 30-second form, you can receive up to 4 free, non-binding quotes from reliable installers. We've vetted them ourselves, so you can be sure they're up to the task without having to waste all your precious time assessing them. Click the button below to get started.
Quotes from local engineers
Payment by finance available
Save up to £170 per year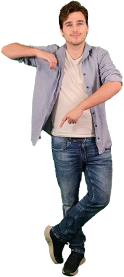 Optimise your home and save the planet
What colours are available for uPVC windows?
uPVC windows are available in many different colour combinations and each company provides a wide palette to choose from. Besides, coloured uPVC window frames are normally grouped following the main trends, the house category, and style.
Here is a uPVC windows colour chart that shows the different varieties:

House owners are given the opportunity to customise the look of their houses, choosing between a natural wood look and other modern uPVC window colours. So, you can match the style of your house or make it totally unique!
Decide to personalise your uPVC sash window, uPVC tilt and turn, uPVC casement or uPVC bay window, giving a touch of authenticity to your house, never renouncing the wide range of benefits that a uPVC window provides.
Coloured uPVC windows will also bring a better aesthetic to your home. In fact, when it comes to appearance, uPVC is much more adaptable than other non-wooden materials in replicating antique-looking trims, traditional elements, and moulded panels. Popular uPVC colours include:
What are the best Modern uPVC window colours?
About 80% of uPVC windows in the UK are in the standard white but other colours have made a splash over the years as well. Modern uPVC window frame colours come in infinite combinations, but some colours represent a real trend among homeowners, who often opt for shades such as:
Grey uPVC windows are for giving your house a sophisticated emphasis, black uPVC windows will pronounce a modern characteristic, brown uPVC windows add elegance and warmth, while cream uPVC windows will easily adapt to any kind of need. Furthermore, authentic woodgrain finishes easily match traditional and modern houses.
For a traditional and country-style look on your home, you can consider green uPVC windows, this colour has been popular for many years. Green uPVC windows go really well with different property styles and add a country feel to most homes.
How much can you save with uPVC windows?
Homeowners who decide to install uPVC windows should know that they are going to make an investment in their future. Therefore, by contacting uPVC suppliers you can make the right decision and save money on your bills.
uPVC represents the cheapest option for your windows and the maintenance is almost non-existent. Besides, UPVC windows can reduce the loss of heat by up to 30%, allowing you to save on energy bills.
The British Fenestration Rating Council (BFRC) – the UK authority for the independent rating of windows efficiency – created a system in 2004 called WERS (Window Energy Rating Scheme) that helps consumers understand the level of efficiency of their windows. The system uses an A++/G scale, rating the uPVC windows that have a better performance with A++ and the least with a G, and an easy-to-understand rainbow bar, similar to the one used for other household appliances.

Advantages of Coloured uPVC Windows 
Nowadays, it is increasingly necessary for us to be more responsible and caring about the resources of our planet. Sustainability and energy efficiency are the keywords of our current choices, above all when we need to renovate our house and we want to preserve the environment, saving some money at the same time.
Coloured uPVC windows provide you with all the benefits of the uPVC windows, adding a touch of personal taste and unicity to your home!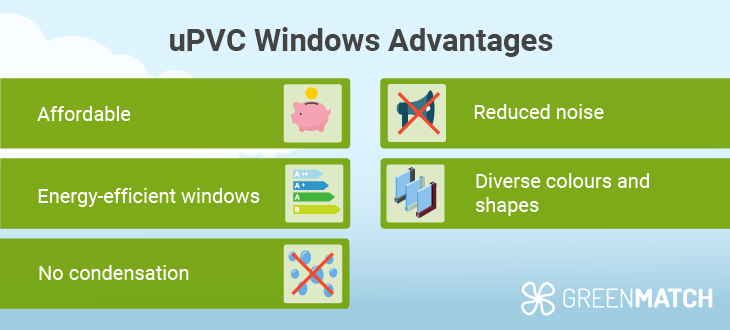 Affordable: uPVC coloured windows are great value for money, being far cheaper than wooden and aluminium windows while still possessing great quality.
Energy-efficient windows: Insulation is, in fact, one of the main perks of uPVC windows. It is proved that uPVC provides a better thermal insulation performance, not allowing the cold to enter your house and significantly reduces heat loss.
No condensation: uPVC windows avoid contact between warm and cold air inside/outside your house, which can cause condensation problems. Thanks to the already mentioned insulation characteristics of uPVC, this can be eliminated.
Reduced noise: The combination of double glazed windows and uPVC frame will decrease noise pollution by 70%.
Diverse colours and shapes: uPVC frames can be manufactured in all colours, bringing an original touch to your home. Furthermore, the material is extremely adaptable when it comes to decorations and non-standard-looking frames.
Disadvantages of uPVC Windows

Limited aesthetics: Any uPVC frame's disadvantages are mainly related to aesthetics. While they can be varied, uPVC windows are less effective for slimmer lines and a natural look compared to windows made with other materials.
Structure: Coloured uPVC windows are not as strong as aluminium or timber and, this is why it causes frame rupture. They tend to sag or sash because of their lightweight structure.
Comparatively low lifespan: Compared to timber or aluminium frames, uPVC can degrade quicker.
Are coloured uPVC windows suitable for your UK home?
Finding the right type of coloured uPVC frames for your house can definitely take time, but hopefully, our tips will ease the process. When choosing the best match of uPVC windows colours for your house, keep in mind that the final desired effect is extremely relevant.
Dark shades of colours are, for example, less evident when the light fades so grey and black uPVC windows will look bigger and more open in these cases. Cream uPVC windows will give an authentic look if your house is made of light bricks.
If any of these choices pique your interest, you'll probably be wondering "Where can I find coloured uPVC windows near me?" You can probably search for installers on your own, but that can take days of laborious research and price comparisons. Alternatively, you can use our handy service and we'll handle the tough stuff.
All you have to do is fill out a 30-second form and we can provide you with the best prices from trusted installers in your area. Send us an inquiry to receive up to 4 free quotes for your new coloured uPVC windows. It's free, easy, and completely without any obligations!
Quotes from local engineers
Payment by finance available
Save up to £170 per year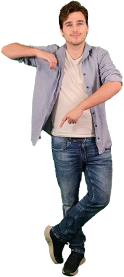 Optimise your home and save the planet
FAQ