uPVC Sash Windows: Are They for You?
Are you in the market for new windows for your home but unsure which style to choose? Look no further than uPVC sash windows! With their blend of classic style and modern functionality, these windows are the perfect choice for homeowners seeking a stylish and energy-efficient window solution. 
In this article, we'll explore the many benefits of uPVC sash windows and show you why they are the best uPVC windows to buy and might be the perfect choice for your home. From their low maintenance requirements to enhanced energy efficiency, there are many reasons to consider uPVC sash windows. So why wait? Read on and discover why these windows might just be the perfect fit for you.
It is always recommended to compare quotes before installing windows. You can spend hours finding good installers in your area or you can use our easy and free service. 
In just a few short steps you will receive quotes from up to 4 certified window installers. You'll be able to compare these quotes you receive and pick the one with the best price for you. By comparing the quotes you will ensure that you are not overcharged.
In the end, this will save you time and money!
Quotes from local engineers
Payment by finance available
Save up to £170 per year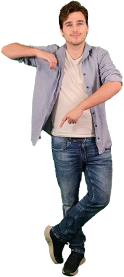 Optimise your home and save the planet
What are uPVC Sliding Sash Windows?
uPVC sliding sash windows work like other sash windows. This kind of window typically has two window sashes that move up and down because of the attached spring mechanism.
Sliding uPVC sash windows are a good option for most UK homes.  Vertical sash opening windows are quite common in UK architecture, particularly in traditional and historic buildings. Sash windows have been used in the UK for centuries and are a characteristic feature of Georgian, Victorian, and Edwardian architectural styles.
uPVC windows have the benefit of keeping your home warm in the winter and cool in the summer. Unlike casement and hung windows, the technology of sliding sash windows makes it easy for you to control the level of ventilation in your home which helps with better indoor air quality.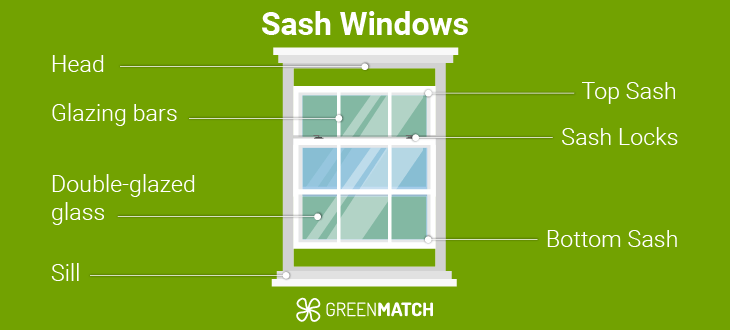 Having sliding uPVC sash windows will give your home a modern look but will also make your home much more energy efficient. uPVC is one of the most energy efficient materials when it comes to window frames.
What is especially great with uPVC sliding sash windows is the durability, with an average lifespan of 20 years these windows will last you a long time. The ability to customise the window frames just the way you want is also a great benefit.
Why choose vertical sliding sash windows?
Are you wondering, "Are uPVC sliding sash windows any good?" The short answer is yes. Vertical sliding sash windows are a great option for many homes that want to replace older windows with newer modern ones that still keep a traditional design.
While choosing uPVC windows comes with great benefits the style of sliding sash windows also comes with multiple benefits including the following:
Enhanced Thermal Efficiency: By installing A-rated energy efficient sliding uPVC double glazed sash windows, you can significantly improve the thermal efficiency of your home. Their thermally efficient multi-chambered frames and high-quality double glazing help to keep the heat generated inside, leading to a warmer and more comfortable home and reduced heating bills.
Reduced Maintenance: Sliding uPVC sash windows require very little maintenance, especially when compared to timber windows. With only the occasional wipe down, they can maintain their appearance and performance for many years, eliminating the need for sanding down and repainting.
Improved Home Security: Home security is a top priority for most homeowners. Sliding uPVC sash windows have excellent security features that help you feel safe and secure in your home, leading to a greater peace of mind.
Increased Weather Protection: Sliding uPVC sash windows are designed to withstand even the harshest weather conditions, providing superior durability and long-lasting protection for your home. With a standard 10-year guarantee, they are expected to last for decades, making them an excellent investment.
Enhanced Appearance: Sliding uPVC sash windows are highly customisable, with a variety of authentic wood grain finishes and stylish colours to choose from. You can also add your preferred hardware and window furniture to create windows that meet your exact specifications, including design-shaped, arched, and oversized windows.
While uPVC is a great choice for most homeowners it is worth knowing how the material compares to other frame materials such as timber and aluminium. All three materials are great for window frames and share many similarities. What kind is the best for you depends on your needs, budget and priorities.
In the table, we have compared the three materials on factors that many consider to be important when choosing a new window frame.
Comparison of uPVC, aluminium and timber sash window frames
Feature
uPVC Frame Sash Windows
Timber Frame Sash Windows
Aluminum Frame Sash Windows
Cost
Affordable
Expensive
Expensive
Maintenance
Low
High
Low
Durability
High
Moderate to High
High
Insulation
Excellent
Good
Excellent
Security
Good
Good
Excellent
Design Options
Wide range
Wide range
Wide range
Sustainability
Non biodegradable
Biodegradable
Recyclable
Weather Resistance
Excellent
Moderate to Good
Excellent
The uPVC sash windows costs are generally lower and more affordable and require less maintenance, but they are not biodegradable. 
Timber frames are more expensive and require more maintenance, but they are biodegradable and can be more aesthetically pleasing for some homeowners. 
Aluminium frames are also expensive, but they offer excellent durability, weather resistance, and security.
Replacing older windows with sash windows will add value to your home and even make it more sellable this is especially true for period properties if the windows are styled correctly. 
Is it time to replace your old windows with new energy efficient sliding sash windows? Let us help you save time and money! 
With our large network of certified window installers we can easily put you in contact with up to 4 window installers in your area. This will save you from spending hours of your spare time on searching for the right installers. The installers will give you their best deal, so you can compare them side by side. 
This will save you money and ensure that you don't overpay. 
Start the short and easy process by clicking the button below
Quotes from local engineers
Payment by finance available
Save up to £170 per year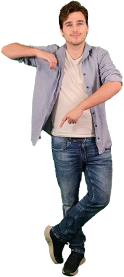 Optimise your home and save the planet
The Different Types of Sash uPVC Windows
Sash style uPVC windows come in many different styles and with different window designs. The most popular sash windows being the previously mentioned sliding sash windows, the flush sash window style and Victorian uPVC sash windows.
With sliding sash windows you have the technology of opening and closing the windows by sliding a sash up and down. With a flush sash window you get window sashes that finish flush with the exterior of the window.
Flush sash uPVC windows
Flush sash windows with its simple  and elegant design can give your home a modern minimalistic look. When it is closed the window sash is level with the outer frame of the window. This creates smooth and even external contours.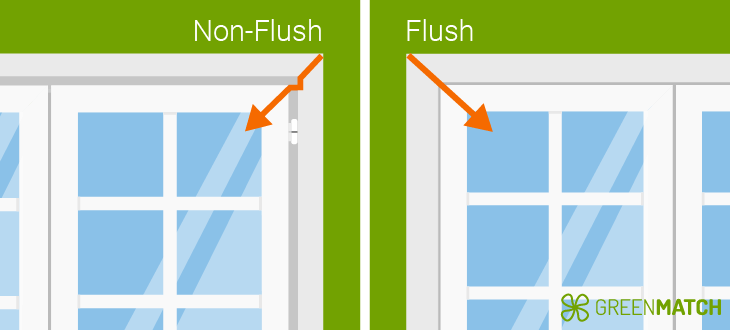 The minimalist style of flush windows is very common in Scandinavia where design and simplicity go hand in hand. Flush sash windows have in recent years seen an increase in popularity in the UK.
Windows are now becoming a bigger part of the home design instead of just being building products, homeowners are showing a bigger interest in window design and use the many customisation options available, to create windows that fit perfectly into their homes.
Another popular option in the UK is the mock sash windows. You can find more information on uPVC mock sash windows price on our dedicated page to that type of window style.
Are Flush uPVC windows more expensive?
Compared to other kinds of windows, flush uPVC windows will be more expensive. Flush uPVC windows will be more affordable than flush windows in either aluminium or timber.
The price of flush windows will be a bit higher but considering the value that high quality flush uPVC windows can give to your property it is an investment worth considering.
The simplistic style will be everlasting so the frames will not be anything that goes out of style in the coming years.
Sash Windows uPVC Colours
One of the great benefits of uPVC sash windows is the option of customisation, including the option of having different colour options that can give your home a unique look and create a unique design to match your house.
uPVC is an affordable material when it comes to window frames, sometimes the material can look cheap if you just choose it in white. By opting for other colours that match your house or a colour that matches a woodgrain finish you will have what resembles timber sash windows. This makes the frames have a more deluxe feeling.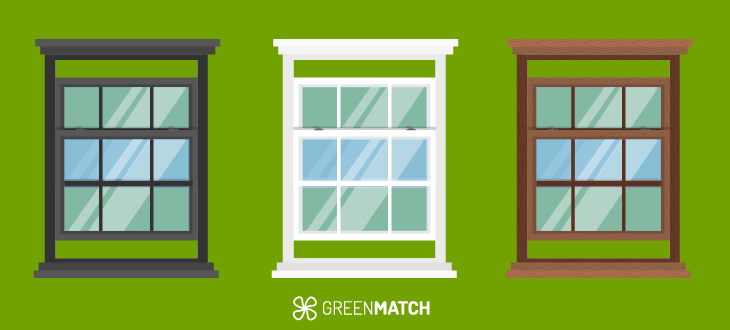 Wood effect uPVC sash windows
If you choose uPVC sash windows with wood effect you will ensure that your home has a classic look of traditional wooden sash windows, but in the modern material of uPVC that makes the maintenance level of the windows low, and includes a high level of insulation and durability.
uPVC sash windows are available in a variety of wood grain finishes, this includes oak, mahogany and walnut which can be matched to the exterior of your home.
Coloured uPVC sash windows
Choosing coloured uPVC sash windows instead of the classic white look of the uPVC material can help add value to your home. If you choose the right colour to match the rest of the house the overall appearance of the house will give a modern and attractive look, adding value to your home.
The wide variety of colour options available make it possible to find the perfect colour for everyone. Among the most popular colours are white, cream, grey, black and green.
We recommend that you have a talk with your windows installer about which colour options will be best for your house.
If you're looking for local window installers, look no further. We can match you with up to 4 installers in your area, so you quickly and easily can get your new uPVC sliding sash windows in the exact colour you want.
Click on the button below and start the short process.
Quotes from local engineers
Payment by finance available
Save up to £170 per year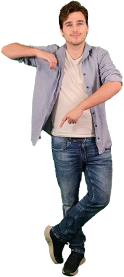 Optimise your home and save the planet
Get the Best uPVC Sash Window Deals
When making home improvements it is highly recommended that you collect quotes from multiple installation companies. This allows you to compare prices and make sure that you don't end up overpaying for your new improvement.
When installing uPVC sash windows we highly recommend that you collect quotes from different window installers. You can do this in 2 ways. In one of them you spend hours finding uPVC windows online, contacting the installers, and scheduling appointments with each of them. 
In the other, you fill out our short form, and then get contacted by up to 4 window installers that can give you free quotes on uPVC sash windows. You can then compare and choose the one that suits you best. 
By using us you can save both time and money. Unless you really want to spend your weekend looking for window installers.
Click the button below to choose the fast and easy way.
Quotes from local engineers
Payment by finance available
Save up to £170 per year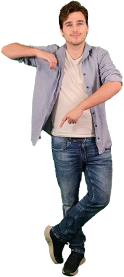 Optimise your home and save the planet
FAQ