Best uPVC Windows in the UK 2023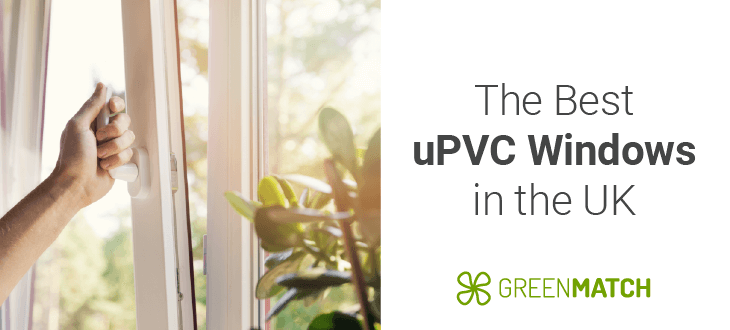 uPVC windows are currently all the rage in the UK. This is partially thanks to their durability and affordability relative to other types of windows, making them great value for money. In this article, you'll learn about the best uPVC windows, the brands to look out for, and how to evaluate what's best for your home.
Due to their popularity, brands offer uPVC windows in many different styles at different price points. Whether you like the look of uPVC sash windows or uPVC flush casement windows, you're sure to find the perfect fit for your home and budget. However, this amount of choice can be overwhelming, making it difficult to know where to start your search.
If you don't want to miss out on this trend and want to ensure that you're getting the best prices, then we can help you by comparing some of the best uPVC windows on the market.
Simply click the button below and we'll provide you with up to 4 quotes from our network of qualified window installers. This way you can easily find installers in your area and compare their offers on uPVC windows to get the best deal. Our service is completely free and non-binding.
Quotes from local engineers
Payment by finance available
Save up to £170 per year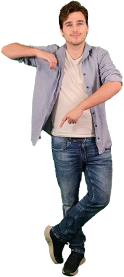 Optimise your home and save the planet
Which are the Best uPVC Windows in the UK?
To find the best uPVC windows in the UK, you'll need to consider what it is you want for your home and what your budget is.
At first glance, windows may seem to be much the same. However, when you start to shop around, you'll soon realise just how much variety there is on the UK market. Having a wide range of options for windows is ideal for finding the perfect fit for your home, but it can also be overwhelming to navigate through all the choices.
Factors to consider when choosing your ideal windows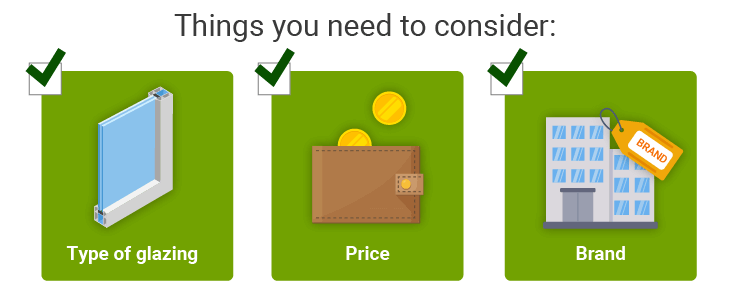 Some of the main things to consider are the type of glazing (i.e. single, double, triple, or secondary glazing) you want, the window cost and the brand. It is possible to find relatively cheap uPVC windows for good quality. Below we've broken down some other factors that may help you when it comes to choosing your ideal windows:
Window type: Whether you're looking for standard window designs or something more specific such as top hung uPVC windows or modern tilt-and-turn windows, there will be a window that suits your style and functional needs.
Frame material: You may have already decided that you want a uPVC window, but did you know it's possible to buy a uPVC window with a wood grain effect? This can boost the style of your home, but keep in mind that wood effect uPVC windows can cost more.
Energy rating: A window with a high energy rating will help reduce your energy bills.
Security: Consider the type of lock and security accreditations for each window. This way, you can ensure that your home is well-protected against break-ins.
Sustainability: If you're a conscious consumer, you'll want to consider the ethos of each window brand. In addition, looking at the warranty for each type of window will give you a better idea of its longevity.
Everyone's needs and preferences are different, so what one person considers "the best" might not be the same for someone else. Nevertheless, there are still some factors you can be mindful of when assessing quality.
What makes a good quality uPVC window?
A good quality uPVC window should have efficient glazing and a durable frame. As well as having superior materials, you need to ensure that you hire an installer who is meticulous in their work. We'll discuss each of these factors in more detail below.
Frames
When evaluating frames, you need to check that the frame is sturdy and well-constructed. It should have reinforced corners, weather-stripping, and a good sealant to prevent drafts and leaks.
A good sealant and weather-stripping will help reduce your window warping over time as well as lower your heating bills. Reinforcing your window frames will help make your home more resistant to forced entry and breakage.
Glazing
In terms of glazing, there are several options available, each with its own benefits. Double glazed uPVC windows are considered to be one of the most energy-efficient options as it has two layers of glass with a sealed air space in between, which improves insulation. Around 90% of homes in the UK have double glazed windows, making it the most sought-after option.
Other glazing options include single, triple, and secondary glazing. Single glazed windows generally aren't recommended, as they do not provide much security or insulation. However, you may still find them in historic buildings.
Triple glazing is becoming more popular due to its advances in insulation, security, and noise reduction compared to double glazing. However, it is typically more expensive, so you'll need to assess whether the benefits justify the cost.
Lastly, there is secondary glazing. This is when a slimline window is added to the existing window units. This helps insulate the home and significantly reduce noise pollution in comparison to single glazing. However, it is not as effective as double glazed windows. Secondary glazing is commonly installed in Grade I or Grade II listed buildings as an alternative to double glazing.
Alongside the glazing type, you should consider the type of glass used for the panes. For example, tempered glass with a Low-E (Low-Emissivity) coating is a good choice. Tempered glass is four times stronger than regular glass, making breakage less likely. While Low-E reflects heat back inside the room, making your window more energy-efficient.
Installer
As previously mentioned, hiring an experienced and qualified installer is critical. Otherwise, your window won't reach its full potential, no matter how good the materials are.
If you're based in Great Britain, then it is a good idea to look out for installers who are FENSA accredited. FENSA is a government-authorised scheme that ensures your window installation complies with building regulations, is energy efficient, and registered with your local council.
Another accreditation to look for is from DGCOS (Double Glazing & Conservatory Ombudsman Scheme). DGCOS is a consumer protection organisation which provides independent dispute resolution for customers who have issues with their windows. Window companies with this accreditation must adhere to the code of conduct and provide all of their customers with a guarantee of at least 10 years.
At GreenMatch, we can help you find the best uPVC window companies to install your double glazed uPVC windows. We will provide you with up to 4 free quotes from installers in your area, which you can then compare to objectively choose the best deal. This way you can avoid overpaying for your windows. Click the button below to get started.
Quotes from local engineers
Payment by finance available
Save up to £170 per year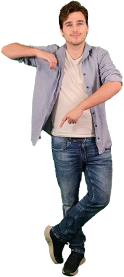 Optimise your home and save the planet
Which is the Best uPVC Window Brand?
There are many great window installation companies in the UK, from nationwide brands to local family-run businesses. With all this choice, trying to figure out which is the best uPVC window company for you isn't an easy task.
In this section, we've put together a list of some of the most popular and highly-rated British window brands to help get you started with your search. All of the companies mentioned on this list are FENSA accredited.
uPVC Window Companies Comparison
| Company | Price range per window | Energy rating | Guarantee | Operating Locations |
| --- | --- | --- | --- | --- |
| SafeStyle UK | £250–£1,050 | A rated | 10-year guarantee | England and Wales. |
| Anglian | £250–£910 | A to A++ rated | Range of guarantees offered, including 10-year guarantee on parts and labour, and up to 15 years on gas-filled units | England, Scotland, and Wales. |
| Direct Window Co | N/A | A+12 rated options | Transferable 10-year guarantee | North West England |
| Britelite | £160–£605 | A to A+ rated | Transferable 10-year guarantee | South East England |
| Everest | £500–£3,200 | A+ rated | Range of guarantees offered, including 10-year, 20-year, and lifetime. | England, Scotland, and Wales. |
1. SafeStyle UK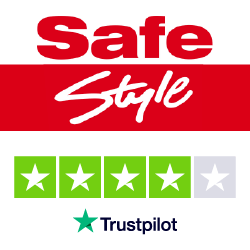 SafeStyle UK was founded in 2003 and has since grown to become one of the largest and most reputable window companies in the UK. The company uses advanced technology to create durable frames that resist warping and rotting, and energy-efficient glazing options. It offers a 10-year guarantee on all products.
Its price range per window is £250–£1,050. Therefore, you're likely to find a good selection of windows no matter your budget.
2. Anglian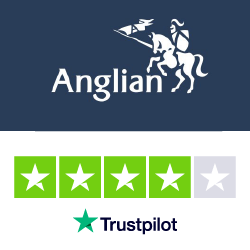 Anglian is a well-established company that has been in business for more than 50 years. It has built a reputation for providing high-quality products and excellent customer service.
When manufacturing windows, Anglian uses the latest technology and materials for durability and longevity. It prides itself in offering energy-efficient and secure products that are customisable to fit customers' needs and preferences.
Anglian offers a 10-year guarantee on all of its products and its price range per window is roughly £250–£910.
3. Direct Window Co.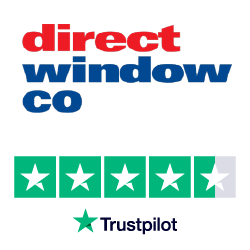 Direct Window Co operates in the North West of England and has over 20 years of experience. Its philosophy is "the best product at the best price". The company offers a wide range of colour finishes and states on its website that if you would like a different colour than those presented, you can ask and they'll try to help you.
On top of this, the company also offers a wide range of glass options, including laminated and triple glazing. There is a 10-year guarantee on all of its products, so you can have peace of mind that it will last.
4. Britelite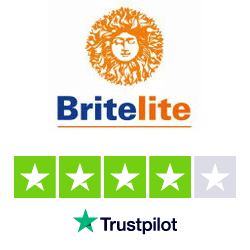 Britelite celebrates over 50 years of providing top-quality windows, doors, and conservatories in the South East of England. As well as offering A-rated products, the company also puts emphasis on having open and honest communication with its customers.
If you are in need of additional services alongside your window installation, such as electrics and plastering, Britelite has a network of subcontractors who can help to make this process simpler.
Its price range per window is approximately £160–£605. In addition, there is also the Britelite Home Improvement Plan, which offers different payment options so you can find something that fits your needs.
5. Everest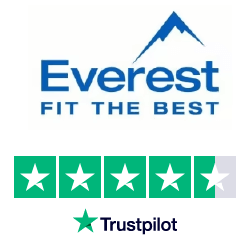 Everest is one of the biggest names in the UK's window industry and for good reason. On its website, the company describes itself as "a national company with a local presence". It offers a wide range of windows, all finished to a high standard. Everest even states that its windows exceed British Security Standards, meaning you can rest assured that your home is well-protected.
Everest windows are on average a bit pricier, ranging from £500–£3,200. However, the company offers transferable guarantee options, including lifetime guarantees, making it a sound choice if you're looking for a reliable window company with quality products.
Which are the Best uPVC Windows for You?
Alongside the companies mentioned above, it's also advisable to look into window companies near you. Local installation companies will be able to offer competitive prices based on your area and many UK homeowners find the experience to be more personal.
Either way, whether you decide to go for a local or nationwide company, most companies should offer expert advice and a wide range of excellent windows, meaning you'll be sure to enjoy all of the uPVC windows benefits.
With that being said, many companies do not state their prices publicly, making it difficult to find uPVC windows online prices to compare. This is where GreenMatch can help you. We have a large network of qualified window installation companies and can put you in touch with up to 4 installers available in your area. This way you can objectively compare their prices side by side and choose the best one for you.
Our service is completely free and you're under no obligation to accept any of the offers you receive.
Quotes from local engineers
Payment by finance available
Save up to £170 per year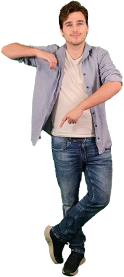 Optimise your home and save the planet
Frequently Asked Questions