uPVC Wood Effect Windows: A Complete Guide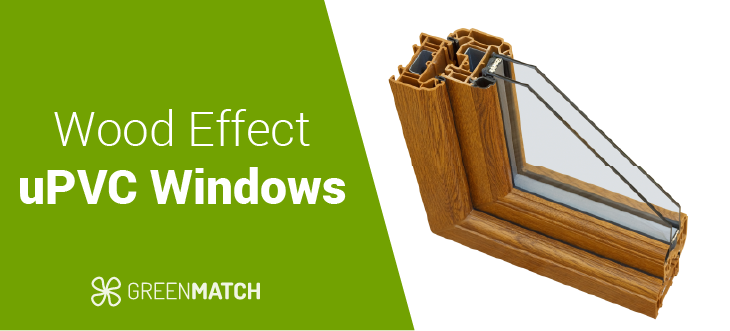 What are wood effect uPVC windows, you ask? uPVC wood effect windows are where technology meets nature, and practicality meets beauty. They are a perfect blend of uPVC technology and natural wood aesthetics, designed to offer the best of both worlds.
If you are someone who loves the warmth, charm and elegance of timber windows but doesn't want the hassle of maintenance, then uPVC woodgrain windows might be the ideal choice for you. Unlike timber windows that require regular upkeep, uPVC windows with wood effect are low-maintenance and easy to clean, while still offering the same classic appearance as real wood.
Not only do wood effect uPVC windows save you time and money on maintenance, but they also offer excellent energy efficiency, sound insulation, and security. Compared to plain uPVC windows, woodgrain uPVC windows provide a more traditional and natural look, while maintaining the practical benefits of uPVC.
When it comes to cost, wood effect uPVC windows are typically more affordable than timber windows, making them a great choice for homeowners who want to achieve a classic look without breaking the bank. For instance, in the UK, the average cost of light oak uPVC windows with wood grain effect is around £200-£1,280 per window, depending on the size and style.
Are you ready to upgrade your home with the timeless beauty of uPVC wood effect windows? Then using GreenMatch's service is the smartest choice. Our team of experts on energy solutions can send you up to 4 quotes from top-rated window suppliers near you. You won't have to spend hours searching for installers or a single penny requesting quotes.
Quotes from local engineers
Payment by finance available
Save up to £170 per year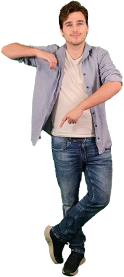 Optimise your home and save the planet
What are wood effect uPVC windows?
Wood effect uPVC windows are a type of window that mimics the appearance of wooden windows but are made of uPVC, a durable and low maintenance material. These windows have become increasingly popular in recent years due to their ability to provide the same aesthetic appeal as wooden windows without requiring the same level of upkeep.
You can find this type of composite windows in a variety of styles, from traditional uPVC wood effect sash windows to modern tilt and turn windows and even uPVC cottage style windows. They are available in a range of colours and finishes, including light oak, dark oak, and rosewood. 
To create timber effect uPVC windows, the uPVC profile is coated with a special laminate that has a wood effect. The laminate is applied to the surface of the uPVC using a heat bonding process that ensures it is securely attached to the frame. This process not only creates uPVC windows that look like wood but also provides a protective layer that helps to prevent scratches, fading, and discolouration.
Compared to traditional wooden windows, wood grain effect uPVC windows are much easier to maintain. They do not require painting or staining, and they can be cleaned easily with a damp cloth. They are also less susceptible to rot and decay, making them a more durable and long-lasting option.
In addition to their low maintenance and durability, wood uPVC windows are also highly energy efficient. They are designed with modern insulation materials that help to keep your home warm in the winter and cool in the summer. This can lead to significant savings on your energy bills over time.
Where can you get wood effect uPVC windows?
You'll be glad to know that wood effect uPVC windows are quite commonplace nowadays. You can find them in most window and door showrooms, and most installers and suppliers will provide them as an option. They can also offer guidance on which style and finish to choose.
In this regard, you may come across different types such as oak effect uPVC windows, white woodgrain uPVC windows, or light oak uPVC windows. These options offer different finishes, so you can choose the one that best matches your home's design.
It's also worth noting that these aren't the only products available. You can find a variety of composite windows in the UK market, which combine different materials to achieve a similar wood-like appearance. You can also find wood effect uPVC doors that match your windows, providing a seamless look to your home's exterior.
If you are not sure where to start looking for the best uPVC windows, we can put you in touch with up to 4 top-rated suppliers in your area. At GreenMatch, we ensure the companies we match you with provide the highest quality and energy efficiency standards. To start, just click on the button below.
Quotes from local engineers
Payment by finance available
Save up to £170 per year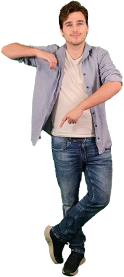 Optimise your home and save the planet
Popular wood effects for uPVC windows
In the UK, the choice of uPVC colours is virtually endless for wood effect uPVC windows.
The most common wood effect used on uPVC casement windows is cherrywood, which is also known as rosewood. These frames are characterised by their brown-red finish. It's a common finish to choose for people in traditional looking properties.
More recently, property owners have started being more adventurous with their replacement windows and doors. Finishes like agate grey, Chartwell green and darker greys and black are increasingly popular.
Wood effect uPVC windows are much more effective in how they match the looks of period properties or period-style properties. And, where building regulations allow, many homeowners are replacing their traditional timber windows with timber effect uPVC windows.
As a result, we're seeing more and more uPVC Victorian, Georgian, and Edwardian-style windows.
uPVC windows wood effect vs timber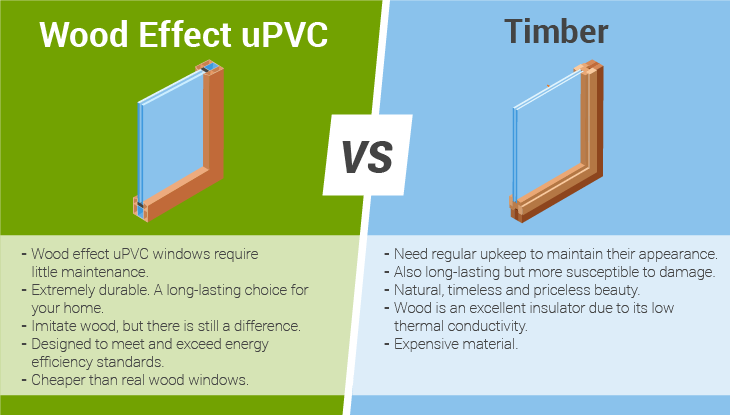 At this point, you might be wondering whether to choose wood or uPVC windows. In short, both have their advantages and disadvantages, so you have to assess carefully what you want to achieve. Below, we have compared timber vs uPVC windows. You may want to consider that, thanks to technology, wood effect uPVC windows are a viable third option as well.
Why is uPVC a better material for window frames than wood?
One of the main benefits of uPVC windows is that they require little maintenance. They don't need painting or staining, and they won't rot or warp over time. On the other hand, timber windows need regular upkeep to maintain their appearance and functionality.
uPVC windows are extremely durable and resistant to the elements, making them a long-lasting choice for your home. Real wood windows, on the other hand, are more susceptible to damage from moisture and pests. Nevertheless, they are also long lasting as long as you take proper care of them.
Disadvantages of woodgrain uPVC
Unlike wooden windows, uPVC wood effect windows won't contribute to your property's value.
Despite wooden windows needing maintenance, they will actually last a lot longer than uPVC frames. uPVC does have a shorter lifespan, 25-30 years, simply because it's a weaker material. After all, by their very nature, trees (and therefore wood) are made to withstand harsh weather.
Another disadvantage is that uPVC frames need to be much thicker and so you don't get as much glass space in your window.
What makes timber windows better?
Even though many people may struggle to tell the difference between modern wood effect uPVC windows and timber windows, the latter is still leading the contest for the best appearance. Real wood windows have a natural, timeless and priceless beauty that many homeowners find appealing.
Both uPVC and timber windows are energy-efficient. While modern uPVC windows are designed to meet and exceed energy efficiency standards, wood is considered a better insulator due to its low thermal conductivity. However, windows' energy efficiency is mainly determined by the type of glazing used rather than the frame material.
Timber windows do increase the value of a property and can actually last a lot longer than uPVC frames. Provided its well-maintained, timber frames can last up to 50 years.
Disadvantages of timber windows
The striking finish of timber means it costs more. It can even cost up to three times more than a uPVC window.
Wood also needs more maintenance to perform at its best and retain its stunning finish.
Which is cheaper uPVC or wood windows?
In terms of cost, a uPVC window is, for sure, much cheaper than a wooden one of the same size, style and type of glazing. Wood effect uPVC windows are more expensive than their white counterparts. Still, their price is much lower than if you choose wood.
This is precisely what makes wood effect uPVC windows an excellent cost-effective alternative to timber windows. They provide homeowners with the aesthetic benefits of real wood at a fraction of the price and lower maintenance requirements (which also adds to the cost in the long term).
Woodgrain uPVC windows can offer the best of both worlds. However, it's crucial to consider all the factors that matter to you if you want to buy the best ones for your home. Ultimately, the ideal window for you is one that offers a perfect balance of quality and affordability.
At GreenMatch, we can help you get in touch with local installers that can assess your home's specific needs and advise you on what is the best window choice for you. Our service is 100% free and you are not obliged to accept any quote or deal you receive.
Quotes from local engineers
Payment by finance available
Save up to £170 per year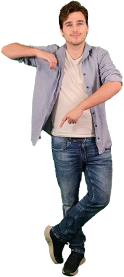 Optimise your home and save the planet
Plain uPVC vs timber effect windows
The comparison between plain and wood effect uPVC windows is mostly about their price. White and plain-colour windows are often seen as the budget-friendly option. Timber effect uPVC windows, on the other hand, are considered more high-end.
Plain uPVC windows are available in a range of colours, including black, green, blue, red, and grey. Woodgrain uPVC windows come in different shades and textures too. They can imitate dark and light oak, rosewood or have a white woodgrain effect.
The price difference between them varies depending on the manufacturer, style, and size of the windows. However, as a general rule, you can expect wood effect uPVC windows to be 20% to 30% more expensive than white ones, on average.
This is because the wood-effect finish adds a layer of complexity to the manufacturing process. Additionally, the wood-effect finish is often considered a premium feature, so the price is also affected by market demand and supply.
Are wood effect uPVC windows more expensive?
Wood effect uPVC windows are generally more expensive than their white counterparts. You can check reference prices in the table below.
uPVC Windows Costs 
Size
White uPVC / Double-Glazed Windows
Woodgrain uPVC / Double-Glazed Windows
White uPVC / Triple-Glazed Windows
Woodgrain uPVC / Triple-Glazed Windows
600 x 900mm
£160 – £990
£200 – £1,030
£225 – £1,385
£280 – £1,440
900 x 1200mm
£200 – £1,065
£240 – £1,105
£280 – £1,490
£335 – £1,550
1200 x 1200mm
£230 – £1,240
£270 – £1,280
£320 – £1,735
£380 – £1,790
Get the best price on uPVC woodgrain windows
To get the best price on uPVC woodgrain windows, it is essential to conduct thorough research on local window companies and weigh up all the relevant factors based on your preferences. Here is a money-saving tip: try comparing installation costs across providers. Their rates may vary significantly and you can seize the opportunity to reduce the total costs.  
At GreenMatch, we know that searching for local window companies can be an arduous and time-consuming process. But we can give you a hand in this regard. Our quoting service is designed to provide assistance in reaching top installers in your area, and best of all, it is completely free. Click the button below to get your free window quotes now.
Quotes from local engineers
Payment by finance available
Save up to £170 per year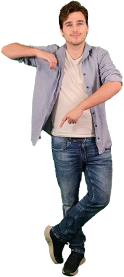 Optimise your home and save the planet
FAQ