Composite Windows in the UK: Prices, Types and Pros + Cons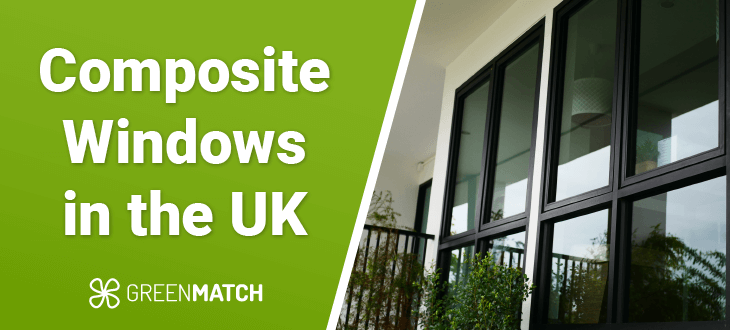 Composite windows combine the best features of timber and aluminium or fibreglass and uPVC to deliver a truly top-of-the-range window. Composite windows in the UK cost roughly £1,000 on average with a price range of £400 to £2,500.
Possessing many of the combined benefits of aluminium, wood, fibreglass, and whichever materials they are made from, composite windows can be a broad category. Let's look into what composite windows are and whether they're right for you.
However, if you've already got some idea of what type of window you want, you'll still need one thing: an installer you can trust. This can usually take days of laborious research and inquiring about prices. Luckily we have a better and easier way to go about this.
At GreenMatch, we can provide you with up to 4 exclusive quotes from the best composite window installers operating in your area. All you have to do is fill in our quick and easy 30-second form. We'll then connect you with up to 4 installers within 48 hours. You can then compare their tailored quotes until you've found a good deal.
Our service takes all the time and hassle out of getting new windows quotes. It's free, fast, and comes with no obligations. Simply click the button below to get started.
What are Composite Windows?
Composite windows are windows that are made from two or more different materials, typically wood and aluminium. Such a combination gives composite windows a number of advantages over traditional windows, including strength, durability, energy efficiency and a variety of styles and colours. 
The composite window diagram below shows the following components:
Wood frame. The wood frame provides the window with its structural support. It is typically made of a durable hardwood, such as oak or mahogany.
Aluminium cladding. The aluminium cladding on the outside of the window protects the wood from the elements and adds strength to the window. It is also available in a variety of colours and finishes to match the décor of any home.
Insulated glass. The insulated glass in the centre of the window helps to keep your home warm in the winter and cool in the summer. It typically has two or three panes of glass with a layer of inert gas in between the panes which helps to reduce heat transfer between the inside and outside of the window.
Weatherstripping. The weatherstripping around the window frame and sash helps to seal any gaps and prevent air and water from leaking in.
Low-e coating. Such a coating on the glass helps to reflect heat away from the window in the summer and keep heat inside the window in the winter. This can help to reduce your energy bills.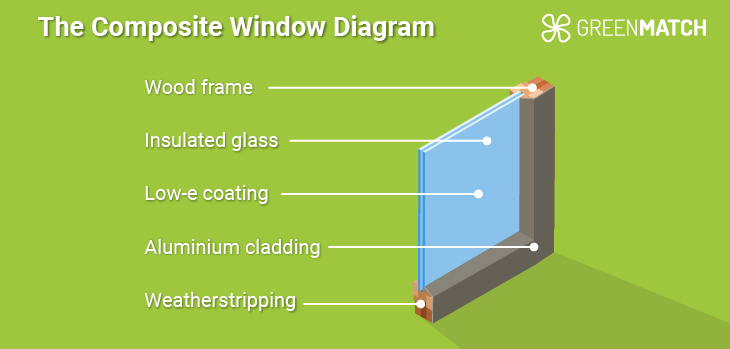 Composite windows can be classified into multiple types but aluminium-clad wooden composites and fibreglass + plastic composites are the most common.
Timber-aluminium composites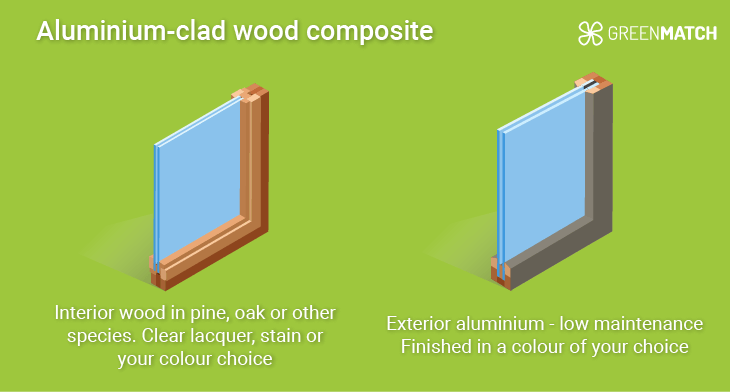 Composite windows, as the name suggests, are made of a range of different materials. This is one of the reasons they can vary in terms of quality and price. This page will mostly focus on aluminium composite windows and timber composite windows. These are generally high quality (and high cost).
These windows combine the attractive looks and effective insulation of a timber window inside but have aluminium cladding on the exterior for easier maintenance and durability. So it's a durable window with a low-maintenance finish that still offers the benefits of wood internally.
Composite windows can also be made from PVC and fibreglass with aluminium coating.
PVC-aluminium + fibreglass composites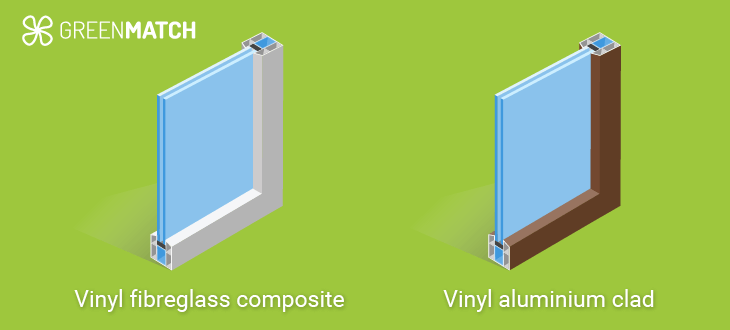 These windows are of lower cost and quality but can be a good affordable option. However, the use of aluminium cladding can be beneficial in terms of providing extra protection against wear and tear. It also gives these windows a more modern look than plain old uPVC.
Although there are cheaper options than timber-aluminium composites, like the aforementioned uPVC, if you are looking for high-performance, attractive, and long-lasting windows, wood-based aluminium composite frames could be the answer. Their longer lifespan and thermal performance may even make them cheaper in the long run (in terms of energy bill savings), so they are often worth the extra cost.
Composite window prices in the UK
Composite window prices
Window type
Price
Composite Window (wood + aluminium)
£1,000 – £2,500
Composite Window (fibreglass)
£600 – £1,500
Composite Window (uPVC + aluminium)
£400 – £1,200
Generally, composite windows (wood + aluminium) sit at the upper end of the pricing spectrum. Timber is a costly material and then the additional aluminium cladding adds to the cost again. To install double glazed composite windows throughout a house could cost in the region of £10,000 and £25,000. As you'd expect, this cost will increase by around 30%+ for triple glazing.
Wood and aluminium composite windows might seem pricey but they can prove to be very effective for insulation. They carry many of the positive attributes of both wood and aluminium. Composite double glazed windows are great for thermal efficiency so review your glazing options if insulation is a main concern.
However, while the upfront cost of composite windows is likely to be higher than a material like uPVC, it's important to consider the long term. Composite windows are more durable than uPVC and require almost no maintenance. In fact, some studies have suggested that composite windows could be 23-35% cheaper than uPVC over a 60-year period.
It's worth remembering that the prices provided above are estimates and that the real prices can vary based on numerous factors, including the eventual cost of installation. That's why it's important to find an installer you can trust. To get the best composite windows for the best price we recommend that you compare quotes from at least 4 companies.
Unfortunately, for most people, finding a reliable professional can take days of research and frustrating price comparisons. This is why we provide a better way to find the best prices.
All you have to do is fill out a 30-second form and we'll put you in touch with up to 4 window installation companies; they'll provide you with free, no-obligation quotes. All you need to do is choose the best, so click the button below to get started.
Popular composite window styles
While composite windows come in all shapes and sizes, the most popular ones appear to be casement, picture windows, and bow windows.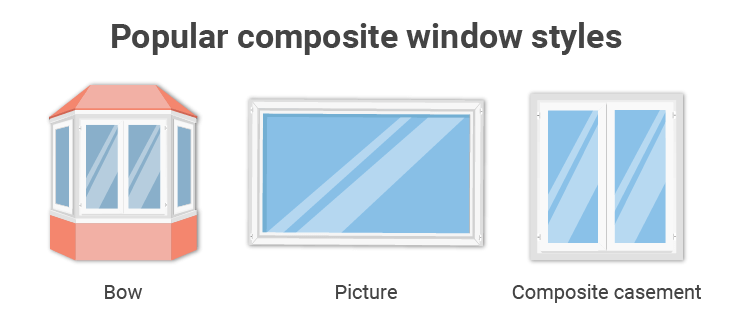 It's worth noting once again that composite window prices range by a lot depending on which composites are utilised. Aluminium-clad timber will cost more per window than fibreglass and uPVC windows. Since bow windows utilise multiple panes and frames, they are by far the most expensive to buy.
Pros and cons of composite windows
Composite windows have a lot to offer along with some disadvantages that might make them unsuitable for certain households.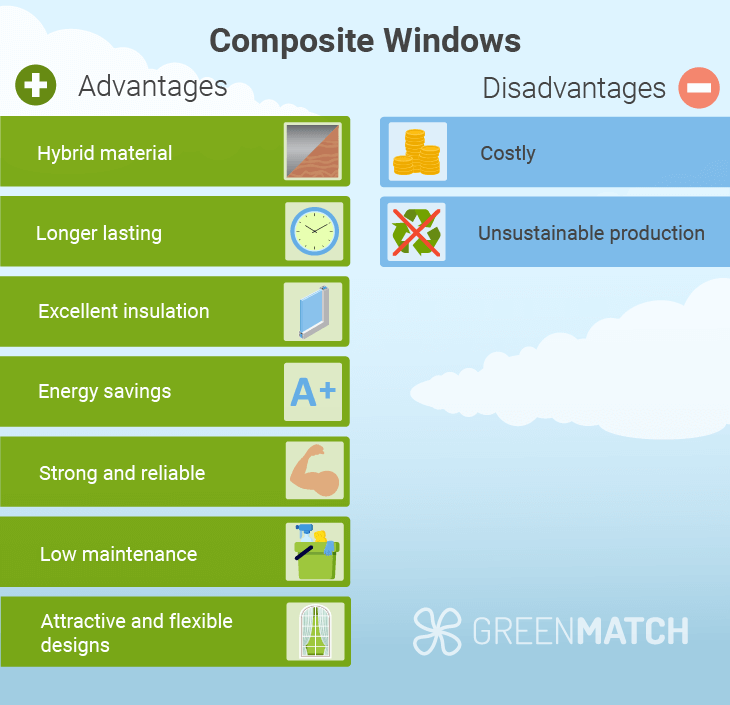 Advantages of composite windows
Hybrid material
The hybrid nature of composite windows gives you the best of both worlds in terms of performance, reliability, aesthetics, and thermal properties. The aluminium cladding offers durability and requires lower maintenance than traditional full timber windows. Even the uPVC composites have better durability than standard uPVC.
Longer lasting
Composite windows are more durable and have a much longer lifetime than uPVC windows. A minimum life cycle of 40 years has been suggested for high-quality composites which easily beats the widely recognised 20-25-year lifespan of uPVC units. Composite wood windows with aluminium cladding last as long as timber widows with the added benefit of aluminium protective coating.
Excellent insulation
The insulation properties of the timber interior mean you keep more of your heating inside giving you a more comfortable home. In fact, composite windows are particularly popular in cold climates such as Sweden and Canada where, as you can imagine, insulation is a must!
Energy savings
If you're losing less heat through your windows you should be able to reduce how much you run your heating. Using your heating less means you'll need to buy less fuel and using less fuel will lower your home's carbon footprint. This is particularly true of composite aluminium windows with timber-based properties.
Strong and reliable
Both timber and aluminium are renowned for their strength so combining these materials in one frame results in a very strong window which could improve your home's security.
Low maintenance
Although timber has a reputation for needing maintenance, in composite frames the timber is on the interior so it's not exposed to the outside weather. The exterior is aluminium which requires little to no maintenance.
Both aluminium and timber are recyclable materials which, in addition to the energy savings they deliver, makes composite windows a far more environmentally friendly choice than uPVC.
Attractive and flexible designs
Composite windows are available in a wide range of colours, sizes, and styles, making it easy for homeowners to find the perfect windows for their homes. Most manufacturers offer a RAL colour matching service for aluminium-clad composite window frames, so you can choose from a bold colour to make your windows stand out as a key feature of the façade or a more muted shade to blend in.
Composite windows manufacturers provide gloss, matt, and satin powder-coated finishes are all available including anodised aluminium. Internally, the wood can be stained, lacquered or painted to suit your tastes. Composite windows are available in all types of styles like bay and cottage and opening formats including casement, sash, dual turn and tilt and turn.
Disadvantages of composite windows
Costly
The main downside to composite windows (particularly timber and aluminium composites) is the cost. They're at the top end of the price range and so may not be as affordable as uPVC windows. However, composite materials are cheaper than many forms of timber while carrying many of their benefits due to the mixed coating.
Unsustainable production (potentially)
The production of composite materials is not always a sustainable process. It takes a lot of energy and the materials used in uPVC plus aluminium composites can be environmentally unfriendly. The making of these materials and their lower energy efficiency make them less sustainable, however, timber and aluminium composites do fairly well on both measures.
Composite window manufacturers in the UK
A number of companies like Velfac, Idealcombi, and Rationel provide composite windows to the UK market, among other providers. All 3 companies provide wooden, aluminium-clad composite windows at various price ranges.
Velfac has a 4.4 Trustpilot score and consumers laud them for their customer service. The company is one of (if not the largest) companies in the UK manufacturing composite windows using tough powder-coated aluminium for the exterior sashes. The company has a number of innovative window designs that go with modern styles.
Idealcombi provides a wide range of window styles and their Futura+ line is very popular. Their tilt-and-turn window styles are handy and well-designed. They have a number of offices in the UK, which makes them highly available to the mass market. Both Velfac and Idealcombi are part of the same parent company, DOVISTA Group.
Rationel brings with it some truly stylish Scandinavian designs and other styles that complement British architecture. Their offerings cover extensive colour pallets and additional components like extra glazing bars.
Once you've found the right composite windows for your home, your next priority will be to find the right company to fit your new windows. This can be a long and stressful process since you should take some time to make sure you're getting quotes from the most reputable options.
To help you with this, use GreenMatch's free quotes service. We have a whole network of vetted installers. Simply by filling in our form, we can connect you with up to 4 of the most suitable options for your project.
We will only connect you with installers based in your local area so that you can take advantage of the best local rates. You can then compare their tailored offers until you've found a good deal.
Get started today by clicking the button below.
Are composite windows the right choice for your UK home?
Whether composites are right for you can depend on what type of composite windows you plan on getting. For proper thermal efficiency and a long lifespan, wood and aluminium windows are the way to go. While they can be expensive, they last about 50 to 60 years with no trouble and keep the heating costs down.
If your aim is to get lower-cost windows that perform better than uPVC, fibreglass and PVC mix composites might be the better option. Although their performance may not be as good, they are cheaper than aluminium windows and can have better properties than uPVC. However, buying composite windows in the UK has other advantages over cheaper materials.
Both types of composite window frames have a modern look and a wide variety of designs for houses of all shapes and sizes. Windows with higher price tags can compete with wooden windows in terms of thermal insulation and lifespan. Their durability is quite high compared to uPVC. Composites made of wood and aluminium can cover many of the best parts of wood with the best parts of aluminium with a fresh look and modern feel.
If any of the above-mentioned points have made you interested in getting new windows of your own and are wondering "Where can I get some composite windows near me?", you're in luck. Our service can provide you with the best installers and get their quotes to you quickly and easily with no need for days of research and price comparisons on your part.
All you have to do is fill out a 30-second form and we'll provide you with up to 4 free, non-binding quotes from professionals in your area. No need to spend your precious free time hunting for companies and companies and comparing their prices all on your own. Click the button below to get started.
FAQ