Types Of Double Glazing, The Different Styles Of Double Glazing Available
Types of double glazing, we take a look at some of the different styles of double glazing available on the market today.
The double glazing industry has advanced considerably over the last decade. Numerous different types of double glazing are now available which means you can choose from a variety of double glazing styles to suit your property.
Double glazing is a must-have in any home as it helps to reduce energy bills, keep your house warm and decrease the noise levels that come from outside. However, choosing new windows and doors is not as simple as it once was and you are now expected to consider a wide variety of styles and colour choices before you can even consider the cost and choosing an installer!
Fill in the form in just 1 minute
If you are you considering new windows and doors but feel overwhelmed by the myriad of choices open to you, then do not despair! Read our guide below to find out all about the range of double glazing styles that are currently on the market so that you can feel confident when it comes to getting what you want for your home.
Double glazing styles
There is a range of different styles when it comes to selecting your new double glazing; Tilt and turn, casement, vertical sliding and Georgian bar are the four main types of double glazing, and other styles tend to be a variation of these options.
Tilt and turn double glazing
Tilt and turn windows are often the first choice of double glazing for parents because they offer additional safety measures where children are concerned. The window units have a dual-hinge system meaning they can be tilted inwards from the top or opened fully using the hinge system down the side.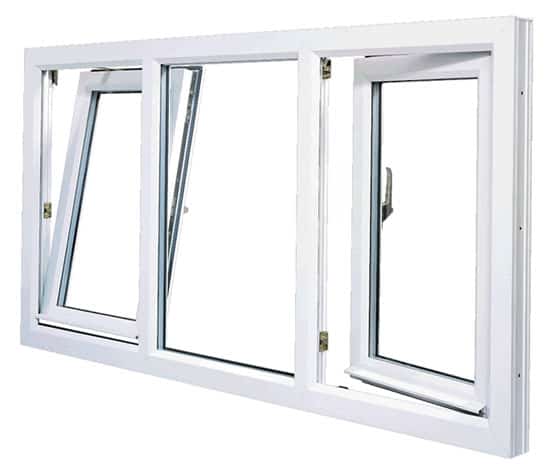 When the handle is in the position for tilting the window cannot be opened more than a few inches. This small opening allows plenty of air circulation within the room while preventing younger children from climbing up and falling through. The position of the handle can be locked to stop children from opening the window fully but as an adult, you can quickly reposition the handle to change the orientation of the window. When tilt and turn windows are set up to open fully they can easily be cleaned from inside your home. Tilt and turn windows are one of the most popular types of double glazing.
Casement windows
Casement double glazing units are easily one of the most popular types of double glazing, mainly because they are designed to allow as much natural light as possible into the property. Dark rooms are quickly brightened with the right style of windows and as a result, this style of window unit is particularly beneficial in larger properties.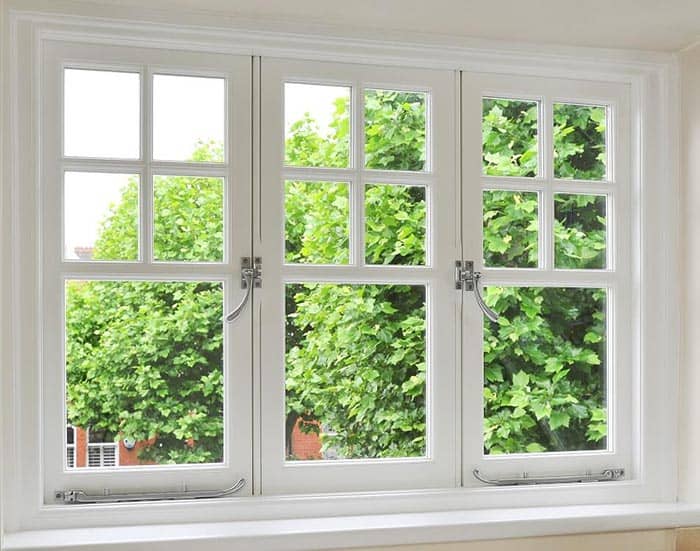 The windows themselves can open in a variety of ways e.g. with the hinges down one side, the hinges along the top, the windows opening into the property or away from the property etc. and it is your choice which you have installed. The beauty of casement windows is that they are simple, and as a result, they are one of the less expensive styles on the market.
Casement windows are one of the most popular window types on the market as they offer a huge range of design options to fit with your rooms and they tend to be one of the cheaper options on the market. As they are so widely available, you will find many different local installers that you can get a range of quotes from before you proceed.
Vertical Sliding
If you own an older property or you fancy something a bit more traditional then vertical sliding windows are an option worth considering. They have the appearance of a sash window and work in exactly the same way i.e. they slide vertically rather than opening into or away from the building, but they don't have the drawbacks commonly associated with traditional sash windows.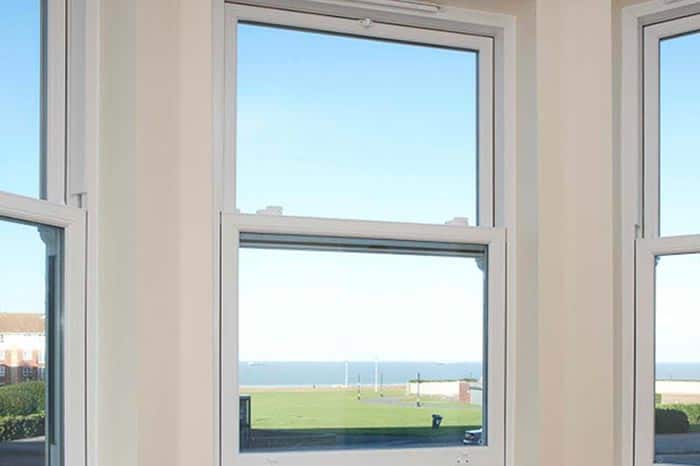 If you choose to install PVC-u or treated metal frames rather than wood you will dramatically cut down the amount of maintenance required in the future and completely cut out the rattling you get with traditional sash windows in heavy winds. You'll also benefit from an easy-slide mechanism that never fails, never gets stuck and doesn't require you to lift weights at the gym just to open the window.
Modern vertical sliders are safe and effective, coming with mechanisms that help them to glide up and down without ever becoming stuck or being too heavy to open and close. You will also not need to worry about them falling down.
Fill in the form in just 1 minute
Georgian Bar
Georgian bar windows are another popular choice when it comes to older properties because they give the appearance of having multiple small window panes in each window unit. This style of window was very common in large Georgian houses (hence the name) and even the modern units manufactured today imbue a property with a stately quality.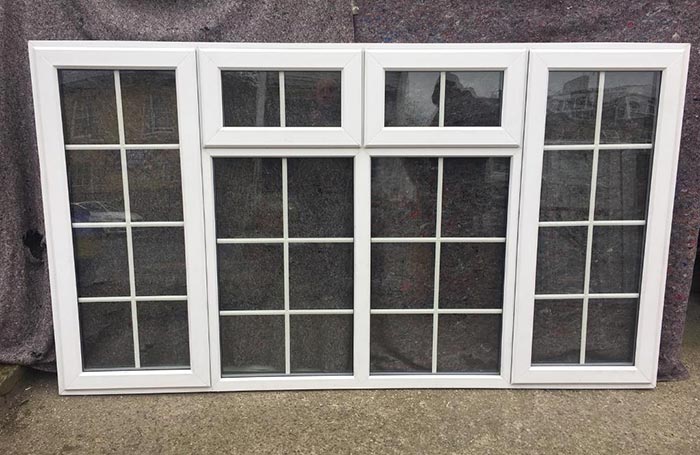 Georgian bar double glazed windows don't, in fact, have multiple panes of glass in each unit though. What they do have is several high-quality bars running horizontally and vertically – manufactured from the same material as the frame – milled and joined to the frame to create the multi-pane effect. The glass in a Georgian bar window is exactly the same as in any other double glazed unit, it is simply the frame that creates the traditional appearance.
This style is often chosen for homes that demand a period look and can give a great finish without compromising on quality. Many people worry that modern Georgian bar windows are not manufactured to the same security standard as others, but in reality, they are the same as any other double glazed window just with additional frame sections.
Fill in the form in just 1 minute
Other considerations when choosing double glazing styles.
These four types of double glazing are probably the most popular in the UK at present but others are available. If you're unsure which double glazing type would benefit you most then seek the advice of a professional before buying. Double glazing is a significant purchase and you need to get it right first time.
In addition to these four common types, you may also want to consider a specific type of window for your room. These include:
Fixed windows – these are for when you have other windows that open and close. This type of window is used to provide light and is cheaper to fit as there are no openings.
Sliding windows – similar to patio doors that slide, these window slide from one side to the other and work perfectly when space is limited.
Awning windows – these are hinged at the top and open outwards so that they do not take up room inside the home.
Bay window – these are great when you have a home that boasts an alcove and gives you the opportunity to extend the room by glazing in the alcove.
Double glazing frames
When you have decided on the style window, you want you will need to decide what frames you want to be installed. There is a selection of types for you to choose from, and it is worth checking out the materials up close before you agree to a particular type. The most popular frames on the market tend to be made from:
uPVC – the most popular option that comes in a wide range of colours.
Hardwood – offers a long life but needs regular treatments to stop deterioration.
Softwood – looks stunning but will need to be replaced more frequently than any other frame type.
Aluminium – a popular choice that can be cost-effective.
Composite – typically made from aluminium and wood.
Colours
Once your frames and window styles are chosen, you will need to consider window colours. Every type of double glazing will come in a wide range of colours so that you can fit your windows to the style of your home.
From muted tones to more gregarious colours, there are options for every taste and budget. If you have your heart set on a specific frame colour or glass type, then it is worth narrowing down your options this way to start with so that you end up with something you are happy with.
Door Options
The majority of people choose to install new outside doors as part of the process of getting new windows. The great thing about doing this is that you can match everything in the same style so that your home looks well-coordinated and comes with the same guarantees as your windows.
You can opt to match your door colour with your window frames or chose to have the same glazing installed into the door but use a contrasting colour to draw attention to the door. Matching at least one element to your windows will give you that matching look you are probably keen to have.
Buying new windows and doors can be a stressful process if you do not take some time to prepare before you speak to a range of glaziers. To get what you want means taking the time to research and present your ideas to companies until you find one that can provide what you want in the budget you have.
Remember that investing in new windows and doors can significantly increase the value of your home, so it is worth remembering that they are an investment as well as an aesthetic change.
How to get the best deal for new double glazing windows and doors
As with any significant purchase, getting a selection of quotes will ensure your getting the best deal. It's important to get quotes from both national and local companies, with smaller local providers often able to provide a better deal.
Our online service allows you to get a selection of quotes from suppliers in your area, all of which can offer a range of double glazing styles and colours to meet your requirements.
Fill in the form in just 1 minute