Top Hung uPVC Windows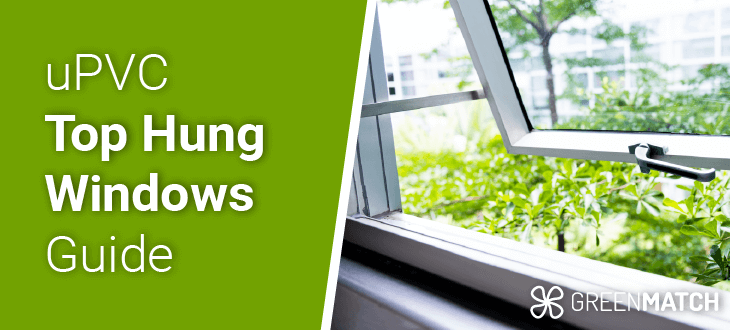 A top-hung window is a popular window choice for its affordability and versatility. Hinged at the top, and opening from the bottom, these windows are fairly recognisable and can be found anywhere in the UK. One of the most commonly found materials used to make top-hung windows is uPVC. That's why, in this article, we'll tell you all there is to know about uPVC top-hung windows. 
uPVC is a smart choice for homeowners looking for new windows since it's long-lasting, durable, and maintenance-free. Most of all, uPVC is one of the most affordable options available across today's market, especially when compared to other commonly used materials such as aluminium and wood. 
In this guide, we'll delve deeper into the factors that will influence the overall cost of your new top-hung windows, namely size, as well as show you some of the best ways you can ensure the best deals on installation.  
When browsing around new window prices, you may also be happy to find that top-hung window prices generally fall lower than other styles of windows. To make sure you're keeping overall costs down, including installation, then we at GreenMatch have just the thing. 
Use the form at the top of this page to find exclusive quotes for new windows installation. It's simple- you fill in the form, and we'll do the rest by finding up to 4 local installers to choose between.
You can make your decision by comparing their tailored installation quotes to find the best deal. All of our quotes come free, with no obligations. This makes the process of getting quotes for new uPVC top-hung windows easy, quick and completely free! Click the button below to get started.
Quotes from local engineers
Payment by finance available
Save up to £170 per year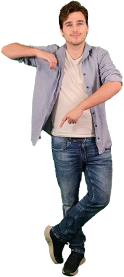 Optimise your home and save the planet
What is a uPVC top hung window?
Top-hung, also commonly referred to as awning windows, are single window units attached to their frame by a top hinge, as opposed to a side-hung uPVC casement window, which is attached by a side-mounted hinge. 
Therefore, top-hung windows open from the bottom. Top-hung windows can usually be found as free standing single window units or they can be fitted alongside fixed windows for a simple ventilation option. They are also commonly placed above doors or in high-up places. 
 As we'll go on to explain, you have a few options in terms of how exactly you'd like your top-hung windows to open. True to their design, top-hung windows are very simple to operate, as shown below.
1
2
3
4
5
6
6
When it comes to types of top hung windows, there are a few options out there. Top-hung windows can either open inwards or outwards. Opening inwards means you can clean your windows more easily, as you'll have easier access to the outwards-facing window. Opening inwards also makes it easier to keep shutters or potted plants on the outside window sill, without having to worry about these blocking your window from opening fully outwards and preventing optimum ventilation from entering your home. 
Alternatively, outward-facing top-hung windows are more weatherproof as they can act as more of a barrier from the outdoor elements than those that open inwards. This is great for keeping ventilation flowing through your home, without letting in unpleasant wind and rain.
If you'd rather keep household items, like books or indoor plants on your indoor windowsill, then an outward opening top-hung window is preferable as these items don't have to be moved every time you open the window. However, it's important to remember that inward opening top-hung windows offer slightly better thermal insulation than the outward opening ones.
You can also opt for a more versatile alternative, a reversible top-hung window. These give you the option to open and close them whichever way you prefer. Usually, you can also open them so they can rest at a completely horizontal angle, which allows ventilation and natural light to pass through the entire frame. With reversible windows, you'll also find that cleaning both sides of the window is made far easier, especially when compared to outward-facing windows. 
Why use top hung uPVC windows?
Top-hung uPVC windows make highly versatile options compared to some other windows types. In particular, they can come in smaller sizes, 350mm in height and 380mm in width, which gives you options for window placement in areas that you may not be available otherwise. Let's look at some of the benefits of top-hung uPVC windows: 
Smaller sizes 
While top-hung windows come in a variety of sizes, see below, they generally come in some of the smallest sizes available among the most popular window styles. Typical windows in standard sizes might be harder to place if you have limited wall space. 
With such neat dimensions, top-hung uPVC windows give you far more options as to where you might place them in your home. That's why they can usually be found as single units in small rooms, in any room with limited wall space and where natural ventilation is maybe more needed than light transmission such as a W.C, or a closet.
Hard-to-reach spots 
Top-hung windows are also commonly placed in high-up places. Opening top-hung windows in high-up spots is made easier by the fact that they can be opened from the bottom. Despite maybe being in a spot that's harder to reach, a top-hung window will be far easier to open compared to another window type that opens from the centre-stine.
There are also mechanisms where the opening can be moved and be remote from the window to make high up window operation much easier. These mechanisms are usually added separately from the window system, they don't come as standard hardware.
You can usually spot top-hung windows on street level as they make good options for basement rooms, or basement apartments, that need some natural light and ventilation. 
Privacy 
Given that your top-hung windows may be placed in especially high, or low places means they are harder to see through from people outside your house. This added security makes them a great option for bathrooms or W.Cs. 
Benefits of uPVC 
Choosing uPVC as the material for your top-hung windows also brings a range of benefits compared to other materials. In particular, uPVC is one of the most affordable options, generally running lower than aluminium and timber by up to 30% and 80%, respectively. Which uPVC windows are the best depends on the style, size, and how well it fits with your home. 
What's more uPVC windows, being "unplasticised" polyvinyl chloride, is made with durability in mind as it is far less malleable than traditional plastic. This means it will bear well against the elements, resist damage and last for up to 25 years. 
Eco-conscious homeowners will also be happy to know that it is easily recyclable, which reduces excessive waste. Additionally, uPVC basically requires no maintenance either, apart from the occasional wipe down with a damp cloth. 
What is the cost of uPVC top hung windows?
Top-hung windows are generally one of the cheapest of the most traditional window types in the UK. Compared to uPVC casement window costs, they might lower by 10%, and as much as 60% lower than uPVC tilt-and-turn windows. Compared to sash windows, one of the more expensive options out there, you can expect to pay less than half for standard-sized top-hung windows in uPVC. 
Considering the range of standard window sizes available, top-hung windows tend to start around £160 and can go up to £825.
uPVC top-hung window costs, per standard size
Top-hung window standard sizes
Price range 
380mm x 350mm
£160 – £660
600mm x 900mm
£200 – £710
900mm x 1,200mm
£230 – £825
Do keep in mind that there are some other key factors that will influence the overall top-hung window cost besides the size, such as installation costs. Quotes for installation will vary from region to region, and from company to company. To ensure you're receiving a fair deal for the installation of your top-hung uPVC windows, tailored to your homes exact specifications, then look no further than GreenMatch's free, no-obligation quotes service. 
All of the installers in our network are carefully selected by our dedicated team and matched to you according to your specific needs. We'll also make sure to find the best installers based in your region, so you can take advantage of the best local rates.
No hassle, no obligations, and completely free. Get started today by clicking the button below.
Quotes from local engineers
Payment by finance available
Save up to £170 per year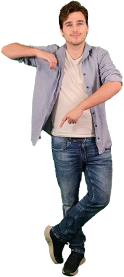 Optimise your home and save the planet
Selecting the best top hung uPVC windows
As mentioned throughout this guide, top-hung uPVC windows can take many shapes and sizes. Therefore, it's good to have an idea of the kind of top-hung windows you'd like, how you'll place them, and how well they'll fit with their surroundings. 
Top-hung windows can either be placed by themselves, which works well in smaller spaces, or they can be placed in a group of windows where there's plenty of wall space.
If you have some fixed windows that don't open, then fixing a top-hung window on top or around it will give the space some ventilation. They can equally be well paired with some larger windows of any kind, or a door, to make a nice combination that maximises the potential for natural light and ventilation. This kind of window arrangement is typical of mid-century modern aesthetics, and today will give your home a sleek and modern appearance. 
Coloured uPVC windows 
Another great aspect about uPVC frames is that there are many colours available that you can choose from that will help enhance the visual impact of your windows, and help you match your windows to your desired aesthetic. 
When it comes to uPVC coloured windows, whether it's a bright colour, neutral, dark, or pastel, there's something for every taste. The most popular uPVC window colours tend to be grey, black, brown, or cream. 
Glazing options 
You should also consider looking for a type of glazing that will best complement a top-hung uPVC window. If energy efficiency is of top concern, then low-E glass is a great choice since it has an ultra-thin coating that prevents heat from passing through it. Therefore, it is the best option for preventing heat loss during the cold winter months when it's important to save energy. 
If you're concerned about privacy, then as we've explained, a top-hung window makes a good fit. You can further enhance this feeling of security through the glazing you choose for your top-hung window. Tinted glass for instance is a good option since people from the outside won't be able to see through it. 
Equally, decorative glass is a great way to add a design to your glass that simultaneously prevents people from seeing through it. There are many customisable decorative glass designs out there, the range of options available to you depends on the manufacturer you go for. 
Can I get double glazed windows with top hung uPVC frames?
Getting yourself new double-glazed uPVC top-hung windows, or double-glazing your existing uPVC top-hung windows is absolutely possible. 
Double glazing is also highly necessary to ensure your windows are not allowing excessive levels of heat energy to escape your home. On the other side, during the summer, an extra layer of glass will help keep you home cool. 
In fact, nowadays, double-glazed windows have very much become the standard if your home is to meet minimum efficiency regulations. In the UK, replacement windows must achieve a U-Value of 1.4 W/(m²K). Single glazing tends to have an average U-Value closer to 5.2W/(m²K). 
For even more thermally efficient, secure, and durable windows, you can also opt for triple glazing. However, be aware that this usually amounts to double the cost of standard double-glazed windows.
What is the maximum size of a top hung uPVC window?
While uPVC top-hung windows are well suited for smaller windows, they are also available in larger sizes. The average uPVC window will come in at 1,200mm in height and 1,200mm in width. The maximum size of a uPVC top-hung window can reach a height and a width of 1,500mm x 1,500mm, respectively.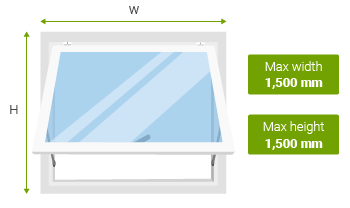 Large uPVC top-hung windows can have a stunning visual impact. For example, slim black uPVC frames have a very luxurious and modern appeal. 
How to find the best deal on a top hung uPVC window
To ensure you're receiving the best deals when you come to install your new windows, you should always source multiple quotes from various professional window installation companies. You can identify a quality installer by their positive customer reviews, and their certifications. Both of these should be readily available to see on their website. 
It can take some time to ensure that you've found the best installers to compare, considering all the necessary checks, searching, and re-searching that need to take place. Rather than putting yourself through the stress, and risking ending up in the hands of a rookie installer, you should get your quotes from GreenMatch. 
Here are just some of the benefits of comparing quotes from GreenMatch:
We'll only match you with the installers based in and around your local area and let you take advantage of the best rates in your region.  
You can expect a fast response with up to 4 installer options in up to 48 hours. 
It's free! You won't pay anything to receive these quotes and you are under absolutely no obligation to accept any of the quotes you receive. 
The way we see it, GreenMatch's free service speeds up the process of getting quotes from the most qualified installers. In a few short steps, you'll be well on your way to securing some new uPVC top-hung windows. Click the button below to get your free quotes now.
Quotes from local engineers
Payment by finance available
Save up to £170 per year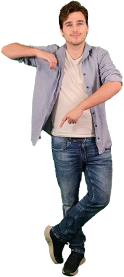 Optimise your home and save the planet
Frequently Asked Questions