Cheap uPVC Windows: Get the Best Deal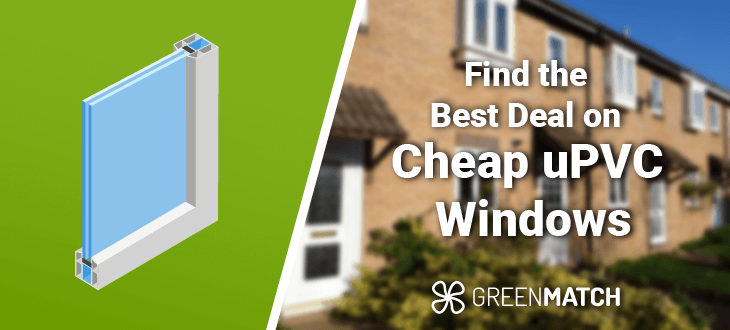 Unplasticised polyvinyl chloride (uPVC) is a popular synthetic plastic building material due to its strong and durable properties. This makes it a popular choice for many homes in the UK looking for a durable, energy-saving, and customisable option for uPVC windows.
Although they can be a significant financial investment, there are cost-effective options available on the market. Keep in mind that a cheap price tag doesn't always mean you have to sacrifice quality! 
In fact, some of the cheapest uPVC windows can be a great money saver for your home depending on their quality, manufacturer, and installer.
In this article, we will explore the different ways to find cheap uPVC windows that meet your needs and budget. From researching different manufacturers to consulting with local window installers, you'll learn how to make an informed decision when it comes to finding the cheapest uPVC windows online.
Whether you're looking to replace a few windows or undertake a full-scale window renovation, we'll help you find the best deals on uPVC windows and make sure you get the most value for your money. 
We do this by providing you with quotes for the best uPVC windows from up to 4 different local window installers. If you're interested in getting these free quotes to compare, just click the button below and let us know how many windows you want to install.
Quotes from local engineers
Payment by finance available
Save up to £170 per year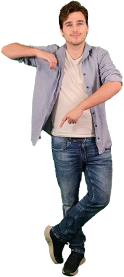 Optimise your home and save the planet
How can I find cheap uPVC windows near me?
Buying cheap uPVC windows online is popular for a reason. They come at an affordable price point for homeowners without compromising quality. But just like searching for any other product, different installers will offer different prices based on factors such as location, type of uPVC window, and installation complexity. 
To find reliable and affordable uPVC windows, consider working with local window installers as they often have competitive prices. Local installers have the advantage of being familiar with the local building codes, regulations, climate, and market prices. This helps them to recommend the best cheap uPVC windows for your home. 
While keeping costs down is important, you should also make sure you have a reliable installer. That's why it's important to check references and reviews to ensure that you are getting a quality product and good service. It's also important to compare quotes from different window installers to ensure you are getting the best deal and to reduce the risk of you overpaying.
If your budget is on your mind, then it's good to know that uPVC windows are typically the cheapest window frame material. When you consider the alternatives (wood or aluminium), you'll notice you usually pay considerably more.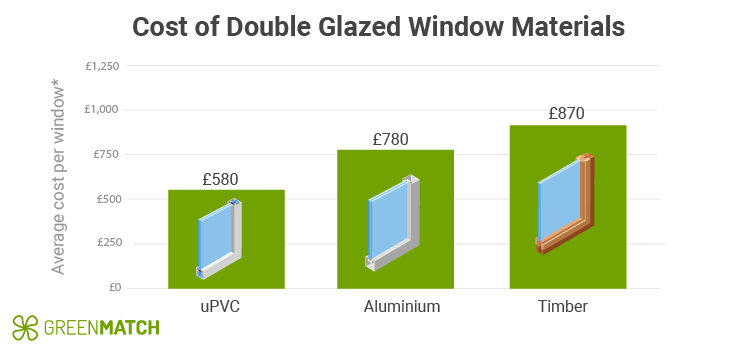 How much are uPVC windows fitted by installers in the UK?
To fit a new upvc window, the online prices for uPVC windows will typically range between £160 and £1,240 per window, but in some cases it can go as high as £2,000. The price varies depending on the house's structure but it primarily depends on the size and type of the windows.
There are many different window types, but in the table below is an overview of the average cost of different uPVC window types. The prices in the table are for varying window sizes but it can give you a good indication of the prices you can expect for the cheapest uPVC windows.
The most popular window types in the UK are sash and casement windows. But you should consider that different window types have different benefits ranging from aesthetics and  functionality to safety and energy saving capacity.
uPVC window prices
Window Frame
Price range
Fixed casement
£150 – £300
Casement
£160 – £825
Tilt and turn
£200 – £1,030
Sash
£240 –  £1,240
If you're not sure which is best suited for your home, then contacting a local window expert can help. They can not only recommend a window style, but also offer competitive prices for uPVC windows.
Instead of spending hours calling local window experts to vet them and ask for advice and quotes, let us do the hard work! We can pair you with up to 4 different window installers from our network of professionals that we've vetted. Each will offer their own competitive quotes that you can choose from.
If you're ready to get this free service and quotes, click the button below, answer a few questions, and we'll take it from there!
Quotes from local engineers
Payment by finance available
Save up to £170 per year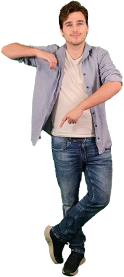 Optimise your home and save the planet
Does uPVC look cheap?
Despite its use as a common building material for windows and doors, uPVC does not mean it looks cheap. In fact, uPVC windows are highly customisable in different colours and styles, and can even be designed to resemble quality timber. And if you combine uPVC with A-rated double glazed windows, you'll be saving money on energy without sacrificing the efficiency.
You also don't have to worry about your window's appearance deteriorating quickly over time. This is not only because uPVC windows have an average warranty of 10 years, but also because of uPVC's long lifespan. Most homeowners report that their uPVC windows have an average lifespan of 20 to 35 years. It's also important to keep in mind that uPVC windows are maintenance free, so in all years of using, you'll likely never have to spend money on up keeping them  
Get quotes for cheap uPVC windows online
If you're like most homeowners, you want to find the best deal on new, cheap uPVC windows for your home. One of the easiest and most effective ways to do that is by requesting quotes from multiple reliable companies. By comparing prices and services online, you'll be able to find the option that best fits your needs and budget.
And don't worry about spending hours calling multiple companies to find quotes to compare, because requesting free online uPVC window quotes with GreenMatch is quick, easy and convenient. 
We do all the hard work of collecting the quotes so that you'll be able to compare not only the prices but also the services and quality of the installer. This will give you the information you need to make an informed decision and ensure that you're getting the best product for your money.
So, don't miss out on the opportunity to improve the energy efficiency, aesthetic, and overall value of your home. Click the button below to get up to 4 free quotes for cheap uPVC windows today.
Quotes from local engineers
Payment by finance available
Save up to £170 per year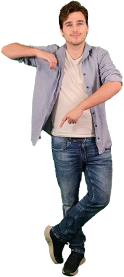 Optimise your home and save the planet
FAQ