uPVC Window Styles: A Complete Guide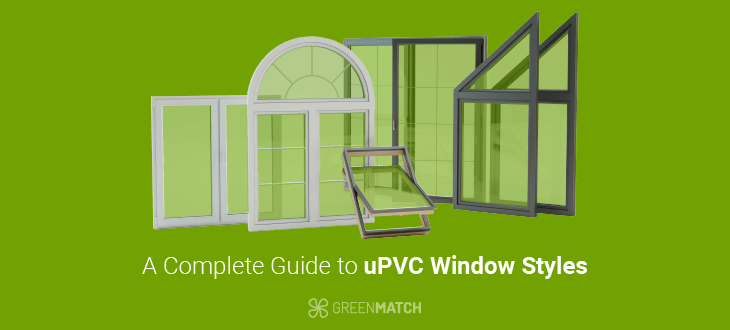 uPVC stands for unplasticised polyvinyl chloride and is a great material for building windows. Just like wood and aluminium windows, you'll see different uPVC window styles when you go to the market.
The style of a uPVC window plays an important role in your comfort because it can change the amount of fresh air you get. Moreover, the window style can greatly impact your energy bills as the energy efficiency of various window styles is different. Another important factor regarding the window style is the amount of light you get from the ambient because the opening of windows can vary a lot.
Therefore you have to pay careful attention to the style of the window you buy. That's why we've gathered all the information you need to choose a suitable new uPVC windows and make the purchase. 
This guide is here to provide you with some general pointers for the best uPVC windows style for your home. However, when it comes to the exact price you can expect to pay, based on your home's unique specifications, then it's best to consult a certified window installer. 
This is where GreenMatch's exclusive quotes service can help. Rather than spending countless hours researching and contacting multiple window companies in your area, you can complete our brief form in under a minute, and we will link you with up to three professionals from our network of professional installers. 
Simply click on the button below to begin.
Quotes from local engineers
Payment by finance available
Save up to £170 per year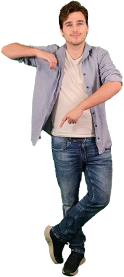 Optimise your home and save the planet
How many types of uPVC windows are there?
Depending on the opening type of the windows, there a there are more than 10 types of uPVC windows out there. Here is a list of these types:
Casement uPVC Windows
Awning (Top Hung) uPVC Windows
Sliding uPVC Windows
Tilt and Turn uPVC Windows
Bay uPVC Windows
Bow uPVC Windows
French uPVC Windows with grills
Sash uPVC Windows
Louvered uPVC Windows
Fixed uPVC Window Design
According to your interest and the architecture of your building, you can choose any of these styles. Of course, some of these window styles are much more common in today's houses and flats. These main types will be discussed in the following section.
What are the standard window sizes? Well, uPVC windows are also available in various sizes to cater to different needs.
What are the 4 main types of windows? 
The first 4 types are the main styles of uPVC windows that will be discussed in the following sections.
Casement uPVC Windows
Awning (Top Hung) uPVC Windows
Sliding uPVC Windows
Tilt and Turn uPVC Windows
No matter if you're using a uPVC frame or other frames, these 4 types are the most common window styles in our homes. It should be noted that these window styles can be combined with different types of uPVC frames that are mentioned in the following section.
What are the different types of uPVC window profiles?
You can find 3 main types of uPVC window profiles out there. Other than the visual touch, and aesthetics they bring, these different frames won't make difference in the performance of your new windows.  So choosing the type of frame will mostly depend on your house's architectural style and your personal  preferences. Here are these 3 frame profiles:
1. Ovolo: This is a traditional type of uPVC frame profile with round edges.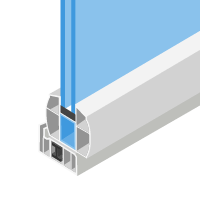 2. Chamfered: While ovolo profiles give a more traditional, decorative style to your window, chamfered frames are a contemporary style with straight edges.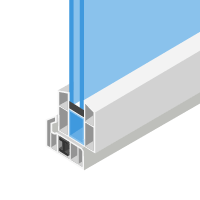 3. Flush: In this type, the sash will fit within the profile and there are no protruding components.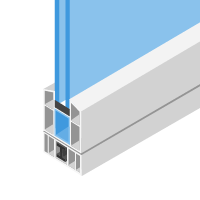 Compare modern uPVC window styles
Now, let's take a closer look at modern uPVC window styles to be able to choose the best one for your home.
Double-glazed casement windows
The best style of windows if you like big openings and open non-obstructed views, is definitely casement windows.
Any window that has one or more hinges connecting it to its frame is known as a casement window. The frame on the side is where windows are attached to.
They're essentially like doors with a crank instead of a knob, except they open in the opposite direction. uPVC casement windows are usually glazed with two layers of glass to provide more energy efficiency. Double-glazed casement windows also have the advantage that you'll have minimum noise from the outside.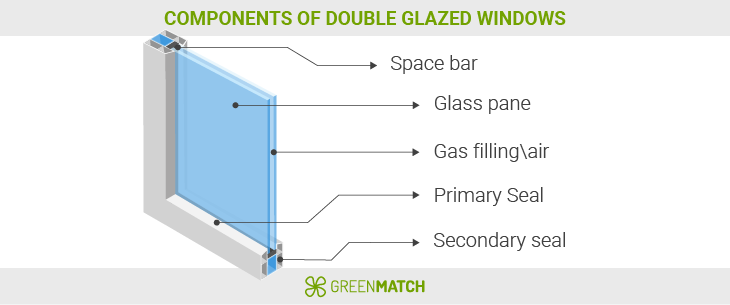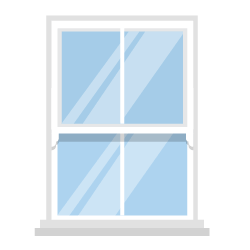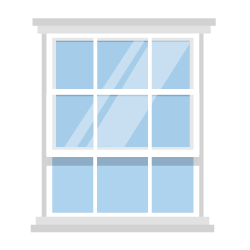 A sash window is usually made of several movable components that are called "Sash." These windows come in various styles including Georgian uPVC windows and Victorian uPVC sash windows. These sashes make a frame that will bear the panes of glass and join them together. These panes are usually separated by astragal bars. In sash windows you can open the window by sliding the sash in two ways: vertically or horizontally.
Tilt and turn windows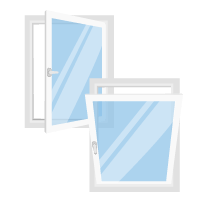 This type of window can be opened in two ways:
Tilt position: open inwards from the hinges at the top 
Turn position: open inwards from the hinges at the side
This is one of the most special window styles and has several advantages. Draft-free ventilation and rain protection are both possible with this window style when it is in the tilt position. Casement windows can also open like a tilt and turn window, in which case, only one of the sides will be able to tilt open.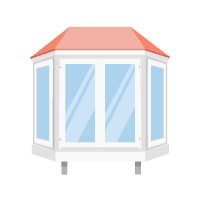 Bay windows
A bay window is actually a window that is objected outward from your building's walls and forms a space like a bay in your room.
When it protrudes from an upper story and is supported by corbels, a bay window is called an oriel window. Early English Renaissance residences are known as the inventors of bay windows.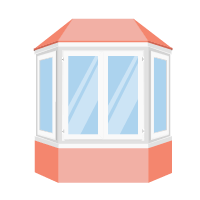 Bow windows
Bow windows are just like bay windows with one difference. In bay windows, there are usually three openings in angled projections, while there are typically four or five openings in bow windows.
A picture window with two smaller windows on either side makes up the basic structure of a bay window. On the other hand, the exterior of a home with a bow window appears to be curving due to the bowed structure.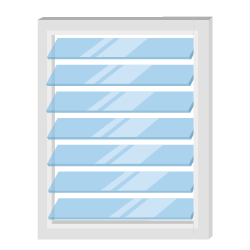 Louvered Windows
A louvre window is usually composed of a parallel array of glass, acrylic, uPVC, or wooden louvres within the window frame. These windows are sometimes called jalousie. In this window, louvres can be tilted open and shut together so that you can control the airflow and the light. 
French windows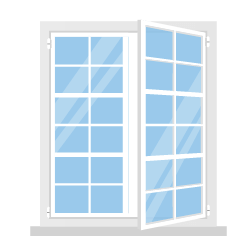 French windows are a pair of casement windows that you can open both inwards or outwards without having any vertical frame between two sides of the window. Therefore, there is no obstacle between you and the street, providing a full and unobstructed view of the outside. 
No matter which style of uPVC windows you choose, finding the right installer for the job is crucial to ensure they perform at their highest potential. With so many options out there, it can be difficult to know who's quotes you can trust. 
At GreenMatch, we have an entire network of windows installers on hand to offer their professional advice and a tailored quote for their installation service. All of the installers in our network are vetted by us, and qualified according to the latest FENSA regulations.
After filling in our form, our dedicated team will match you with up to 4 of the best installers in your area. Simply click the link below to begin. 
Quotes from local engineers
Payment by finance available
Save up to £170 per year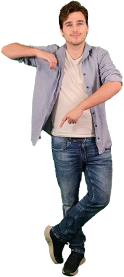 Optimise your home and save the planet
Coloured uPVC windows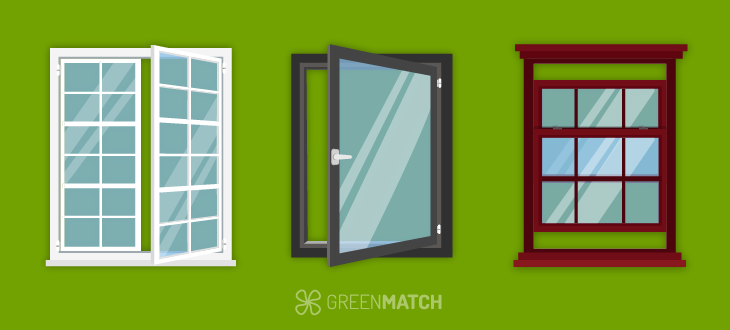 uPVC windows usually come in various colours, which can make a specific style. For example, grey uPVC windows, especially flush casement uPVC windows in grey, can add a minimalist feel to your room, while brown uPVC windows with a wood effect can bring warmth to your house. Coloured uPVC windows have different prices, but are typically cheaper than windows made of other materials rather than uPVC.
You can also find uPVC windows that have frame textured woodgrain effect finish and can be a great option if you want to replace your wood windows, with new ones. Those uPVC woodlike windows will be much cheaper to replace, and much cheaper and easier to maintain as well.
Which uPVC windows are best?
There are different criteria to choose the best window style for your home. Here is a list of what you need to consider when choosing the best window style:
Your home's architectural style
Colour
Ventilation
View and Light
Cost (windows, installation, and maintenance)
Energy efficiency
Overall, casement uPVC windows are the most popular style, although the best window style strongly depends on your needs and preferences. 
Get uPVC window quotes
It is always advisable to compare quotes from various uPVC window installation companies before making a decision. This allows you to shop around for the best deals and determine the most reasonable installation rates.
Typically, local installation companies provide the best double glazing offers for installation. On the other hand, with larger, nationwide companies, you may expect to pay more for delivery and labour costs. However, finding several trustworthy installers can be time-consuming and difficult.
With GreenMatch, we can connect you with up to 3 certified installers from our network. We'll only connect you with those located near your local area, allowing you to take advantage of the best local rates.
With their tailored quotes you'll be in the best position to locate deals in your region.
The best part? All of our quotations are 100% free and without obligation. Click the button below to get started today!
Quotes from local engineers
Payment by finance available
Save up to £170 per year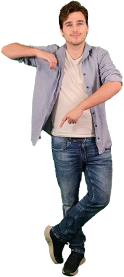 Optimise your home and save the planet
Frequently Asked Questions