uPVC Cottage Windows: Traditional Style, Modern Material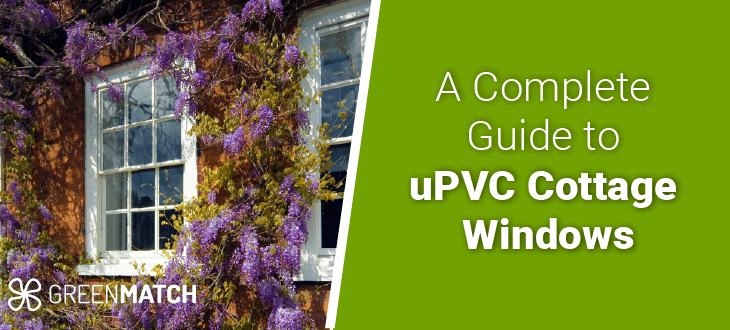 Windows can play a pivotal role in your building's appearance. You might modernise your home or make it look like a traditional building just by changing your windows.
Many homeowners like to incorporate both traditional and modern aspects together. If you're one of them and want to combine traditional design styles with modern features, using uPVC cottage windows can be a great choice for you.
You might be familiar with different uPVC window styles, but cottage uPVC windows are really special among all the window styles. In these windows, you can kill two birds with one stone. First, a traditional design style, and second, a durable, energy-efficient, and cost-effective window.    
If you're interested in this option, continue reading this article to know what cottage windows are and how they look with modern uPVC frames. After reading this guide, you can decide whether uPVC cottage windows are suitable for your home. 
At GreenMatch, we're here to help you find the best cottage window installers to save your time and money. 
After filling in our form, at the top of the page, you'll soon be connected with up to 4 local windows installers. They will offer their tailored quotes for their installation services which you can compare to get the best deal. 
It's quick, free, and comes with no-obligation. Get started today by clicking the button below.
Quotes from local engineers
Payment by finance available
Save up to £170 per year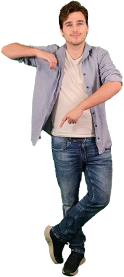 Optimise your home and save the planet
What are cottage style windows?
A cottage window is a double-hung window with two sashes in a single frame. The sashes are hung on each other and can slide up and down, while the upper sash is usually smaller than the lower one.
Cottage windows are made in different styles and sizes. They might be as wide as 6 feet (1.8 m) and 3 to 4 feet (0.92 to 1.2 m) in height.
1
2
3
4
5
6
7
8
9
Cottage window styles used to be applied in cottage homes and date back to 1400-1500. In fact, these are a kind of mediaeval design. The origin of these windows is not clear and many people in England or Russia believe that the cottage style belongs to them.
Although there are numerous modern styles these days, many people prefer to use them in their homes and combine them with contemporary designs.
What are the best windows for cottages?
Double-hung windows have historically been considered the best style for cottage windows. However, cottage windows come in various styles and with different frame materials these days.
For example, window styles like French windows and bay windows are becoming very popular in contemporary cottage styles.
In this section, we're going to categorise them to help you choose the best one for your home.
The main cottage window styles
As mentioned earlier, the upper sash in cottage windows is usually smaller than the lower one. However, in some styles this is different. 
In sum, there are three main cottage window styles: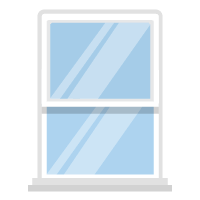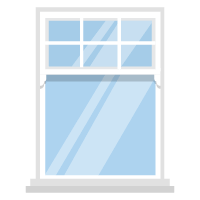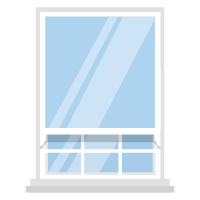 Even Split Cottage Window Style (Standard)
In the "Even Split" style, you see that the frame is divided in two equal parts. This style is sometimes called the "Standard" style. 
Cottage Window Style
This is the most common cottage window style in which the upper sash is smaller than the lower one.
Reverse Cottage Window Style
As it comes from the name, in the "Reverse Cottage" style, the upper sash is larger than the lower sash.
Different cottage windows in terms of the frame shape
Apart from the sash, cottage windows can be categorised in terms of the shape of their frames.
Here is a list of some different cottage frame options:
Squared 
Arched
Gothic
Rounded Corners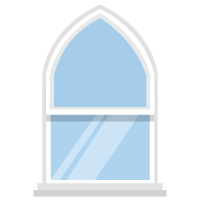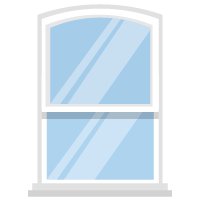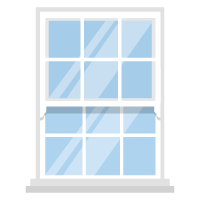 As you can see, the cottage style can be used in combination with other styles like French casement windows or bay windows. 
Here at GreenMatch, we help you choose the best window style for your home by connecting you to 4 professional installers.
After consulting with them about your needs and design preferences, they can offer you a tailored quote. With up to 4 quotes, you have the opportunity to avoid overpaying by choosing the installer who offers you the best deal. 
All of the installers in our network have been vetted by us, so you can rest assured that they are qualified for the job. 
Get started today by clicking the button below.
Quotes from local engineers
Payment by finance available
Save up to £170 per year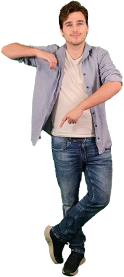 Optimise your home and save the planet
Compare cottage style window materials
The material of the frame is also an important factor when choosing a cottage style window In this section, we're going to review different materials that are usually used in cottage window styles.
The most common cottage window materials are:
Here are some more details about these materials:
Wooden traditional cottage windows
Although wood is a bit out-dated, many cottage style homes use wooden traditional cottage windows.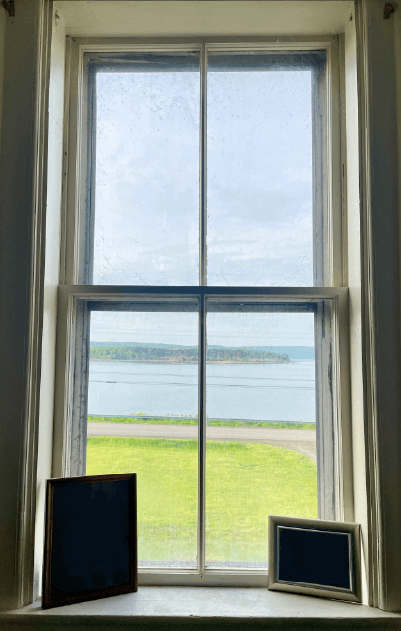 Despite what many people believe, timber cottage windows can also come with advanced technologies like double-glazed windows and brand-new frame designs to prevent energy loss.
Here are the pros and cons of using wooden cottage window styles:
Pros of wooden cottage windows
Appearance: Wood is considered the most aesthetically pleasing material in all window styles.
Efficiency: The energy efficiency of wooden frames is really good because the thermal conductivity of wood is low.
Cons of wooden cottage windows
Maintenance: Wood needs more maintenance compared with uPVC or aluminium.
Cost: The wooden windows are a bit expensive as the manufacturing requires more energy and craftsmanship.
Aluminium cottage windows
Aluminium is also a widely used material in windows. Here are some of the most significant advantages and disadvantages of aluminium cottage windows.
Pros of aluminium cottage windows
Maintenance: Aluminium is a great low-maintenance material. As such, aluminium windows' maintenance cost is really low.
Durability: Aluminium is a lightweight and simultaneously strong metal.
Lifespan: The lifespan of aluminium windows is really long and you don't need to be worried about replacing them.
Affordability: Aluminium cottage windows are more affordable than wooden windows.
Cons of aluminium cottage windows
Energy Efficiency: Aluminium windows have a high thermal conductivity, and therefore, are not a good choice in terms of energy saving, unless installed with a thermal break.
Condensation: The temperature difference between indoor and outdoor spaces will sometimes make condensation on aluminium windows.
uPVC cottage windows
uPVC is the abbreviation of unPlasticised Polyvinyl Chloride, and is a strong and low-maintenance material used in many industries, especially in windows.
Manufacturing cottage windows with uPVC frames can be a fantastic choice as you'll have the best of both traditional and modern worlds.
Here are the pros of using uPVC cottage window styles: 
Energy Efficiency: This is the most energy-efficient material for windows due to an extremely low U-value.
Easy Maintenance: uPVC windows are really low-maintenance.
Aesthetics: uPVC windows look very nice and come in different styles and colours, providing you with lots of options to choose.
Affordability: uPVC windows are the most durable windows compared with aluminium and wood.
Cons of uPVC cottage windows
The only cons of uPVC windows is that their lifespan is less than timber and aluminium. However, they can last 20-25 years, which is relatively long
Therefore, they can be considered the best material for cottage windows. So if you like to buy uPVC windows, you can request free quotes and let us help you compare uPVC Window prices. 
uPVC cottage window colours
uPVC cottage windows come in different colours. Here are the most common uPVC cottage window colours. 
Wood effect uPVC windows
As mentioned earlier, the cost of wood is high. That's why many people go for wood effect uPVC windows because the low cost of wood effect uPVC windows. This way, you have the best of both worlds. In other words, wood effect uPVC windows are cheaper, durable, and also look like wooden cottage windows.
Coloured uPVC windows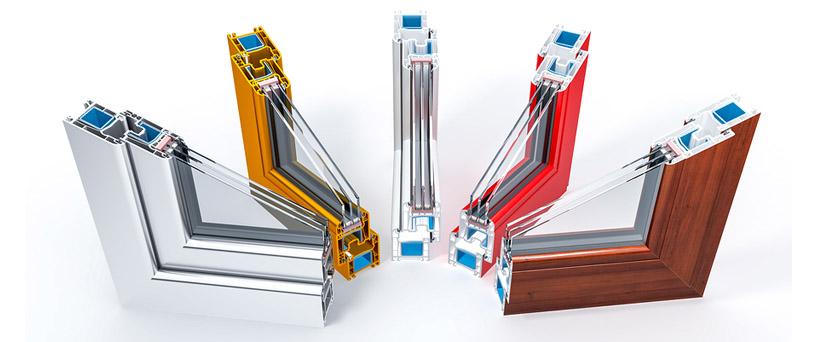 Coloured uPVC windows will give you the opportunity to add some aesthetic aspects to your home. There are infinite colour options in uPVC windows that all of them look like premium material without extra cost. You don't have this diversity when you use aluminium or wood frames.
Although you have many colours in uPVC windows, some of them are extremely popular among homeowners. The most popular colours for uPVC cottage windows are:
With coloured uPVC windows, you have the chance to customise the appearance of your home. In fact, you can choose between a natural look of wood effect uPVC windows and other different colour options.
Each of these colours gives a unique appearance and feeling to your building. For example, grey uPVC windows give your home a sophisticated emphasis. On the other hand, black uPVC windows display a modern characteristic.
Also, when you look at brown uPVC windows, you feel elegance and warmth, and cream uPVC windows are suitable for any type of building and can adapt to all kinds of needs. 
Get the best cottage uPVC windows deal
To choose the best windows for your home, you have to compare quotes. With our free quotes, you can save time and money because we'll give you up to 4 quotes from our selected suppliers by filling in only 1 form. 
This way, you can buy the most competitive offer on the market. So do not waste your time and send us your request to get 4 free quotes for your new uPVC cottage windows. 
We'll connect you with the installers in our network that are based closest to you. That way, you can get a sense for the best installation rates in your area. Local installation rates are usually far lower than those from large, nationwide companies that have greater overhead costs to cover. 
Get started today by filling in the form. It's free, easy and comes with no-obligation.
Quotes from local engineers
Payment by finance available
Save up to £170 per year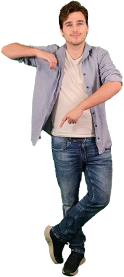 Optimise your home and save the planet
Frequently Asked Questions