Wooden Cottage Windows: Styles and Glass Options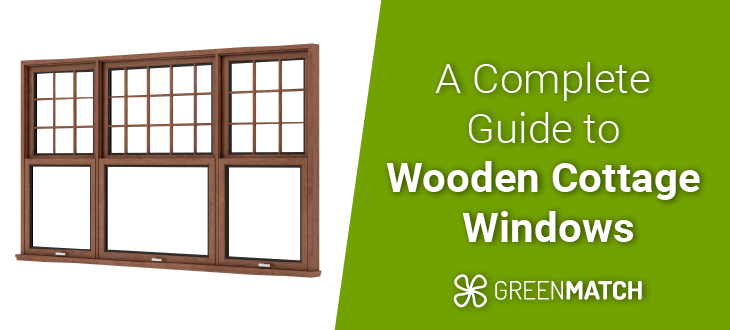 Cottage windows in the UK are a charming addition to any home, sought after in modern and traditional properties alike. To achieve the authentic cottage window dream, then framing your windows with wood is a great option. Wooden cottage windows are secure, energy efficient and very long-lasting. Aesthetically, they also have a traditional elegance that is most authentic to the original cottage-window style. 
There are a few distinct cottage window styles that you could go for. The perfect match for you very much depends on your vision for your home and your design preferences. Also important to consider is the type of glazing you use in your wooden windows. Standard double glazing equips these classic windows with modern technology. However, there are some alternatives that you may want to consider, namely triple glazing or secondary glazing options. 
In this guide, we'll delve into all of this and more. If you're in the market for some new wooden cottage windows, then this article can help you in selecting the perfect set of windows for your home. 
Whether you're starting your search for some new timber windows in a cottage style, or you're already ready to install, then GreenMatch is here to help. Rather than spending countless hours finding the best installer for your project, use our free quotes service to be matched with up to 3 installers within 48 hours. 
We have a wide network of qualified installers based up and down the country, so we can even find the most suitable options within your local area. You can then compare their quotes and choose the installer that offers you the best deal. 
It's simple, fast, and completely free. Get started today by filling in the form at the top of the page.
Quotes from local engineers
Payment by finance available
Save up to £170 per year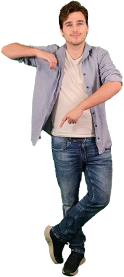 Optimise your home and save the planet
Compare cottage style windows
Crafting your cottage windows with wood is a great option for those who appreciate traditional windows aesthetics since they have a timeless elegance to them and creates a warm and classic impression on your entire home. 
Cottage windows complement this visual impact well. The romantic sliding sash style with asymmetrical grille patterns across the window is more recognisable as the quintessential cottage style. However, there are a few key window styles that you may prefer. 
Sash windows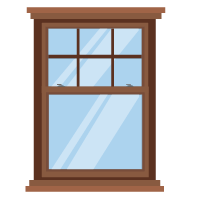 While sash or double-hung windows are often associated with the cottage window style, there are other options that can be equally effective. Sash windows are the most original cottage-style window since they evolved from the same period. They have a timeless appeal and a simple design. 
Timber cottage windows in a sliding sash style is, therefore, the perfect combination since it is the closest you can get to the ultimate cottage vision. 
Casement windows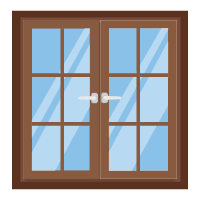 The chief distinction between casement and sash windows is that the former utilises side-mounted hinges that enable them to swing open fully outwards, thus facilitating maximum ventilation. In comparison, sash windows can only be partially opened, limiting the amount of airflow that can enter your home.
For those looking to emulate the classic two-window cottage style, double casements with a central beam or vertical mullion would be an ideal choice. Moreover, cost-wise, casement windows, including double casements with glazing bars, are generally more budget-friendly than sash windows, which can be quite intricate in design. With casement windows, homeowners looking for cheap wooden windows can achieve the desired cottage aesthetic without breaking the bank.
Bay windows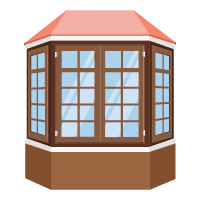 Wooden bay windows in the cottage style are a nice combination since the elegance of the wood is perfect alongside the grandeur of the bay windows. 
Sliding sash windows with a classic grid pattern are an excellent option for achieving the cottage-style bay window look. The most popular bay window option is the 3-facet bay window, which features a large fixed central window and two smaller openable windows. However, if you want to create more living or storage space, a 5-faceted bow window may be a better choice.
For those looking to limit costs, choosing casement windows instead of sash windows for bay or bow windows can be a cost-effective solution. When properly maintained, wooden cottage windows can last for decades and add value and beauty to your home.
Astragal bars or Georgian bars
The quintessential cottage window design comprises an upper sash divided into 6-8 smaller panels by means of glazing bars, while the lower sash typically consists of a larger single panel. Notably, the upper and lower sashes are typically asymmetrical in terms of their panel configuration.
Cottage windows are distinguished by their grid pattern created by glazing bars. Georgian bars are the original type and separate the window into smaller panels, while also strengthening it. Astragal bars are a simpler option and can be adhered to the glass surface or laid internally without running through the panel. They can be customised for an ornate touch but are more expensive due to the extra materials needed.
Softwood or hardwood 
Softwood and hardwood are two popular choices when it comes to selecting materials for timber cottage windows. Softwood, such as pine or spruce, is a cost-effective option that is easy to work with and is available in a wide range of finishes. However, softwood needs regular maintenance, such as painting or staining, every few years to protect it from warping and wood rot.
On the other hand, hardwood, such as oak or mahogany, is a more expensive but durable option that promises a longer lifespan than softwood. Hardwood is naturally resistant to moisture and decay, making it ideal for use in areas that are exposed to the elements. With proper maintenance, hardwood windows can last for several decades, making them a sound investment for homeowners who value longevity and durability. However, due to their cost, hardwood cottage windows may not be the most practical option for every budget.
Since hardwood window prices are the highest among the most popular framing materials in the UK, some people instead choose to install uPVC cottage windows with a woodgrain finish. This will give the appearance of wood for just a fraction of the cost.
Timber cottage windows: glass options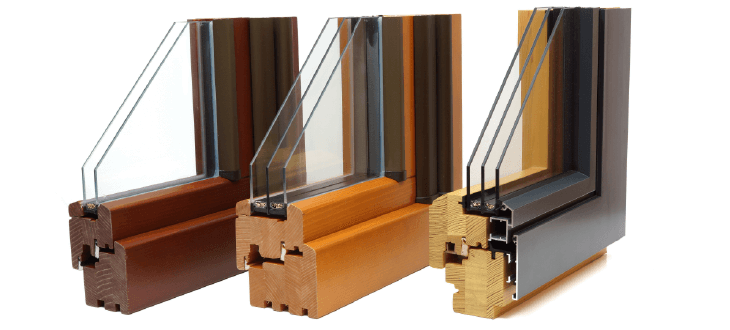 Hardwood timber windows are one of the most natural energy-efficient materials you could possibly go for. However, you can enhance the thermal efficiency of your entire home with some double glazing, and even more so with triple glazing. 
While 2-3 glazing panels provide security, weather resistance, and energy efficiency, you can also choose a special type of glass that can enhance the quality of the glass in a number of ways. This includes Low-E glass for added thermal efficiency, or toughened glass and laminated for added security. 
Below we've outlined the main types of glazing to help you determine the best one for your property. 
Double glazed wooden cottage windows
Modern cottage windows are equipped with double glazing to better insulate your windows. Double-glazed wooden cottage windows include two panes usually 12mm to 24mm apart. The space between is filled with air or argon gas, which is a poor conductor of heat. This helps prevent heat loss through your windows.
Double glazing is the standard for new and replacement windows. In the UK, government-enforced efficiency standards require new and replacement windows to be double-glazed and achieve a U-Value of 1.4 W/(m²K). Single glazing, on the other hand, has an average U-Value closer to 5.2W/(m²K). 
Therefore, while the initial cost of replacement wooden cottage windows may be higher, the long-term benefits of improved energy efficiency and lower bills make it a worthwhile investment.
Triple glazed wooden cottage windows
Triple glazing provides an even more energy-efficient and secure alternative to double glazing. Unlike double glazing, which consists of two sheets of glass, triple glazing includes three layers.
The gap between the glass panels in both double and triple-glazed windows is frequently filled with argon gas, a poor heat conductor. As a result, it traps heat in your house during the winter and prevents outdoor heat from entering during the summer.
While triple-glazed sash windows have numerous enhanced benefits, the additional expense may raise concerns. Triple glazing costs up to 30% more than double glazed wooden window prices, but there are several benefits that justify the investment, such as enhanced security, reduced noise pollution, and increased efficiency.
Wooden cottage windows secondary glazing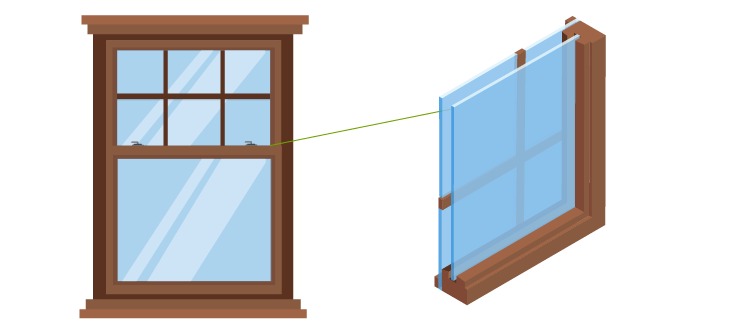 For those in listed buildings or conservation areas, you may need permission to change existing windows. Since double or triple glazing in replacement wooden cottage-style windows would thicken the window, it may not be permitted. Therefore, for added thermal efficiency that isn't too intrusive, you should consider secondary glazing options. 
For timber cottage windows, a matching wooden secondary glazing unit is most suitable. Luckily, there are lots of options out there in multiple styles, including sliding sash and casement.
Compare wooden cottage window quotes
Are you in search of new timber cottage-style windows? One way to keep the costs of your new windows down is by finding the right window company to handle the installation. It's essential that you compare quotes from multiple professional window companies before making a final decision to ensure your project is in the right hands.
Before choosing an installer, it's important to consider factors such as customer reviews and testimonials, certifications like FENSA registration, and warranty offers. At GreenMatch, we understand that finding the right company can be a time-consuming process, which is why we offer a free and reliable quotes service:
We'll provide you with up to 3 tailored, competitive quotes from installers in our network that you can compare.
All of the installers in our network have been vetted by us and are fully qualified according to the latest FENSA regulations.
We'll match you with the most suitable installers based closest to you, so you can take advantage of regional rates.
By taking just a few steps with GreenMatch, you can quickly and easily find the right company to install your new timber cottage windows. Our service is fast, free, and reliable. Click the button below to get started and find the perfect installer for you.
Quotes from local engineers
Payment by finance available
Save up to £170 per year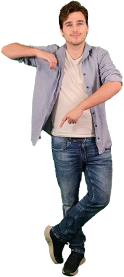 Optimise your home and save the planet
Frequently asked questions