French Windows UK: A Complete Guide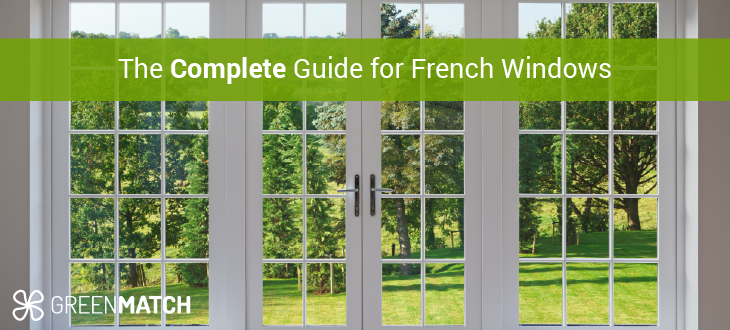 French windows are a timeless window style that can bring lots of natural sunlight into any home in the UK. They're popular because their aesthetically pleasing design can be customised with different materials and colour options. So whether you want to replace just one window or multiple windows, French windows are definitely a good choice.
To help you navigate the world of French windows, we've put together all the key aspects you need to know about French windows in the UK. From design to material, and installation to cost, this guide is your one-stop shop for all things French windows.
Are you ready to enhance your home and bring more natural light in with French windows? The first step is finding reliable window installers who'll offer you their best prices.
With GreenMatch, finding installers is easy because we do all the hard work for you. We vet different installers for you and in return, you can expect to receive up to 4 free quotes. That means all you have to do is compare and choose the one that's best suited for you. And the best part is that these are no-obligation quotes, so you only have to accept the quote if it's ideal for you.
Click the button below to start getting free quotes for French windows today!
Quotes from local engineers
Payment by finance available
Save up to £170 per year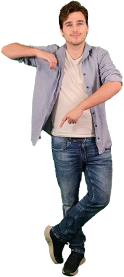 Optimise your home and save the planet
What are French windows?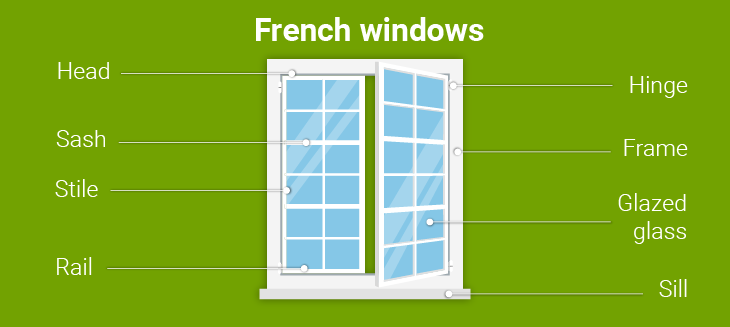 French windows are a popular window style for homeowners looking to brighten a room through natural light. With a high glass-to-frame ratio, they're made up of two double-paned units that are hinged on one side of the window frame. Hence, removing the need for a central post (mullion) between the units that you'd usually find in standard casement windows.
While French windows can be used on the interior, they're also very popular as exterior windows. But be careful not to confuse it with standard patio doors, which usually slide or fold open. You'll recognise French windows because the absence of a mullion means the windows can seamlessly open inwards, outwards, and sometimes both. This is called floating mullions because the mullion is attached to the frame.
Why are they called French windows?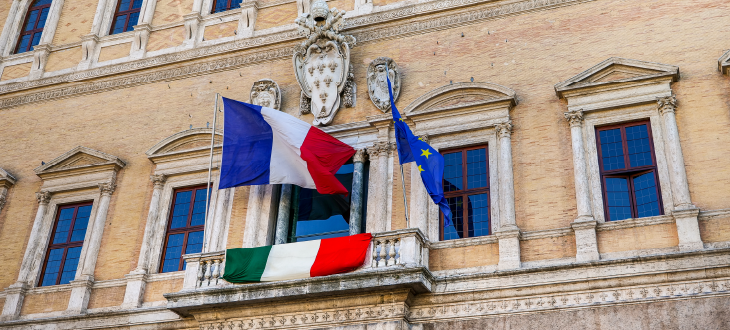 Despite the name, the windows we call French windows today aren't actually from France. French windows are often mistakenly thought to have originated during the Renaissance Era in France in the 16th century. But in reality, they originated from Italian architecture. And if you want to dig deeper into history, you could even say they came from Roman and Greek architecture.
And it's probably not surprising to learn that this naming confusion comes as a result of war. More specifically the Italian Wars. At this time during Renaissance Italy, Palladian architecture was popular amongst Italian architects. This particular style took a lot of inspiration from classic elements from Greek and Roman architecture, such as columns, arches, and domes. And amongst these designs was the basis of the French window we know today.
After the conflict, French soldiers brought back spoils of war, which not only included a range of Italian artwork, but also inspiration from Italian architecture that was later applied by French architects. They added their spin to it by adding more window panes into the structure. And that's the French window we know today.
French Doors and Windows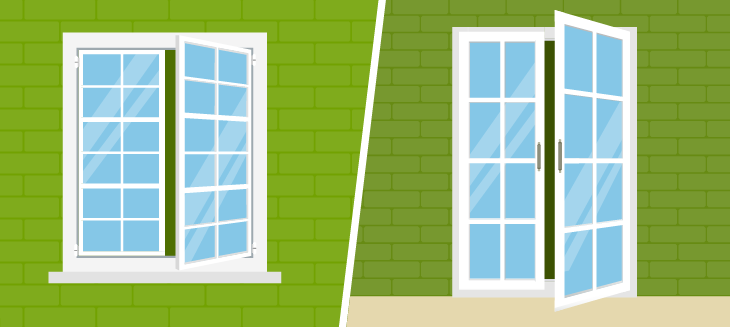 While we call them French windows, some are tall enough that the opening they create allows you to walk through them like a door. Hence, you might also hear them referred to as French doors or double French doors. While considerably larger than French windows, these doors are often used to connect indoor and outdoor spaces and provide ample light and ventilation.
They are made of either wood, aluminium or UPVC and can be designed to match the style and aesthetic of the home. Since their origins in Italian architecture, French windows and doors have become popular in the United Kingdom and are even a common feature in many homes around the world.
French doors: What is a French door?
In France, French windows are known as "portes-fenêtres", which translates to "windowed doors" or "door-sized windows" As the name suggests, these windows can also be tall enough that they reach the floor and are able to be walked through, essentially functioning as a door.
So when it comes to French windows and French doors, there's really not much difference besides the size and functionality. Granted, you can also expect there to be a different locking mechanism on each so that they're secure.
Exterior French doors
In UK homes, it is possible to have external and internal French doors. In fact, it is now common to see French patio doors used as a replacement for sliding glass patio doors because they let in more sunlight and natural air.
If you're worried about the security of external French doors, then you'll be reassured to know that they can be as secure as any standard door if properly installed and secured. However, the unique design of French doors, which typically consists of multiple glass panels, can make them more vulnerable to forced entry than solid wood or metal doors.
If you want to increase your home's security, it is important to use sturdy hinges, toughened safety glass, and strong locks, such as a multipoint locking system. You can also install security devices such as deadbolts or glass break sensors to enhance the overall security of the house.
Compare French Window Designs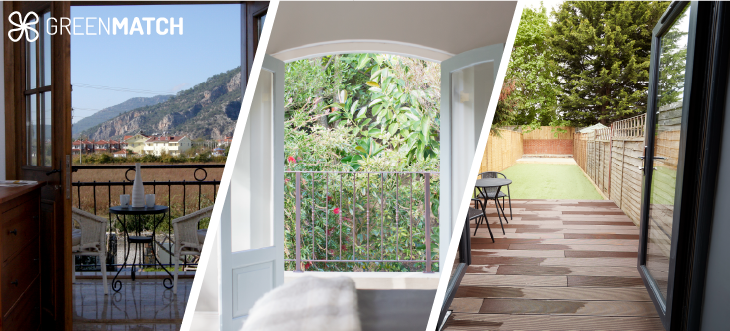 Many homeowners have been turning to French windows because not only are they able to provide access to the outside, but they also provide a great unobstructed view that lets in more natural light than standard windows. With so many customisable options, it has been a popular choice for those looking for functionality without compromising aesthetics.
Nowadays, you have customisable options for not only the window frame material, but also sometimes the colour. With so many options, comparing all the different French window options can be difficult. In this section we'll discuss all the options available when looking for a French window so that you're able to easily compare them.
UPVC French doors and windows
uPVC (unplasticised polyvinyl chloride) windows are one of the most popular French door materials for both new builds, window replacements and replacement French doors. It's known for its durability, low maintenance, and energy efficiency. All this at a more affordable price point than other common materials. We've summarised some of the pros and cons of these windows, but if you're interested in knowing more about uPVC windows, then read our guide on uPVC window styles.
uPVC French doors and windows
Relatively inexpensive
Available in a range of colours (including timber replicate)
Low maintenance and cleaning
Long lifespan
Good thermal protection
Non-paintable
Expansion and contraction
Aluminium French windows
French windows made of aluminium are known for their strength and durability since they can withstand harsh weather and resist corrosion. Their sleek and contemporary design alongside being lightweight makes them easily installed in most houses. We've listed the pros and cons below. You can also read more about aluminium windows in our guide.
Aluminium French windows
Increased security
Low maintenance
Long lifespan
Won't swell or warp
Resistant against corrosion
Low thermal performance
Prone to condensation
Wood French windows
Wooden French windows, also known as timber French windows, are a traditional choice for homeowners who prefer more natural looks that still offer insulation and versatility. You can also customise the looks through stain finishes and painting your wood to match your home. Read more about the pros and cons of wood French windows below.
Wood French windows
Good thermal performance
Distinct architectural aesthetics
Well-insulated and energy efficient
Customisable
Eco friendly
Paintable
Requires maintenance
High cost for quality
Susceptible to rot and warping
Casement French windows
French casement windows, as the name indicates, elegantly combines elements of both the popular casement windows and the aesthetically pleasing French windows. With this combination, you're able to reap the benefits of both functionality and appearance.
This French windows design consists of two casement windows side by side that open from the centre. If they were traditional casement windows, each window would open outwards with their own separate opening divided by a vertical post in the middle. But unlike traditional casement windows the French casement window provides one large opening absent of any obstructing posts.
Modern French windows
Despite being around for a while, the design of French windows hasn't changed much over the years. However, if you compare modern French windows to the traditional French windows, you'll find that they are more narrow in design.
A key advantage to modern French windows is the wide range of options for customisation–which you can read more about in the next section. It makes them a perfect choice for homeowners who are looking for a classic look with a modern twist.
There are many ways to modernise French windows. One of the most common ways is through style. So you can consider using more modern materials, such as aluminium, for a sleeker look. You can also consider modernising your windows with technology by installing automatic roller blinds or curtains that can be controlled via a smartphone or remote control.
French Window colours
The colour of your window frames are an important part to choosing windows. The colour can enhance your home's overall appearance and can help you better match your specific home's style. The most common window colours are white and black. But nowadays, with so many options, you no longer need to stick with standard or dull colours.
When it comes to French window colours, your options really depend on what window frame material you choose. For instance, while aluminium windows tend to come as either grey french windows, black french windows, or white french windows. You're also able to paint it to the colour of your choosing. Wood is similar in this regard because it's able to be stained and painted.
While there are a wide range of colour options, there are some things to keep in mind before deciding on a colour. The first being colour coordination and sticking to a colour scheme. Homeowners can easily match the colour of French windows or doors to the interior.
With that being said, you also shouldn't be afraid to mix and match colours. For example, you can choose a hue for the window frame and sash, while painting the trim the colour of other elements in your room.
The last consideration is to find colours that define your French door. This is especially if you want your French door to be the star of the room as people pass through to access the garden outside. You can accent your French door in many ways, but one of the easiest is by painting it a complementary colour to the trim.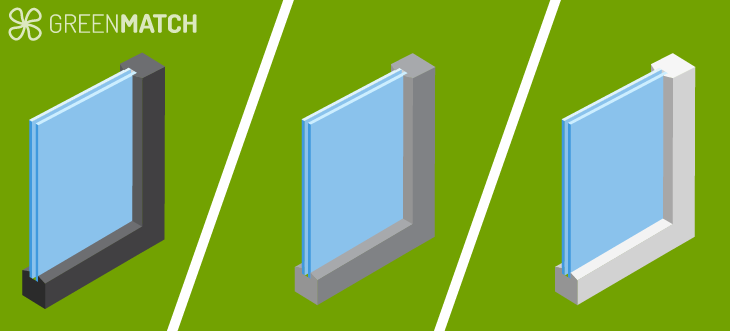 Are you ready to upgrade your home with stylish and functional French windows? It all starts here with comparing quotes from multiple qualified installers who can offer you their best deals on different window materials, colours, and styles. 
With so many choices for styles and materials, requesting a quote can be important to help you get realistic prices for your specific house and so that you don't go over your budget. GreenMatch can help match you with up to 4 qualified installers in your area who will offer you their best quotes. Then you get to choose the best deal that suits you.
This all is done for free and with no obligations! All you have to do is click the button below to fill in our quick form. We'll take it from there.
Quotes from local engineers
Payment by finance available
Save up to £170 per year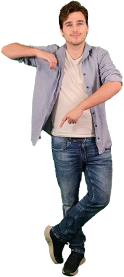 Optimise your home and save the planet
How Much do French Windows Cost?
If you're wondering how much do French windows cost or how much French doors cost, then the answer will primarily depend on the following:
The material you choose
How many windows you're installing
If you want double glazed windows
Whether you're installing new windows or replacing existing ones. 
On average, you can expect prices starting and ending anywhere between £1,125 and £1,750. We've broken down the price per material in the graph below.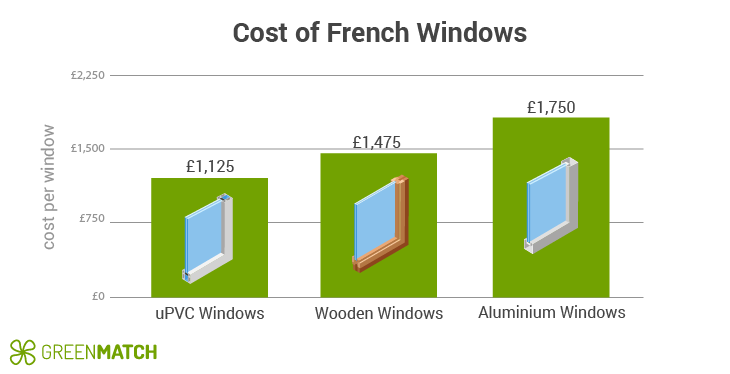 As you can see, uPVC is the cheapest French window material. So if you're on a budget and looking for cheap French doors or windows, you may want to consider uPVC. While wood tends to be the most expensive material, an alternative option if you still want to achieve that wood look is to add a textured wood grain effect.
While we've based our prices on actual window installations in the UK, there are a lot of factors that go into the cost of a French window. So depending on the work you need done and the French windows you prefer, your price could look a lot different than the average price we provided above.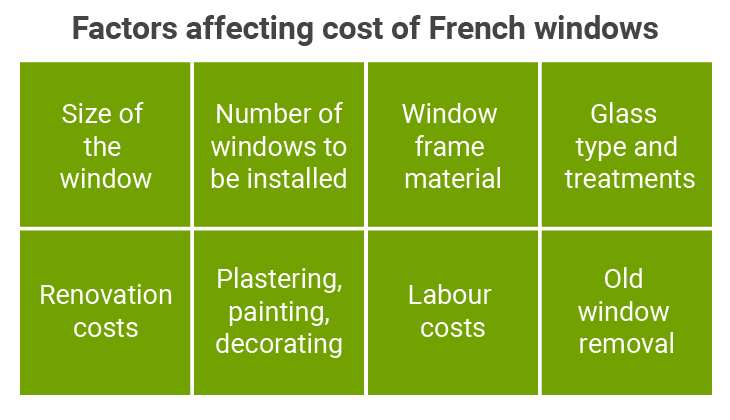 Before jumping in to install a French window, it's smart to make sure you fully consider the factors we've listed in the image above. By doing so, you'll ensure that you're providing your house with improved energy efficiency and enhanced comfort without going over budget.
A professional window installer can provide you with a quote that accounts for all of these factors. The key here is that you have to find multiple reliable installers so that you can receive different quotes to compare and choose the best deal. By taking the time to compare and make an informed decision, you can be confident that your new windows will meet your expectations while staying within your budget. 
To make things easy, we can provide you with free quotes from up to 4 different professional installers in your area. All you need to do is fill in our quick and easy online form and let us take it from there. That means no wasted hours spent on unnecessary phone calls and no risk of getting overcharged.
Just hit the button below and in no time you'll have natural light flowing through a French window into your charming home.
Quotes from local engineers
Payment by finance available
Save up to £170 per year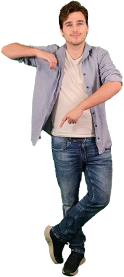 Optimise your home and save the planet
FAQ