French Windows Cost & Comparison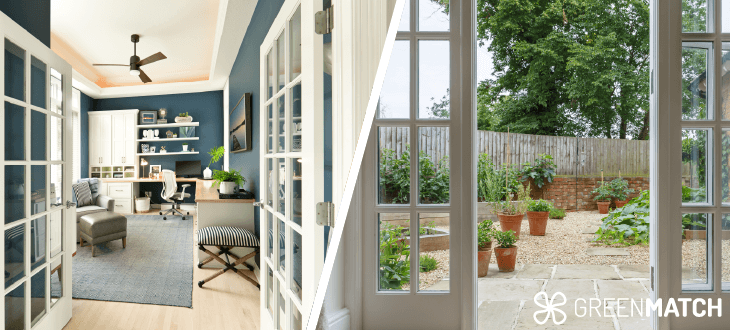 French windows are a popular choice amongst homeowners because of their elegant design that gives great natural light and energy efficiency. The cost of installing French windows can vary a great deal, there are a lot of factors to choose, such as material, style and installer. This can raise the question; how much are new French doors and windows? 
In this article we will guide you through the cost of french windows in the UK, so you know exactly what to expect when you go out looking for your new French windows. 
It can be a long process finding the right installer with the best French windows price. If you'd rather spend your weekend doing things you like than searching up the best window installers in your area, we can help you. 
We can provide you with free quotes from up to 4 local installers, giving you the choice of picking the right one that fits your needs. Quick and easy!
Quotes from local engineers
Payment by finance available
Save up to £170 per year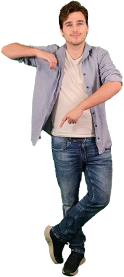 Optimise your home and save the planet
What is the cost of French windows in the UK?
The average installation cost of French windows will be around £1,700 if you are replacing an existing window. If you are installing a new window in a brick wall and with that making a new opening, the average costs will be around £3,000. 
Since French windows and doors mostly are the same, the only real difference being their size and locking mechanism, you will find that the prices mentioned cover both internal French doors, external French doors and French windows. 
Many things factor in when figuring out the price of your French windows, such as the material of your windows, the size and more often the location you live in. In bigger cities the price of windows is usually higher. The glazing of your window also plays a role in the price whether it is single, double or triple glazing. The replacement double glazed windows cost is often higher than the single glazing.
uPVC French doors and windows
As you may know, the cheapest type of windows are uPVC, this is also the case for French doors and windows. If you want to know more about the low prices of uPVC you can read all about UPVC Window Prices Online in our guide. 
In the table below you will find the average prices of uPVC French windows with the height of 210 cm, sorted according to glazing type.   
Average cost of uPVC French windows and doors
Fully glazed
£950 – £1,125
Half glazed
£975 – £1,200
Triple glazed
£1,500 – £1,625
Half triple glazed
£1,560 – £1,700
As uPVC windows are the material with the lowest price point, it is a perfect option if you are on a tighter budget.
Aluminium patio doors and windows
If your budget allows it, aluminium windows will fit into most homes, with the material's durability you will have these windows for a long time, and should not worry about replacing them anytime soon. 
As aluminium is an expensive material, the cost will be higher for aluminium French windows compared to uPVC. 
In the table below you can see the average cost of aluminium French windows with single glazing in different sizes.
Cost of aluminium French doors and windows
119 cm x 209 cm
£1,305
149 cm x 209 cm
£1,410
179 cm x 209 cm
£1,475
If you want aluminium French windows or doors in other sizes, the prices may either be higher or lower. This is an estimated average cost of a window size that is popular in the UK. 
If you are interested in having all your windows with aluminium frames we have compiled an aluminium windows price list (UK) so you can have an idea of what it will cost you to match your windows with your modern french doors. 
Wood French windows and doors
For timber French doors or French doors with a wooden look, you have different options for materials. Two of the most popular materials in the UK are solid oak laminate and softwood. With great durability and water resistance, these materials are really good to use as frames for French doors.
In this table you can find the average price point of French windows in solid oak laminate and softwood.
Average cost of wood French windows and doors
Solid oak laminate
£2,100 – £2,400
Softwood
£1,350 – £1,750
Of the two wooden materials, softwood has the lowest cost. 
If you compare the three types of materials – uPVC, aluminium and softwood. You will see that the uPVC French windows are the cheapest. This comparison is made of windows with single glazing.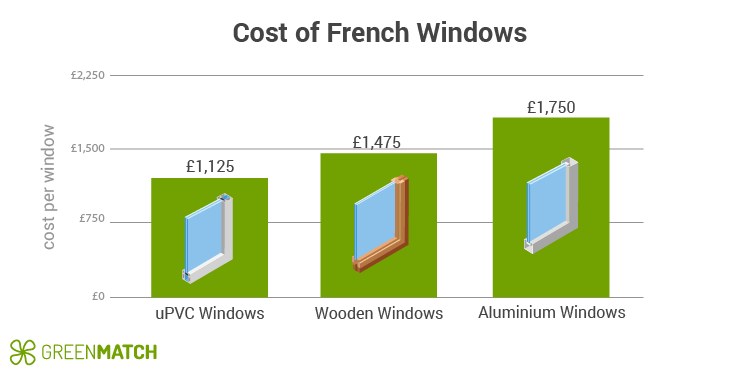 Have you decided the material you want for your new French windows? If you're still unsure we can put you in contact with up to 4 window installers, they will provide you with guidance and quotes for your new window project. The process is quick and easy and will save you plenty of time on researching the right installer. 
To start the process and get free French window quotes press the button below. 
Quotes from local engineers
Payment by finance available
Save up to £170 per year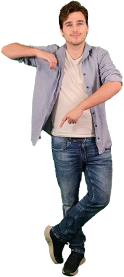 Optimise your home and save the planet
The cost of installing a French door or window
Your price will depend on your needs and wishes for your exact installation. One of the big parts of the installation cost is the cost of labour. On average you can expect the cost of a qualified window fitter to be around £180 per day. 
If your project is a two-person job you can expect an additional £100 for a second fitter.
The exact cost of installing French windows will then depend on the size of the project – number of windows and size of windows. Since most homes opt for one set of French doors or windows, the average timeframe for French windows installation is one or two days. 
Price of installation depend highly on design and other specifications. If you want French windows with Georgian bars the installation time and delivery will likely be longer. The price will typically also be higher.
If you choose sliding doors the installation time will most likely be closer to two days, due to the more complex installation process. 
The complete French window installation cost will depend on your specific project, but you can usually estimate that 70% of the installation cost will be materials and 30% will be labour.
Are your current French windows double pane you might need to further look into the cost to replace a double pane window. 
Do you need planning permission?
You do not need planning permission when installing or replacing your French windows and doors. This type of installation is covered under permitted development rights. 
If you live in a listed building there might be some building regulations you need to follow. As well if you live in a conservation area you will likely need permission. If you are unsure of your building or area, we advise that you check with your local authority.
Any type of door or window installation will often not need planning permission. If you're looking for other types of windows we also have a guide on composite windows prices. 
Get the best French windows price
To get the best price on your new French windows it is always advised to compare prices from multiple installers. This can be done in two ways; you can spend numerous hours researching installers and companies, contacting each of them with your project, and then get quotes from the different installers.
Or, you could fill out our quick and easy form with a few questions about your project and contact details, and let us put you in contact with up to 4 window installers in your area. They will come to you with their best deals and you only have to pick the one that fits within your budget. 
It really is that easy!
Quotes from local engineers
Payment by finance available
Save up to £170 per year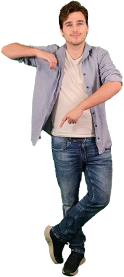 Optimise your home and save the planet
Frequently Asked Questions