Aluminium Windows Cost in 2023: How Much Are They?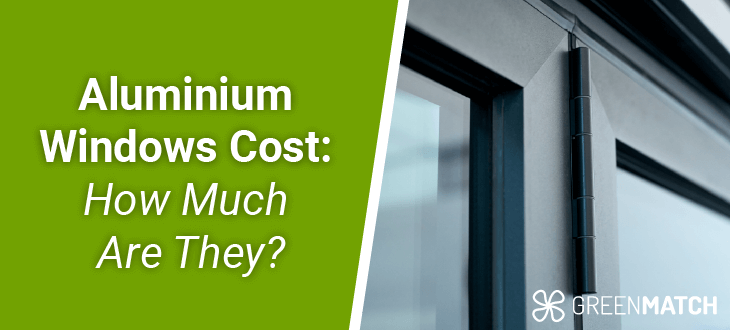 Aluminium windows have become increasingly popular in the UK because of their durability and sleek design.
In this article, we will explore the cost of aluminium windows in the UK and break down the factors that influence their pricing.
Whether you're considering replacing your current windows or building a new home, understanding the costs of aluminium windows can help you make an informed decision about your investment.
To get the best price on aluminium windows you should always compare quotes from multiple installers. Rather than spend many hours looking for installers with the best price, you can let us do the hard work. We'll put you in contact with up to 4 installers who each will give you their best deal on aluminium windows for your home.
Quotes from local engineers
Payment by finance available
Save up to £170 per year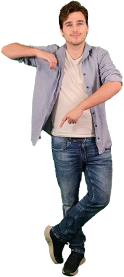 Optimise your home and save the planet
What's the cost of aluminium windows?
Aluminium windows are a great option for window styles and are a great choice for most homes when upgrading windows. While aluminium windows generally are more expensive than uPVC windows you will also find that the price of aluminium windows are often lower than the price of timber windows.
With a lower price than timber windows, aluminium is a great option if you want windows that will last you longer than uPVC in a material that is still more durable and weather resistant than timber. There are options for cheap aluminium windows that can cost roughly £350.
The cost of aluminium windows depends on many different factors:
Window size
Type of glass
Number of windows
Window style
The larger the windows the more material is needed, so a large aluminium window will often have a higher price compared to a smaller one.
Should you want tempered or tinted glass in your aluminium windows this upgrade will impact the cost of the aluminium windows you choose.
Along with the type of glass and window size the number of aluminium windows you need will also affect the overall cost of your new windows.
In the table you can find an estimate of the cost of double glazing aluminium windows according to the number of windows.
Cost of aluminium windows with double glazing

| Number of windows | Estimated price |
| --- | --- |
| 4 to 6 | £2,100 – £3,150 |
| 8 to 10 | £4,200 – £5,250 |
| 12 to 14 | £6,300 – £7,350 |
| 16 to 18 | £8,400 – £9,450 |
One of the most important factors that affect the aluminium windows cost, is the window style. The style of your windows will have a great impact on the amount of materials needed. You will often experience that casement aluminium window costs will be lower than french windows cost.
In the following, you can find the prices of aluminium windows in the styles of casement, sash and tilt and turn.
How much is an aluminium window?
As mentioned above the cost of aluminium windows depends on many factors, while this will always be the case we have tried to calculate the average cost of aluminium windows in the UK.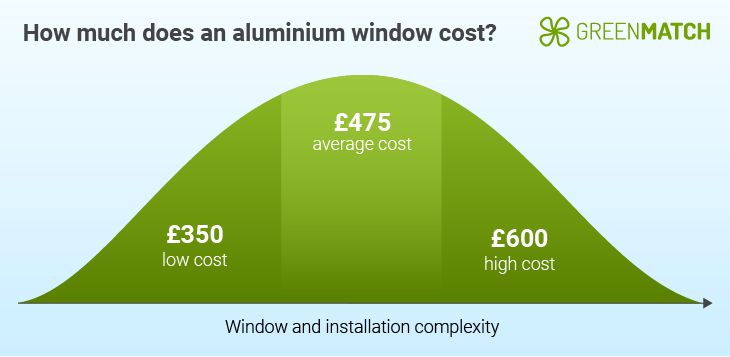 We've found the lowest price of aluminium windows in the UK is £350. This price will typically be for windows in the lower quality range. For top design aluminium windows you can expect a price of £600.
The average price of aluminium windows in the UK will be around £475. This is only an estimate, different outside factors like demand and cost of material can have an effect on the prices.
Special security or design features, such as aluminium flush casement windows, will also increase the overall price.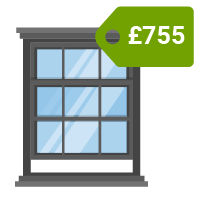 How much do aluminium sash windows cost?
The cost of sash windows often depends on the frame material, and while this popular window style traditionally comes in a wood frame you can now often find this window style with aluminium frames.
The average cost for one aluminium sash window is £755. This price is only an average, meaning you will be able to find prices that are both higher and lower out on the market.
Sash windows are among some of the most expensive window styles. This is mostly because of the lock technology of the window that distinguishes it from the more common window styles like casement.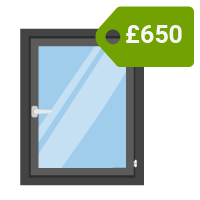 Casement aluminium window prices
For casement aluminium windows the average price will be a bit lower than sash windows the price will come at around £650.
Windows in casement style will often be the cheapest window style for all kinds of framing materials. Also, double glazed windows prices will be lower for casement windows compared to other window styles like the popular tilt and turn windows.
How much do tilt and turn aluminium windows cost?
Tilt and turn windows price depend mostly on the type of frame material. Aluminium tilt and turn windows in the UK are one of the more expensive window styles, so you can expect to pay more for this type of window than others.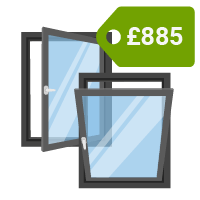 The average price for a tilt and turn aluminium window will be around £885.
The high price for tilt and turn windows is because of the unique functionality of this type of window. This functionality makes the window more complex and this adds to the price of this window style.
The cost of aluminium windows will vary depending on a lot of factors, to get the exact price you should always ask a professional.
To get in contact with a professional that can give you quotes on your new windows can take up a lot of hours, especially if you want multiple quotes, which is always recommended.
To save you many hours we have made it easy for you to get in touch with professional window installers. All you have to do is fill in 1 short form, you will then receive up to 4 quotes from installers in the UK. This is all free and with no obligation.
Quotes from local engineers
Payment by finance available
Save up to £170 per year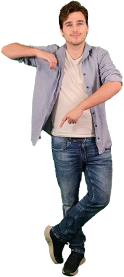 Optimise your home and save the planet
Is aluminium more expensive than uPVC?
When deciding on new windows it is often worth looking at different kinds of materials. The comparison is often the cost of aluminium windows vs uPVC windows, both kinds of materials have some great benefits like their sleek look and the low price compared to wood frames.
Average cost of window type for 1 window
Window type
uPVC
Aluminium
Casement
£545
£650
Cottage
£575
£930
Tilt & Turn
£635
£885
Sash
£650
£755
Bay
£1,500
£1,755
Compared to uPVC, aluminium is a more expensive material. So you will find that the average price of aluminium is higher than uPVC. For a bigger overview of uPVC prices see our article: uPVC windows online prices.
While uPVC compares with aluminium on many aspects, aluminium windows have a longer lifetime, and can even be recycled. So while the initial cost of aluminium windows is higher it is an investment worth considering.
Aluminium windows cost per m2
On average you will find the cost of aluminium windows per m2 to be around £550. This is an average cost, so the exact price will often depend on the installer you choose.
The price will also depend on whether you want any finishes on the frames and the type of glazing you want. Triple glazed windows costs will often be higher than double glazed.
To get an exact price you should always consult a professional. This is something we can help you with. We have a great network of local and national window installers all with knowledge and expertise on aluminium windows.
If you fill in our one form, we can put you in contact with these installers, you will then receive up to 4 quotes that match your request. This makes it easy for you to compare the quotes and make sure that you don't overpay for your new windows.
Essentially you will save time by not doing research on installers yourself and money by comparing different quotes side by side.
Quotes from local engineers
Payment by finance available
Save up to £170 per year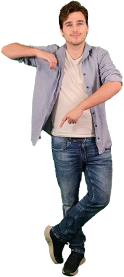 Optimise your home and save the planet
What is the disadvantage of having aluminium windows?
Even if you get the best aluminium windows in the UK installed there are some disadvantages to aluminium windows, that you need to consider before buying these types of windows. The disadvantages are not many, but they may affect whether aluminium windows are the right choice for you and your home.
Corrosion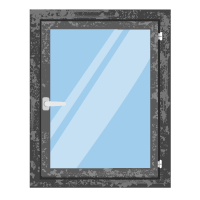 Aluminium can get damaged if it's in contact with air that has a lot of salt. This will likely happen more often if you live near the sea, where the air has a higher volume of salt. The salt reacts with the aluminium, and it can damage it, making the material weaker and affect its live-span.
This is only a problem to consider if you live close to the sea. For areas close to the sea, that have a high risk of corrosion, there is a special type of finish that can be used. That can maybe make the price a bit higher, but will make the possibility of corrosion to almost a minimum.
This is only a problem to consider if you live close to the sea. If there's no seaside close to your house you do not need to worry about corrosion.
Condensation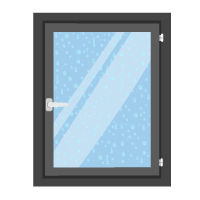 Other than corrosion, aluminium windows can also have issues with condensation because of their thermal properties. Unlike wood or uPVC windows, aluminium is a highly conductive material, this means it can quickly transfer heat from inside to outside or the other way around.
In cold weather, when the inside of the window is warm and humid, the warm air can come into contact with the cold surface of the aluminium frame and cause the moisture in the air to condense into water droplets on the window frame.

Condensation can sometimes lead to issues such as mould and mildew.
Low energy efficiency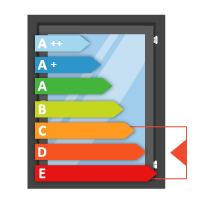 The issue of condensation makes aluminium windows susceptible to a low level of energy efficiency. Both condensation and the level of energy efficiency can be helped by adding double or triple-glazed windows that have insulating materials.

There is a limit to even triple glazing, should you live in a climate with extremely cold winters aluminium windows might not be the best option. Could be better to look into composite window prices, this type of window works good even in extremely cold weather.
Get the best aluminium window price
You can find many different price ranges on aluminium windows on the web. This can make it hard to figure out what you will actually pay for this kind of window if you add them to your home.
To make sure that you get a correct price and don't overpay, you should always collect quotes from multiple installers. This will make it possible for you to compare the prices you receive and make it easier for you to know if you are about to overpay or not.
It can take hours of your time to find the right installers, get in contact with them and then get quotes from all of them. If you want to save that time, you can fill in our short form and expect to receive up to 4 quotes from window installers. These quotes are all free and with no obligation.
Using our service will make the process quick and easy for you!
Quotes from local engineers
Payment by finance available
Save up to £170 per year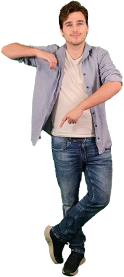 Optimise your home and save the planet
FAQ