uPVC French Windows and Doors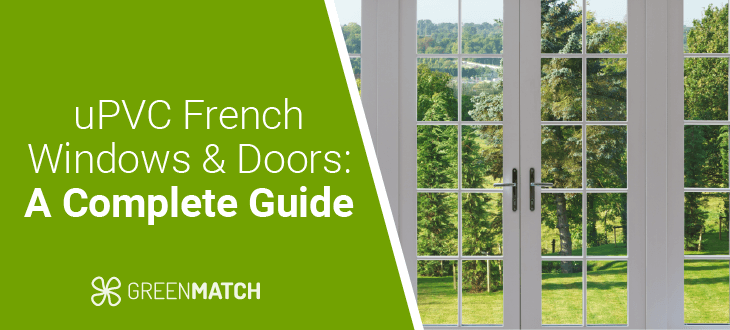 Choosing suitable windows and doors is a big challenge no matter if you're constructing a new flat or modernising your own house.
There are various types of windows and doors with a wide range of applications and costs, and you might wonder which one to choose.
If you're struggling with this question, you've come to the right place. In this article, we're going to introduce one of the most durable and cost-effective options for your windows and doors: uPVC French Windows and Doors.
So don't waste time searching for other options. Here, you'll learn everything about French windows and doors to help you decide whether French windows and doors will be suitable for your home. 
Looking for new French windows in uPVC for your home? At GreenMatch, we help homeowners kickstart their search by directly matching them with up to 3 local uPVC French window installers.
With up to 3 quotes, you can carefully select the installer who appeals to you the most. All of the installers in our network are vetted by us and qualified according to the latest FENSA regulations. 
It's simple: fill in the form, and soon you'll hear from professional installers willing to offer a fixed, tailored quote for their installation services. 
All of our quotes come 100% free and with no obligation. Get started today by clicking the button below.
Get Quotes From Local Installers
Fill in the form in just 1 minute
What are French uPVC windows?
French uPVC windows are a pair of casement windows that you can open both inwards or outwards. In French windows, there is no vertical frame between two sides of the window, and therefore, there is no obstacle between you and the street. So you'll have a full and unobstructed view of the street.
Moreover, these long uPVC windows have friction hinges on both sides, allowing you to open the window as far as you like without being worried if it's fixed.
There is a common mistake among people that they think these windows originate from France. However, this type of window has come from Italian architecture in the renaissance era. This should also be noted that some believe that Romans or even Greek are the first users of this style of window.
These windows range in width from 14 inches to 35.5 inches, and height from 29.5 to 77.5 inches. French windows have traditionally been made of timber, which is a high-maintenance material. They can now be made from alumininum or even uPVC both of which require far less maintenance.
French windows and doors are often decorated with Georgian bars in different layouts. They don't serve any other purpose than aesthetics and give a traditional appearance to the windows. They can be  applied to the surface of the glass rather than structurally dividing the glass panes. This allows for easier maintenance and cleaning of the windows while still achieving the desired aesthetic. 
What is special about French windows?
Now, let's take a closer look at the benefits of using French windows:
Full View: As mentioned earlier, the main difference between a normal casement window and a French window is the mullion. Without a mullion, French windows open out into the world. This maximises the view that can be gained when both sets are opened together, as well as the fact that the exterior view is incorporated into the interior design. They are typically set up in pairs across the exterior wall of a large room in multiples. 
Ventilation: One of the key benefits of French doors is their ability to provide excellent ventilation. With both sets of doors opened together, French doors allow fresh air to flow freely into the room, creating a refreshing and airy living space. This not only improves the overall air quality of the home but can also reduce the risk of moisture buildup, which can lead to issues such as mouldmold and mildew. Additionally, French doors can also provide a source of natural ventilation that helps to reduce energy consumption and lower energy bills. 
Maximum Light: The fact that there is no mullion has another advantage. It increases the amount of glass surface used in the window, instead of the frame material. This will allow you to fill your flat with as much sunlight as possible.
Feeling More Space: French windows can make a small home feel more spacious since they open up your home space and give a room a bright and airy feel.
Less Energy Consumption: uPVC French windows can greatly help you reduce your monthly energy bills. The reason is that they're well-insulated and the U-value is at its minimum. Therefore, the amount of heat loss is reduced, and your home will spend less energy.
The different styles of uPVC French windows 
uPVC windows are now the most popular and energy-efficient type of French windows. uPVC windows are really durable so you won't have to pay for maintenance on every occasion.
There are many different uPVC French window designs. How many types of uPVC windows are there? Below we've listed some of the most popular uPVC window styles.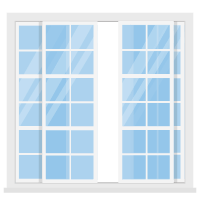 Sliding French Windows
A sliding door is another excellent option, whereas French windows often open in or out on a hinge. Sliding French windows sit on a track so that you can make them slide open and close easily. They're usually built with a stationary and a mobile side.
These types of windows are usually made of metal frames like Aluminium. Of course, when you use this style, you have large glass panels in order to create enough surface to let the light in. Also, this type of window is a bit expensive because of the sliding mechanism.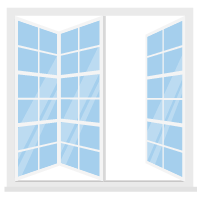 Bifold French Windows
Bifold French windows are a bit different from normal French windows. In fact, they use both a track and hinges to provide more convenience in opening the window. They are usually made of 2 or more sides that are connected using a hinge.
uPVC French Casement Windows
uPVC French casement windows are the most common type of French windows these days. French casement windows in uPVC are beautiful, provide as much light as possible, and a high energy performance.  
uPVC French Window Colours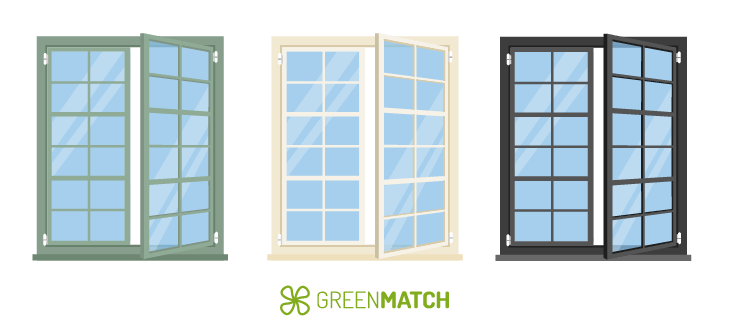 Here is a list of the most popular colours for uPVC French windows:
Black uPVC windows
White uPVC windows
Wooden Effect uPVC windows
The colour is really dependent on your design preferences but luckily there is a wide range of colour available that will complement any interior or exterior aesthetic.
A french door is a type of double-side door that usually has glass panes all over its length. The main feature of French doors is that they usually have a pair of doors instead of a single one. Just like French windows, French doors also don't have a vertical mullion between two sides. That's why French doors are usually referred to as French windows. 
You can also choose from a variety of bar layouts, such as a Georgian windows in uPVC.
If you're still unsure about how well-suited your home may be to French windows, or about which style you should go for, then it's best to consult a professional installer for some tailored advice. 
Luckily, at GreenMatch, we have a wide network of installers willing to help you secure the new windows that your home deserves. 
Connecting with installers through GreenMatch makes the process of comparing quotes so much easier- rather than individually researching and calling installers, you can instead wait to be contacted by the installers themselves. 
All you have to do is fill in the short form, linked below. Then, within 48 hours, you'll hear from up to 3 installers. This saves you all the time and effort of going it alone. 
Simply fill in the form to begin.
Get Quotes From Local Installers
Fill in the form in just 1 minute
uPVC French Doors 
uPVC French doors are commonly referred to as French windows. These double-door uPVC French doors are usually hinged on two sides and provide as much opening area as possible. 

Most of the advantages of other uPVC doors apply to uPVC French doors. These types of doors are durable, thermally efficient, weather-resistant, and often tough. Since they will be double-glazed, uPVC French doors will maintain heat in and keep sound out quite well.
What is a uPVC French door? 
These are actually one of the most efficient doors on the market. Let's look at the technical details of French doors: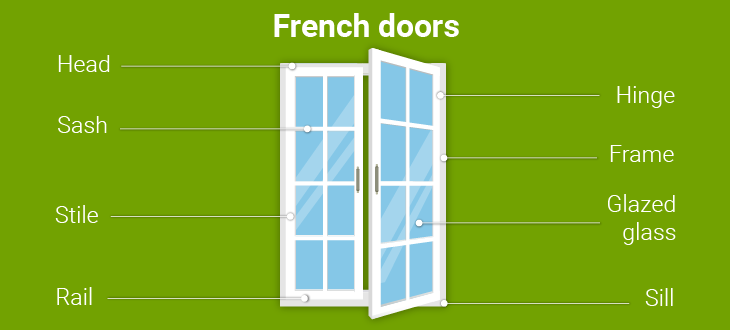 The profile of the frame of uPVC French doors has been designed to be thermally efficient. In other words, they'll have minimum air infiltration and thermal conduction which helps reduce your monthly energy bills.
French doors are also made in different types. Here are some of the most popular types of French doors:
External French Doors: An external French door is usually installed with toughened safety glass or double glazing in order to provide a safeguard against both the weather and intruders.
Internal French Doors: With internal French doors, traditional glass doors are usually used because they do not need the toughened glass feature. That's why internal French doors are less expensive.
Wood French Doors: The frame is made of wood.
Glass French Doors: The doors are made of glass.
Metal French Doors: The frame is made of metals like Aluminium.
Sliding French Doors: They use a track to open the door.
Bifold French Doors: They use both bifold and French mechanisms.
French Pocket Doors: These types of pocket doors are made of solid panels and are a great choice if you want to add elegance to your entryway.
That's why we recommend you opt for uPVC French doors and buy them for your own flat or house.
At GreenMatch, we can find the best installers for your exact requirements. Therefore, if it's French doors you're after, then we can find installers who specialise in French door installation. 
What's more, we'll ensure to connect you with the most suitable installers based in your local area. This let's you take advantage of the best local rates. 
To find the best French windows and door installers, click on the button below.
Get FREE French Windows Quotes now
Fill in the form in just 1 minute
How much do double-glazed French doors and windows cost?
Last but not least, the cost of French windows and doors is significantly affected by the frame material.
There are a few key factors you have to consider before going for French windows and doors. Here is the list of these factors:
Number of windows/doors you want
Style (doors/windows, internal/external, etc.): Since French windows and doors mostly are the same, the only real difference is their size and locking mechanism, you will find that the prices mentioned cover both internal French doors, external French doors and French windows. 
Glazing: The glazing of your window also plays a role in the price whether it is single, double, or triple glazing. The replacement double-glazed windows cost is often higher than single glazing.
The installation costs

: The average installation cost of French windows will be around £1,125 if you are replacing an existing window. If you are installing a new window in a brick wall and with that making a new opening, the average cost will be around £3,000. 
Frame material: As uPVC is the cheapest frame material, uPVC windows and doors are perfect options if you are on a tighter budget. If your budget allows it, aluminium windows will fit into most homes, with the material's durability you will have these windows for a long time, and should not worry about replacing them anytime soon. As aluminium is an expensive material, the cost will be higher for aluminium French windows compared to uPVC.
In the table below, you'll find the average prices of uPVC French windows with a height of 210 cm, sorted according to glazing type. 
Average cost of uPVC French windows and doors
Measurements (mm)
Style
Price range
1565 x 900
Glazed
£750 – £950
2200 x 2090
Glazed
£880- £1,125
1565 x 900
Triple glazed
£1,050 – £1,330
2200 x 2090
Triple glazed
£1,230 – £1,575
In the table below you can see the average cost of aluminium French windows with single glazing in different sizes. 
Average cost of Aluminium French windows and doors
Measurements (mm)
Glazing
Price range
1565 x 900
Glazed
£975 – £1,235
2200 x 2090
Glazed
£1,145 – £1,465
1565 x 900
Triple glazed
£1,365 – £1,730
2200 x 2090
Triple glazed
£1,600 – £2,050
Remember that If you want Aluminium French windows or doors in other sizes, the prices may either be higher or lower. This is an estimated average cost of a window size that is popular in the UK. 
For timber French doors or French doors with a wooden look, you have different options for materials.
Two of the most popular materials in the UK are solid oak laminate and softwood. With great durability and water resistance, these materials are really good to use as frames for French doors.
In this table, you can find the average price point of French windows in solid oak laminate and softwood.
Average cost of Timber French windows and doors
Measurements (mm)
Glazing
Price range
1565 x 900
Glazed
£1,125 – £1,425
2200 x 2090
Glazed
£1,320 – £1,690
1565 x 900
Triple glazed
£1,575 – £1,995
2200 x 2090
Triple glazed
£1,850 – £2,365
Get the best uPVC French windows prices
To ensure you're receiving the best possible deals for your new French windows, then we always recommend that you compare quotes from multiple installers. This way, you can get a sense of the most accurate installer rates, and choose the installer who makes the most competitive offer. 
With that being said, it can be difficult to navigate the sea of potential installers out there. Remember that a quote for cheap French doors might actually be a sign of a poor-quality installer. There are several steps you can take when choosing an installer that can assure you of their quality: 
Check customer reviews and testimonials.
Check for FENSA accreditation, and any other industry-specific certifications.
Check the length of their warranties and guarantees.  
As you can probably tell, there are a lot of important steps that come with deciding the right installer for your new windows project. To save yourself all this effort and time, use GreenMatch's free quotes service. 
The way we see it, you can either painstakingly search, and re-search, for installers, or you can leave it to the dedicated team at GreenMatch. 
The 2 Ways to Get the Best French Windows Online Prices
The 2 Ways to Get the Best French Window Prices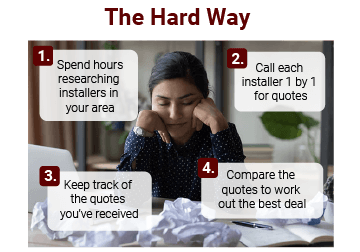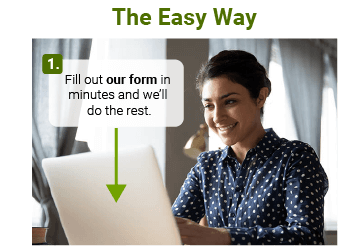 Get FREE French Windows Quotes Now
Fill in the form in just 1 minute