Cream uPVC Windows in the UK: Styles and Costs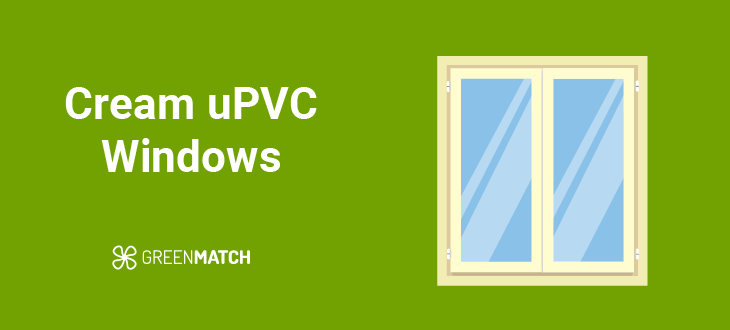 When it comes to choosing the right windows for your home, cream uPVC windows are one of the best options you can choose. The uPVC material itself comes with great durability, noise reduction and a high level of insulation.
Opting for cream uPVC windows instead of the traditional white colour will make your home more inviting and add a different aesthetic to what you usually see.
Cream uPVC windows can be a great option for most UK homeowners, it can fit well into most house styles and even add to the appearance of the house.
To make sure you get the best deal on cream uPVC windows, it is always recommended that you collect and compare quotes from different installers. Researching and collecting quotes yourself can take up many hours of your time.
Why spend hours and hours on end, when you can just use 1 minute of your time? Filling in our form will only take 1 minute and you will be contacted by up to 4 installers that will give you their best quotes. These quotes are free and with no obligation.
What are cream uPVC windows?
Cream uPVC windows are one of the most energy efficient frame materials you can choose when deciding on your new windows. uPVC has become really popular amongst British homeowners and with good reason, the durability and affordability of the uPVC makes it a great option for windows frames. There is a large range of uPVC window styles in the UK, so it is easy for most homeowners to find one that fits into their home.
Among the more popular styles in the UK are uPVC French windows and uPVC Georgian windows. These styles were originally made with wood frames which were high maintenance and expensive to replace. With the technology of uPVC it is now cheaper to get these window styles and they can even provide a high level of energy efficiency.
Along with the great variety of different styles of uPVC windows there are also a great assortment of colours to choose from in the world of uPVC windows. This makes it possible for you to get the exact windows that you want.
You can choose among several traditional coloured uPVC windows like cream, white or brown uPVC or try to go more bold with uPVC windows green. The only limit is your imagination.
Are cream uPVC windows more expensive than white?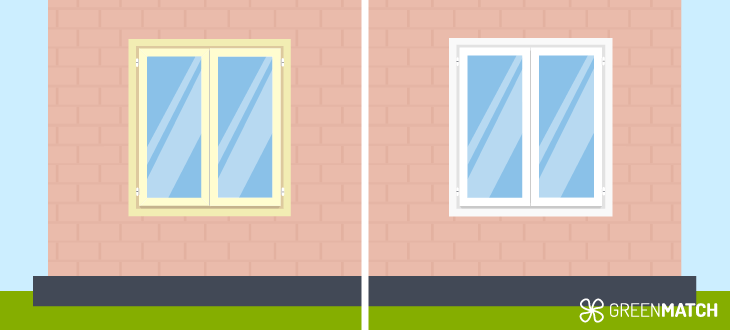 On average you will find that coloured uPVC windows, including cream uPVC windows and uPVC windows grey, often cost 10-20% more than regular white uPVC windows. The exact price will depend on the frame size of your windows.
Depending on your desired window, you can expect different costs. The average price of white uPVC windows starts at £160 (per window) and will then increase depending on the number of windows and style. For cream coloured windows you can then expect the price to start at around £200.
In general, uPVC windows are the cheapest option even when you choose cream coloured as it is cheaper than aluminium and timber windows.
To get the best deal on cream uPVC windows you should always compare multiple quotes, if you do so you limit the risk of overpaying.
We have made it easy to compare quotes from different installers located in the UK. All you have to do is fill in one form, and we will match you with great certified installers. By filling in the one form you will save plenty of time on research and contacting installers yourself.
The quotes you'll receive are free and with no-obligation.
What is the best cream uPVC window style?
What is great about cream uPVC windows is that they can be used in many different styles, so whatever style you already have or want to have should be possible with this type of window.
In the following you can read more about some of the most popular window styles that cream uPVC windows can be a part of.
Cream uPVC windows and doors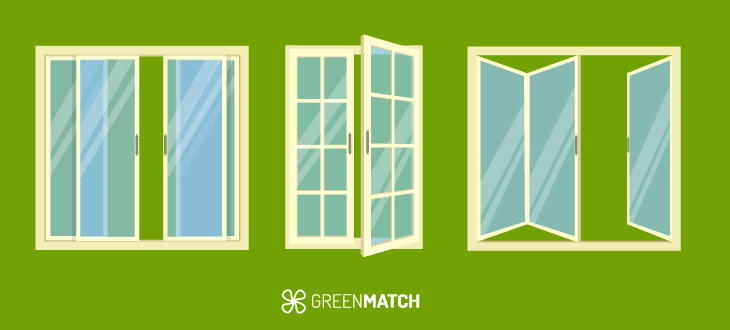 Cream coloured uPVC can be used for both windows and door frames. Both sliding doors or traditional French doors can have a cream uPVC frame. The cream uPVC frame comes with plenty of benefits such as:
Great durability
High level of insulation
Low maintenance
Weather resistance
Customisable
The cream colour will fit into most homes and will give another feeling than the bright white colour.
Cream uPVC sash windows
Cream uPVC sash windows are a great option if you want the traditional functionality and look of sash windows but with the modern technology of uPVC windows. The cream uPVC sash windows will make your home look more inviting.
Cream uPVC sash windows are a great window style where you can benefit from good ventilation compared to many other window styles.
Cottage cream uPVC windows
For your cottage cream uPVC windows are a great option. The cream colour is more calm than the regular white, and while white windows will provide a lot of brightness, the cream uPVC windows will make the atmosphere more inviting.
Cottage windows have traditionally been small and short but with the easy customisation you can choose long uPVC windows for your cottage. This will add more natural light to your cottage.
How can you get cream uPVC windows?
When you're looking into replacing your old windows with new energy efficient cream uPVC windows you should always make sure that you get multiple quotes from different installers. When you have multiple quotes you can easily compare them side by side and make sure that you don't overpay for services or materials.
When finding multiple quotes for your cream uPVC windows, there is an easy way and a hard way.
The hard way in which you will use hours of your day on contacting and requesting quotes from already busy installers, this can eventually prolong the process and you'll have to wait on your new windows.
The easy way is to fill in our one online form, by filling in the form you'll receive up to 4 free and no-obligation quotes from certified installers. Filling in the form takes less than a minute and can be done right on your phone now!
FAQ