uPVC Windows Green Frames: Compare Quotes and Save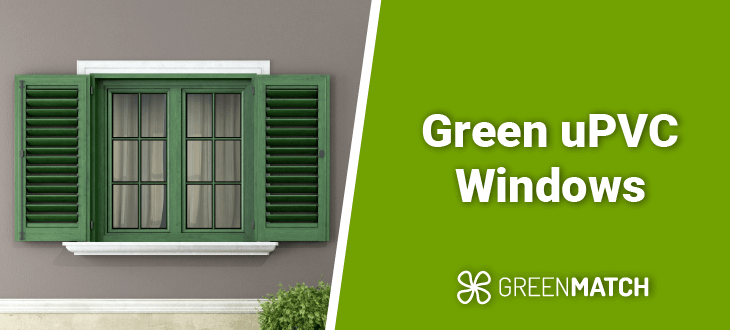 Green uPVC windows have gained popularity over the years due to a unique aesthetic that can make the exterior more stylish and many other benefits, such as long lifespan and affordable price.
More homeowners want a unique home and green uPVC windows can give that without you needing to break the bank.
If you want to get the best deal on your new green uPVC windows you should always compare quotes from multiple installers. Comparing quotes will ensure that you don't overpay for your window installation. The process of collecting quotes can often take many hours of researching and contacting suppliers.
We can save you all that hassle. With our service you only have to fill in one short form, then you will be contacted by up to 4 certified installers, they will each give you their best quote. It will then be your choice to pick the one that best fits your needs.
Our service is free and with no-obligation.
Why choose green uPVC windows?
uPVC windows green is a great option for you, if you want a unique home with a different aesthetic while still considering the environment and keeping your house green and energy efficient.
While green uPVC windows will have your home looking green, the uPVC material will keep the inside of your home green. uPVC windows have a high level of insulation, ensuring that the warmth is kept inside your home during winter. With double glazing or triple glazing windows you will also keep the warmth out during summer, so your home stays cool.
Most uPVC windows are made from recyclable materials, this makes it a great option if you want to consider the environment when choosing new windows. uPVC has a long lifespan as well, so once you have invested in these types of windows you won't need to replace them for at least 20 years. The great durability of the window frames further ensures this.

You can add a splash of colour to all kinds of windows styles in uPVC. Even Georgian style windows can have green uPVC window frames.
Learn more about "What is a Georgian bar on a window?" by checking out our uPVC Georgian windows page.
The great thing about green uPVC windows is that there is more than just one shade available. Among the most popular ones are sage green, sometimes referred to as willow green.
Chartwell green is also a popular choice of green uPVC windows. It kind of resembles the pale green colour. If you're looking for a dark green colour for your window frames, olive green uPVC window frames are a really great option.
How much do green uPVC windows cost?
If you're deciding between white uPVC window frames or green uPVC window frames, the cost is the one factor that distinguishes the two options. This begs the question: How much more are green uPVC windows?
For green uPVC windows you can expect the cost to be around 10-20% higher than white uPVC frames. Prices for uPVC windows with white frames start at £160 for a casement window. The prices then increase according to the window style, the number of windows and the size.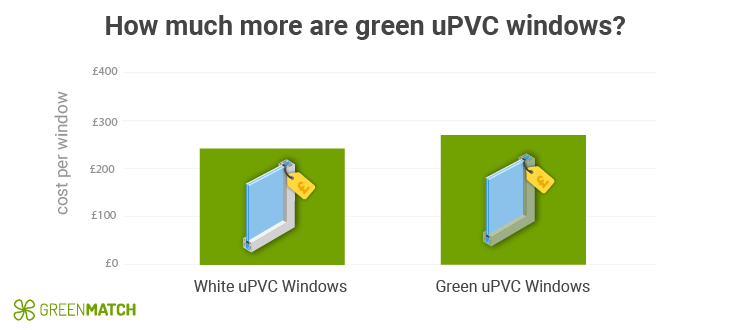 To get the best price on your green uPVC windows you should always compare prices from different installers. This will ensure that you don't overpay and get the best price. You can do all the work yourself by spending hours researching and collecting quotes. Or you can save all those hours and just fill in our one form and then be contacted by installers giving you their best deal.
Our service is free and with no obligation, a win-win for you!
You can get green window frames on most of the popular window styles in the UK, including French windows uPVC and long narrow uPVC windows.
While the green colours are a great option, it is also a bold choice. The great benefit with uPVC windows is that the range of colour options is very large, so if a bold green uPVC window is not for you, you can easily find other available options.
What other colours are available?
There is almost no limit to the colours available for uPVC windows, you can get cream uPVC cottage windows, black coloured windows, dark brown, wooden effect uPVC windows and grey uPVC windows. These colours can be added to most window styles so you can have the unique window that you want.
While colours are always a great option, it usually comes with an added price. We've found how much are grey uPVC windows, so you can easily compare the price to the traditional white colour or the more bold green colour.
As for the green colours the option is almost endless, you can go with the popular options of sage green uPVC windows or chartwell green uPVC windows. Even olive green can be a good fit to uPVC window frames.
Dual colour windows
Should you want a bold or bright colour on the exterior part of your window, but do not have the interior to match the bold colour or the other way around you can invest in dual colour windows. These windows have two colours, one on the exterior and another on the interior part of the window frame.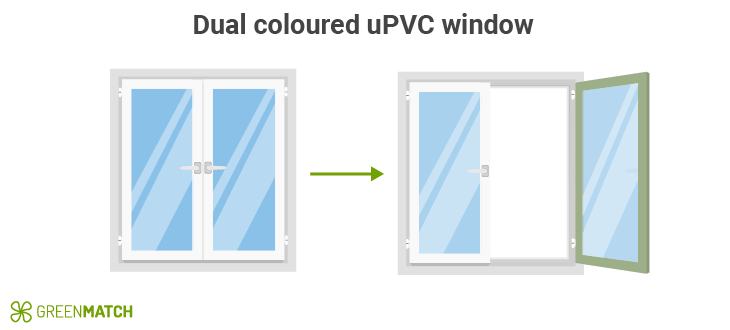 With dual colour windows you can make sure that your windows are fit to both the exterior style of your house and the interior of your home. You are usually able to get dual colour windows with most colours even brown uPVC windows.
Get the best deal on green uPVC windows
To get the best deal on green uPVC windows you should always compare multiple quotes from different installers. There are two ways to do this, the hard and the easy way. The hard way includes contacting multiple installers and window companies, collecting quotes from each of them, and then sitting down and comparing, before you can choose the right installer.
With the easy way you skip ahead on the two first steps, by filling out our short form. Let installers contact you with their best offers. They know you'll compare offers and will give you the best deal possible. You still get to compare the quotes and make sure that the price you pay is not too high.
Using our service will save you time, money and effort. Our service is free and with no obligation, so you really have nothing to lose.
FAQ