Brown uPVC Windows: Compare Styles and Shades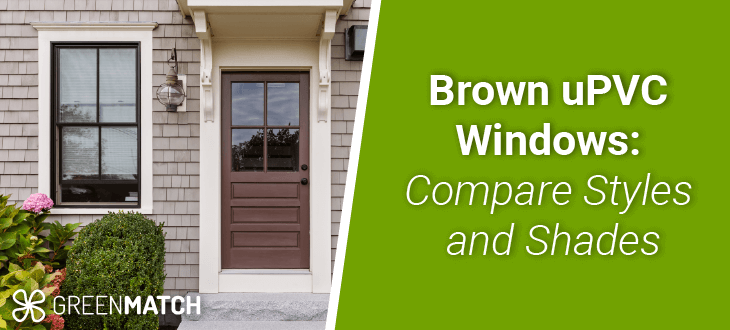 All That You Need About Brown uPVC Windows
When it comes to enhancing the look and feel of your home, uPVC windows are no longer just about functionality and durability. Today, uPVC window manufacturers have gone above and beyond to meet the diverse needs of homeowners, giving them an array of styles, colours, and finishes to choose from. Among all these options, brown uPVC windows have emerged as a top choice for many.
What makes brown uPVC windows so special? They do more than just provide insulation and security to your home. They also add a touch of warmth, making your house feel more inviting and cosy. Whether you live in a traditional or modern home, brown uPVC windows can complement any style and bring a sense of character to your property.
If you're looking to upgrade your windows, consider brown uPVC windows as your go-to option.
To make sure that you find the right installer for your new brown uPVC windows we recommend that you compare quotes from multiple installers. By doing so you will be able to find the best one with a price that fits your budget. 
You can spend several hours of your precious time finding the right installer or you can use our quick, free, and easy service. With only just a few clicks you will be able to receive quotes from up to 4 different installers in your area. Once you've received the quotes you can compare them and pick the best one. 
Simple and easy!
Quotes from local engineers
Payment by finance available
Save up to £170 per year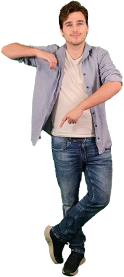 Optimise your home and save the planet
Types of brown double-glazed windows
Brown uPVC double glazed windows are very versatile, which makes it possible to fit these types of windows into most homes. Every type of modern uPVC window styles can be with brown windows so whether you have casement, sash or tilt and turn windows it will be possible to add a personal touch by having coloured window frames. It is also possible to get brown frames on Georgian windows uPVC and both small and long uPVC windows.
Casement windows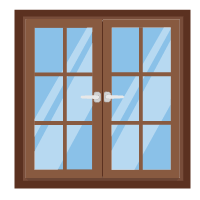 Casement windows are among the most popular window styles in the UK and with good reason. This window style provides a high level of airflow and ventilation and with the single sash design, you get an almost unobstructed view.
Casement windows come in many different styles and can fit into most homes, single casement is the most common type of this type of window but double casement also called uPVC French windows is becoming more popular among homeowners. 
With uPVC brown double glazed windows in the style of casement, you will have windows that are both secure, durable, long-lasting and energy efficient.
Sash windows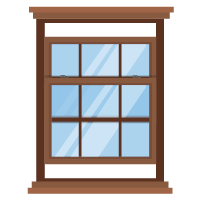 The traditional sash window styles can add a classic and traditional look to most homes. Opting for brown uPVC window frames on this window style can add a unique look to your home while still keeping a classic look.
Sash windows with their sliding mechanism come with many benefits, one of them being the high level of thermal efficiency. It keeps the warm locked inside during the winter and can easily create good airflow during the summer. 
Sash windows are a great option for many homeowners. Opting for brown uPVC frames will keep the windows modern and use the newest technology while still keeping the classic and traditional look.
Tilt and turn windows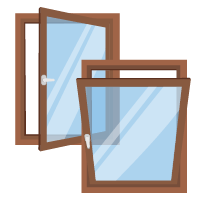 Brown uPVC windows in the style of tilt and turn are a great and popular option, the style is very versatile and can be a good addition to a simplistic-styled home. The brown-coloured frame can add personality to your home and make it more unique.
One of the benefits of tilt and turn windows is the possibility of opening them two ways. This makes it possible to have good ventilation year-round. You can open up the top during winter and hard weather and the whole window when you want more fresh air in the summer. 
With brown uPVC windows, you can be sure that the windows will match a simple and modern, yet classic and traditional home. 
If you are interested in brown uPVC window frames, look no further! We can save you hours of research when you are looking for the right installer. With just one form you can receive up to 4 quotes from certified British installers in your area. Click the button below and start the quick and easy process.
Quotes from local engineers
Payment by finance available
Save up to £170 per year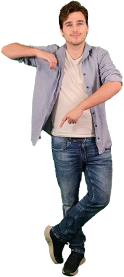 Optimise your home and save the planet
Compare brown uPVC window frames
The versatility of brown uPVC windows does not only apply to the many different window styles you can, it also applies to the different kinds of brown you can get the frames in. Light brown windows are among the more popular choices, especially the ochre brown and golden oak colours.

If you want your windows in a dark brown colour this is also possible. This is one of the big benefits of brown uPVC windows, you can choose exactly whether you want your windows to be light-toned or dark-toned.  
It is not only within the brown colour you have many options. You can also choose another colour completely.
Other coloured uPVC windows
If you are looking for a more subtle colour on your window frames, cream uPVC windows are close to the classic white colour while still adding a different feel to your windows. For a more neutral option, you can consider grey uPVC windows. 
uPVC is such a versatile material that you can choose almost any colour of frames that you want. With options such as white, black and grey there's really no limit. You can even have your frames in bold colours such as uPVC green windows or red-coloured uPVC windows.  
When choosing coloured uPVC windows, you also have the option of choosing uPVC wood effect windows. This is different from brown coloured since it adds a finish that gives the window frame a wood effect to resemble real wooden frames.
Compare quotes for uPVC brown windows
When looking for new windows, you want to ensure you get the best price from the right installer. It can be overwhelming and take up many hours to find an installer with a high level of expertise that still has a good price point that can match your budget.
To ensure that you get the best price from the best installers it is always recommended that you compare quotes from multiple installers. Without comparing you can risk overpaying for your new installation.
While it can be overwhelming to find one installer it can take up even more of your hours to find multiple installers to compare quotes.
Luckily we have made this process much more quick and easy. By filling out just one single form you will receive quotes from up to 4 different installers, you will then be able to compare these quotes and choose the one that has the best deal.
This service is easy, free and with no obligation.
Quotes from local engineers
Payment by finance available
Save up to £170 per year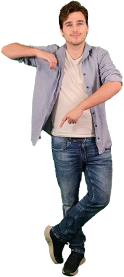 Optimise your home and save the planet
FAQ