What Are Sash Windows? Types, Details & Styles Guide in the UK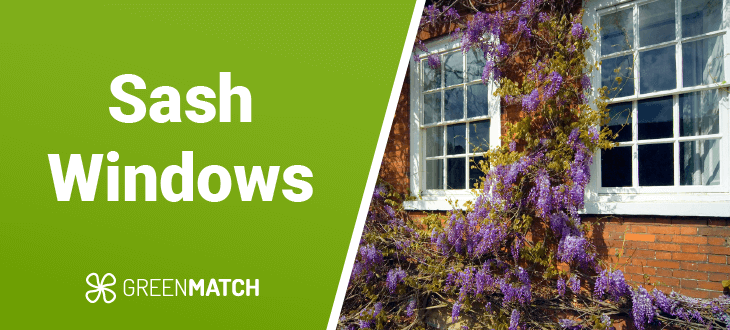 Sash windows are a typical feature of our traditional Georgian, Edwardian and Victorian properties. Thanks to their distinctive design and aesthetics they have become a big part of our architectural heritage, but they are still installed today using modern and highly efficient materials.
In this article, we'll walk you through the anatomy of a sash window, the different types of sash window designs, their benefits, and costs.
If you're already keen to get sash window styles for your home, then look no further. Trying to find reliable window installers on your own can be frustrating, taking up hours of your free time – thankfully, our team at GreenMatch can help you avoid this stress.
We can provide you with up to 4 free, non-binding quotes from our network of qualified window installers. You can then easily compare them and choose the best price. All you have to do, to get started, is complete a quick and easy 30-second form. Click the button below to get your free quotes from window installers near you.
Quotes from local engineers
Payment by finance available
Save up to £170 per year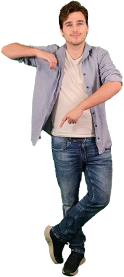 Optimise your home and save the planet
What are sash windows?
The typical parts of a sash window usually include two sashes that slide up and down (or side to side), one in front and one behind, in vertical grooves, counterbalanced by lead weights on cords. 
The glazed area consists of a number of smaller panes held together by glazing bars. The number of panes depended on the era. Sash windows for historic properties must be chosen carefully to ensure you get the right period, as there have been several developments and style changes in sash windows over the years.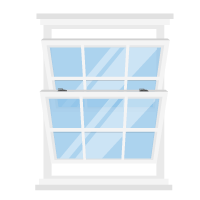 Sash window details and mechanism 
So, how do sash windows work? Opening sash windows is different than a usual window with a side-mounted hinge. A sliding sash window can be opened at the top or bottom, or both. Traditionally, they have no outward swing but modern designs tilt in and out for easy cleaning.
How do sash windows work? 
Sash windows operate via a discreet pulley system situated within the window frame. Weights are attached to a cord, which travels along the pulley. When you vertically slide the sash to open it, the counterweight from the sash weights holds it securely in position.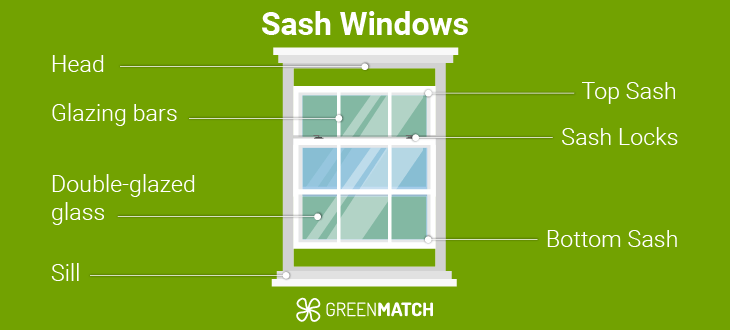 Types of sash window in the UK
Glazing bars make a great sash window detail, bringing out the traditional charm that is much sought after by homeowners. There are 3 main sash window types to choose from; your choice will depend on which suits your home's aesthetics and, potentially, which period it dates from.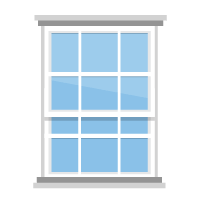 Georgian sash windows
Georgian windows are traditional windows dating back to the 18th and 19th centuries. 
Georgian sash windows showcase a classic design with a 'six over six' pane configuration. This style captures the elegance and symmetry characteristic of the Georgian era.
Victorian sash windows
Victorian sash windows feature an ornate and eclectic style prevalent during the Victorian era. 
These windows will usually include a 'two over two' grid design. These windows can take on many forms including bay window formations.
Edwardian sash windows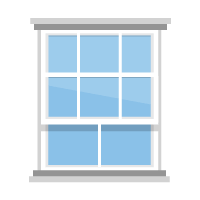 Edwardian sash windows exhibit somewhat a blend with the Victorian style but are typically more simple in design and overall less grand and ornate in appearance. Edwardian sash windows come with a 'six over two' pane arrangement. 
Horizontally sliding sash windows are sometimes called 'Yorkshire Sash' windows. Either one or two of the panes can slide open.
Frame materials
Traditionally sash window frames would have been made from wood, but today we have a lot more options to choose from.
uPVC 
uPVC sash windows are often used as a substitute for painted wood. uPVC windows are low maintenance and energy efficient and also come in a wide range of colours and finishes.
Off the shelf, uPVC is the cheapest option for sash windows, with timber costing as much as 40% more for the windows alone.
Aluminium
Aluminium sash window frames are more expensive than uPVC, but they are stronger which is better for security and durability. Aluminium windows are also recyclable and, when compared to wooden frames, need very little maintenance.
Composite
Composite sash windows are increasing in popularity with wood on the inside and clad with aluminium on the outside. This ensures your composite windows keep the classic look of wood internally, but are resistant to weather conditions and require virtually no maintenance externally.
Timber
Wooden windows are very durable, excellent insulators and if taken care of properly can last longer than the modern uPVC varieties. With the use of modern finishes (available in all colours or stains) sash windows in timber don't have to be high maintenance.
Due to their unique characteristics among various window types and their intricate designs, sash windows tend to be relatively more expensive. Nevertheless, there are effective strategies to manage potentially high upfront installation costs. This includes making informed choices regarding materials and obtaining quotes from multiple window installation companies.
Comparing window quotes from various providers allows you to identify the best deal for your window project. At GreenMatch, we can help by providing you with up to 4 personalised quotes from professional installers in your area.
By filling out the form at the top of this page, you can receive up to 4 quotes within 48 hours, eliminating the hours of time and effort required to source reliable quotes independently. Take the first step towards getting some new sash windows, by clicking the button below!
Quotes from local engineers
Payment by finance available
Save up to £170 per year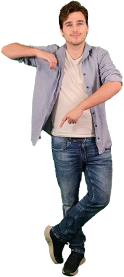 Optimise your home and save the planet
Pros and cons of sash windows
While sash contributes to the aesthetic appeal of your home, it also comes with its set of advantages and disadvantages. In the following sections, we explore the pros and cons of sash windows.
Advantages of sash windows
Beyond their aesthetic appeal, sash windows can bring a number of benefits to your property. These include: 
Traditional charm
There's no denying that sash windows are both charming and elegant. Sash windows bring out the traditional appeal and can easily become the focal point of any home.
Suited to homes in conservation areas
For those in need of a window replacement and living in a conservation area or a listed building, genuine timber sash window replacement may be your only choice. 
Increased ventilation
The sliding panes allow great ventilation control. Two sliding sashes with an opening at the bottom and at the top of the window enable you to create a flow of cool air through your home which is ideal in summer. The lack of hinges also means you don't have to worry about a gust of wind slamming the window shut. 
Disadvantages of sash windows
While sash windows have a timeless appeal, they are not without some disadvantages:
Cleaning difficulty
Traditional sash windows can be less user-friendly when it comes to cleaning. The intricate design and divided panes may make it challenging to access and clean all surfaces thoroughly. However, modern variations with tilt functions can alleviate this concern by allowing easier access for cleaning.
Expense
Sash windows, particularly those crafted with high-quality materials like timber, can be relatively expensive compared to some other window styles. The craftsmanship involved in replicating traditional designs and the use of premium materials contributes to the cost. 
Cost of double glazed sash windows
The costs of sash windows depend on:
Age of the property
Whether you live in a conservation area
Size of the window
Style of the frames
Glazing (double glazed sash windows are a great option as they can help to lower heating bills).
The following table gives some approximate costs for the supply only of sash windows in white uPVC.
Double glazed sash window cost
Size of window (mm)
Average cost per window (supply only)
600 x 900mm
£240 – £1,485
900 x 1,200mm
£300 – £1,600
1,400 x 1,400mm
£345 – £1,860
For the same windows in aluminium, it's likely the cost would increase by around £400 – £500 per window, and wooden windows could cost £400 – £800 more per window. For example, after some industry research, we found the following estimated costs, this time including installation.
Double glazed sash window cost (per material)
Frame material
Average cost per window (including installation)
uPVC
£240 – £1,240
Aluminium
£315 – £1,615
Wood
£360 – £1,860
Of course, these figures are intended as representations only and not quotes. To get exact prices for sash windows tailored to your home you will need to find quotes from installers near you.
Get free quotes for double glazed sash windows
The final price of your sash windows will be impacted by several factors such as their size, type of glazing and frame material, but will also vary depending on which company you choose to carry out the installation. To find the best deal you need to compare multiple quotes to ensure you're being offered a competitive price.
Complete our enquiry form today and you'll get free, non-binding quotes from up to 4 window suppliers working in your area, without the hassle. Click the button below to get started.  
Quotes from local engineers
Payment by finance available
Save up to £170 per year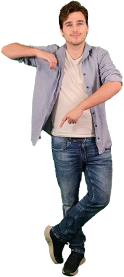 Optimise your home and save the planet
Frequently asked questions