Flush Casement uPVC Windows 2023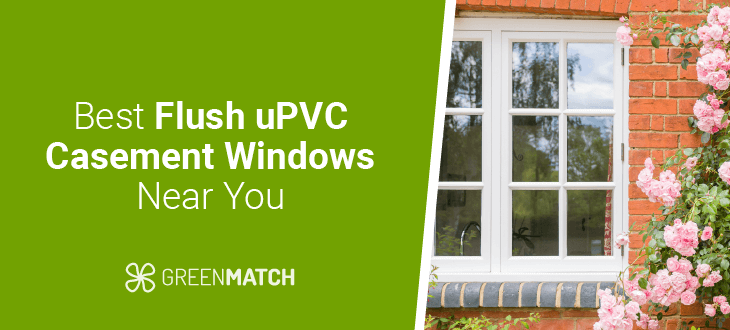 Are you looking for cost-effective alternatives to your traditional windows? Flush casement uPVC windows are a perfect alternative!
uPVC flush casement windows are highly customisable, durable, and energy efficient. These windows can be customised to look just like traditional timber windows, without the hassles of one. Timber windows ask for high maintenance since they're not quite weatherproof. A uPVC window, on the other hand, calls for easy maintenance. A periodic wipe down with a wet cloth is all it needs. Timber frames are also more expensive compared to uPVC-framed windows.
The durability and customisation only make flush uPVC windows a more popular choice among homeowners. Installers, local or national, would provide you with details on how you can go about the customisations. Finding the right installer, however, is a challenge that you must face. You need to call installers one by one, explain your requirements repetitively, and request quotes. Then you sit and compare quotes and services to choose the most affordable and appropriate installer.
Or must you go through this lengthy and tedious process? If you want to avoid the whole process of finding the right installers, you are at the right place. At GreenMatch, we can find the installers for you. Fill out the form and share your requirements with us, and we will put you in touch with three installers and get their quotes. You simply need to compare and choose the one installer that fits right with your requirements.
Get uPVC Flush Casement Window Quotes Now
Fill in the form in just 1 minute
What are flush casement windows?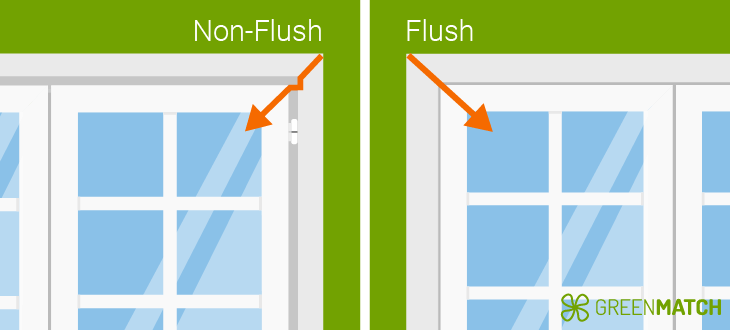 The main feature of flush windows is that the window sits flush fit with the frame when closed. This gives the window a more sleek, modern appearance which extends to your home. Flush fit uPVC windows are a popular choice for homeowners who are looking for a modern and energy efficient option. A flush casement uPVC window is built with unplasticized polyvinyl chloride, which is durable, low-maintenance, and is resistant to rot, rust, and corrosion. 
uPVC casement windows are hinged at the side allowing you to open the window outwards. The windows have a multi-point locking system, which makes it more secure compared to other windows. uPVC flush windows come with a weather seal, which keeps the cold draft and moisture out, making it an ideal for UK weather conditions. These windows provide excellent insulation, which improves its energy efficiency, saving your energy bills and keeping your home comfortable throughout the year.
Several flush casement uPVC window colours are also available for you to choose from. White uPVC flush casement windows are quite common. However, grey flush casement uPVC windows are gaining traction these days. There are several other options, such as rosewood and mahogany, that would allow you to give your window the appearance of a traditional timber window.
Are uPVC flush casement windows worth it?
You might wonder when installing new flush casement windows if they would be worth the investment. You definitely have options to flush windows such as the regular casement windows or the flush sash windows. When considering options, there are certain key differences you might want to consider.
Standard casement windows, in other words, non-flush windows have a protruding element overlapping the frame. In a flush casement window, as explained above, the window sits flush with the frame. As a result, your flush casement window appears sleeker and more modern, giving your home a contemporary finish. Moreover, the flush fit of the window enhances the insulation properties, minimising air leakage and increasing its energy efficiency.
Another option you have is flush sash casement windows, the appearance of which is made to mimic the window design of a traditional timber window. These are also flush fit windows, giving a sleek and modern finish from the outside. However, flush sash windows are comparatively more expensive than flush casement windows.
In the end, which window is worth the investment, whether a flush uPVC casement window, a regular casement window, or a flush sash window, depends on your requirements and budget. If you are looking for a modern appearance, energy efficiency, and low maintenance option, uPVC flush casement windows would be the best option. If you are looking for a more traditional appearance, the flush sash windows would be ideal.
Are flush uPVC windows more expensive?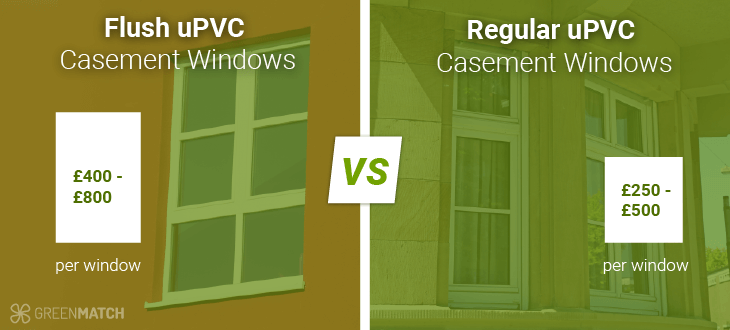 The average price range of a flush uPVC window is £350 – £1,365. You might be wondering, are uPVC flush casement windows more expensive? Well, when compared to standard casement windows, they are. Here's a comparison table for you:
Price Comparison: uPVC Flush Casement & Standard Casement
uPVC Window Type
Avg. Price Range
Flush casement
£350 – £1,365 per window
Non-flush casement
£200 – £1,065 per window
*Estimates are based on 900 x 1200mm single window units
As you can see, there is quite a difference between the prices of a flush casement window and a non-flush window. This difference can mostly be attributed to the design of the windows. The flush fit window can come with several benefits, such as increased thermal efficiency, multi-point locking system, trickle vents, and more. These features, along with the hardware and furnishing you choose, affect the cost of a flush casement window, not to mention the size you choose.
Note that these prices are estimates calculated based on our research and that actual cost may vary depending on the factors mentioned above.
Are you looking to buy a new flush uPVC casement window or replace an old one? Click on the button below to get quotes from up to three installers for you to compare. Choose the one that best fits your requirements and budget.
Get uPVC Flush Casement Window Quotes Now
Fill in the form in just 1 minute
Are uPVC flush casement windows more secure?
Yes, flush casement windows are more secure compared to other windows for a number of reasons. The multi-point locking system for one, makes the window highly secure. There are multiple locking mechanisms that engage with the window frame when locked. This makes it harder for someone to break open the window from the outside, as it would require all locking points to be broken simultaneously.
Secondly, the flush fit of the window means there are no protruding elements on the outside. This further makes it difficult for anyone to pry open the window. The flush fit adds an additional seal to the window, enhancing the security it provides. Moreover, you could opt for cost-effective double glazing options with toughened or laminated glass, which adds to the security.
Flush casement vs flush sash windows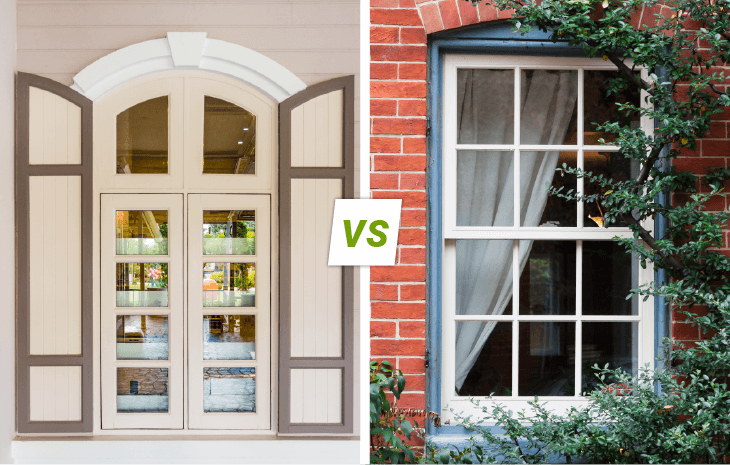 uPVC windows, flush casement and flush sash are both popular types of windows for homeowners in the UK. The flush casement window is hinged at the side, allowing you to open it outwards. In most of the cases, flush casement windows will have hidden hinges, which will make their appearance even more elegant and minimalistic. The flush sash window, on the other hand, has two sashes which can be opened either from the top or the bottom. Each comes with its own advantages and disadvantages.
The design of both windows is such that the exterior appears flush fit with the frame, giving it a sleek, contemporary finish. Flush casement windows, however, are more energy efficient compared to sash windows since they have multiple locking points, adding an extra seal to the window. Since the casement window can be opened completely outwards, they allow for more ventilation compared to sash windows, which only open half either way.
The frame of the flush casement windows is slightly thicker compared to sash windows. This means that sash windows have more glass than casement windows. This allows more natural light to flood into your home, making it feel open and airy. Again, when it comes to the design of the window, casement windows offer more versatility compared to sash windows.
In conclusion, choosing the right window depends on several factors. Both windows, as you can see, have their own pros and cons. Given your requirements, budget, and space available, you can choose the one most suitable for you.
Window installers can help you identify and choose the best option for you. They can provide you with the uPVC flush casement window specifications that are most suitable for your home. The question is, which installer to hire. Getting quotes from several installers takes hours of you calling each one of them and requesting quotes. At GreenMatch, we can do the tedious task for you. Simply click on the button below and we can get you in touch with up to three installers in your area and their quotes to compare.
Get uPVC Flush Casement Window Quotes Now
Fill in the form in just 1 minute
Get the best flush uPVC windows quotes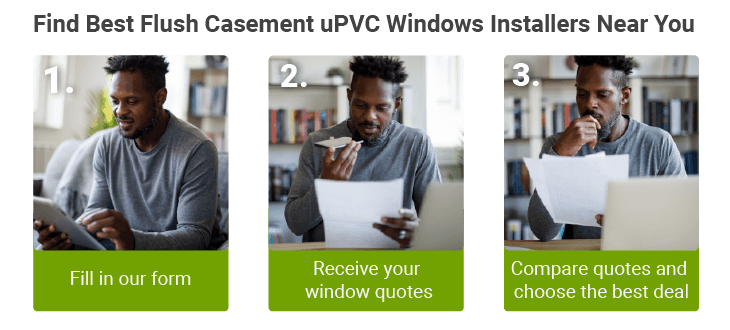 As a homeowner, it is in your benefit to compare quotes from installers, as each has different features to offer. The cost is one major factor for you to consider when choosing an installer. The cost would vary from installer to installer, making it necessary to see what each is offering. You may find two installers who offer the same features and fit your requirements perfectly, with one fitting right within your budget as well. It would help having compared quotes to choose to go with the one that is more budget-friendly for you.
Features, quality, and customization options also typically differ from installer to installer. The sizes of windows offered also vary between installers. You may realise upon comparing quotes that an installer who fits with your budget doesn't offer the right size of window. Or an installer you choose may not have the features you are looking for. The quality of materials, the length of the project, and any other features that you are particularly looking for may not match your requirement.
Sitting down for hours, calling installer after installer, and requesting quotes is quite a tiring and tedious task. We can simplify the process to a mere click. All you are required to do is fill in the form, share your requirements, and we will match up to three installers for you to compare quotes. Our service is free with no obligations.
Get uPVC Flush Casement Window Quotes Now
Fill in the form in just 1 minute
FAQ