Best Windows for Replacement: Comparison and Prices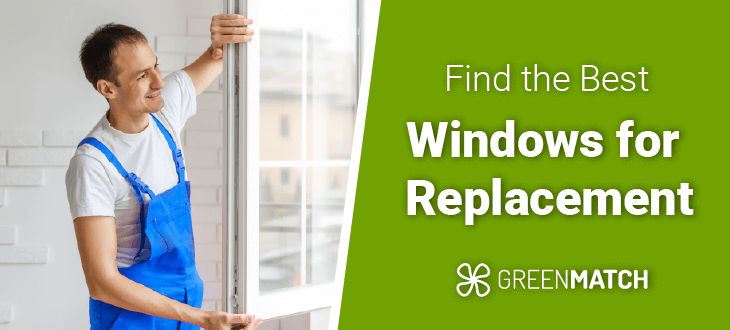 When it comes to windows, a quick walk down your street will probably reveal that there's a wide range of window options to choose from. From material to price, all of these choices can make the process of window replacement seem daunting.
To help make this a little easier, we've put together a comprehensive guide to help homeowners like you compare the best windows for replacement.
We'll break down the different types and materials you have to choose from, and also more factors that you should consider, such as the lifespan, in order for you to find what are the best replacement windows for your home.
Whether it's because your windows are damaged or you want to add more style to your home, we know how important it is to find the best replacement windows in the UK that maximise your money. That's why we're here to make the process easy for you.
With just one click, you can get up to 4 free and obligation-free quotes from vetted window installers in our network. Our service saves you time and money by comparing deals, and provides the peace of mind that you're not being overcharged. At the end of the day, you're the one who gets to choose which price is best.
Start getting free quotes by clicking the button below.
Quotes from local engineers
Payment by finance available
Save up to £170 per year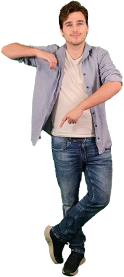 Optimise your home and save the planet
What are the Best Replacement Windows for Your Home?
Not all houses are built the same, so you'll likely need different windows than your next-door neighbour. And at the very least, you'll probably want to personalise the appearance of your windows.
To help you find the best windows for replacement for your home, we'll talk about the 3 main factors you need to consider: the lifespan, window brands and of course, the different types.
What type of window lasts the longest?
When considering the quality of a window, life expectancy is bound to come up. It's an indication that tells you the value of your long-term investment.
Well, the good news for you is that the quality of modern windows is very high. So, virtually any window type you install can potentially last you decades before needing to be replaced. By doing regular maintenance on your windows, you can maximise the lifespan and keep your windows far longer.
One thing to consider when choosing the best replacement window is the number of windows you want to replace. For instance, it may be more effective to replace all the windows in a 2-bedroom home, 3-bedroom home or 4-bedroom home, if they're old because it can be more cost-effective and will ensure that they age at the same rate.
Average Lifespan of Windows
| uPVC Window | Wood Window | Aluminium Window |
| --- | --- | --- |
| 20 to 35 years | 30 years and more if maintained well | 20 to 30 years |
While windows will typically last you a couple of decades, most people tend to find that uPVC windows last longer on average and cost less. However, there are cases where homeowners have reported aluminium windows lasting 45 years and even some wood windows lasting up to 60 years with proper maintenance.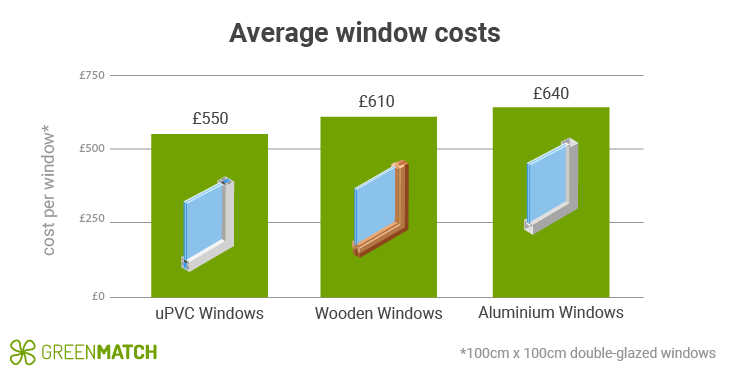 Maintaining your windows is crucial to ensure they last as long as possible. Different types of window frames require different levels of care, and neglecting them can cause issues like condensation, high energy bills, and drafts.
But there are also other signs that your windows are old or damaged, specific to uPVC, wood, and aluminium windows. If you're noticing any of these problems, it may be time to consider new windows.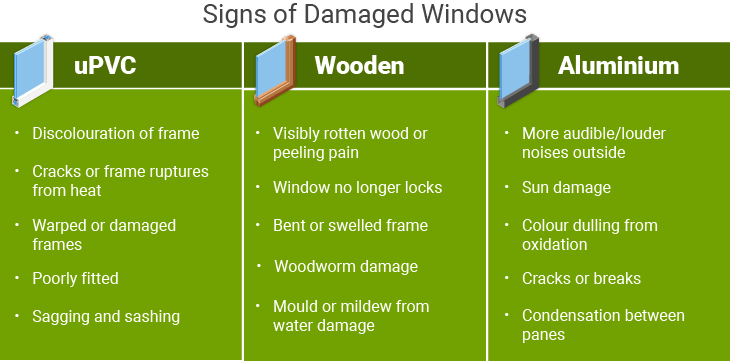 What are the top rated window companies?
When it comes to finding the best window replacement company, one of the most valuable sources of information is customer feedback. Based on this, we've compiled a list of the 5 top-rated companies according to Trustpilot. However, it's important to keep in mind that while these companies may have great ratings, you also have to ask yourself "are there replacement window companies near me?".
| Window Company | Customer Review Rating |
| --- | --- |
| CR Smith | 4.9 / 5 from 3.2k reviews |
| Everest | 4.3 / 5 from 12k reviews |
| First Home Improvements | 4.4 / 5 from 2.7k reviews |
| Safestyle UK | 4.1 / 5 from 42k reviews |
| Anglian | 3.8 / 5 from 28k reviews |
CR Smith
Trustpilot rating: 4.9 / 5
CR Smith has been providing high-quality windows, doors and conservatories in Scotland for 100 years. They offer a wide range of options to suit your home and budget. Plus, you can get a loan without a deposit, subject to status and affordability. And with one of the highest customer satisfaction ratings on Trustpilot, you can trust that CR Smith offers great customer service.
Everest
Trustpilot rating: 4.3 / 5
Everest Ltd is a well-established double glazing company with over 50 years in the business and a customer base of more than 2 million people in the UK. They are one of the most experienced and reputable companies in the industry, known for its high-quality products. However, while their expertise comes with a higher cost, they also offer a premium lifetime guarantee on their uPVC windows for condensation and fogging between the panes. 
First Home Improvements
Trustpilot rating: 4.4 / 5
First Home Improvements is a trusted and experienced company that has been in the market for over 45 years. They offer a wide range of double-glazed and uPVC windows and doors, as well as products for conservatories. Their customers have been happy with the services they provide, which is evident from their testimonials and ratings. They also provide a 12-year warranty across their range of windows which is a great feature that adds to their customers' satisfaction.
Safestyle UK
Trustpilot rating: 4.1 / 5
Safestyle UK has been providing window and door installation services for over 20 years in Wales and England. To make it more affordable for their customers, they offer financing plans. The most popular options are their 24 Months Interest-Free Credit plan and their Buy Now Pay in 12 Months plan, which allows customers to choose a plan that works best for them.
Anglian
Trustpilot rating: 3.8 /5 
Founded in 1966, Anglian Ltd is one of the largest and most reputable double-glazing companies in the UK. They are known for their exceptional quality and competitive prices. Customers trust them for their 10-year guarantee on uPVC, aluminium or wooden doors, windows and conservatories. They have stood the test of time, just like their products.
What is the best type of windows for homes?
After you've chosen what material you want your window frame to be made of (uPVC, wood, or aluminium) and which company will do your window replacement service, then it's time to choose the type of window style.
What type of window is best for your home largely depends on the specifications of your home and your aesthetic preferences. Here's a list of the most common window types:
Awning windows
Palladian windows
Fixed windows
Round windows
Dual turn windows
Secondary windows
While there's no one-size-fits-all solution when it comes to replacement windows in the UK, sash and casement windows are the most common types. They are also usually more readily available from professional installers and can even be cheaper due to their historical popularity and efficiency.
However, it's important to keep in mind that other types of windows also have their advantages, such as adding more space to the room or letting more natural light in. With so many choices, it can be overwhelming to decide on the best option for your needs and budget.
That's where a professional window installer comes in. They have the expertise and experience to provide you with specific and tailored advice on what types of windows will work best for your home. They can also give you an estimate of the costs and help you understand the pros and cons of different window styles and materials.
By working with a professional, you can have peace of mind that the replacement process will be done correctly and efficiently.
Get the Best Replacement Window Deals
The final piece of the puzzle to secure the best windows for replacement is to find the best price for the windows you want. Nowadays, there is an abundance of window manufacturers and installers. This can make it hard to know which installer to choose and if the quote they provide you is actually a good deal.
That's why smart homeowners use the strategy of comparing quotes. It saves time and money and is as easy as the process below.
We make getting window quotes from multiple professional installers easy, fast and free. No more hours spent on the phone vetting installers and requesting specific quotes. Now, it's all online and it starts with our form that takes less than 1 minute to fill in. 
We'll take it from there to get you the most competitive quotes that you can choose from. And before you know it, you'll have brand-new windows installed keeping your home stylish and insulated. 
Click the button below to get started.
Quotes from local engineers
Payment by finance available
Save up to £170 per year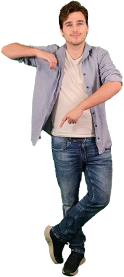 Optimise your home and save the planet
FAQ