Double Glazed Bay Window Styles, Materials & Costs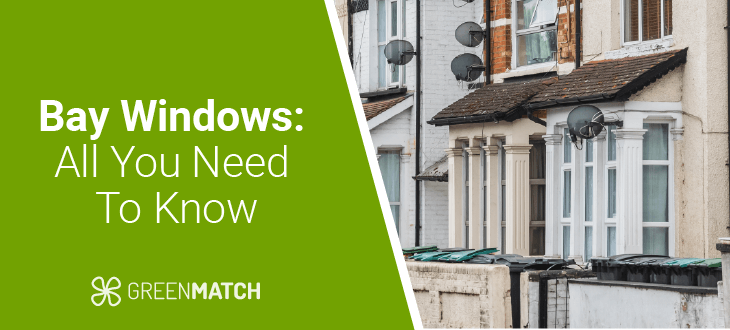 If you're looking for a special window type that makes your home stand out among your neighbours, you have to think of bay window styles. Bay windows provide further interior space as well as better views of the outside.
However, it might be difficult to choose a suitable bay window for your home among lots of options in terms of styles, materials, glazing, and costs. But don't worry. We've made this easy for you by answering every question you might have in your mind.
In this article, we've gathered all the details about different bay window styles, materials, glass options, and costs to help you decide better. We can also offer free quotes to help you find the best deal available in the market.
With our service, you can compare different bay window installers without spending masses of time getting quotes from different companies. We're here to provide you with the best options available near your home. 
You just need to fill out 1 form to get your quotes on bay windows for free. Get started by clicking the button below.
Quotes from local engineers
Payment by finance available
Save up to £170 per year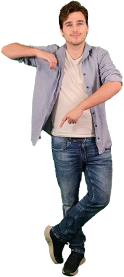 Optimise your home and save the planet
What are bay windows?
A bay window is any protruding window style that might have different shapes including curved, angular, run over one, or multiple storeys.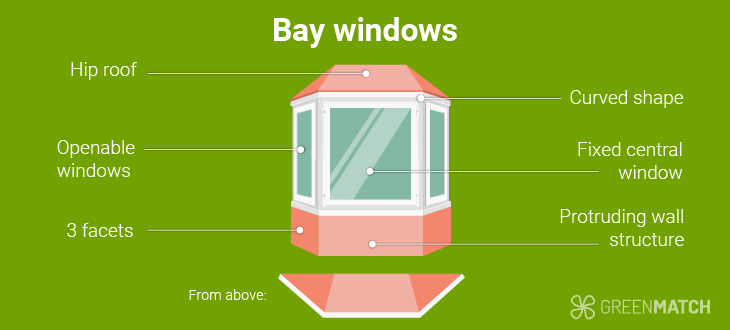 The word "Bay" originates from the old French term "baee," which means opening or hole. It's actually a group of three or more windows that angle out beyond your exterior wall in a square (box bay window), hexagonal, or octagonal formation.
Using a bay window is a great way of aesthetic expression of your building. This outward projection from your exterior walls can make a big difference in the appearance of the building and distinguish your home from other buildings.
What is the difference between bay and bow windows?
There is another type of window that might be mistaken for bay windows. Bow windows are also similar to bay windows but with some specific differences.
Bay windows come with one large picture window in the middle with two smaller panes on the sides. So a bay window is usually made of three panes. On the other hand, a bow window usually has four or more similar panes. Bay windows add a square shape to your building's facade, while in bow windows, panes are arranged in a rounded shape.
Overall, bay windows are considered to be modern, compared with bow windows.
Pros and cons of bay windows over bow windows
The main goal of using bay windows is to let more light come into your room. Here are also some other advantages of bay window styles:
Cheaper. Bow window prices in the UK are much higher
Lower maintenance cost
Easier to install
Fewer panes
More protrusion
Feeling more interior floor space
Create an additional seating space
Here are the cons of a bay window compared with a bow window:
Bow windows are wider 
Limited views compared with bow windows
Less natural light than bow windows
Bay window styles
Now, it's good to see what types of bay windows are available in the market. Here are the most common bay window styles:
Casement windows
Bay windows can use the exact mechanism that is used in casement windows for the opening panes. A casement window is actually attached to the frame by one or more hinges at the sides. This is a very popular type of bay window and is suitable for every building.
Casement bay windows have many benefits including:
Good ventilation
Letting plenty of natural light in
Good outdoor views
Energy-efficient
Versatile and aesthetic designs
Easy to open and close.
Sash windows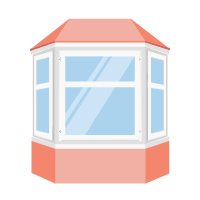 Bay windows can also come with a sash mechanism in which the window doesn't open on a hinge. In fact, in this type of window, there are two sashes that slide up and down. Usually, the bigger sash is fixed and the other slides on it.
In bay windows, we can use the sash window in the two side panes to let the air come in and go out.
Georgian windows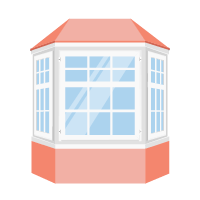 Georgian windows date back to the 18th to 19th centuries, and are one of the largest and most aesthetically appealing styles of bay windows.
Georgian bay windows are distinguished from standard bay windows by six or more little glass panes that are joined together by horizontal and vertical wooden bars. It's good to know that they're sometimes called Georgian sash windows. This is because they slide vertically to open.
Victorian windows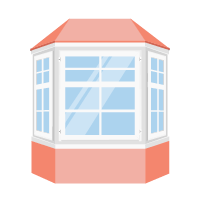 Victorian windows are sometimes called Victorian sash windows and are very similar to Georgian windows. The only difference between Georgian and Victorian sash windows is that Victorian windows usually have fewer panes. Georgian bay windows usually have 6-9 panes, while Victorian windows have 4-6 panes.
Edwardian windows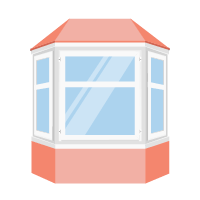 There was another improvement in bay windows in the Edwardian era with the desire to let more light in. The main difference between Edwardian bay windows with Victorian and Georgian windows is that a single, larger pane of glass is used in the middle, instead of several small panes.
uPVC windows are the most advanced material for bay window frames. The word uPVC stands for unPlasticised Polyvinyl Chloride. It's a strong but lightweight plastic-based material, which makes your bay windows more energy efficient. Nowadays, uPVC casement windows are among the most popular bay windows.
Using uPVC in bay windows has many advantages, like:
Customisable: uPVC frames come in different shapes and colours, providing you with a vast variety of options for your bay windows.
Security: This is a strong material and makes your windows secure.
Excellent Thermal Insulation: The thermal conductivity of uPVC is really low, which results in a low thermal loss.
Low Maintenance: uPVC windows are really durable and weather resistant and do not need to be repaired very often.
Eco-Friendly: uPVC is completely recyclable and you don't need to be worried about the environment.
Affordable: uPVC is the most cost-effective material for bay windows. Look at the price of different uPVC bay windows below.
Wooden bay windows
Bay windows can be made of wood, giving a traditional feeling to your home. Timber windows are great options for those who care about the aesthetic aspects of buildings. Timber frames have great properties in terms of heat loss, and are fantastic for saving energy.
The most significant drawback of using wood is that a bay window would be really expensive with a wooden frame. In fact, wood is the most expensive option among bay window materials. 
On top of the high price, wooden bay windows require some maintenance, and due to the complexity of the structure of the bay windows. Compared to standard windows, this maintenance may be required more frequently and will likely cost more.
But no need to be worried. Bay windows can come with wood-effect uPVC frames with colours and textures, looking exactly like a wooden bay window. 
Aluminium bay windows
Last but not least, you can use aluminium bay windows. Aluminium has great properties, including affordability and durability. It's less expensive than wooden frames, although aluminium bay windows are more expensive than uPVC bay windows.
The only disadvantage of aluminium is its high thermal conductivity. However, standard aluminium frames come with thermal breaks, making them much more energy-efficient. 
On top of the high price, wooden bay windows require maintenance, and due to the complexity of the structure of the bay windows, this maintenance might be required even more often than regular wooden windows.
Overall, uPVC bay windows are better options considering all the aspects of these materials.
Bay window glass options
Glazing is an important factor in windows because it plays a significant role in heat loss and energy bills. In fact, your windows are responsible for almost 30% of your heating energy loss, and this figure can increase in bay windows. The reason is that the size of bay windows is relatively larger than other types of windows. 
So you need to pay special attention to the glazing to prevent further loss and save as much energy as you can. Here are the glass options you have in bay windows:
Double glazing
Double glazing is one of the most popular options for bay windows. As it comes from the name, you have two layers of glass panes fixed at a distance in the frame of the bay window. 
Bay windows with double glazing might cost you more than single-glazed windows, but you can get back your money in your heating bills. Also, the cost of double glazing installation is not higher than that of single glazing.
Here are the cost savings in energy bills when it comes to using double-glazed windows in the UK:
Double glazing cost savings
Thermal efficiency rating 
Potential cost savings per year
Potential cost savings in 20 years 
A-rated double glazing 
£155
£3,100
A++ rated double glazing
£170
£3,400
Source: Energy Savings Trust
You can also get rid of extra noise pollution from the ambient by using double glazed bay windows. Remember that the larger your window is, the more noise you'll hear from outside. So double glazing is necessary for bay windows.
Triple glazing
Triple-glazed bay windows can outperform double-glazed windows in terms of energy efficiency and noise reduction. They have three layers of parallel glass panes with an extra air gap, making sure that you'll not waste your heating energy.
The cost of triple glazing is approximately 30-50% higher than double glazing cost. However, triple glazing can save up to 50% of your energy bills. So when it comes to double or triple glazing, it's recommended to go for triple-glazed bay windows, because the size of the glass area, and as a result, the amount of energy loss are considerable.
Secondary glazing
There is another option that can help those who already have a bay window in their home. They can add an extra layer of glass pane to their existing windows instead of buying a new double-glazed window.
By replacing single glazing, you'll save money because you don't need to remove your old window and buy a new one. The labour cost will also be lower because you just need to install one glass pane, instead of removing a whole window and installing a new bay window.
Comparing new bay window quotes
The cost of bay windows tends to fall between from £1,190 to £2,700, including the additional installation costs. So you have to be careful when buying bay windows for your home. 
When you choose your bay window style, you have to go for the best pricing option for your home. Before making the purchasing decision, you'd better compare different quotes to be able to choose the best offer. With our free quote service, you can save time and money when comparing different companies. We'll provide you with up to 3 free quotes from the best bay windows suppliers in the UK. You just need to fill in 1 form to receive the best deal possible near your home.
So if you want the most competitive offer on the market, do not waste your time searching for installers on your own. Send us your request now to get 3 free quotes for your new bay window. We'll then introduce the best bay window installers in your region. Remember that local installation rates are always far lower than those from nationwide firms that have greater overhead costs to cover. 
Get started today by filling in the form. It's free, easy, and comes with no obligation.
Quotes from local engineers
Payment by finance available
Save up to £170 per year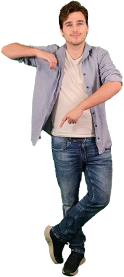 Optimise your home and save the planet
Frequently asked questions