Bow Window Styles, Materials, Benefits, & Costs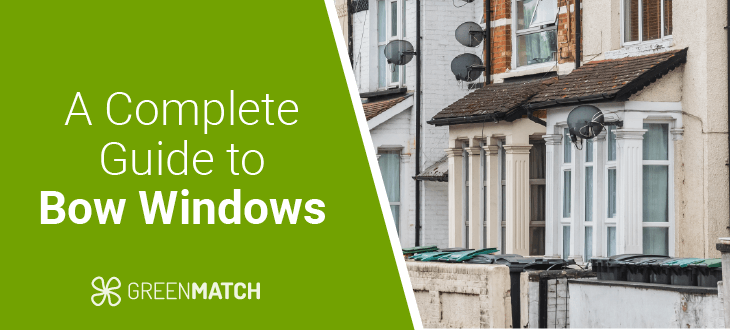 Bow windows are a great way to add value to your property while providing a unique look to your living space. Bow window styles are among the best windows for offering abundant natural light and beautiful views. But how do you know all the benefits of bow window styles, materials and cost to enhance your decision? Let's take a look.
This comprehensive guide will take you through everything you need to know about bow window styles, materials, benefits, and costs. Whether you're looking for a classic or modern style, in popular uPVC or elegant timber, we've got you covered.
At GreenMatch, we pride ourselves on being the best service in the UK for those seeking bow window styles and cost. Our service not only provides you with the best selection of bow windows in our network, but we can also help you compare quotes from trusted installers to get the best possible window prices.
Why? Because we understand that choosing a new window yourself can be daunting, but we're here to make the process as smooth and stress-free as possible by offering fast and efficient solutions to compare window prices without compromising on quality. Our quotes are completely free and come with no obligation.
Click the button below to get started! 
Quotes from local engineers
Payment by finance available
Save up to £170 per year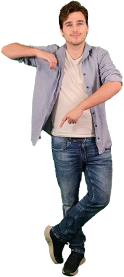 Optimise your home and save the planet
What is a bow window? 
Bow windows are an excellent addition to any home, providing a panoramic view of the outdoors and a great natural light source. They are typically made up of three to six windows, and their design extends beyond the exterior wall, forming a curved structure that adds to the home's aesthetic appeal.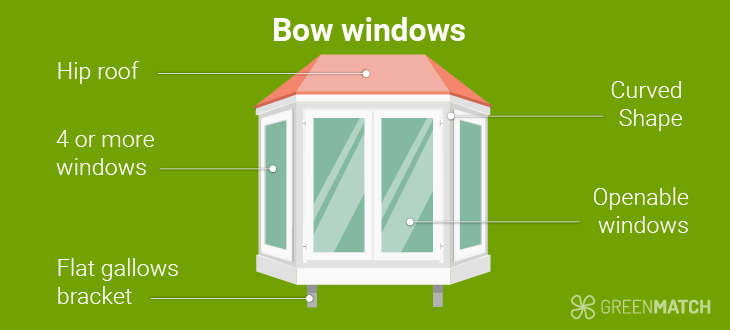 Bow windows vs bay windows
Bow and bay windows are two popular window styles that offer unique benefits to homeowners. While both styles are similar, several differences between them set them apart. So, let's take a closer look at the style differences between bow and bay windows.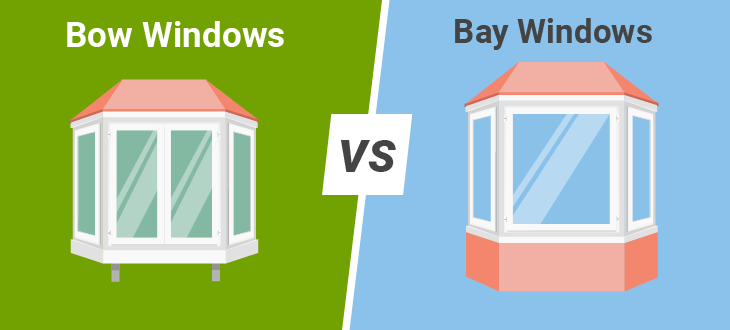 The number of windows
Bay windows typically comprise of three windows that project outward from the exterior wall, forming a 90-degree angle. The three windows are usually arranged side-by-side, with a larger centre window flanked by two smaller windows on either side. Bay windows are known for their elegant, traditional appearance and are commonly found in Victorian and Georgian-style homes.
Bow windows, on the other hand, are typically made up of four or more windows that are arranged in a gentle curve, creating a rounded appearance. The windows are set at equal angles, and their curvature extends beyond the exterior wall, forming a graceful arc. Bow windows offer a more contemporary look and are commonly found in modern-style homes.
Here are some of the other key differences between bow and bay windows:
Bow Windows Vs Bay Windows
Bay Windows
Bow Windows
Number of Windows
3
4 or more
Shape
Angular
Curved
Cost
Less expensive
More expensive
Aesthetic appeal
Classic and traditional
Modern and contemporary
Light and space
Significant natural light and space
More space due to rounded shape
Which is cheaper: bay or bow windows?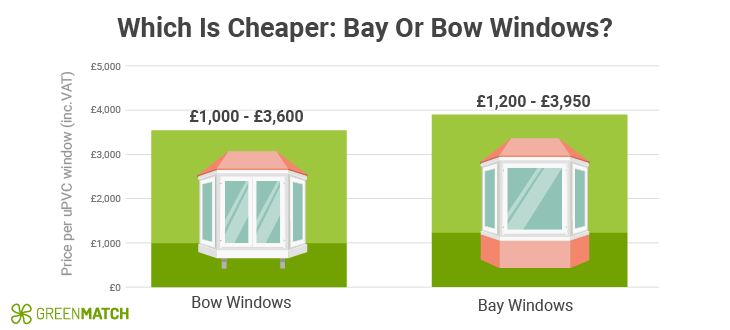 Cost can be a significant factor when deciding between bay and bow windows. While both types of windows offer unique benefits, it's essential to consider the cost before making a final decision.
The cost of bay windows varies depending on several factors, such as the size, material, and complexity of installation. According to our market research, the average cost of a bay window in the UK ranges from £1,000 to £3,600 and can be more for customisation options. 
On the other hand, the cost of a bow window is usually higher than that of a bay window, typically costing from £1,200 – £3,950 per window.
In general, bow windows often involve more complex construction and installation due to their curved design and the need for more individual window units. This will likely increase their cost compared to bay windows.
However, it's important to note that the cost of both bay and bow windows can vary significantly depending on the type of material used. For example, uPVC bay windows are less expensive than timber or aluminium ones. It's also important to consider the long-term savings associated with energy-efficient windows, as they can help reduce heating and cooling costs.
At GreenMatch, we understand that finding accurate and competitive prices for bay or bow windows can be a challenge. That's why we offer a free quotes comparison service that helps you find the best deal possible by simply filling out a quick form. 
By using our free quotes service, there's no need for hours of searching and re-searching for local installers to contact. We'll do the hard work for you. 
You can receive up to 4 quotes from our professional network in your area and compare prices side-by-side. Our service is free, and you are not obligated to accept any of the quotes you receive.
Click the button below to get started.
Quotes from local engineers
Payment by finance available
Save up to £170 per year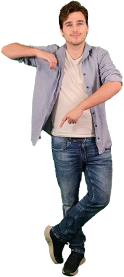 Optimise your home and save the planet
Bow window styles
Bow windows are available in various styles and designs that can match any home's aesthetic. The windows can be fixed, double hung or single hung. You can also have a combination of all three types! Here are some of the most common bow window styles:
Curved bay window
One of the most popular bow window styles is the curved bay window. The curved design creates an elegant, classic look that suits many traditional homes. Curved bay windows also provide a panoramic view of the outside, making them perfect for living rooms and dining areas.
Modern bow windows
Modern bow windows are an excellent choice for those who prefer a more contemporary style. Modern bow windows have clean lines and a minimalist design, making them ideal for contemporary homes. These windows can provide plenty of natural light and create a sense of space in a room.
Bow window materials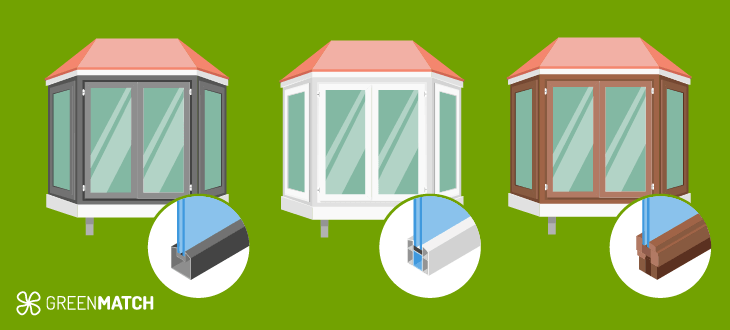 Bow windows are available in various materials, each with its benefits and drawbacks. The most common materials for bow windows include:
uPVC bow window
uPVC (unplasticized polyvinyl chloride) is a popular material for bow windows. It is lightweight, easy to install, and requires very little maintenance. uPVC is also durable and resistant to weathering, making it ideal for windows. 
Additionally, uPVC bow windows offer excellent insulation, which can help reduce energy bills and keep your home comfortable year-round.
Aluminium bow window
Aluminium is another popular material for bow windows. It is strong, durable, and resistant to rust and corrosion. Aluminium bow windows also offer a sleek and modern look, making them an excellent option for contemporary homes. Additionally, aluminium is highly recyclable, making it an eco-friendly choice for homeowners who are concerned about the environment.
Wood bow window
Wood is a classic and timeless material for bow windows. It offers a warm, natural look that complements almost any home style. Wood bow windows can be made from various kinds of wood, such as oak, mahogany, or cherry, each with unique grain and colour. 
However, wood requires more maintenance than uPVC or aluminium and may be more susceptible to weathering, rotting, or warping.
Decorative glazing options
Most bay windows will come with double glazing as standard. However, it is possible to customise your windows with leaded glass or decorative glass. In terms of the windows cost, you will pay more for these features.
Advantages of bow windows in the UK
Bow windows are a popular choice among homeowners in the UK due to their attractive design, versatility, and ability to bring in natural light. Let's take a closer look:
1. Increased Natural Light: Bow windows are designed to extend outward from the house, allowing more natural light to enter the room. This makes the space feel brighter and more welcoming and helps reduce energy bills by decreasing the need for artificial lighting. 
2. Enhanced Views: Because of their unique shape, bow windows offer a wider and more panoramic view of the outside. This can be especially beneficial if you live in an area with beautiful scenery or want to watch your kids playing in the garden. 
3. More Space: Bow windows can create the illusion of additional space in a room, making it feel larger and more open. This can be particularly useful in small or cramped areas. 
4. Increased Home Value: Bow windows are considered an attractive feature by many potential homebuyers and can increase the value of your property if you ever decide to sell. 
Disadvantages of bow windows in the UK
On the other side, there are also some disadvantages with installing new bow windows that you should also be aware of:
1. Cost: Bow windows can be more expensive than other types of windows due to their unique shape and the materials required to build them. However, they can also add value to your home in the long run. 
2. Weighty Window: A bow window is a substantial, weighty window requiring a sturdy foundation to support its load. Before installation, it is crucial to ensure that your house foundation can carry the weight of the bow window without causing any issues.
3. Maintenance: Bow windows can be more difficult to maintain and clean than traditional windows due to their shape and multiple panes. Regular cleaning and upkeep are necessary to keep them in good condition. 
Best way to get double glazed bow windows
Comparing quotes is crucial when it comes to making any purchase, and the same applies to buying bow windows. By comparing quotes, you can find the best deals and the most accurate price for your bow windows and get the most out of your investment.
GreenMatch offers a free service that helps you compare quotes from various window companies. This way, you can find the best deals for your bow windows without any extra pressure. Our service is absolutely free, and at no point are you under any obligation to accept any of the quotes you receive.
When you use our service, we will connect you with up to 3 different window installers in your area that best match your needs and preferences. These installers will then provide you with an accurate quote for your bow windows, and you can compare them to find the best deal.
By comparing quotes, you can save money and get the best value for your money. So, if you're curious about bow window prices in the UK and want to find the best deals, simply click the button below to get started.
Take advantage of GreenMatch's free service and find the perfect bow windows for your home today!
Quotes from local engineers
Payment by finance available
Save up to £170 per year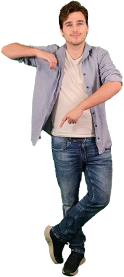 Optimise your home and save the planet
Frequently asked questions