Aluminium Bay Windows – Pros, Cons & Costs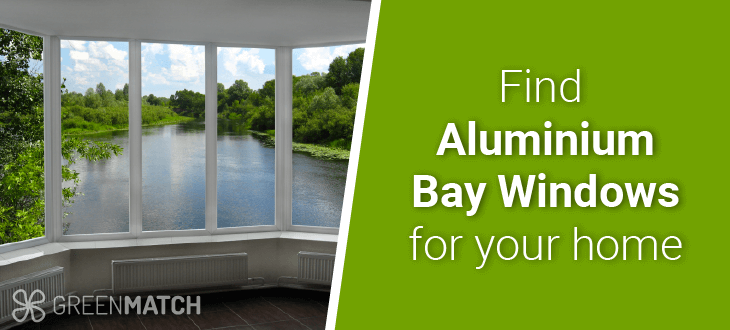 Aluminium bay windows can be a great choice for your home if you're looking for a lightweight, durable window that lets more sunlight in during the day.
The combination of a bay window style with aluminium frames has some advantages and disadvantages. In this article, we're going to discuss the pros and cons of aluminium bay windows in detail to help you know whether they're a good choice for your home.
Remember that there are numerous window options out there and it might be a bit difficult for you to choose among them. You have to pay attention to the window style, weight, durability, colour, energy efficiency, and also cost.
It's a time-consuming task to compare different offers in the market and find the best deal. So it's highly recommended to ask a professional team, like GreenMatch, to help you find the best window option according to your requirements.
With our free quote service, it'll get much easier for you to find the best aluminium bay window deal in your region. We'll offer 3 free quotes to let you compare the cost of various aluminium bay window installers. This way, you don't have to spend hours of your time and energy getting quotes from various window companies in the UK. 
Simply, fill out 1 form in a matter of minutes, then get free quotes on aluminium bay windows.
Get started by clicking the button below:
Get FREE Bay Window Quotes
Fill in the form in less than a minute
What is an aluminium bay window?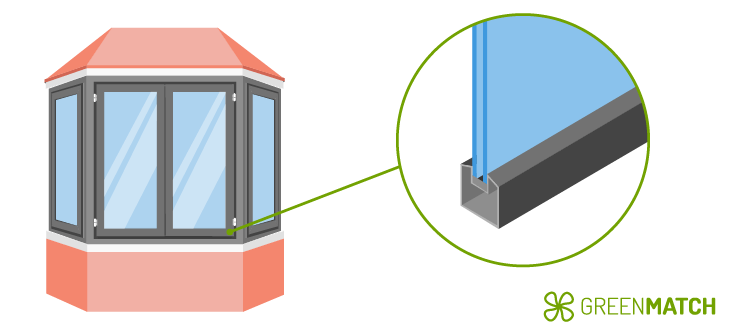 First, let's see what an aluminium bay window is. An aluminium bay window is actually any window made of aluminium that comes out of the building's wall, making different protruding shapes like square, curved, or even multiple storeys. This protruding shape lets more light come into your room and also gives an aesthetic style to your building.
The cost of bay windows is relatively high, because they are larger than other types of window styles like casement windows. Of course, the cost might vary according to the following factors:
Number of windows: The size of your home and the number of windows you need affect the cost.
The type of bay window: The type of bay windows and the number of panes can increase the cost. For example, aluminium sash bay windows have different prices from casement bay windows made of aluminium. Moreover, the cost of bay windows is different from bow windows.
Glazing options: Triple glazed bay windows are more expensive than double glazed windows. However, triple glazing can reduce energy bills compared with double glazed bay windows.
The company you choose: The cost of installation is considerable, and there is a difference between what large, nationwide companies offer and what local installers charge you.
Frame material: If you choose other materials rather than aluminium, you might have to pay more.
Regarding the frame material, you'll have two other common options rather than aluminium: uPVC and wood. In the UK, aluminium windows are really popular, especially aluminium bay windows. Although other bay window materials like uPVC bay windows and wooden bay windows have their advantages, aluminium is still the choice of many homeowners.
Overall, the aluminium bay windows cost is approximately between £1,550 and £2,340. The average price is around £1,945, and with the installation cost, you have to expect something between £2,050 and £3,740.
Why choose an aluminium bay window?
Now, let's take a closer look at the pros and cons of aluminium bay windows to figure out why you have to choose this window style and this frame material.
Aluminium bay window pros
Aluminium bay windows have several advantages, including:
Affordability: One of the benefits of aluminium frames is that they're considerably cheaper than other bay window materials like wood.
Natural light: Bay windows connect your rooms to an ocean of natural light.
Durability: Aluminium is a strong material and an aluminium window lasts more than 30 years. Aluminium bay windows have enhanced security compared with bay windows made of other materials.
More space: Bay window styles give you more interior space and therefore, more design options.
Easy to maintain: Unless other materials, aluminium frames can easily be fixed in case they're damaged.
Better ventilation: Bay windows are the best options in terms of the volume of the air they allow to be ventilated.
Aesthetic appearance: A bay window design gives you more options to add some aesthetic aspects to your home. For example, Georgian bars, astragal bars, Edwardian bay windows, and many other traditional styles can perfectly combine with bay windows.
Thermal break: Aluminium bay windows come with a standard thermal break to reduce the heat loss.
Slimline aluminium bay windows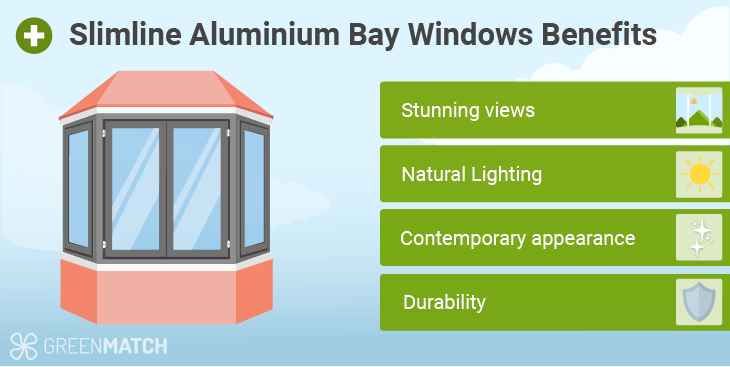 Last but not least, you can choose slimline aluminium bay windows that have several benefits. As it comes from the name, slimline aluminium frames are slimmer than normal aluminium frames. As a result, slimline aluminium bay windows have a distinguished modern appearance. 
Also, this frame type lets you have a greater glass area, leading to:
Better outside views
More sunlight
Contemporary, minimalistic design
Now that you know the benefits of aluminium bay windows, you can decide whether you like them or not. Don't worry if you still have doubts about the costs and the installation process. We can connect you with the best installers all over the UK.
We'll also offer free quotes to let you compare prices of different companies and choose the best deal in the market. This way, you have the chance to find local installers and get your windows installed at the best price. 
Remember that finding different companies and comparing different quotes will take masses of time and energy. With our service, you don't have to waste your time. It's completely free and with no obligation.You just need to fill one form to get your free quotes in minutes.
Request free quotes today by clicking the button below:
Get FREE Bay Window Quotes
Fill in the form in less than a minute
Aluminium bay window cons
Just like all other window styles, aluminium bay windows have some disadvantages. Some of the drawbacks of aluminium bay windows are:
Expensive: As mentioned earlier, bay windows are more expensive than other window styles. Also, the cost of aluminium windows is more than that of uPVC windows.
Less privacy: Bay windows allow people to easily see your interior spaces from the street.
More maintenance: Bay windows usually need more maintenance.
High thermal conductivity: Aluminium is a highly conductive material and this can reduce the thermal performance of the window, although thermal break technology can alleviate the problem.
Corrosion: Aluminium has the potential issue of corrosion.
Condensation: Your bay window will be more vulnerable to condensation in winter when it's made of aluminium frames.
Difficult installation: Bay windows are more difficult to install compared with other window styles.
Now, you have enough information to choose aluminium bay windows. Overall, the advantages of aluminium bay windows outweigh the disadvantages, making them good options for your home, especially if you go for slimline, modern-looking types. If you want to get more details about the cost of these windows to make sure if they're suitable choices for your home, you can count on our help. 
We'll offer expert advice to decide better and find the best option at the best price possible. 
Get the best aluminium bay window prices
If you've made up your mind to buy an aluminium bay window, you need to compare different pricing options. As mentioned earlier, this might be very difficult for non-experts because you have to spend a lot of time getting quotes from different companies and seeing what they're offering.
But fortunately, there is a much easier way to do this. Here at GreenMatch, we can offer you up to 3 free quotes to help you find the best aluminium bay window deal from the local installers all over the UK. So it's good to take advantage of our service to save time and get your aluminium bay windows installed at the best price.
You just need to fill out one form to receive your free quotes. Get started by clicking the button below:
Get FREE Bay Window Quotes
Fill in the form in less than a minute
Frequently asked questions