Cost of Bay Windows: Compare Prices and Save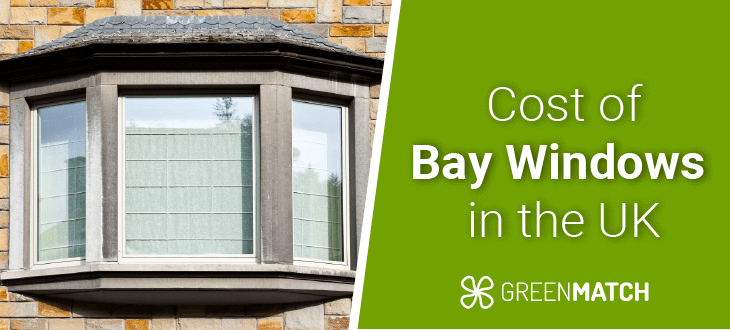 Welcome to the world of exquisite elegance and captivating charm – bay windows! If you're a homeowner in the UK looking to add a touch of sophistication to your abode, you may be wondering about the cost of bay windows.
Well, you're in the right place! In this article, we'll dive into the intricacies of bay window prices. We will cover topics from double glazing cost for bay windows to uPVC bay window cost, as the cost of bay windows in the UK can vary depending on factors such as frame material, type of glazing and shape of the bay window.
With so many options available, it's essential to carefully assess the right type of bay window matching your home's aesthetics and your budget. Does it sound complicated? Don't worry, it does not need to be so.
At GreenMatch, our team of experts can help you find certified installers in your area. By using our free quotes service, you will:
avoid tons of stress and save hours of searching for installers
receive up to 3 quotes from top-rated bay windows installers near you
get your dream windows exclusively from providers who meet the highest quality standards
It is the easiest and smartest choice. Get started by clicking the button below.
Get FREE Bay Window Quotes Now
Fill in the form in just 1 minute
How much do replacement bay windows cost?
Bay windows are a popular choice among homeowners. However, when it comes to the cost of bay windows, several factors come into play, including frame materials, glass choice, and window shape.
The frame material is a significant consideration, with options ranging from traditional timber to modern uPVC and durable aluminium. The type of glazing is another crucial factor to consider, with options like double, triple or secondary. Each offers different insulation, security, and energy efficiency levels.
Additionally, the shape of the bay window can also impact the cost. Different shapes may require more labour and materials, affecting the overall bay window replacement cost. Bay windows are similar to bow windows, but bow window prices are typically higher.
As per market research, double-glazed uPVC bay windows cost from £1,190 to £1,800, depending on the number of window sections. On the other hand, wooden frames and triple glazing can make the bay window cost increase up to £3,780, depending on the window size.  We will explain bay window prices in the UK in detail in the sections below.
Bay window prices by frame material
If you wonder what the cost to replace a bay window is, you must consider what the window frame is made of. The frame material not only affects the cost of the bay window but also influences its durability, maintenance requirements, and overall aesthetics.
Traditional timber frames are known for their classic appeal but tend to be more expensive compared to other options such as uPVC (unplasticized polyvinyl chloride) or aluminium frames. In terms of long-term costs, you can also expect to pay more year-on-year in maintenance costs.
On the other hand, uPVC frames are known for their durability, low maintenance requirements, and affordability, making them a popular choice for many homeowners. Lastly, aluminium frames offer a sleek and contemporary look and are known for their durability and resistance to weather elements. They tend to be more expensive than uPVC.
Whether it is a new bay window cost or the cost of bay window replacement, you have to pay attention to the windows' size, style, and glazing options. These can make a difference in the final price of wooden, aluminium or uPVC bay windows alike.
How much is a bay window, you ask? Check the table below for average prices in the UK. It includes aluminium, timber and uPVC windows prices online for standard double-glazed bay windows.
Average Cost of Bay Windows by Frame Material
Number of Sections
Size
uPVC
Aluminium
Wood
3
2,400mm x 1,200mm
£1,190 – £1,725
£1,550 – £2,250      
£1,785 – £2,590
3
2,400mm x 1,500mm
£1,240 – £1,800
£1,615 – £2,340
£1,860 – £2,700 
Bay window prices by glazing option
When considering bay windows, the choice of glazing plays a crucial role in determining the overall cost. Double glazing is the most popular option for bay windows as it offers excellent insulation and energy efficiency. Double-glazed bay window cost can be affected by factors such as the size of the window and the type of glass used.
Bay window double glazing cost tends to be high, but it is a cost-effective option in the long run. The average price of a double-glazed bay window ranges from approximately £1,200 to £3,000, depending on the size and frame material. Triple glazing is another option for those looking for better insulation, but it can be up to 30% more expensive than double glazing.
For those who can't install triple or double-glazed windows, or who would rather improve their existing windows, secondary glazing is a more cost-effective alternative. Secondary glazing involves adding an extra pane of glass to the existing window, providing extra insulation and reducing outside noise. 
Installing secondary glazing is usually cheaper than the cost of a double-glazed bay window in the UK, but it can't achieve the same levels of insulation and energy efficiency.
Check the table below for average prices in the UK. It includes prices for standard-size double and triple-glazed bay windows.
Average Price of Bay Windows by Glazing Option
Number of Sections
Size
Double Glazing
Triple Glazing
3
2,400mm x 1,200mm
£1,190 – £2,590
£1,665 – £3,625
2,400mm x 1,500mm
£1,240 – £2,700 
£1,735 – £3,780
With this information in mind, the answer to "How much does a double-glazed bay window cost?" may be clearer. However, we advise you to contact a specialist who can assess your home's needs and provide you with windows tailored to your requirements. 
This is the only way to find out the exact price for the bay windows you want, be it 1930s bay window replacement cost in the UK, the price of wooden triple-glazed bay windows for cottages or anything in between.
Ready to get started on your bay window replacement project? At GreenMatch, we offer a free quotes service that connects you with top-rated bay window installers in your area. They all are certified installers meeting the highest industry quality standards, so that you will get quotes from installers you can trust. 
Our service is 100% free, and you are not obliged to accept any quote you receive. To start, click the button below.
Get FREE Bay Window Quotes Now
Fill in the form in just 1 minute
Bay window cost by shape
In addition to the frame material and glazing option, the shape of the window can have a significant impact on the cost of a new bay window. If you want to know how much to replace a bay window or are considering converting a flat window to a bay window, the cost will be affected by the shape of the window too.
In the UK, four common bay window shapes are the canted bay window, box bay window, oriel bay window, and circle bay window. We will discuss them below.
Canted bay window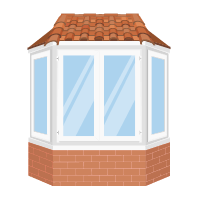 A canted bay window is a popular style of bay window that consists of three or more windows set at an angle to each other. The angled design provides a panoramic view of the outdoors and allows for ample natural light to enter the room. Canted bay windows are a stylish addition to any property and can add value to a home.
The cost of a canted bay window can vary depending on the size, materials used, and other factors affecting the bay window price in general. On average, the canted bay window cost in the UK ranges from £1,190 – £2,700.
Box bay window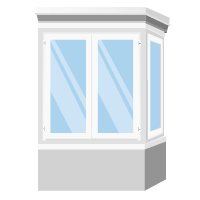 Box bay windows, also known as square bay windows, are three-sided windows that extend from the wall of a building, creating a box-like structure. This type of bay window is popular for its versatility and ability to add both light and space to a room. It can be designed with a flat front or a splayed front and is often used as a feature window in living rooms and bedrooms.
The box bay window cost goes from £1,690 – £3,200, depending on the aforementioned factors affecting the cost of a bay window in the UK. It is important to note that this price may not include additional costs such as planning permission or building regulations. These may be necessary depending on the location and type of property.
Oriel bay window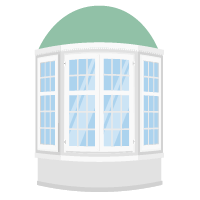 Oriel bay windows are typically located on the upper floors of a building and protrude outward, creating additional space and natural light. They are usually supported by brackets or corbels, which add to the charm of the window.
The cost of a bay window in the oriel shape costs between £1,690 – £3,200, but this can quickly increase with added features such as decorative glazing, intricate brackets, and custom finishes.
Circle bay window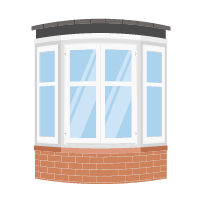 Circle bay windows are curved, forming a complete circle. They are typically installed in living rooms, bedrooms, or dining areas to provide a panoramic view of the outdoors. Due to their custom nature, circle bay windows can be more expensive than other bay window styles.
On average, homeowners can expect to pay around £2,190 – £4,700 for a standard-sized circle bay window. However, larger or more complex designs can increase the cost significantly.
If you are considering the cost of replacing a bay window in the UK, you can check the table below for an estimate. It contains a bay window price list divided by shape.
Average Cost of Bay Windows by Shape
Bay Window Shape
Price
Canted
£1,190 – £2,700
Box
£1,690 – £3,200
Oriel
£1,690 – £3,200
Circle
£2,190 – £4,700
Compare bay window prices in the UK
In addition to checking bay window prices online, comparing quotes from different suppliers will put you in a better position to negotiate a better deal for your bay windows. The bay window installation cost in the UK varies from provider to provider due to different labour rates across regions. Therefore, comparing quotes is an opportunity to lower the total cost.
By doing this, you can identify which provider offers the most competitive price for your desired bay window type. You can check whether their offers are below, within or above the average cost of bay windows in the UK and decide based on the data you have collected.
In addition to prices, you can also check the quality of the products and services offered by the companies you've shortlisted. This includes the window's energy efficiency, durability, and overall performance.
However, manually searching for costs, contacting local window companies and requesting quotes one by one can be tedious and time-consuming. This is especially true if you are searching for price information about very specific types of work (e.g. "bay window roof replacement cost UK" or "bay window extension cost UK").
This is where GreenMatch can help you. Our free quotes service is designed to provide assistance in finding top installers in your area, ensuring you get the best deal. Check out how it works:
The 2 Ways to Get the Best Bay Windows Deal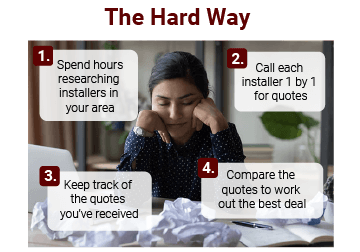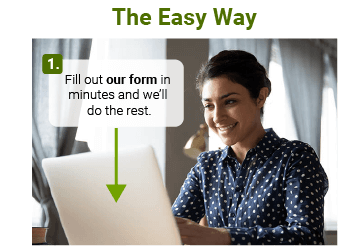 Get Bay Window Quotes Now
Fill in the form in just 1 minute
FAQ